Winter Soldier's Most Heartfelt Reunion Was Not with Captain America
https://ift.tt/3q3HpoD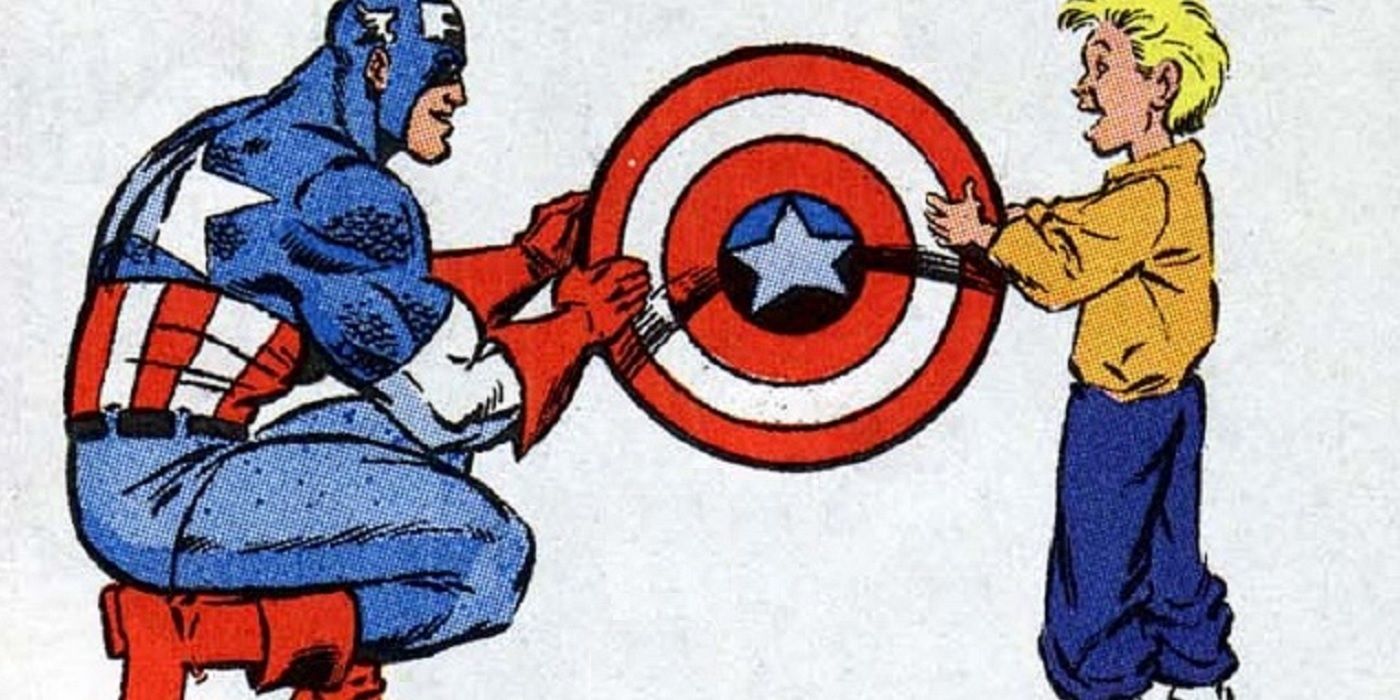 Today, we look at how Bucky Barnes' sister made a debut at Christmas.
It's our yearly Comics Should Be Good Advent Calendar! Every day until Christmas Eve, you can click on the current day's Advent Calendar post and it will show the Advent Calendar with the door for that given day opened and you can see what the "treat" for that day will be! You can click here to see the previous Advent Calendar entries. This year, the theme is a Very Dope 90s Christmas! Each day will be a Christmas comic book story from the 1990s, possibly ones that have a specific 1990s bent to it (depends on whether I can come up with 24 of them).
This year's Advent Calendar, of Grunge Santa Claus giving out 90s present, like a Tamagotchi, while posing with four superheroes with the most-90s costumes around, is by Nick Perks.
And now, a bit late, Day 14 will be opened (once opened, the door will feature a panel from the featured story)…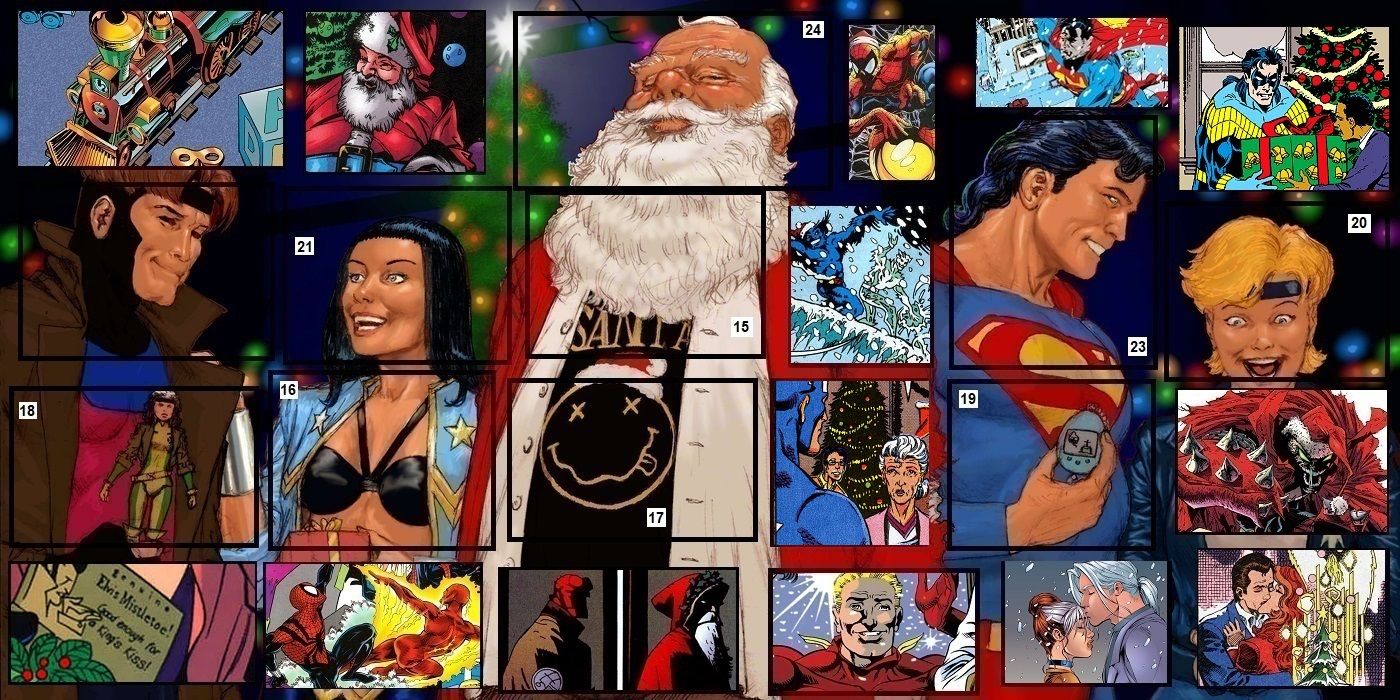 Today, we look at 1991's "Precious Gifts" from Marvel's 1991 Holiday Special by Len Kaminski, Ron Lim and Jim Sanders III.
In the original story, Steve Rogers is helping to give out food to impoverished veterans and he is really impressed with the woman who helps run the program. They get to talking and he is shocked to discover that she is the sister of his old partner, Bucky!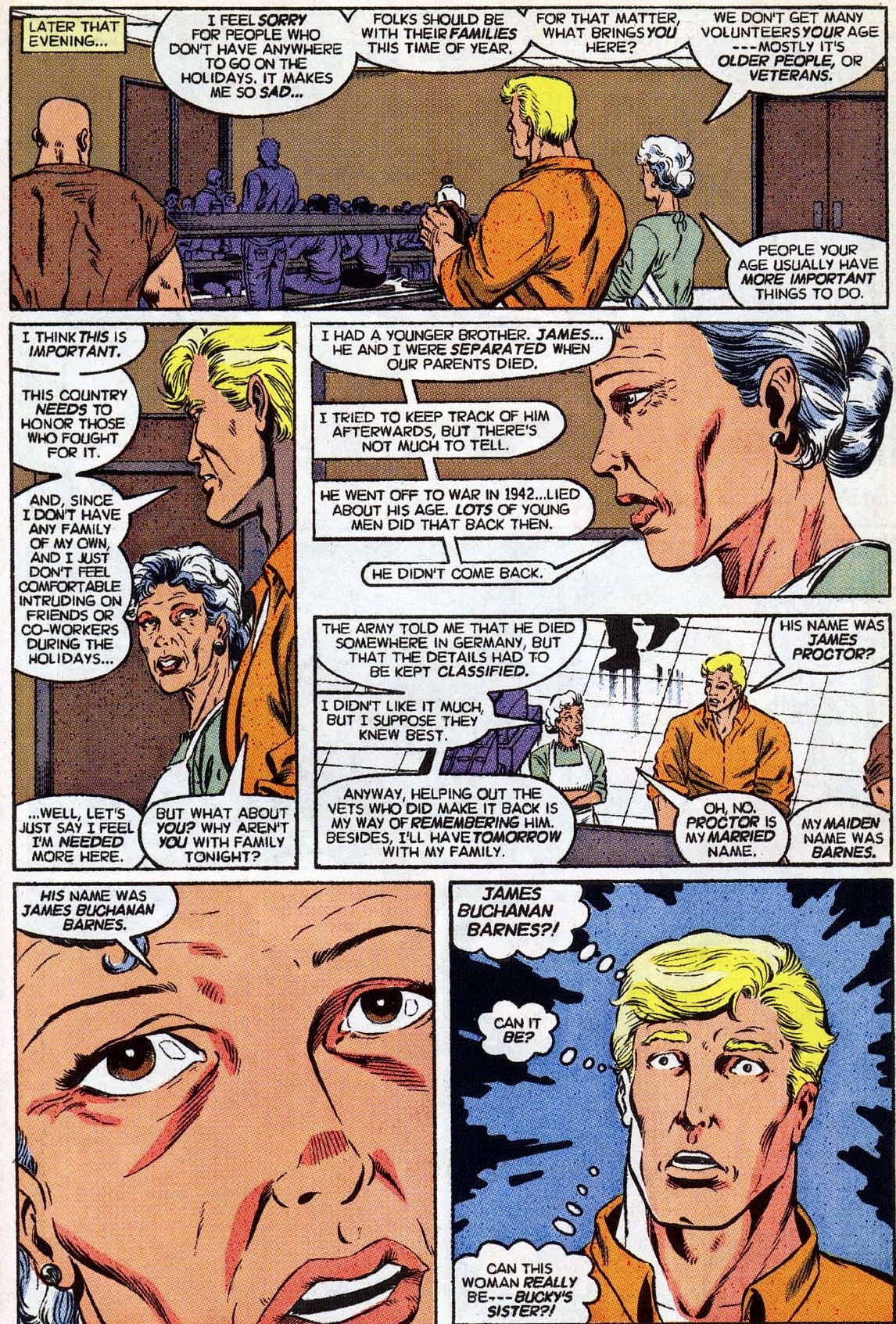 Of course, Cap is no fool, so he goes to Avengers Mansion to use their computer database to discover whether this is legit or not and sure enough, he learns that she IS the sister of Bucky!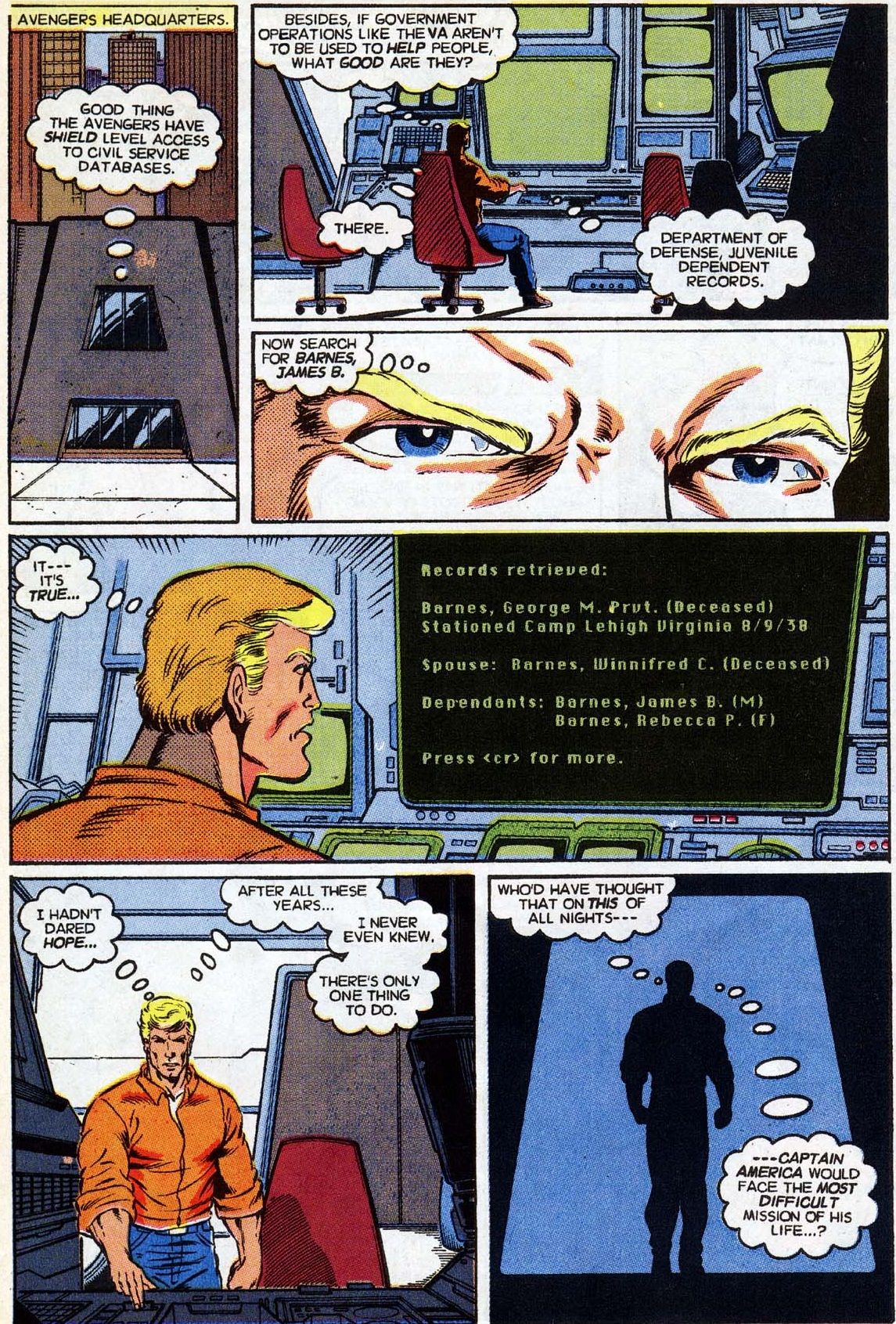 He goes to visit her family in Queens and there's a great scene where everyone is shocked to see Captain America show up. Honestly, she handled it REALLY well, right? If Captain America shows up at your house saying he wants to talk to you, I'd personally be seriously worried.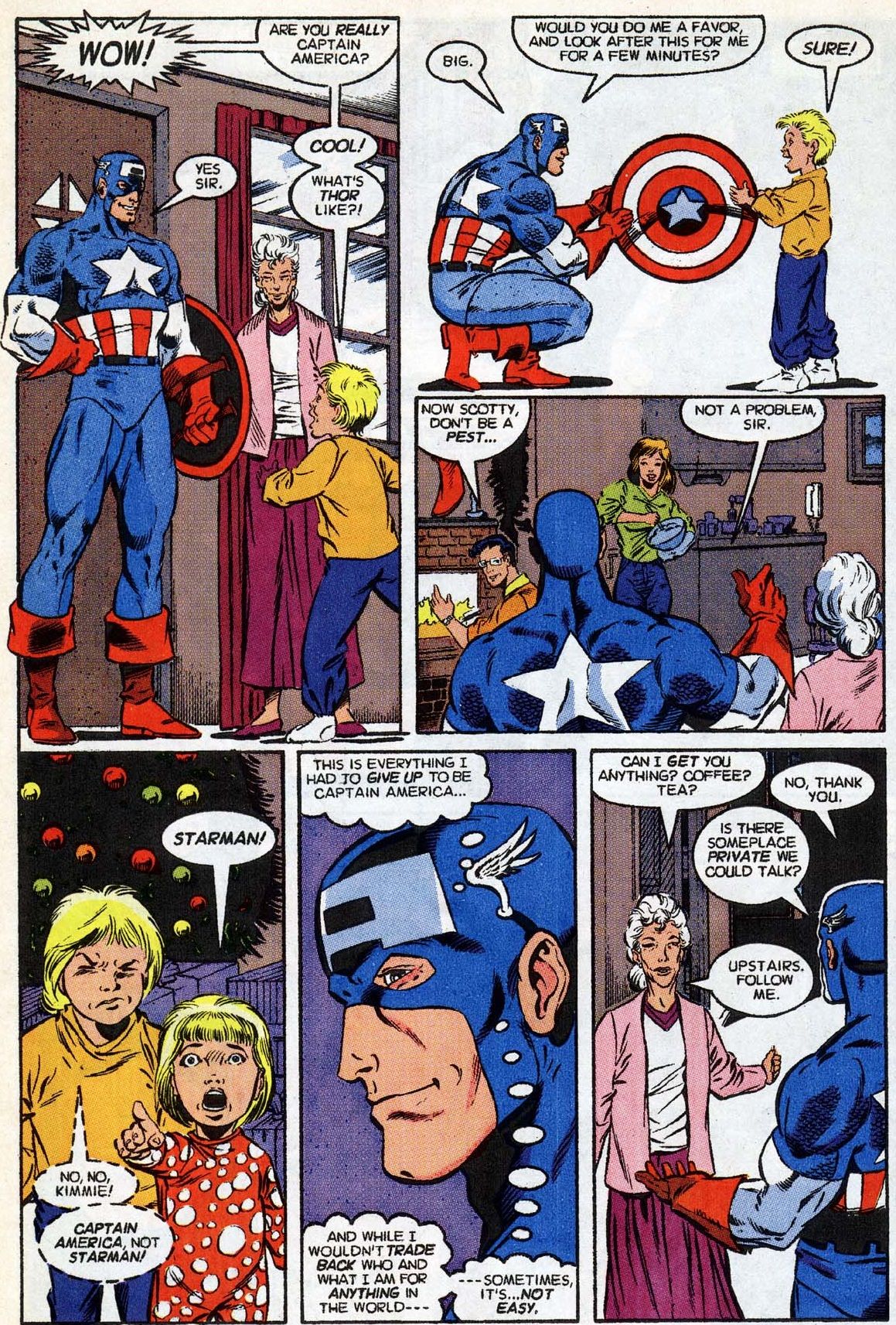 Anyhow, Cap reveals the truth to Rebecca and she has a sweet reaction…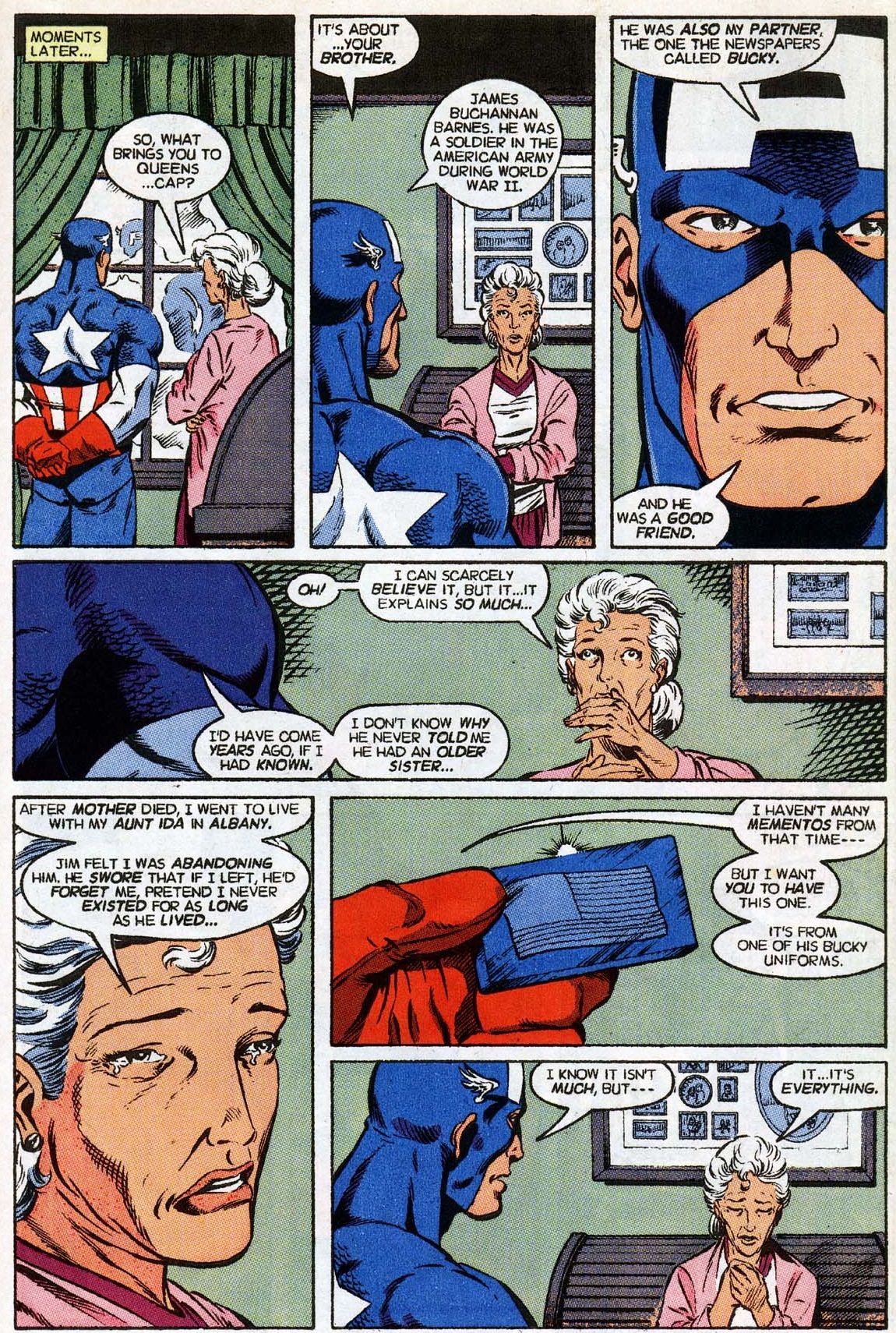 She then tells him that they are his family now…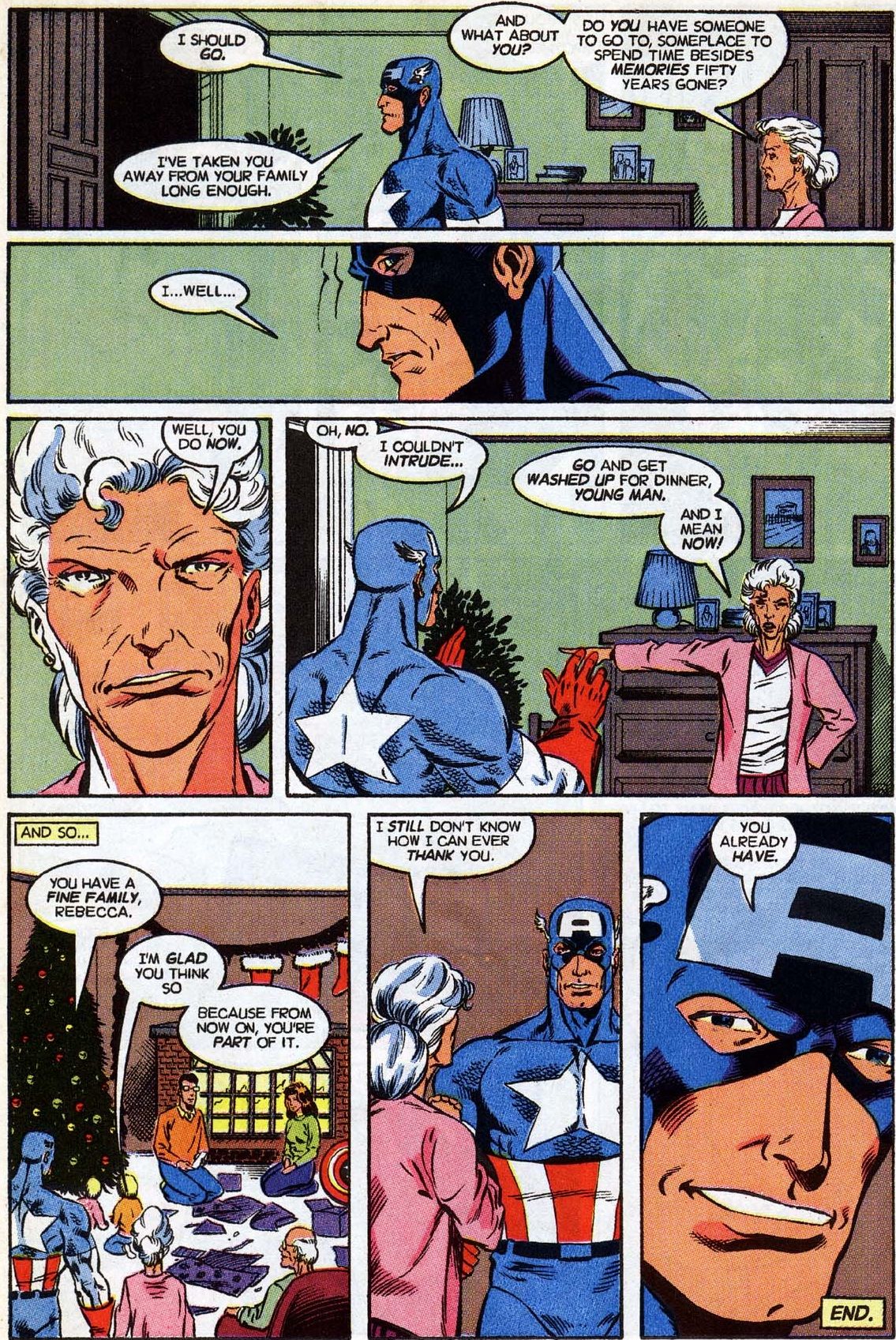 Sweet stuff. Still, the introduction of a sister for Becky is a big deal, right? However, she has made very few appearances over the year.
One of the few exceptions was in Captain America #48 (by Dan Jurgens and Bob Wiacek) where Cap brings Rebecca out for a special tribute to Bucky…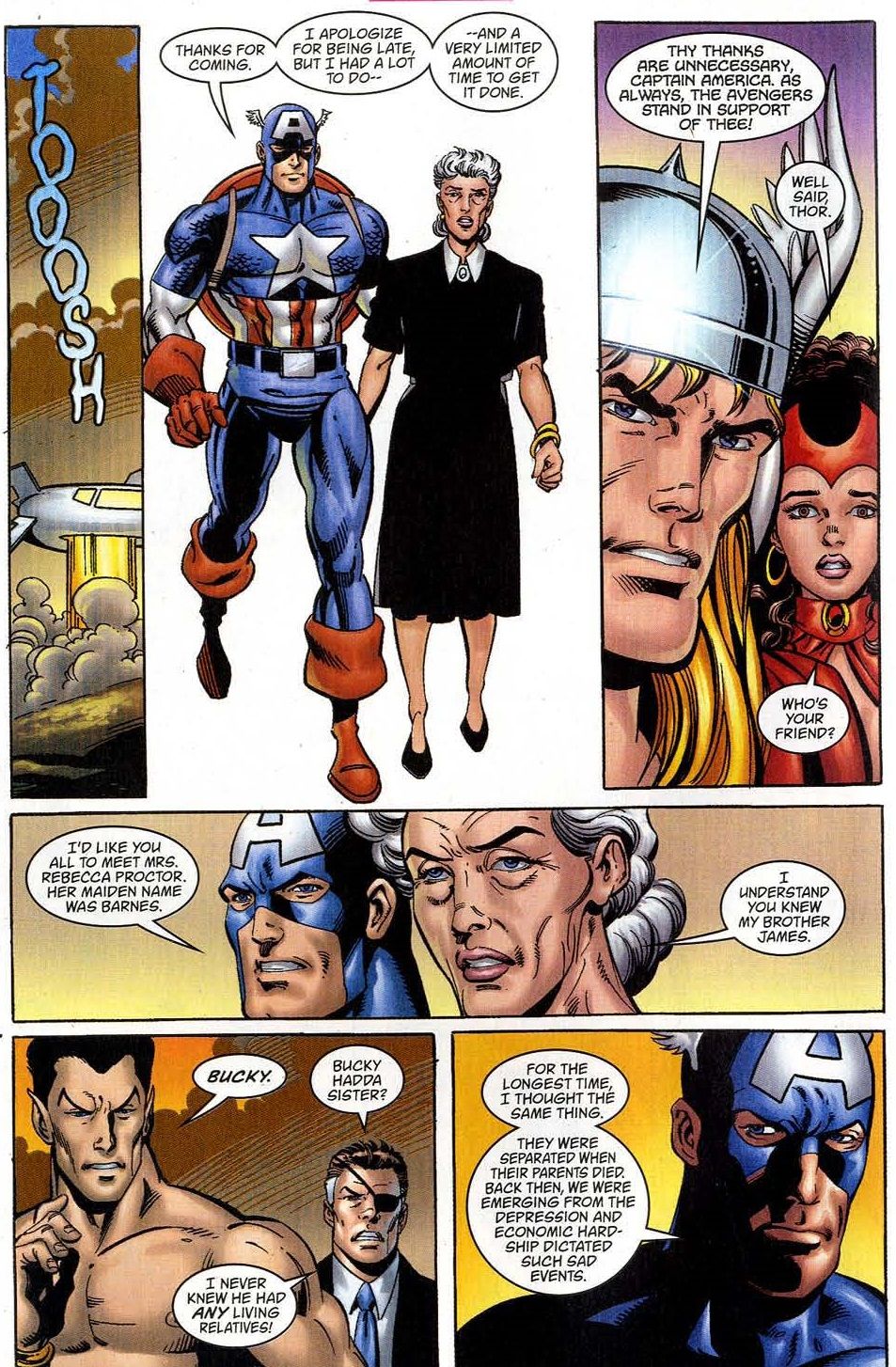 He dedicates a statue to Bucky back to where Bucky was seemingly killed…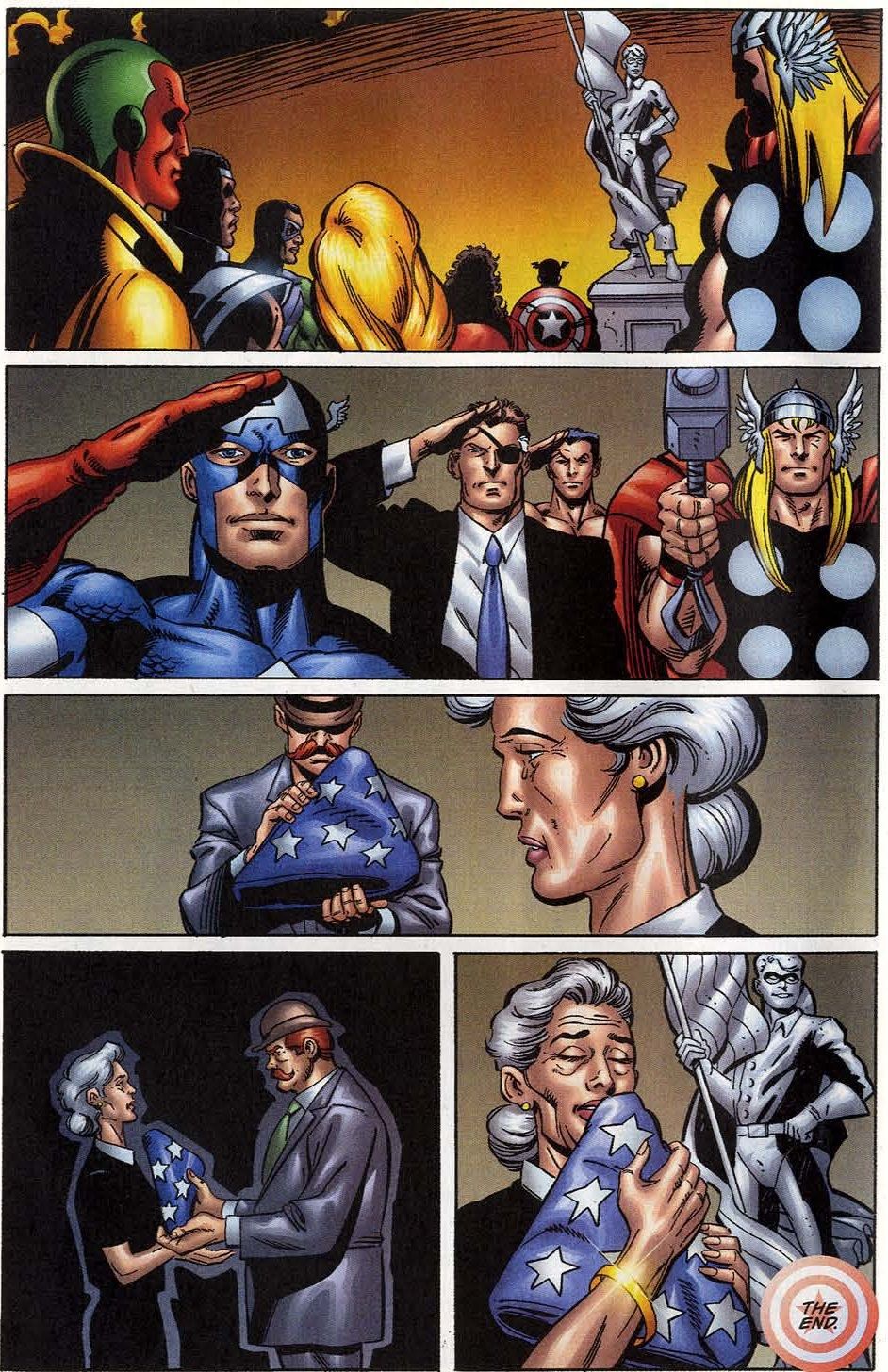 Of course, as it turned out, Bucky didn't REALLY die. He survived, although badly injured, and the Russians turned him into a brainwashed assassin known as the Winter Soldier (since he went into cryogenic storage every time he went on a mission, so he would seemingly disappear for years and barely age). Captain America helped break his old friend of the Russian brainwashing and this led to Winter Soldier being a hero again. He and Black Widow had dated in the past and now they began to pursue a relationship in the present, as well.
Well, in Captain America and Bucky #624 (by Ed Brubaker, Marc Andreyko, Chris Samnee and Elizabeth Breitweiser), we see Bucky finally have a reunion with Rebecca…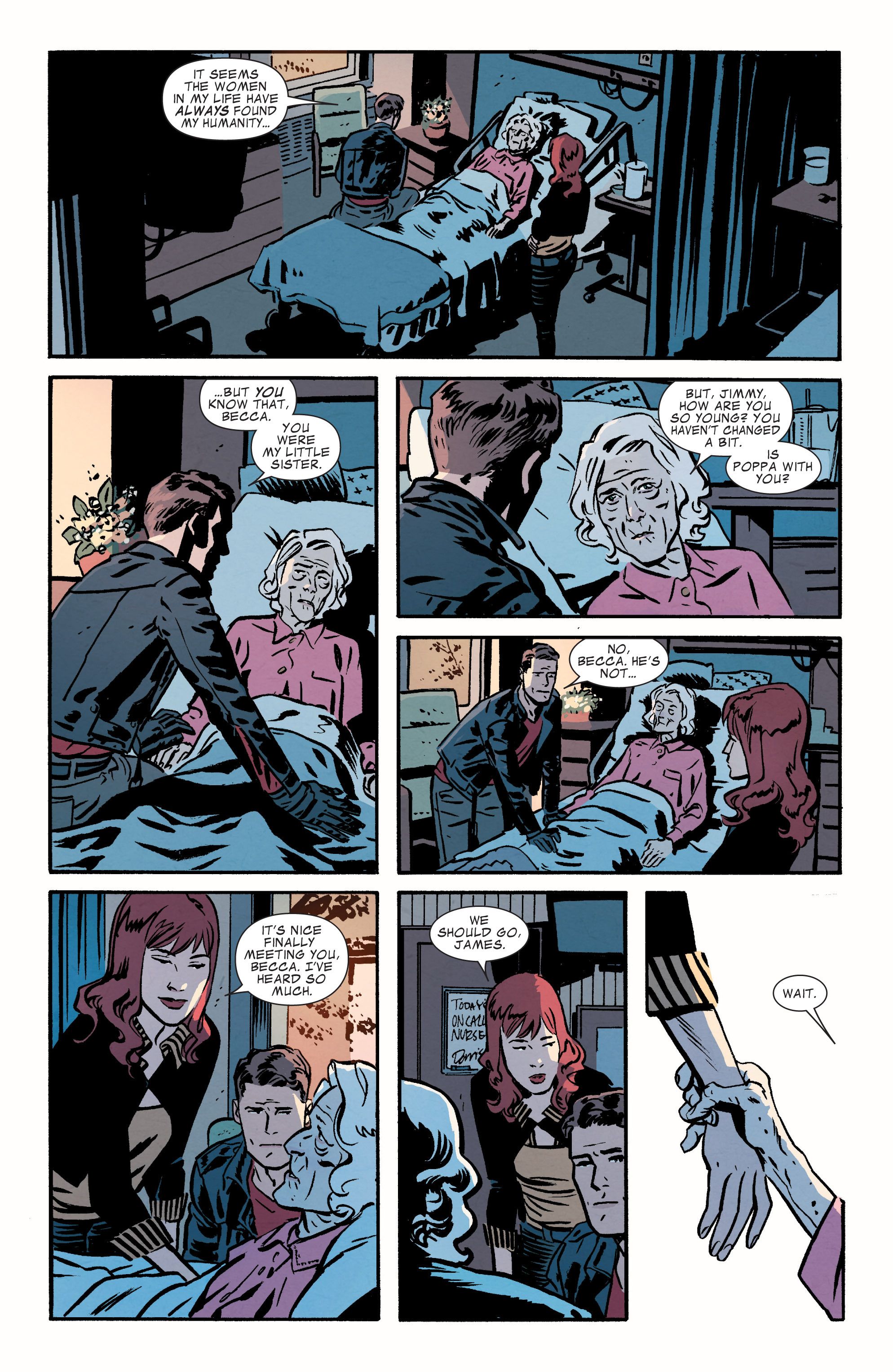 Sadly, we also discover that she is dealing with Alzheimer's…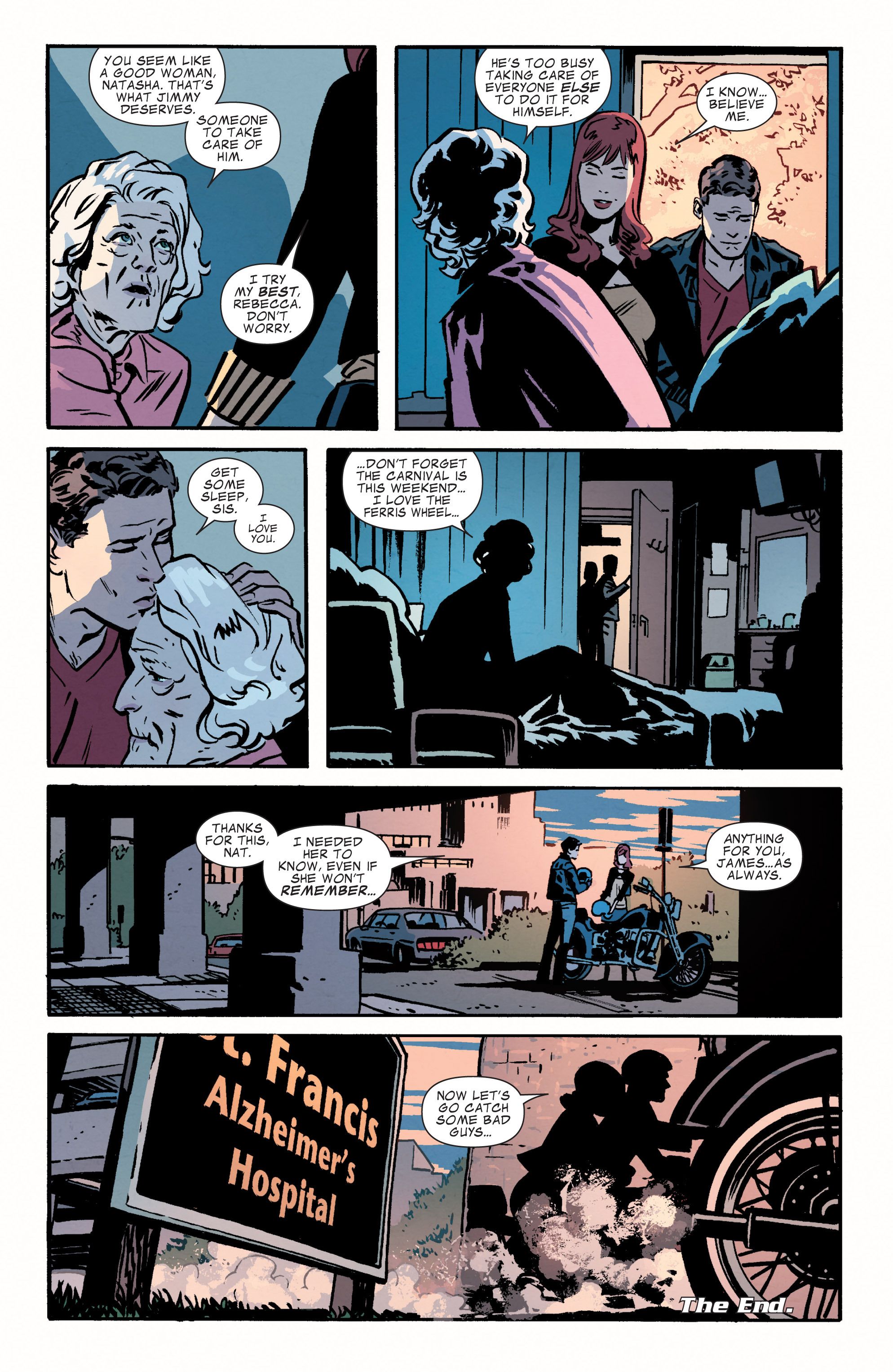 So sad.
from Ultimate Comic Blog
https://ift.tt/326TwsS
via IFTTT