Why Superman and Lois Spent Their First Christmas Engaged Answering Mail
https://ift.tt/3lLzYkI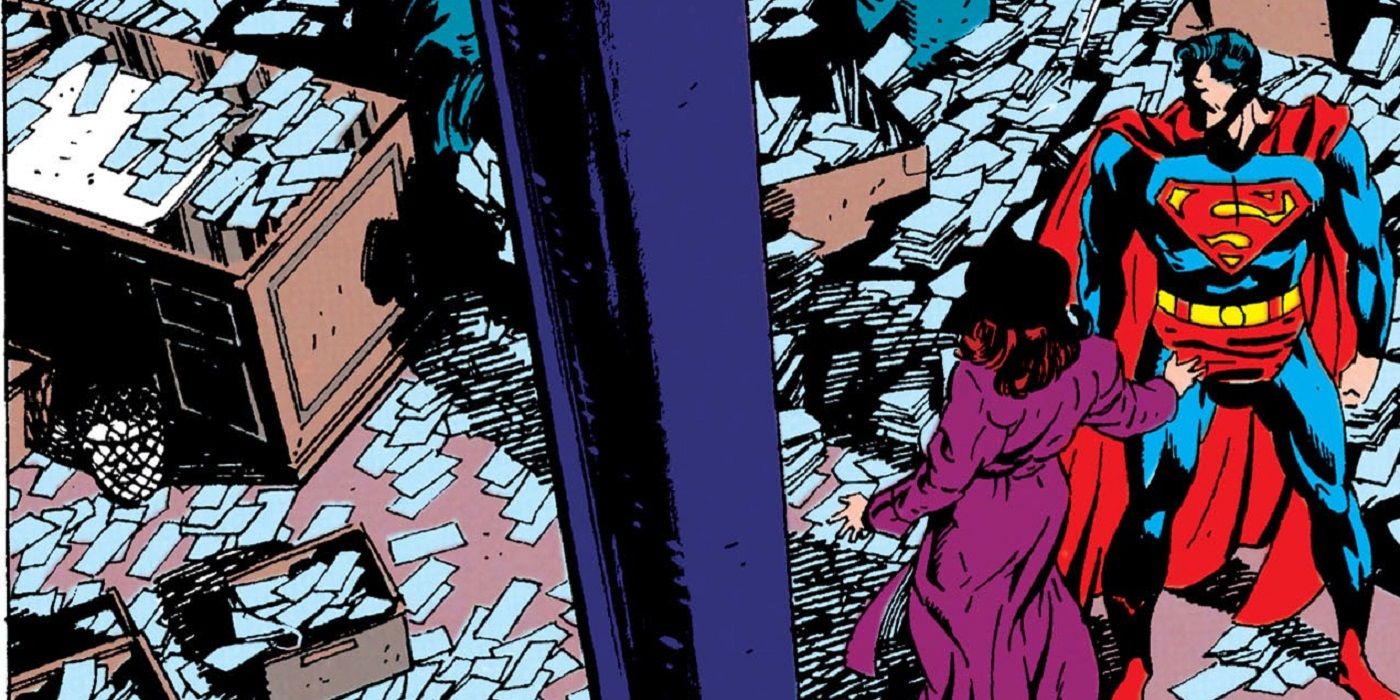 Today, we look at the first Christmas that Superman and Lois Lane spent together after they were engaged.
It's our yearly Comics Should Be Good Advent Calendar! Every day until Christmas Eve, you can click on the current day's Advent Calendar post and it will show the Advent Calendar with the door for that given day opened and you can see what the "treat" for that day will be! You can click here to see the previous Advent Calendar entries. This year, the theme is a Very Dope 90s Christmas! Each day will be a Christmas comic book story from the 1990s, possibly ones that have a specific 1990s bent to it (depends on whether I can come up with 24 of them).
This year's Advent Calendar, of Grunge Santa Claus giving out 90s present, like a Tamagotchi, while posing with four superheroes with the most-90s costumes around, is by Nick Perks.
And now, Day 7 will be opened (once opened, the door will feature a panel from the featured story)…
Today, we look at 1991's "Metropolis Mailbag" from Superman #64 by Dan Jurgens and Jackson Guice…
One of the major changes in the Superman mythos was when Clark Kent proposed to Lois Lane in 1990's Superman #50 and she said yes. This was part of the Post-Crisis approach of the Superman titles to make Clark Kent more of an appealing character in and of himself and a worthy love interest for Lois Lane without any connection to Superman (the Superman books had briefly tried this before in the 1970s, but it was never committed to like it was Post-Crisis). Soon after their engagement, Clark then revealed his secret identity as Superman to Lois Lane and so now we were in a period where their relationship was taking a whole lot of getting used to the new normal.
In this issue, Superman lets Lois Lane in on a little secret now that she knows his secret identity and the two are engaged to be wed. Every year, along with letters to Santa Claus, people around the world send letters to SUPERMAN, as well. So Superman visits the post office every year and tries to do what he can every Christmas. Since they're now engaged, he invites Lois along for this year's trip (honestly, doesn't this sort of seem to be something Superman could have confided in Lois even before getting engaged to her? Obviously, the "real" answer is that Dan Jurgens didn't think of the idea until 1991 so, really, fair enough).
The letters range from the silly…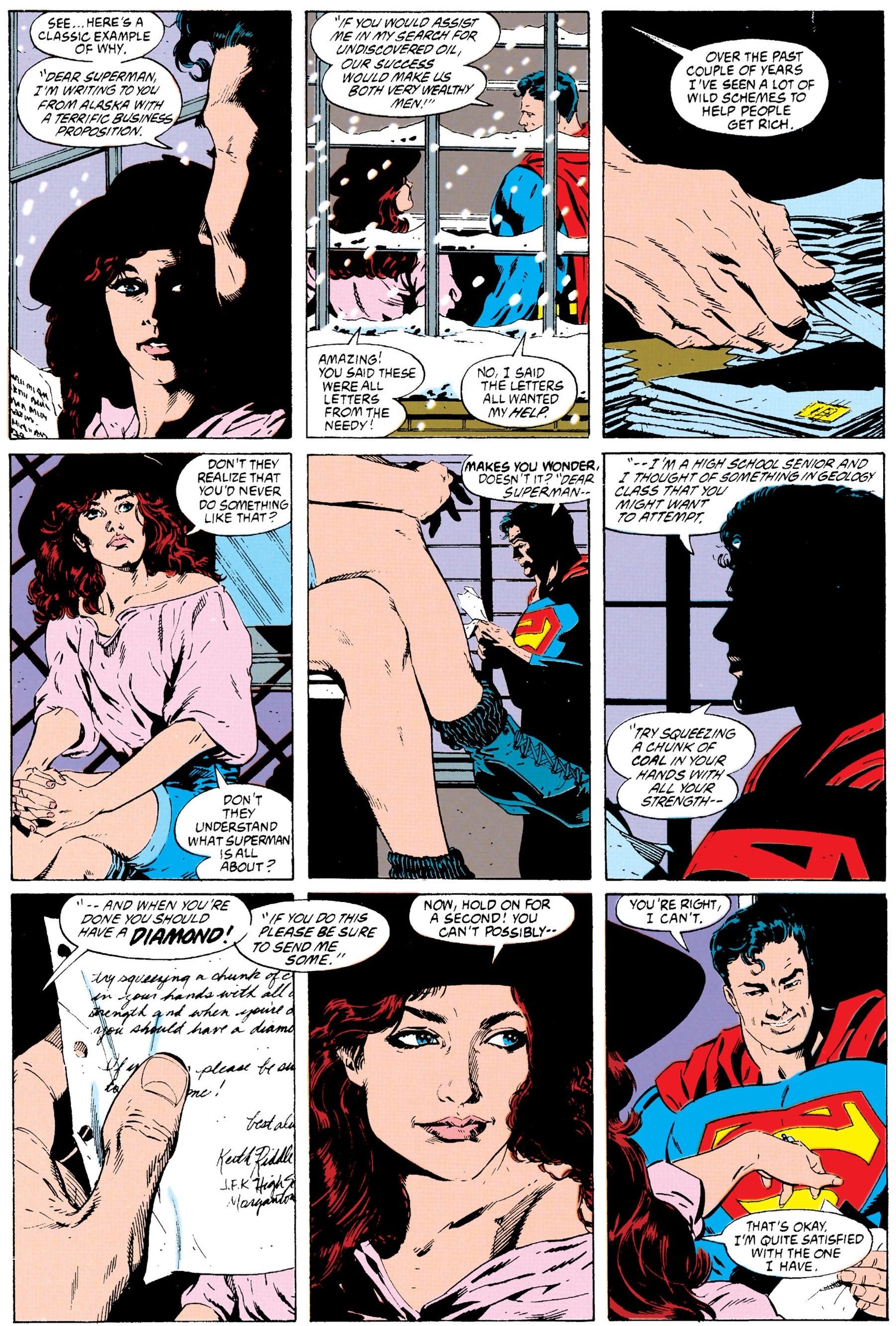 to the bittersweet, like the Holocaust survivor in the United States who discovers that her sister that she believed was long dead is actually alive but near death herself in a nursing home in Germany! Superman, of course, can make their reunion a reality with his powers…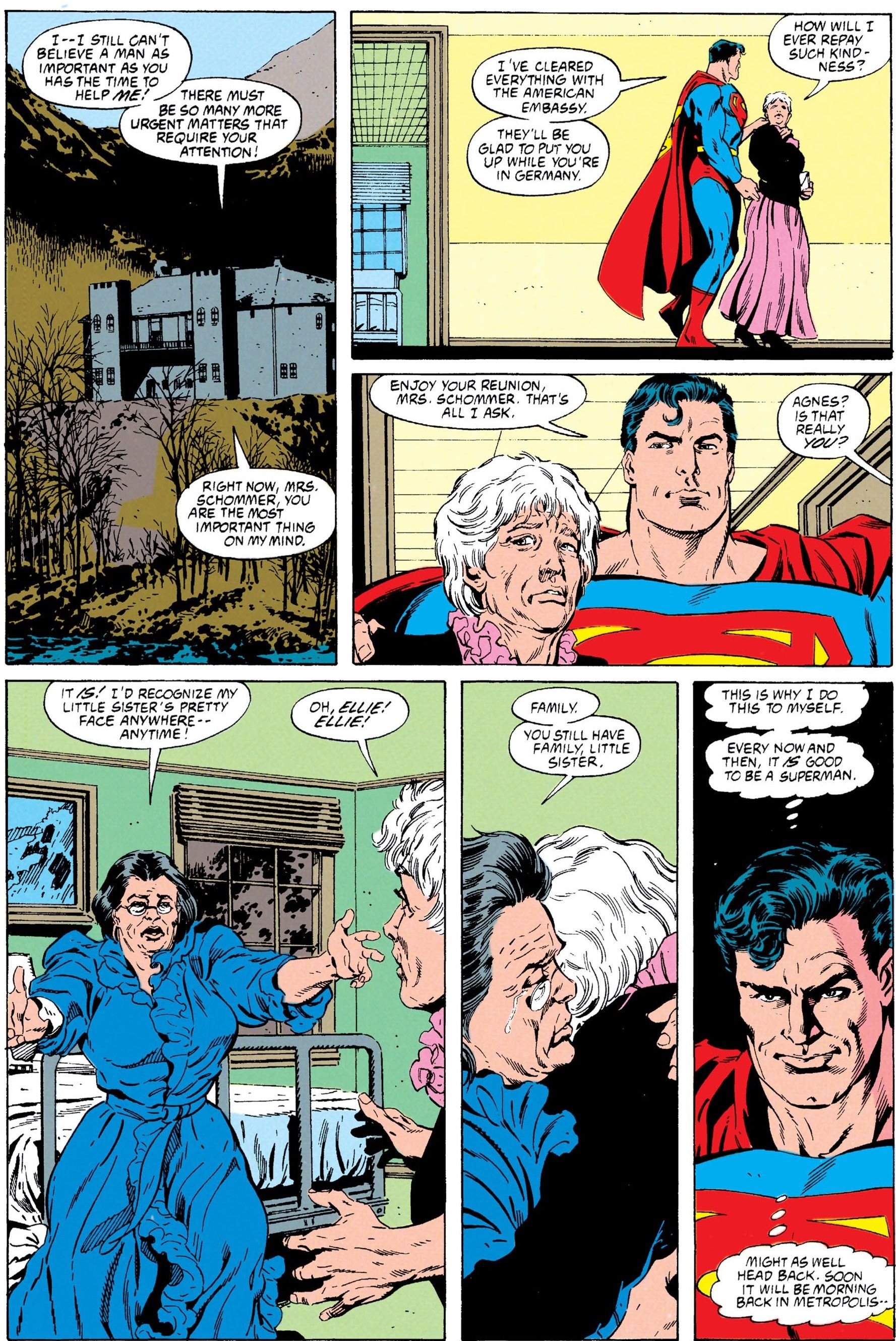 A good thing right here, even before we get to some of the later letters, is how Jurgens explains that there are obviously severe limits to what Superman can actually do, as, say, flying between the United States and Germany takes X amount of time no matter who you are, and so doing THIS good deed means he can't do OTHER good deeds. In an interesting thought.
Then there are the brutal letters that Superman can't do anything about, like a woman who needs a heart or this extremely sad letter from a young boy, who sends Superman a cute drawing, but also a note about how his dad is dying of a brain tumor…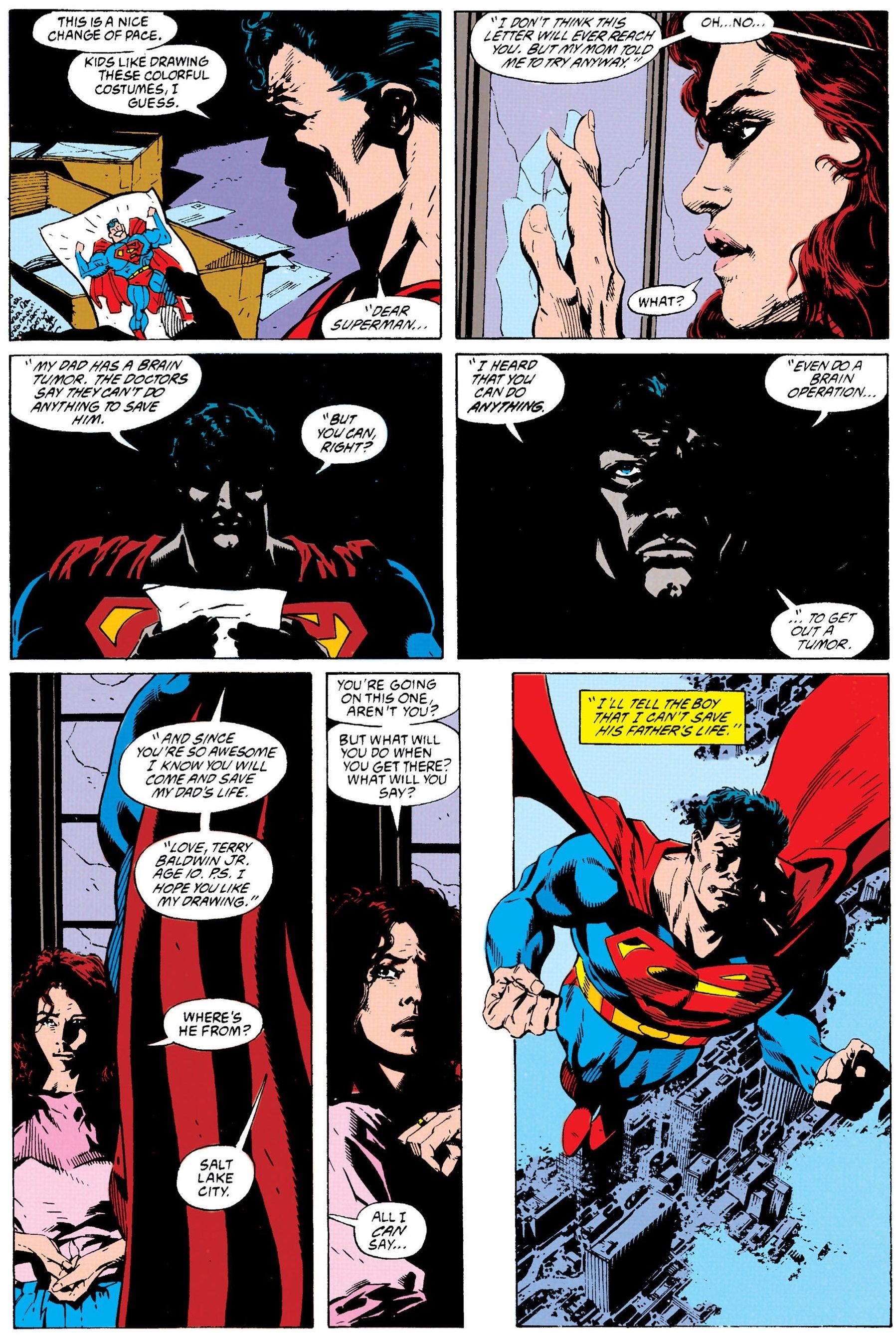 Superman goes to lend some moral support at the very least, but ends up too late as the man has already died. The boy is not forgiving at first and makes Superman feel awful, but the Man of Steel hangs in there and continues to talk to the young boy, explaining how he's still "just" a man…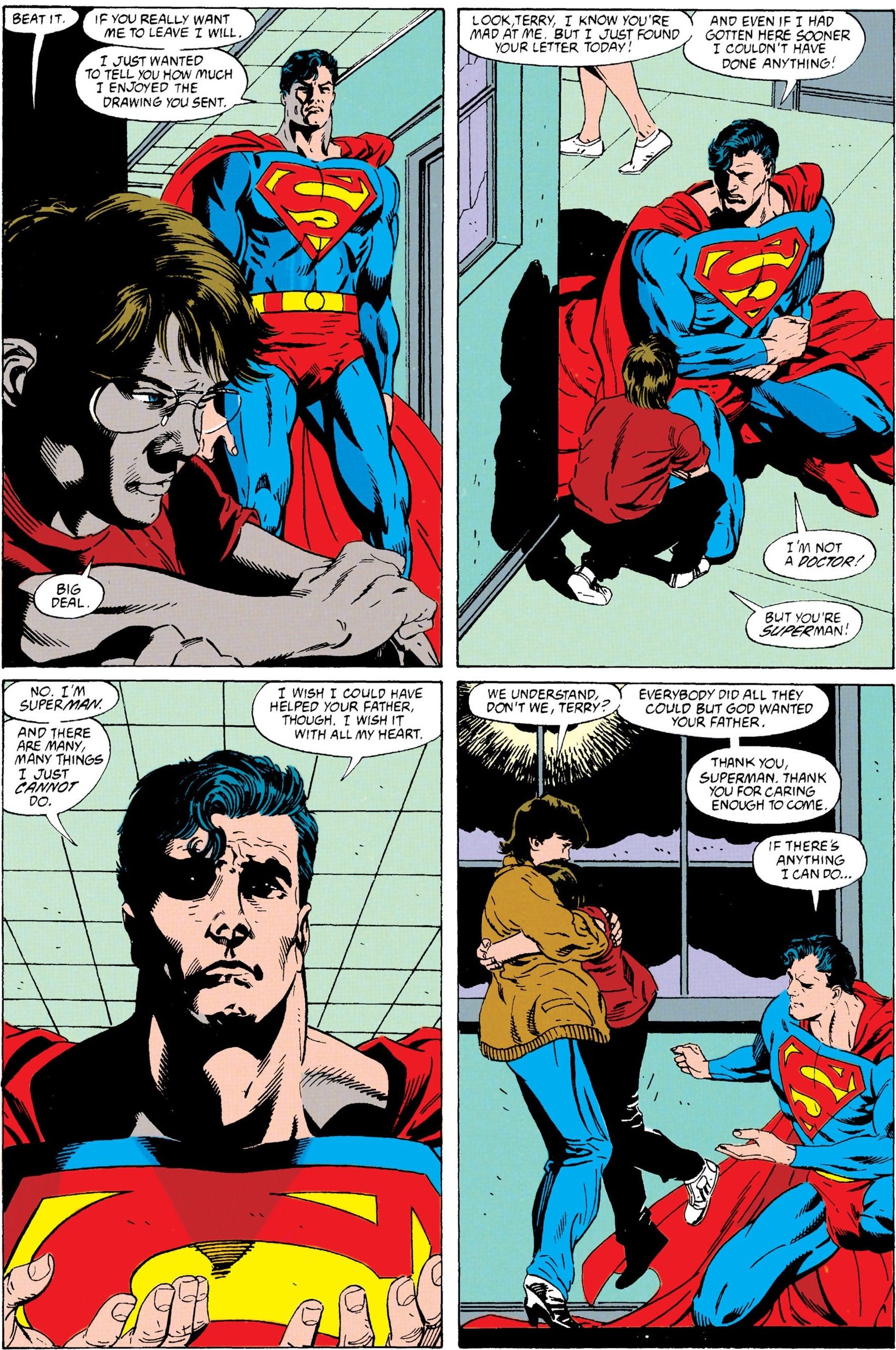 In a clever bit, the man's widow is convinced by Superman to donate her husband's heart and it is a match for the woman with the failing heart that sent Superman a letter earlier.
Finally, one little bit of Christmas joy. This was in the early days of the "Triangle" system of the Superman titles. They had always been VERY inter-connected, but after Action Comics became a regular Superman series again (after briefly becoming an unrelated anthology series) they had become EXTREMELY interconnected, to the point that when they added a fourth Superman title earlier in 1991 (Superman: The Man of Steel), the books had literal triangles on the covers with numbers to let you know what order to read them in. So books would routinely carry out subplots from the other books and one of the recurring subplots of this time period was that Daily Plant workers were on strike. This affected the Christmas party that the Planet used to do for kids, so the kids were going to be stiffed this year. Luckily, through a call to Bruce Wayne for money for presents (the shot of sad Bruce Wayne alone on Christmas agreeing to give Clark Kent the money is really well done by Guice) and then a visit to Professor Emil Hamilton (who later turned out to be a psychotic villain – oh, DC Comics, you rascals you) for help on how to create a facsimile of Santa Claus's sled, we got the following…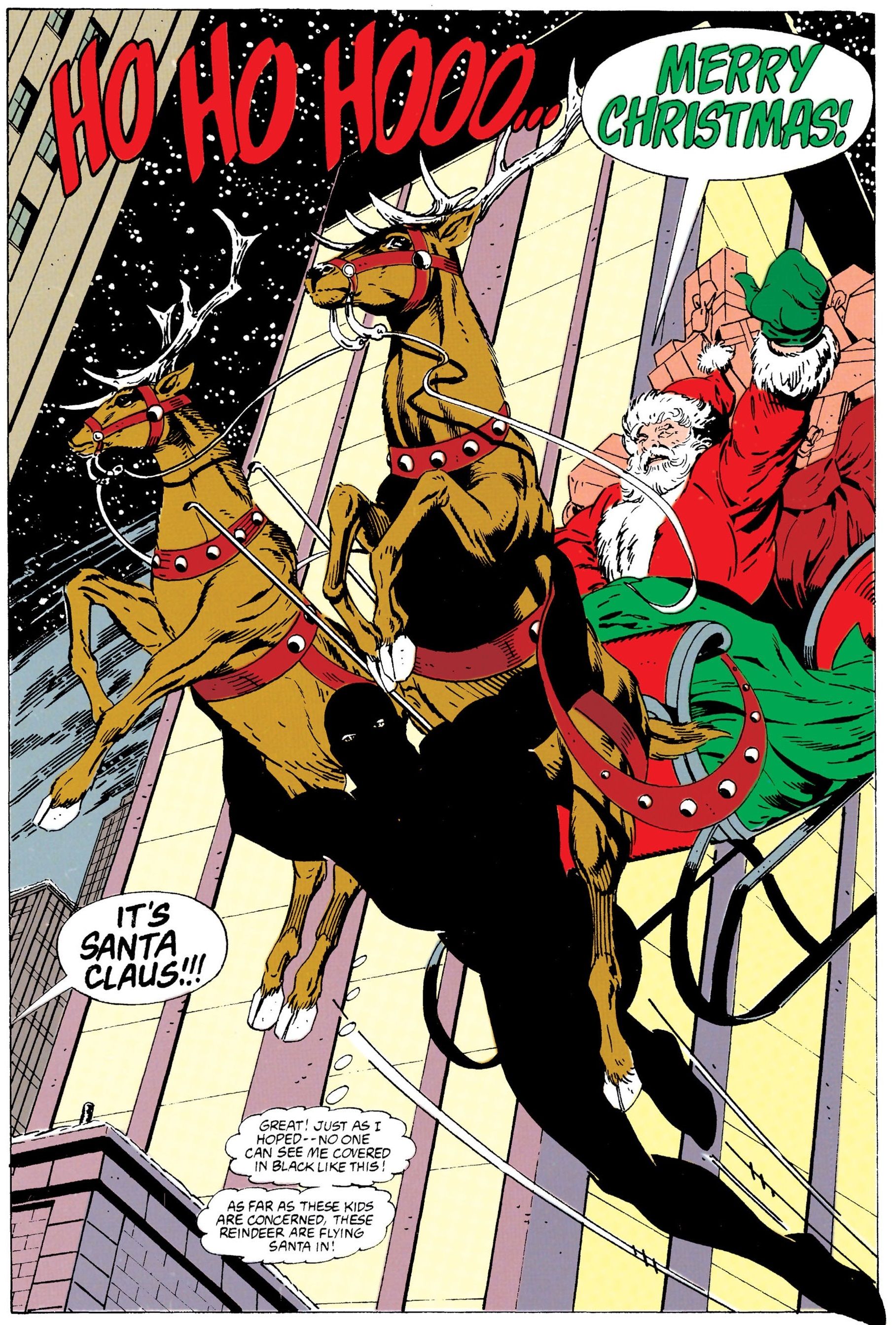 It's a great bit, even with Jurgens throwing in a way unnecessary bit of exposition there ("See? No one can notice me! Which is readily apparent in the page, but we think that there are some really stupid readers out there, so let's re-explain it just to be safe").
Awesome stuff. Such great artwork by Guice and a charming story by Jurgens. There's a reason why the mailbag kept coming back year after year. It was such a great idea by Jurgens. Guice would soon become a regular artist on Action Comics for a number of years. The Superman books had some gorgeous artwork on a regular basis in the early 1990s between Guice, Jurgens (the regular artist on Superman), Tom Grummett and Jon Bogdanove. And when Grummett left, he was replaced by the great Stuart Immonen! Wowza!
from Ultimate Comic Blog
https://ift.tt/3EBqDDC
via IFTTT