Why Marvel's Worst Avenger Married an MCU Guardian of the Galaxy as a Plant
https://ift.tt/31yCcNj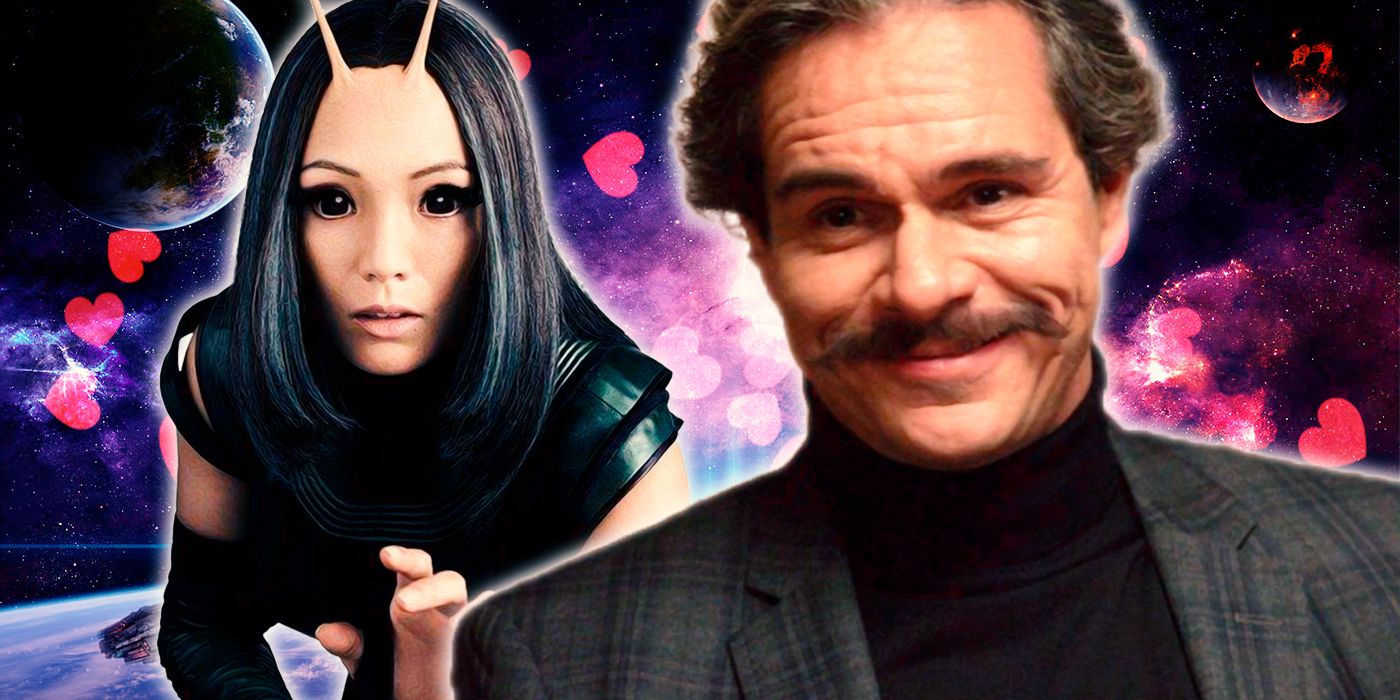 Today, we look at the story of how Swordsman ended up marrying a fellow Avenger…as a plant!
This is Wedding Bells Are Ringin', an examination of notable comic book weddings. I let you all vote and you voted for this feature to spotlight real AND fake weddings, but I've decided to only go with weddings that actually ended with marriages, whether dreams or not (in other words, everything but called off weddings).
Recently, I discussed how Swordsman went from being a longtime enemy of the Avengers who just happened to worm his way on to the team at one point to actually being a legit member of the team. At the time, I also noted how he ended up marrying one of his teammates somehow as a PLANT, and a number of people have written to me to ask me to elaborate, so, well, this is that.
RELATED: Superman's 40th Anniversary Was Celebrated With a Shocking Wedding
As a quick recap, In Avengers #112 (by Englehart, Don Heck and Frank Bolle), we meet a mysterious woman named Mantis who has a traveling companion who learns that Hawkeye had recently quit the Avengers. They decide to try to join the Avengers…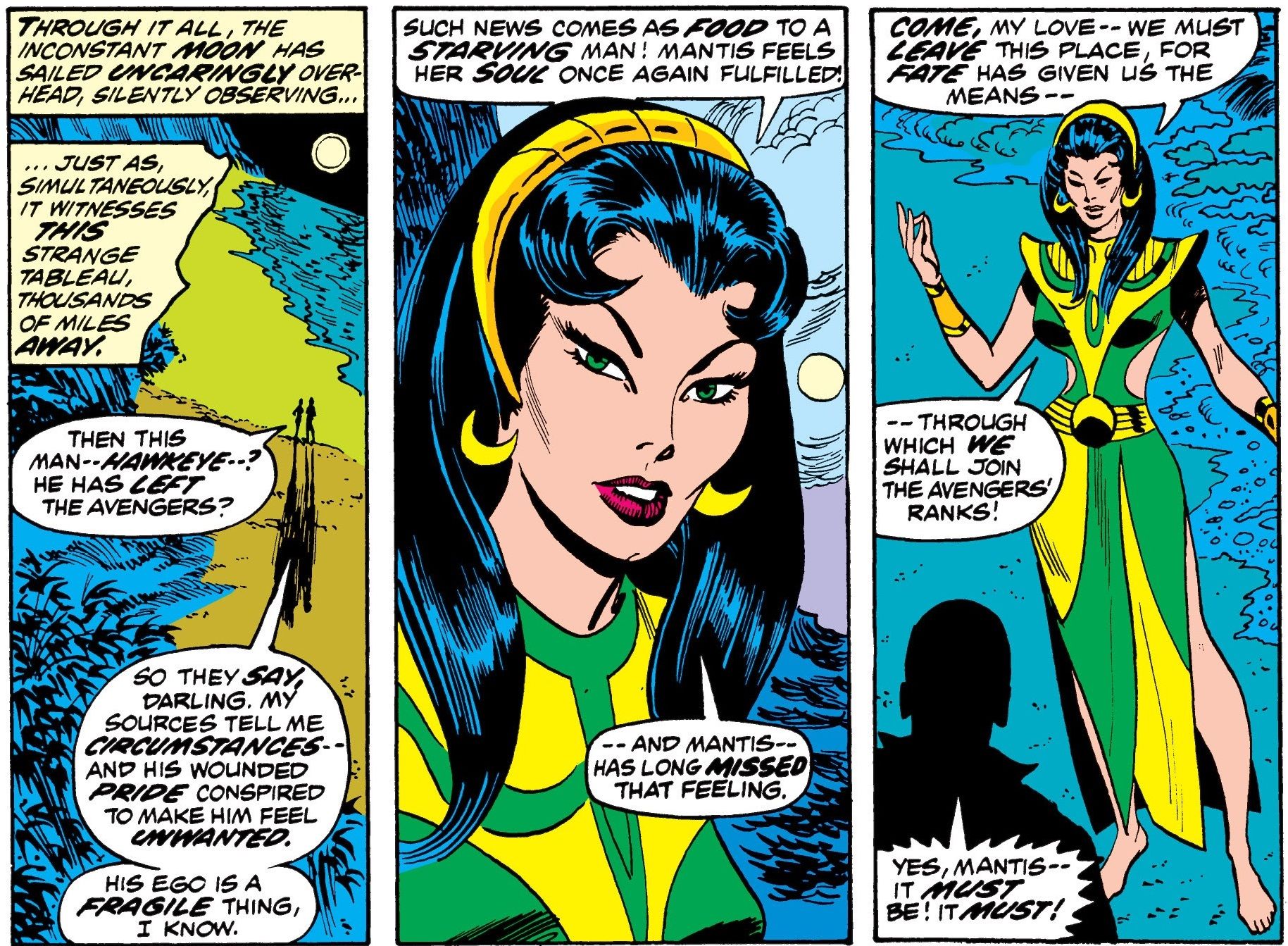 In the next issue, with Bob Brown now on pencils, they continue their journey to the Avengers…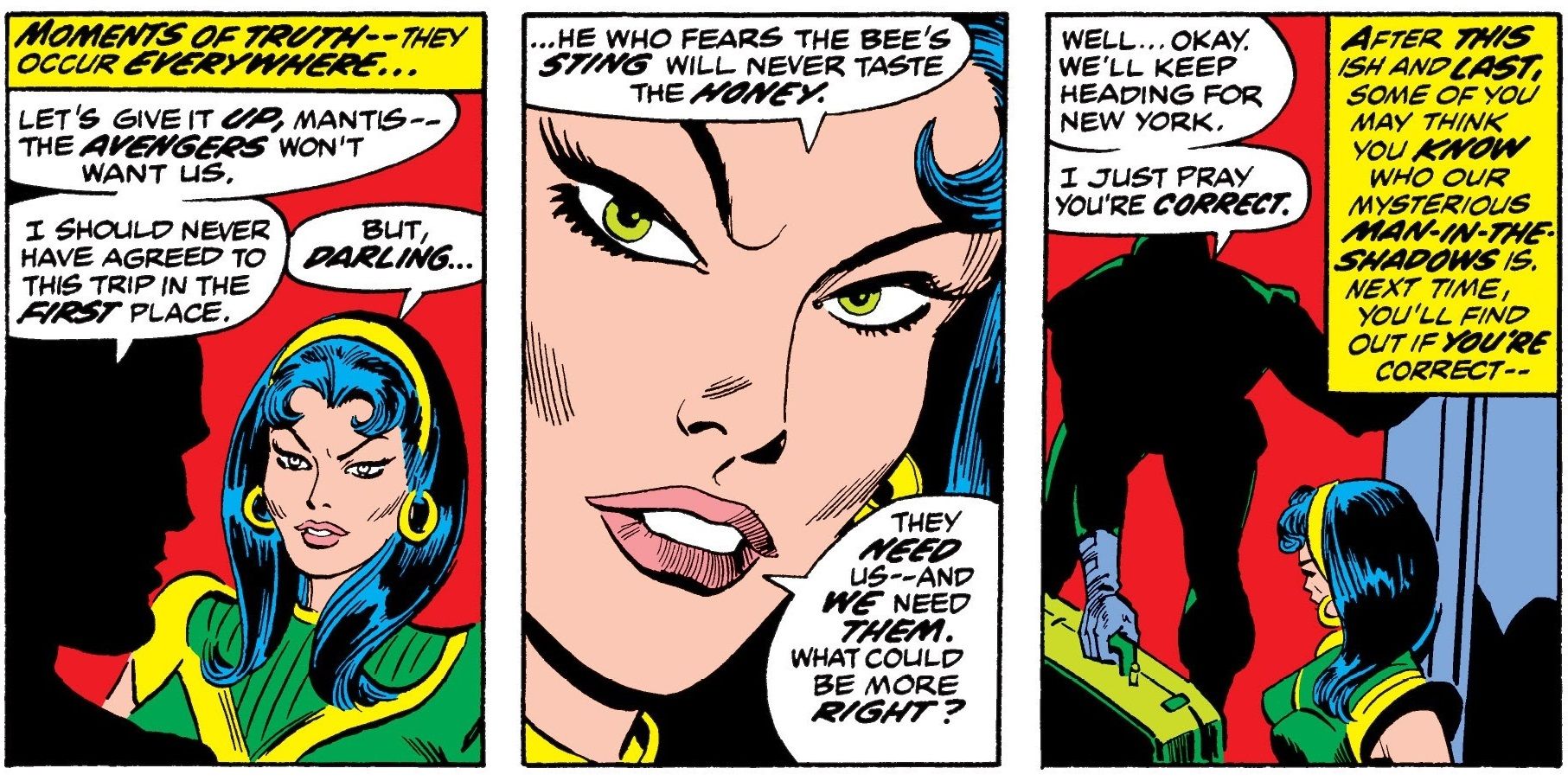 In Avengers #114 (Mike Esposito now on inks), Mantis helps Scarlet Witch beat up some jerks and she invites Mantis to the Avengers Mansion where Captain America chides her for letting a stranger past their security (who is Cap kidding? The Avengers were terrible with security for YEARS at this point)…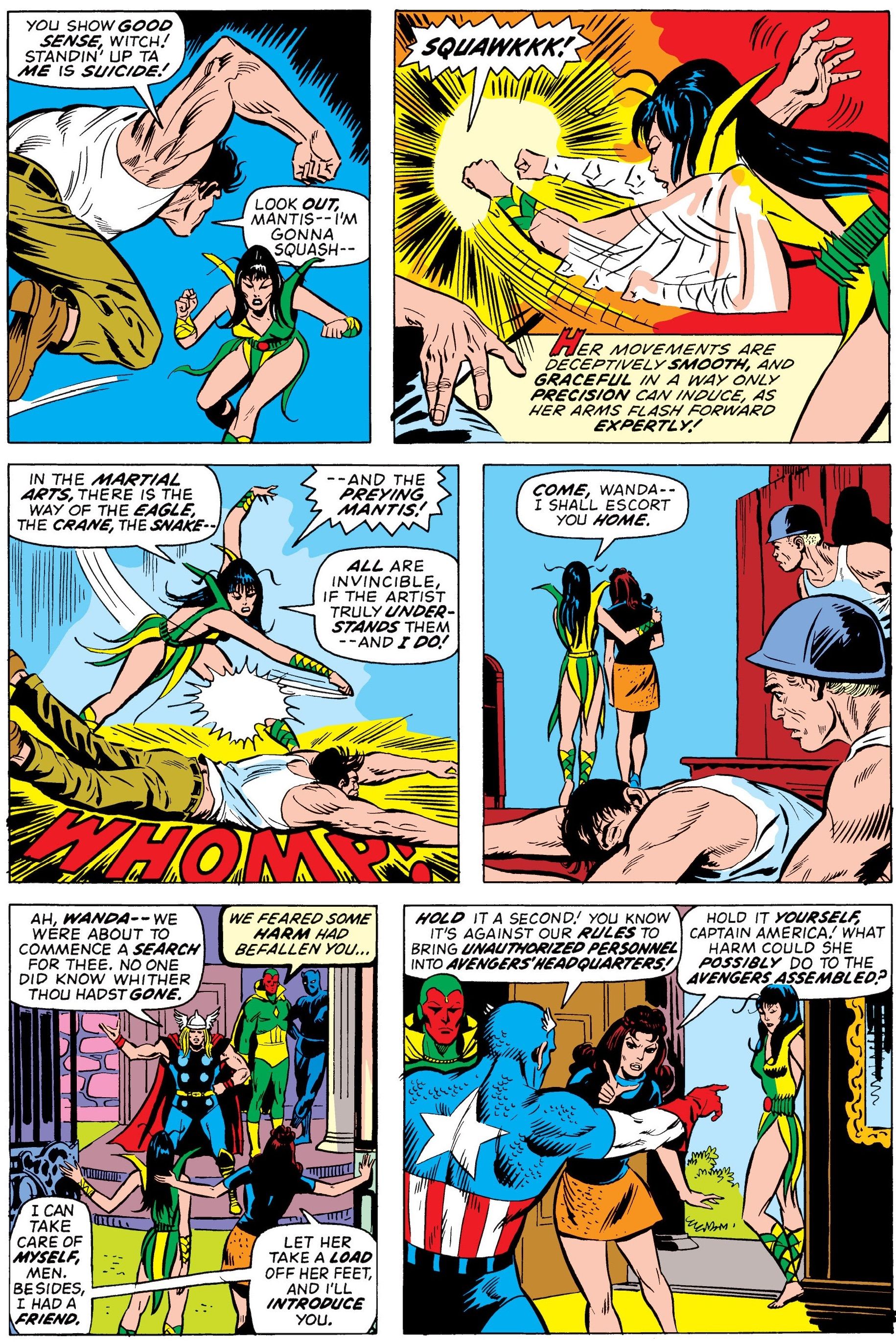 Well, to seemingly prove his point, Mantis turns out to have brought Swordsman with her! Yep, HE was her mysterious traveling companion! And now they want to join the Avengers!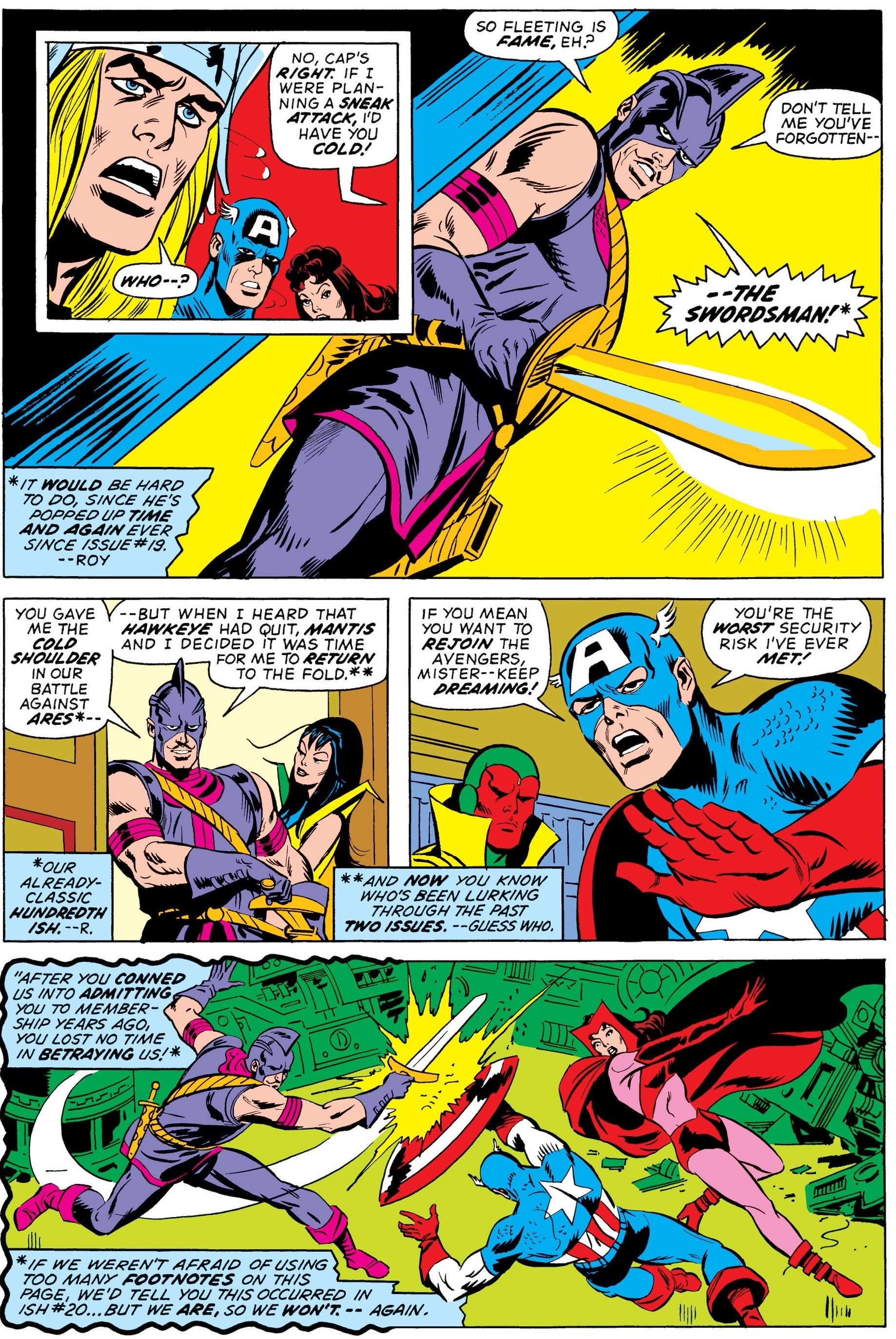 Cap rightfully thinks that it is a terrible idea, but Scarlet Witch makes some weird point about prejudice and argues for their inclusion…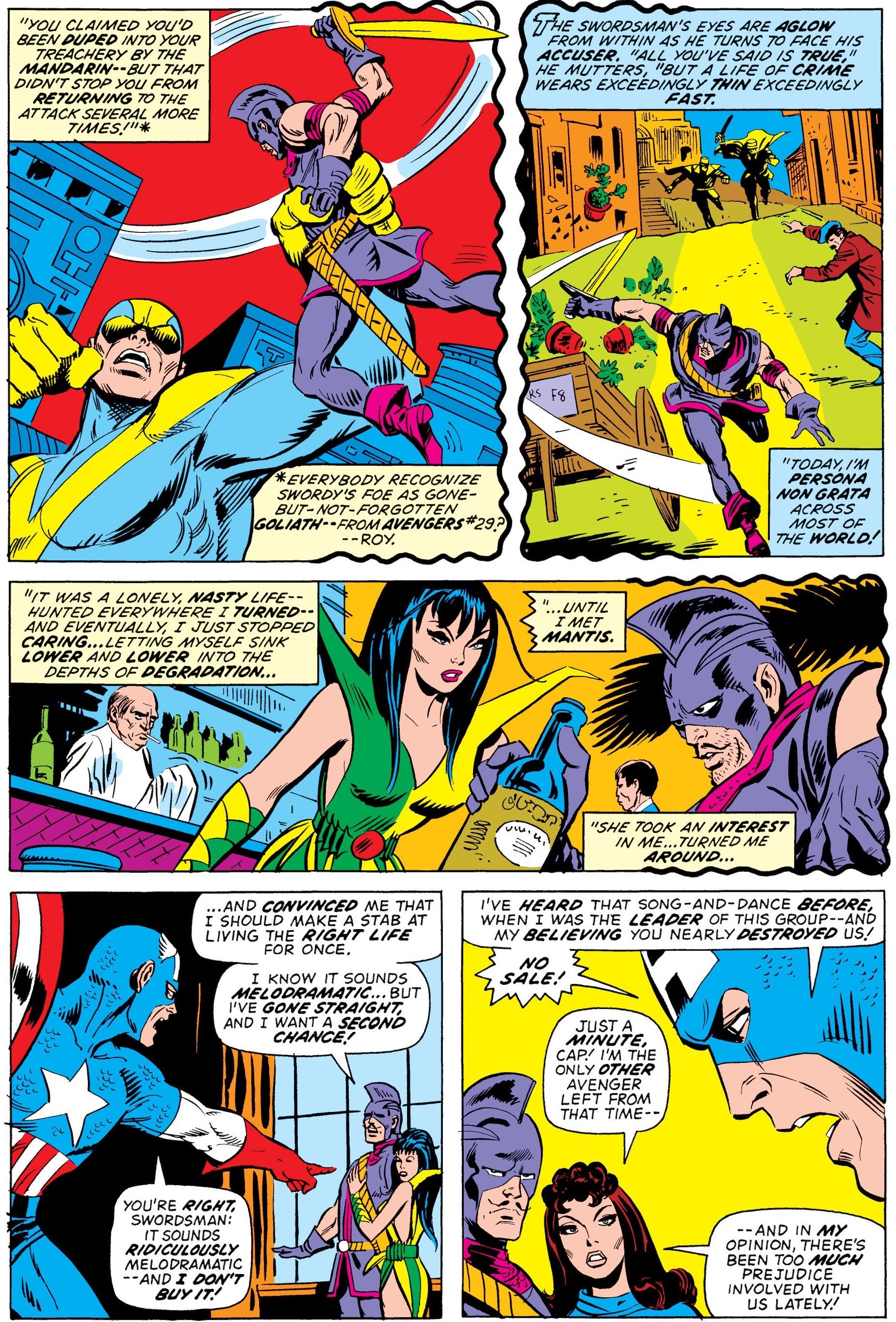 Bizarrely, Iron Man and Thor agreed (I think they really just thought Mantis was hot) and so Mantis and Swordsman are allowed on to the team and actually end up serving with distinction…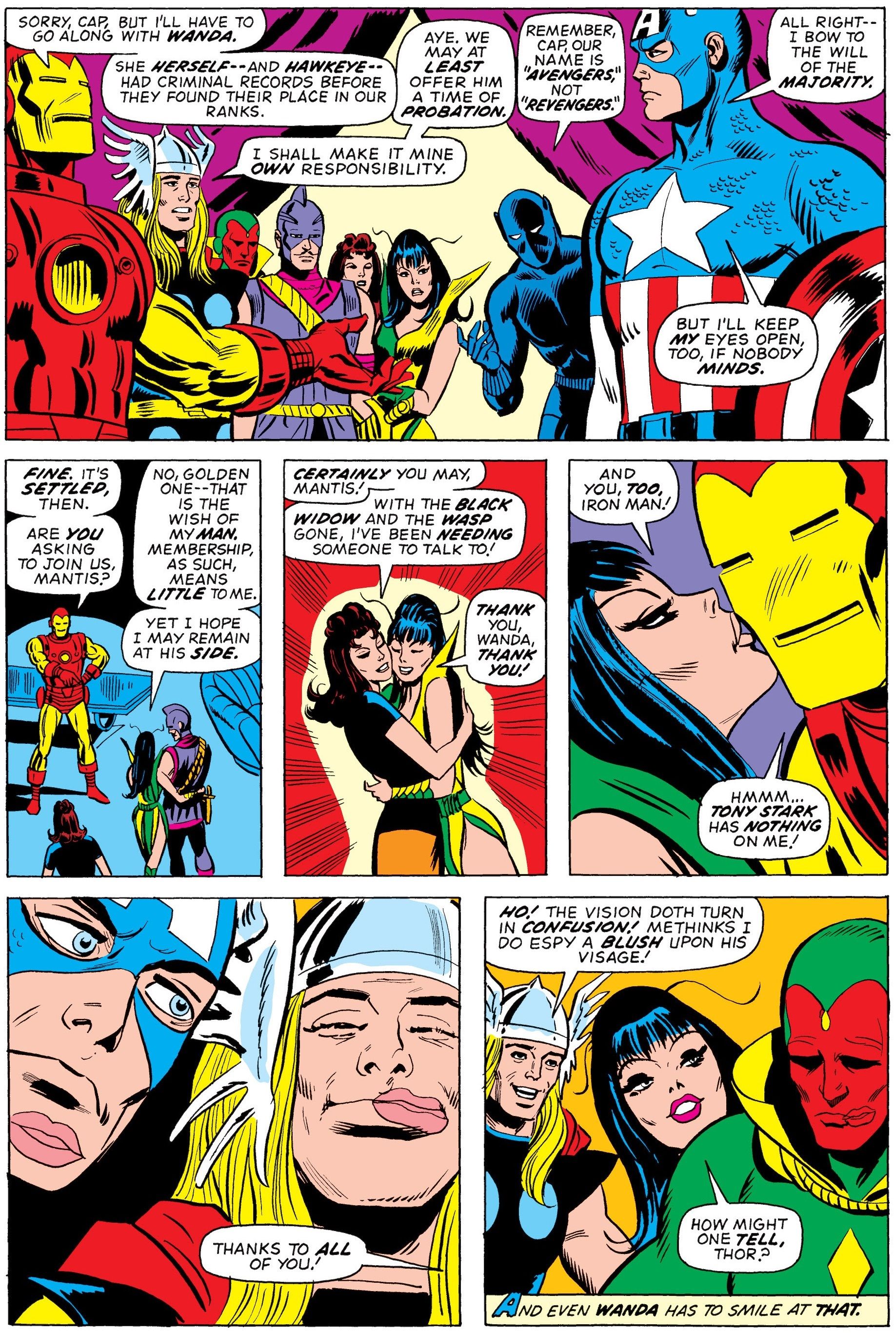 During the "Celestial Madonna" story arc, Kang captured the Avengers except for Swordsman, as Kang didn't even want to bother with the reformed villain, deeming him useless. Swordsman proved Kang wrong as he helped rescue the rest of the Avengers (working with Kang's counterpart in time, Rama-Tut) and in Giant-Size Avengers #2 (by Englehart and Dave Cockrum), Swordsman sacrifices himself to save Mantis from a fatal energy blast…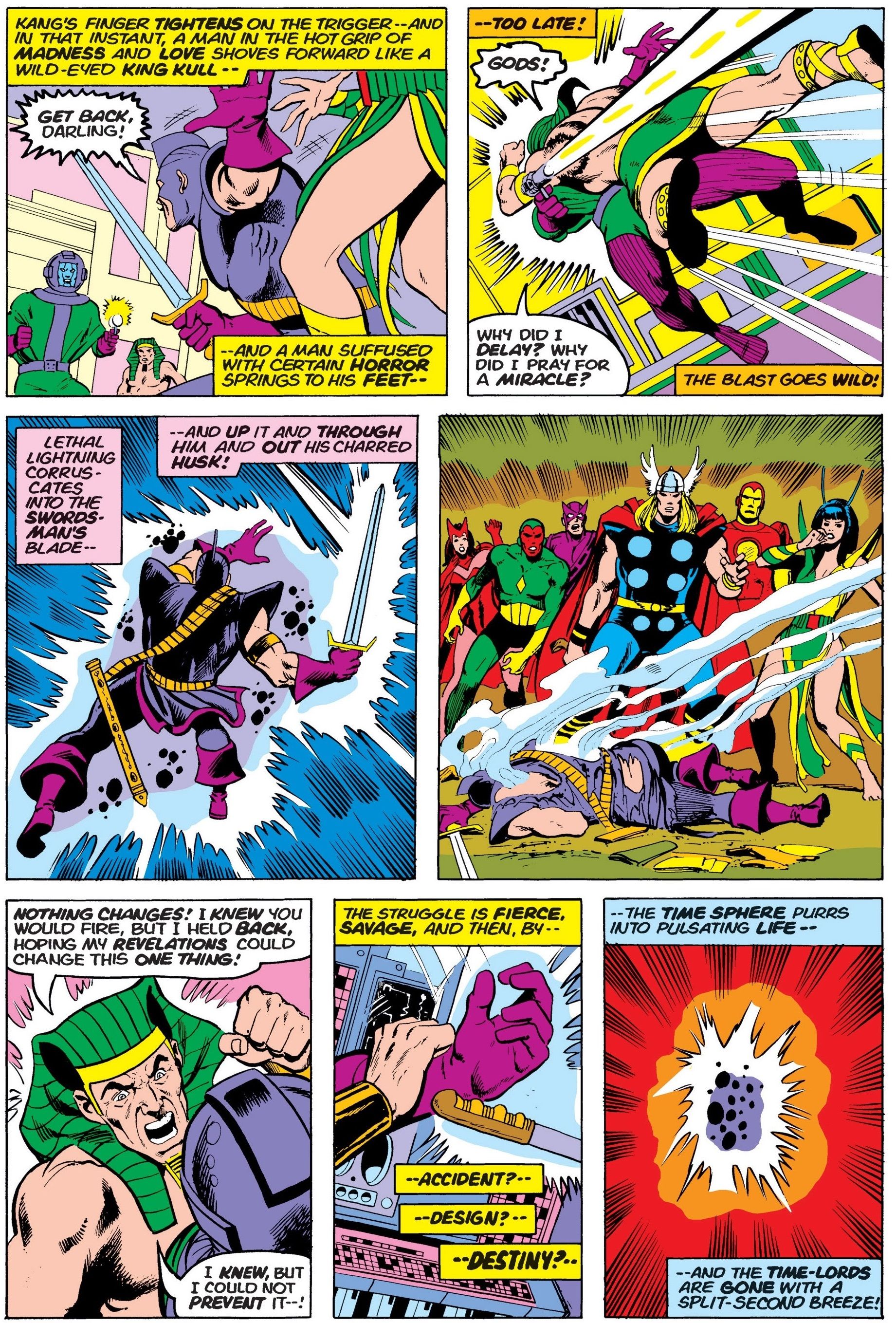 He dies in her arms in front of the other Avengers, who have all let him know that he had already fully redeemed himself…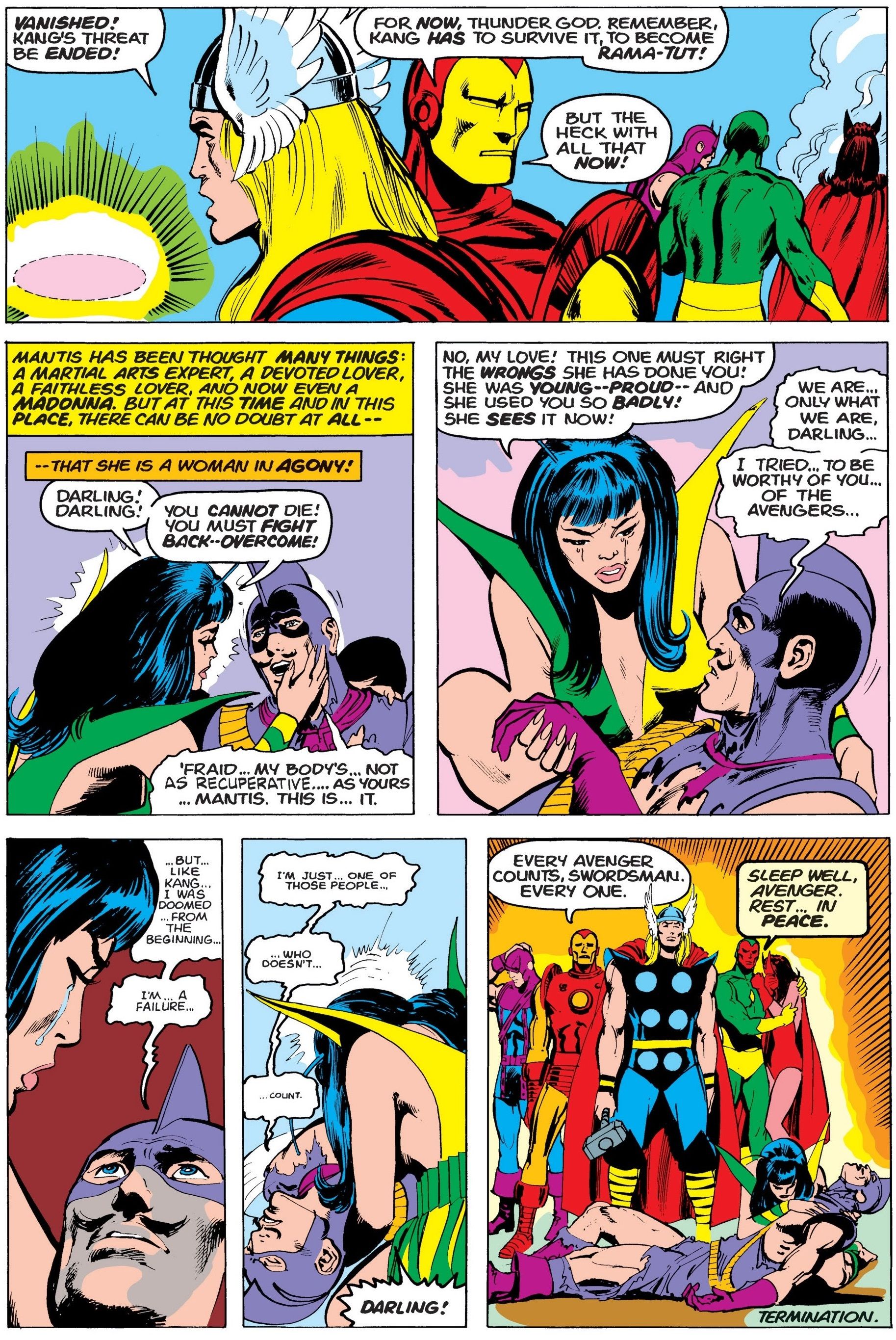 RELATED: X-Men: When Jean Grey & Cyclops FINALLY Got Married
Okay, so in Avengers #130 (by Englehart, Sal Buscema and Joe Staton), the Avengers travel to Vietnam where Mantis had been raised by the mysterious Kree pacifists known as the Priests of Pama and bring Swordsman's body there for a burial…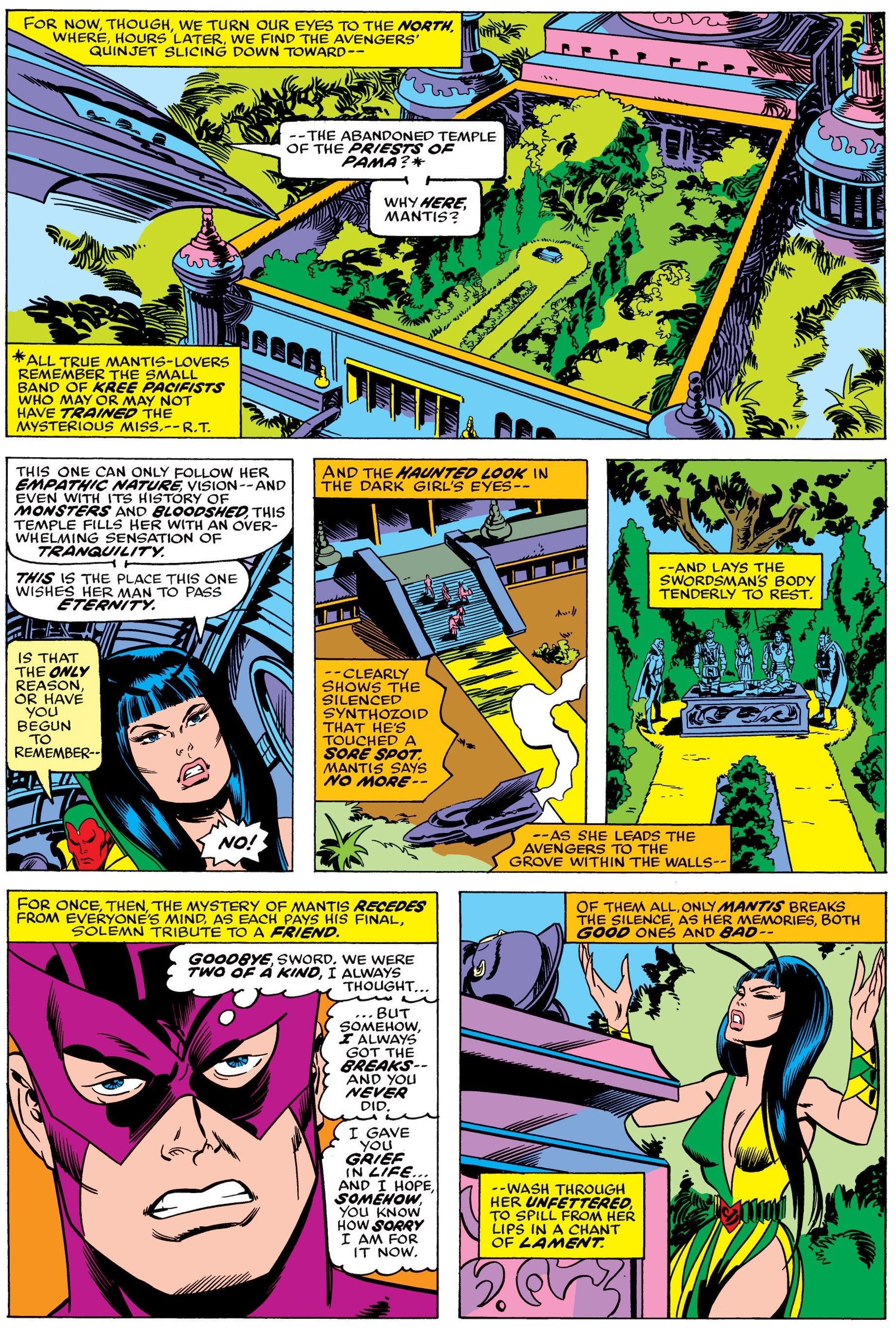 The Avengers then buried Sworsdman's body in a garden there at the temple. You'd think that that wouldn't have been a big deal, but it turned out to be a BIG DEAL…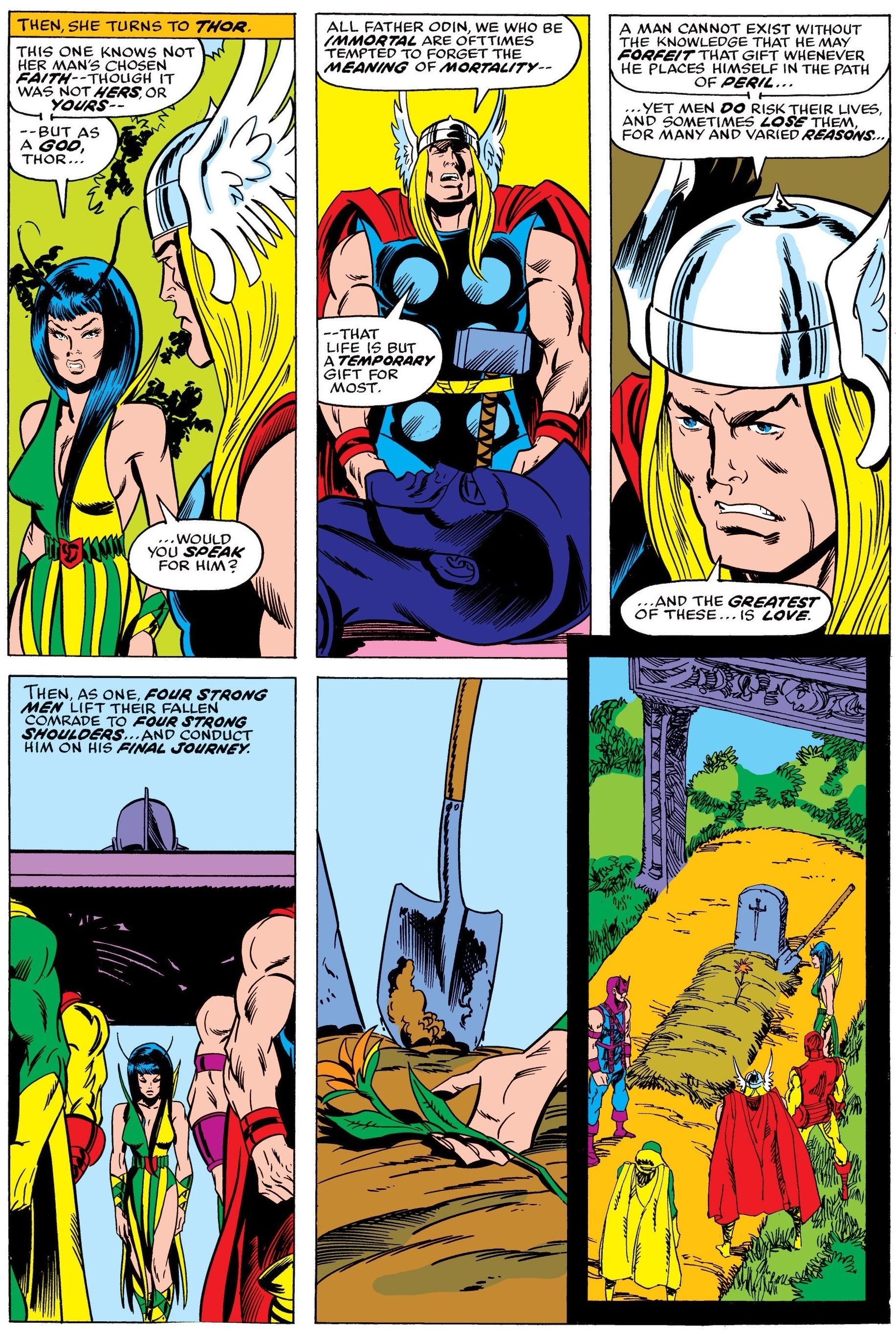 The next issue, Mantis appears to see what seems to be an apparition of Swordsman!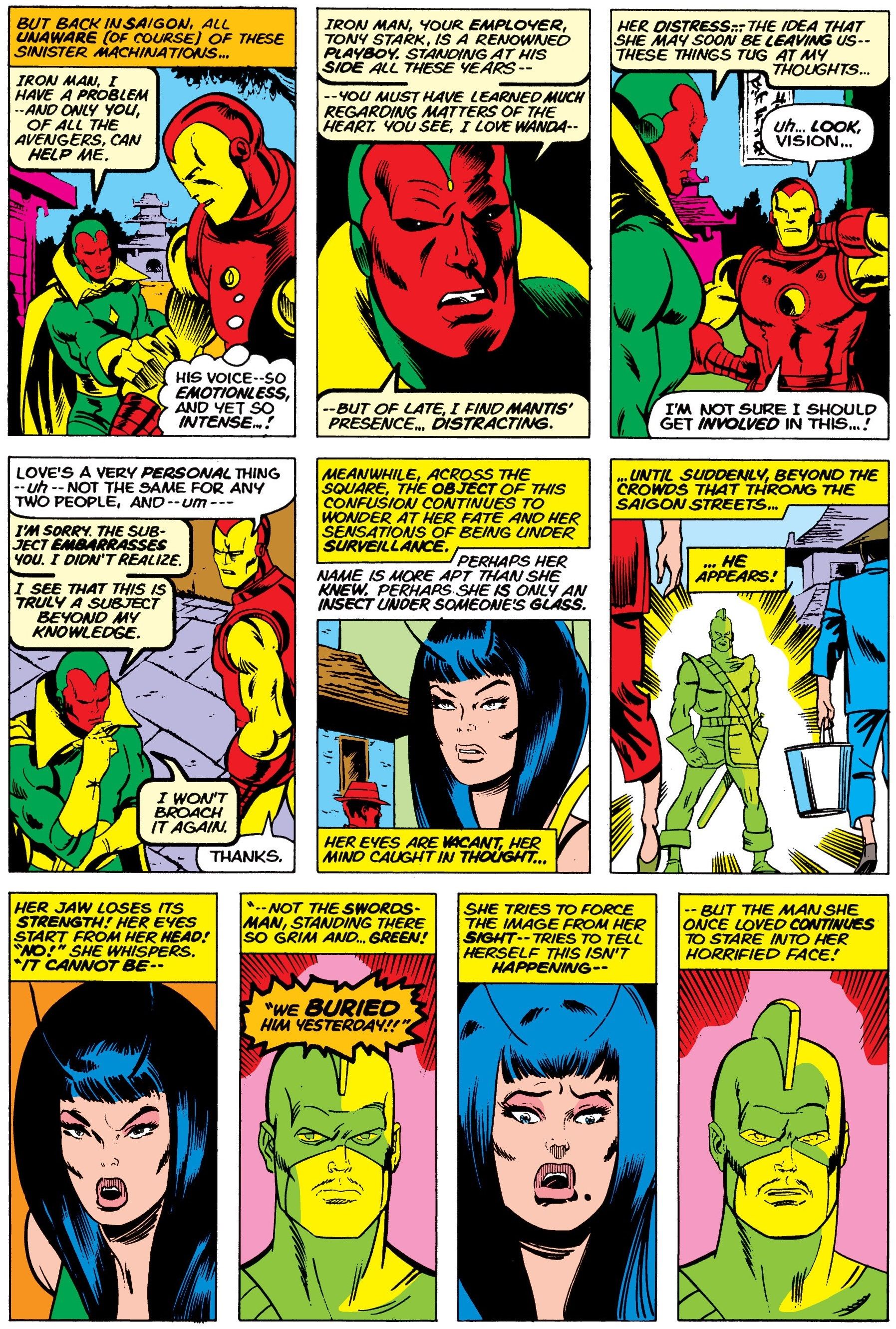 The funny thing is that during that same issue, Kang had put together a Legion of the Unliving, so Englehart (or perhaps his editor, Roy Thomas) had to add a caption to note, "Yeah, this Sworsdman has nothing to do with those OTHER dead guys who were brought back in this storyline). This mysterious glowing green Swordsman was working with Mantis' father, the mysterious Libra…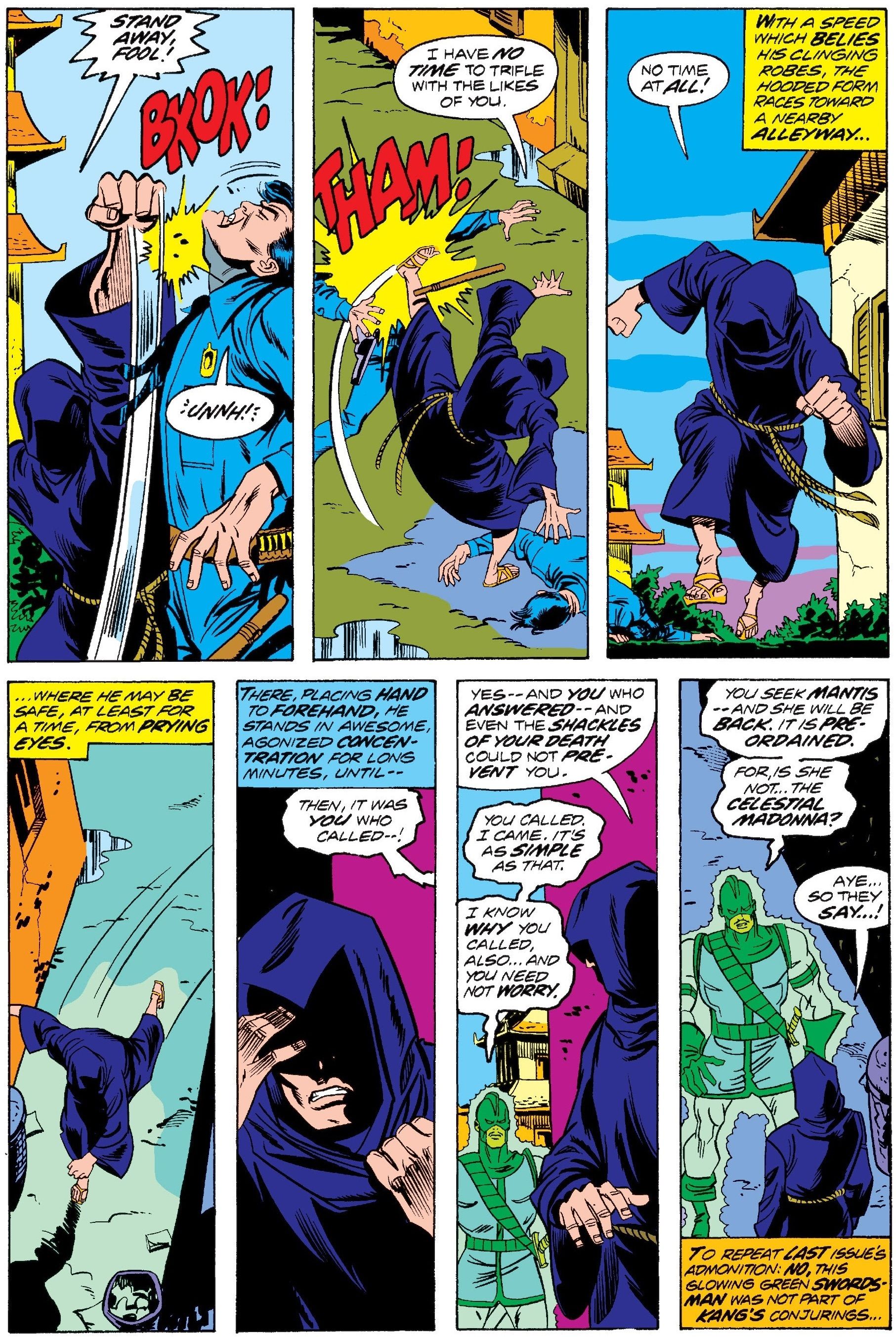 In Avengers #133, we discovered the origins of the Priests of Pama and it turned out that the Kree homeworld was once home to two races, the humanoids now known as the Kree and a plant species known as the Cotati…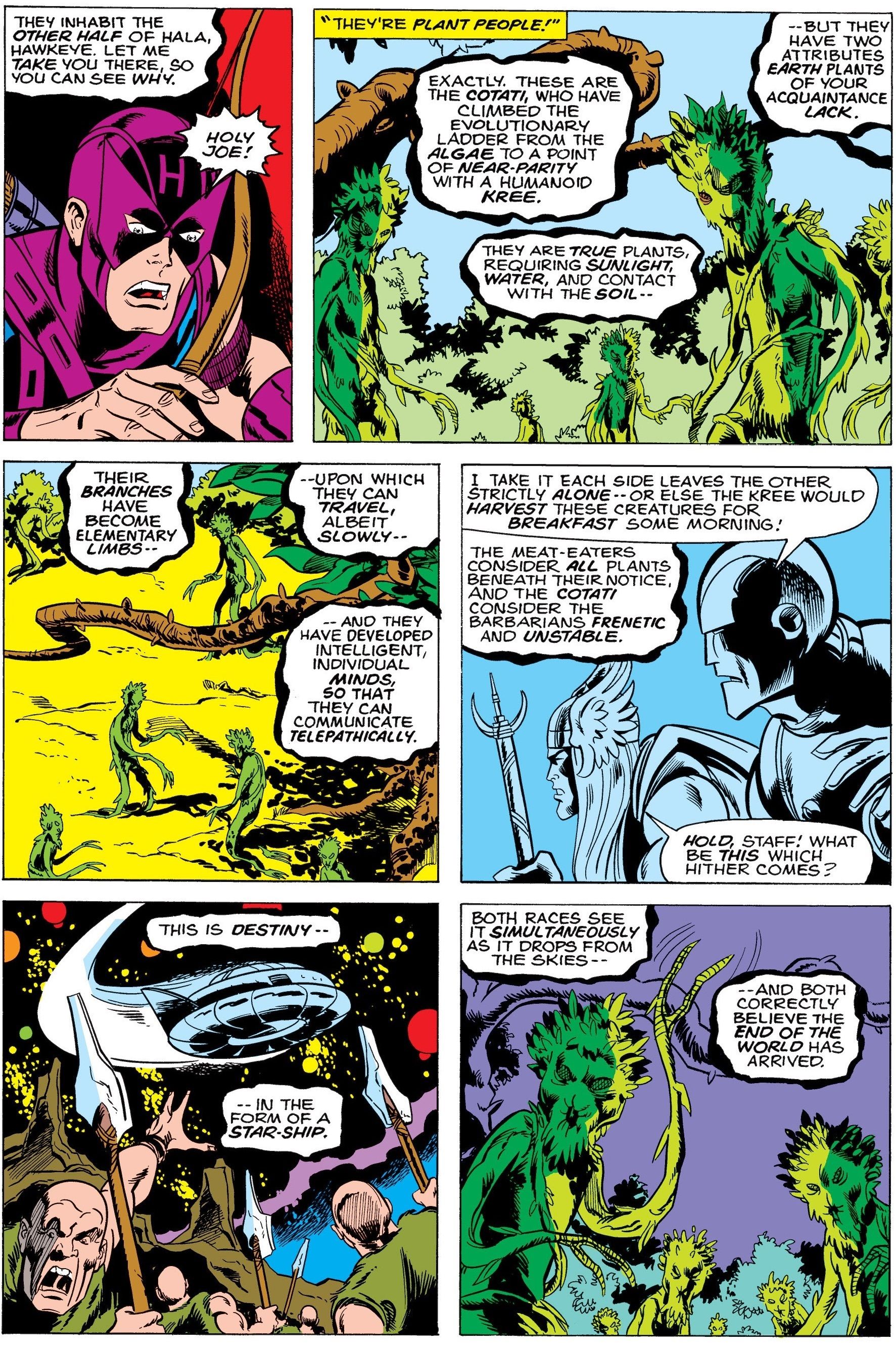 In the flashback in that issue, we saw that the Kree humanoids seemingly wiped out their Cotati counterparts in an attempt to assert themselves as the dominant lifeform on Hala. So the Cotati were seemingly destroyed. As you might imagine, though, killing off plants are not as simple as killing off humans, since seeds and all of that stuff.
So in the next issue, we learn that the pacifist members of the Kree met with the Cotati and formed an alliance…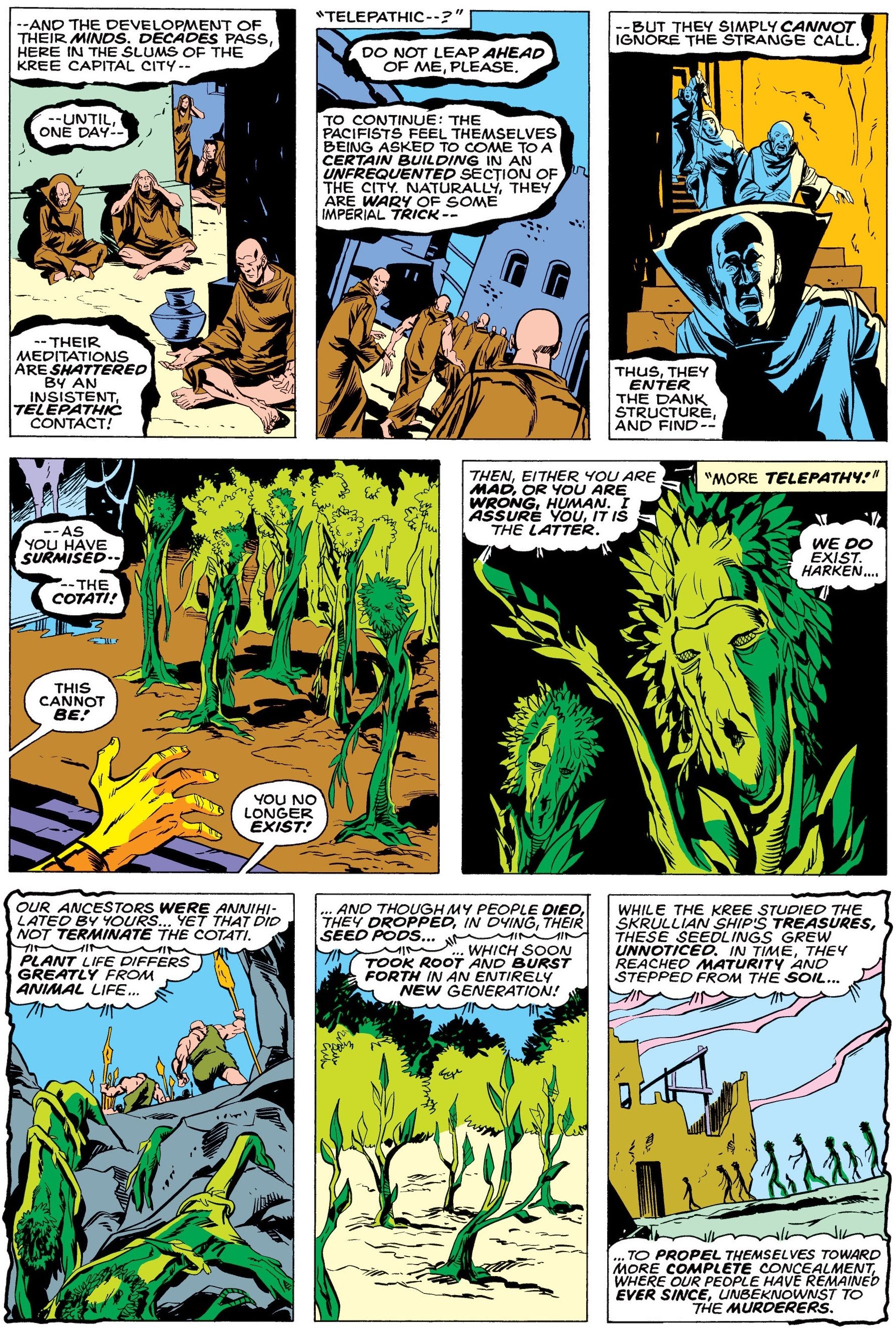 They couldn't remain on Hala, so they traveled the galaxy and settled on Earth in Vietnam because, well, why not, right? And the elder of the Cotati was buried as a plant in the garden…right where Swordsman was buried!
So that brings us to the end of the "Celestial Madonna" storyline. As it turned out, there was a "perfect human" who was set to give birth to a powerful child and Kang wanted to make it so that he could be the father. Instead, the Cotati elder explained that Mantis was that perfect human and the baby would be born special because she would form a union with a Cotati, the perfect plant…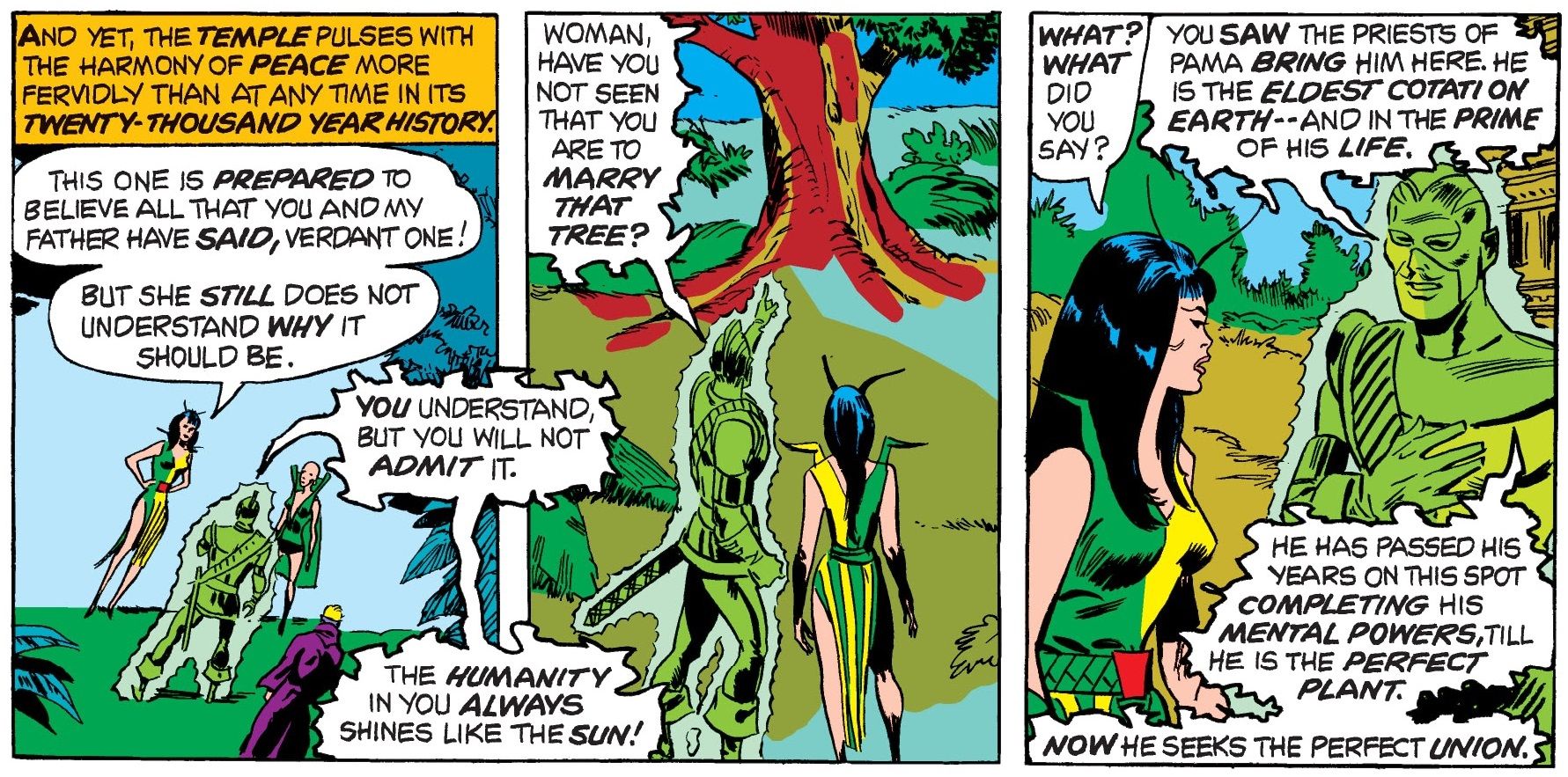 As part of making this, you know, feasible, the Cotati elder resurrected Swordsman's body, especially since it knew Mantis loved Swordsman…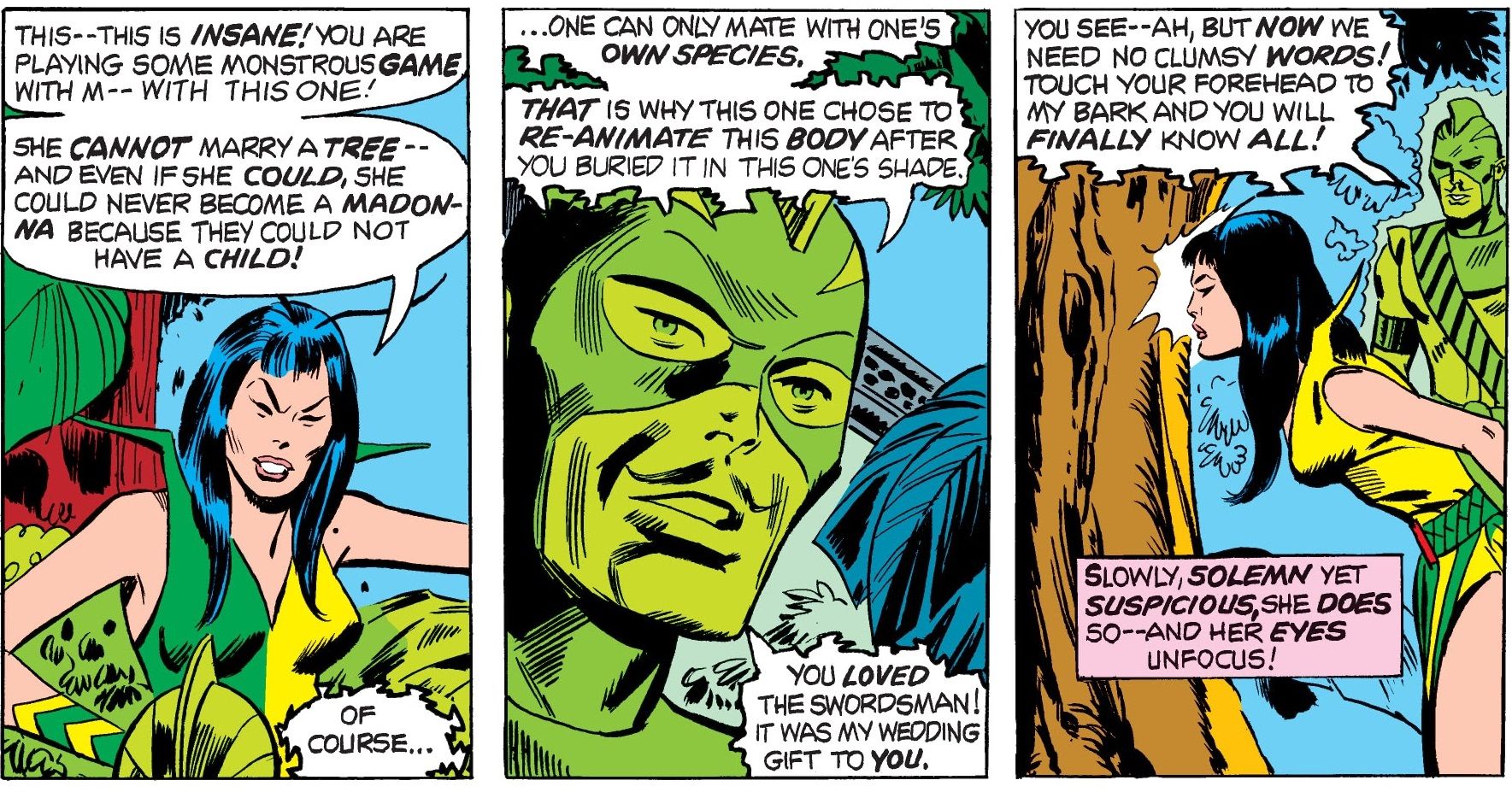 Eventually, Mantis was convinced that this was a good idea and so she and the Cotati-resurrected Sworsdman got married in Giant-Size Avengers #4 (by Englehart, Don Heck and John Tartaglione)…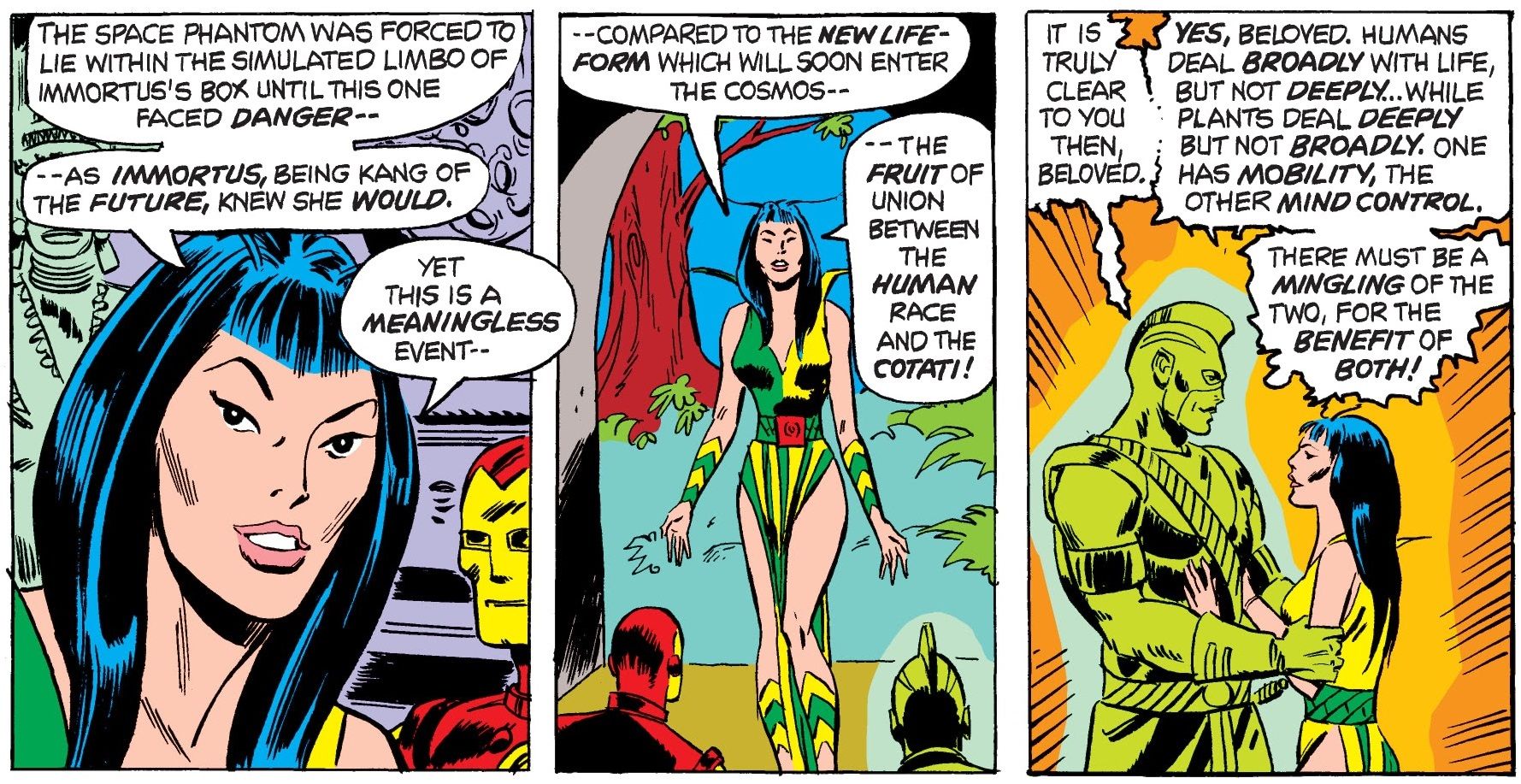 Mantis and Cotati-Swordsman shared their actual wedding with two other Avengers who decided to get hitched in that issue, but I'm sure we can discuss those two very minor characters and their wedding in the future. That is, if people are interested in such minor characters as Vision and the Scarlet Witch.
Once married, Mantis and the Cotati-Swordsman went off to become energy or something like that…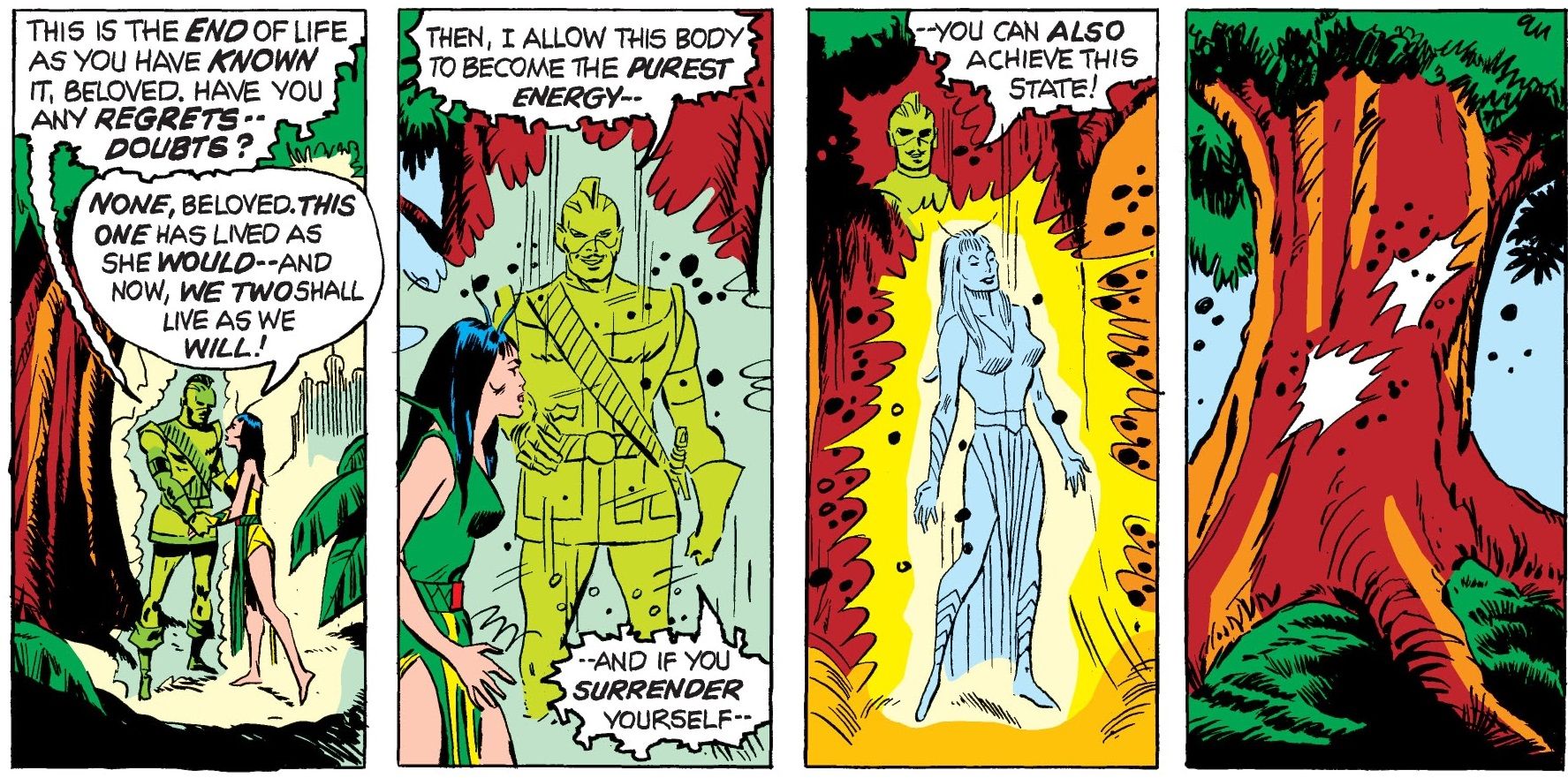 Their future adventures are interesting, in and of themselves, and I'll be addressing one aspect of it tomorrow!
If any one has suggestions for a future wedding spotlight, drop me a line at brianc@cbr.com.
KEEP READING: Nightwing Will Do ANYTHING to Solve a Murder – Even Get Married!
from Ultimate Comic Blog
https://ift.tt/3ry5dU3
via IFTTT