Why Marvel Replaced the Avengers' Biggest Loser… with His Own Variant?
https://ift.tt/33c31Yg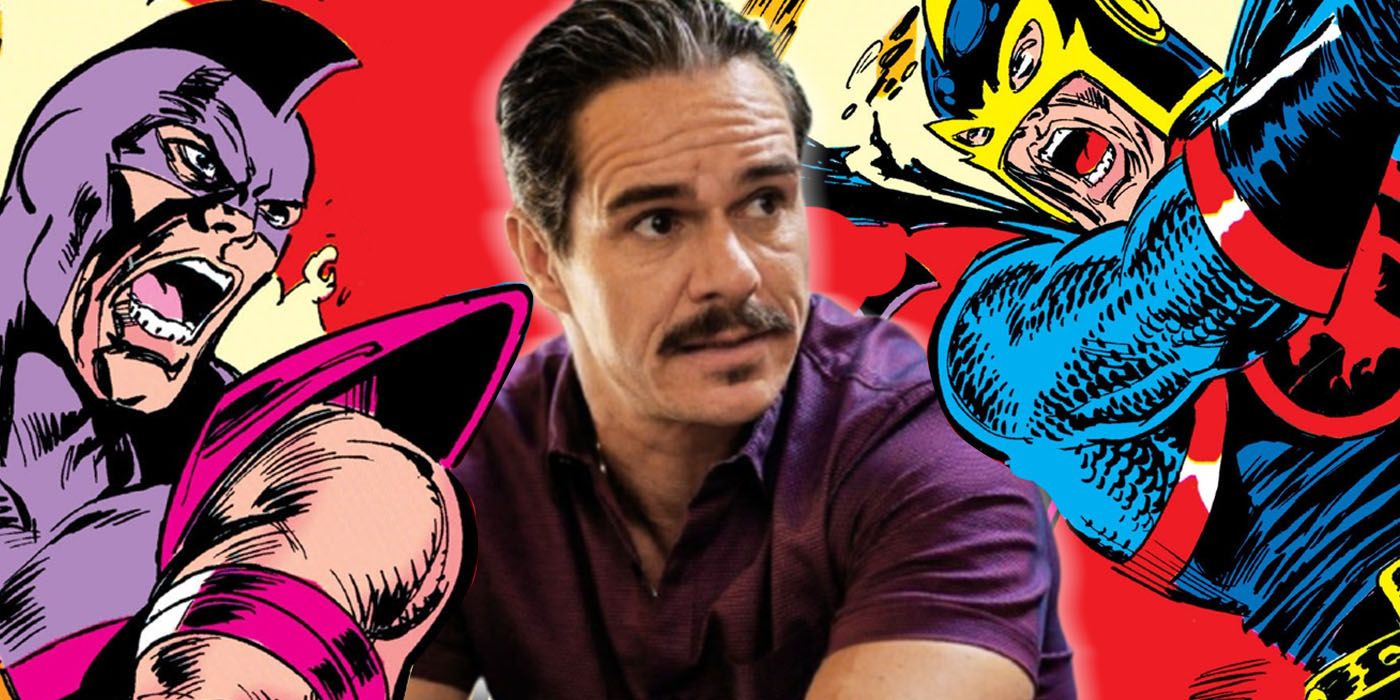 Today, we look at how Marvel decided to bring Swordsman back to life during the Avengers' Gatherers Saga…well…at least A version of the Swordsman.
In Death is not the End, we spotlight the outlandish explanations for comic book characters (mostly super-villains) surviving seeming certain death.
Okay, so there is a lot to unpack here, as I continue the almost hilariously convoluted story of the biggest loser Avenger, Swordsman, and how he was given one last comeback during the 1990s…well, A version of the Swordsman, at least! First, let's do a quick recap. Recently, I discussed how Swordsman went from being a longtime enemy of the Avengers who just happened to worm his way on to the team at one point to actually being a legit member of the team. He then died saving his teammate and lover, Mantis, from being killed.
In Avengers #130 (by Steve Englehart, Sal Buscema and Joe Staton), he was buried and the captions even kind of hilariously called him a loser, making our headlines about him canon…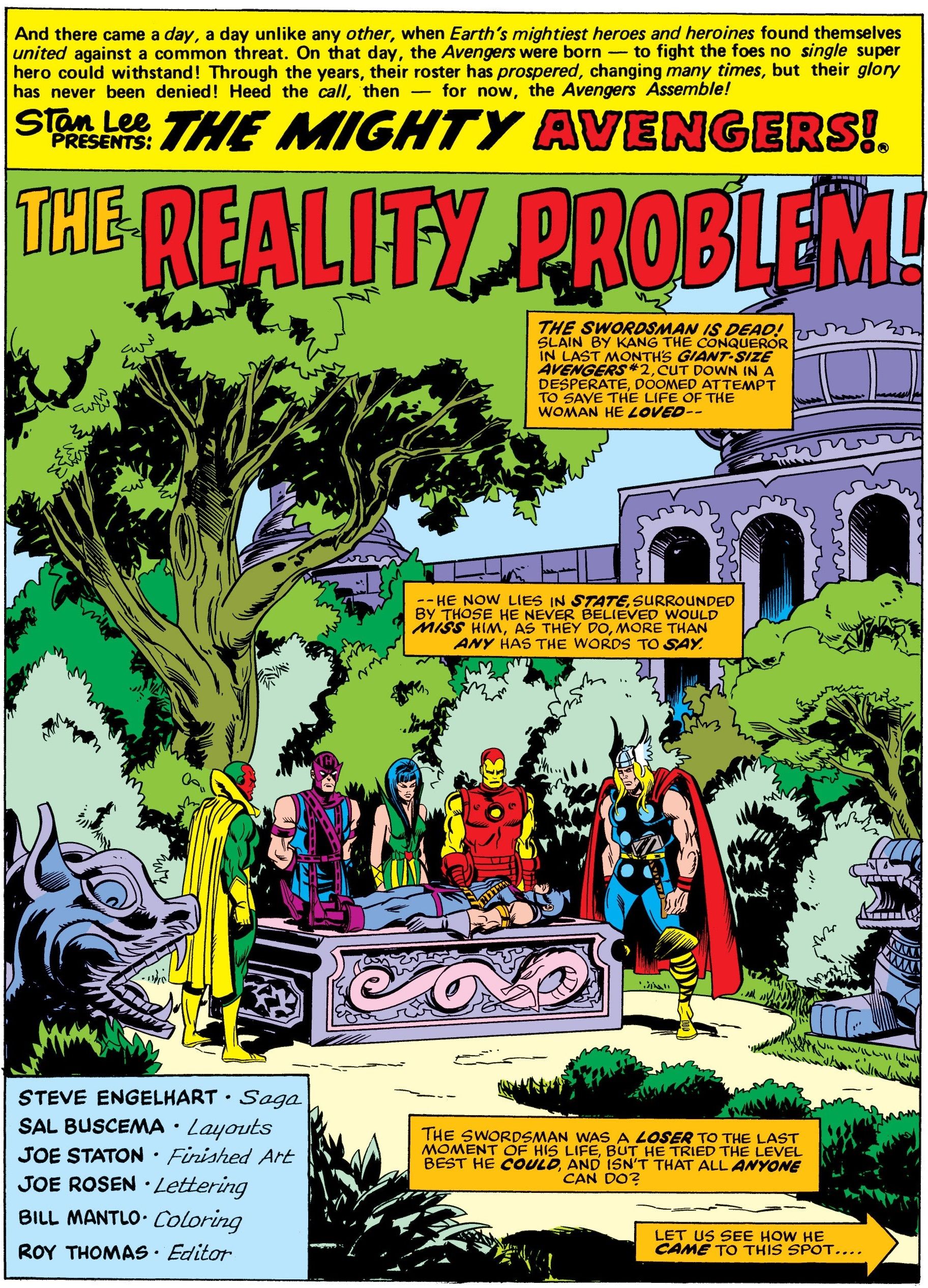 However, as I also mentioned in another feature, Swordsman's body happened to be buried in the same spot as a grove of intelligent plants known as the Cotati. They were peaceful plants who had initially shared the homeworld of the Kree before the other half of the Kree planet slaughtered them (with inadvertent help from the Skrulls, who had not yet become ancient enemies with the Kree themselves). Some Kree pacifists escaped to Earth with the Cotati and lived on Earth. The Cotati Elder then possessed Swordsman's body and reanimiated it so that Manis could mate with him to form the Celestial Messiah, the perfect merging of the ultimate human (Mantis) and the ultimate plant (the Cotati Elder, in Swordsman's body).
Mantis was down with this idea and it all happened in Giant-Size Avengers #4 (by Englehart, Don Heck and John Tartaglione).
Once married, Mantis and the Cotati-Swordsman went off to become energy or something like that and created their son, the Celestial Messiah. In the last time, I noted that the Cotati who had been merged with Swordsman was eventually driven insane by Swordsman's loserdom (or perhaps just his humanity period. Six of one, half dozen of the other) and almost destroyed all human life on Earth by manipulating his son into using his powers to kill anything not a plant. The Cotati-Swordsman was then killed. So that's the end of that story, right?
Oh, you precious dear, don't you know that this is comic books. Nothing is ever that "simple," and so there was a whole OTHER Swordsman in the Marvel Universe! Let's take a look!
RELATED: Why Marvel Was Forced to Rewrite Shang-Chi's First Kill
In Avengers #343 (by Bob Harrras, Steve Epting and Tom Palmer), the Avengers were lured into a trap and they were then attacked by some unknown assailants. At the end of the issue, their foe is revealed and it's….SWORDSMAN?!?!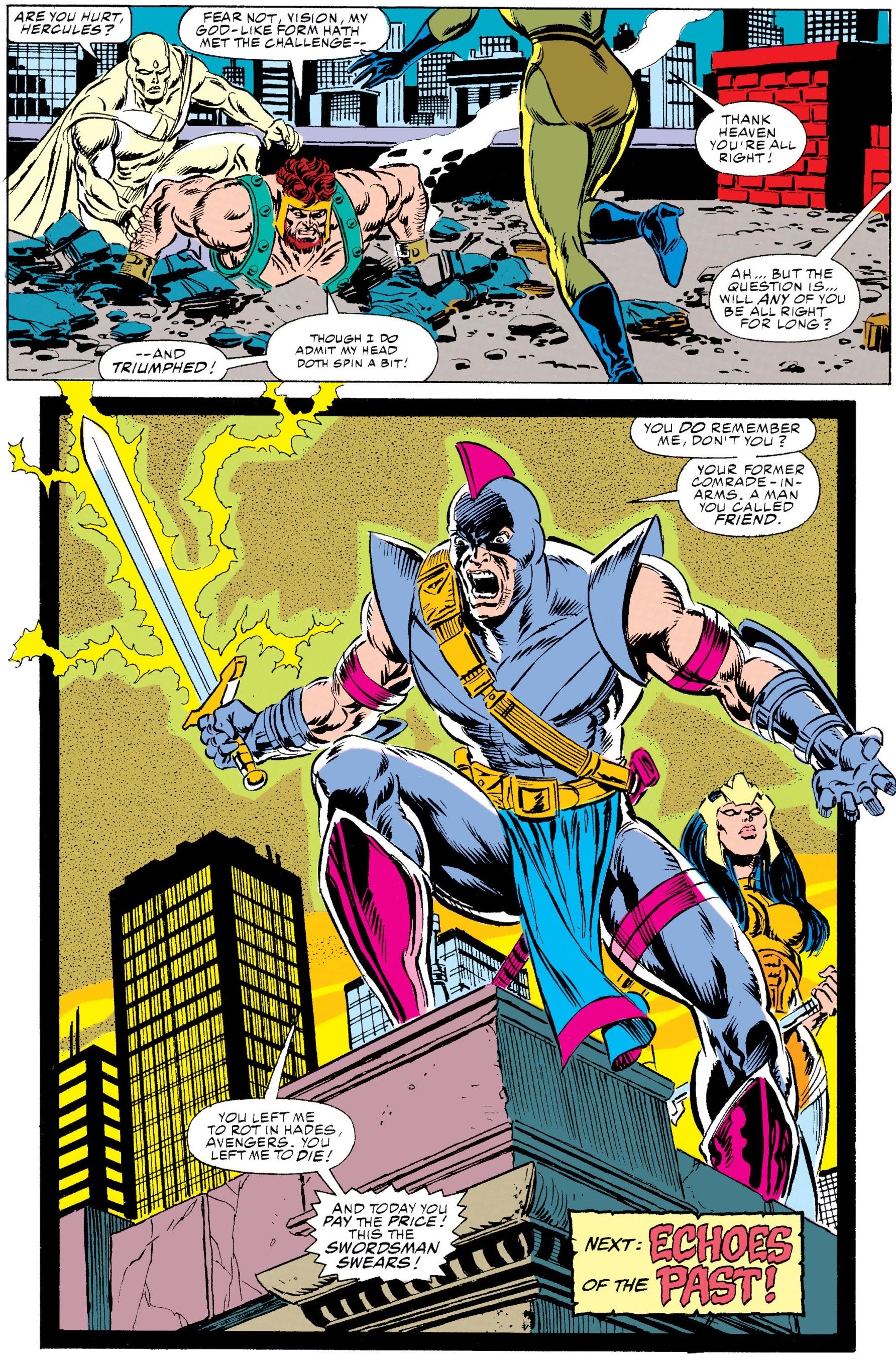 Not only is it Swordsman, but he bears a real grudge against the Avengers, especially Vision…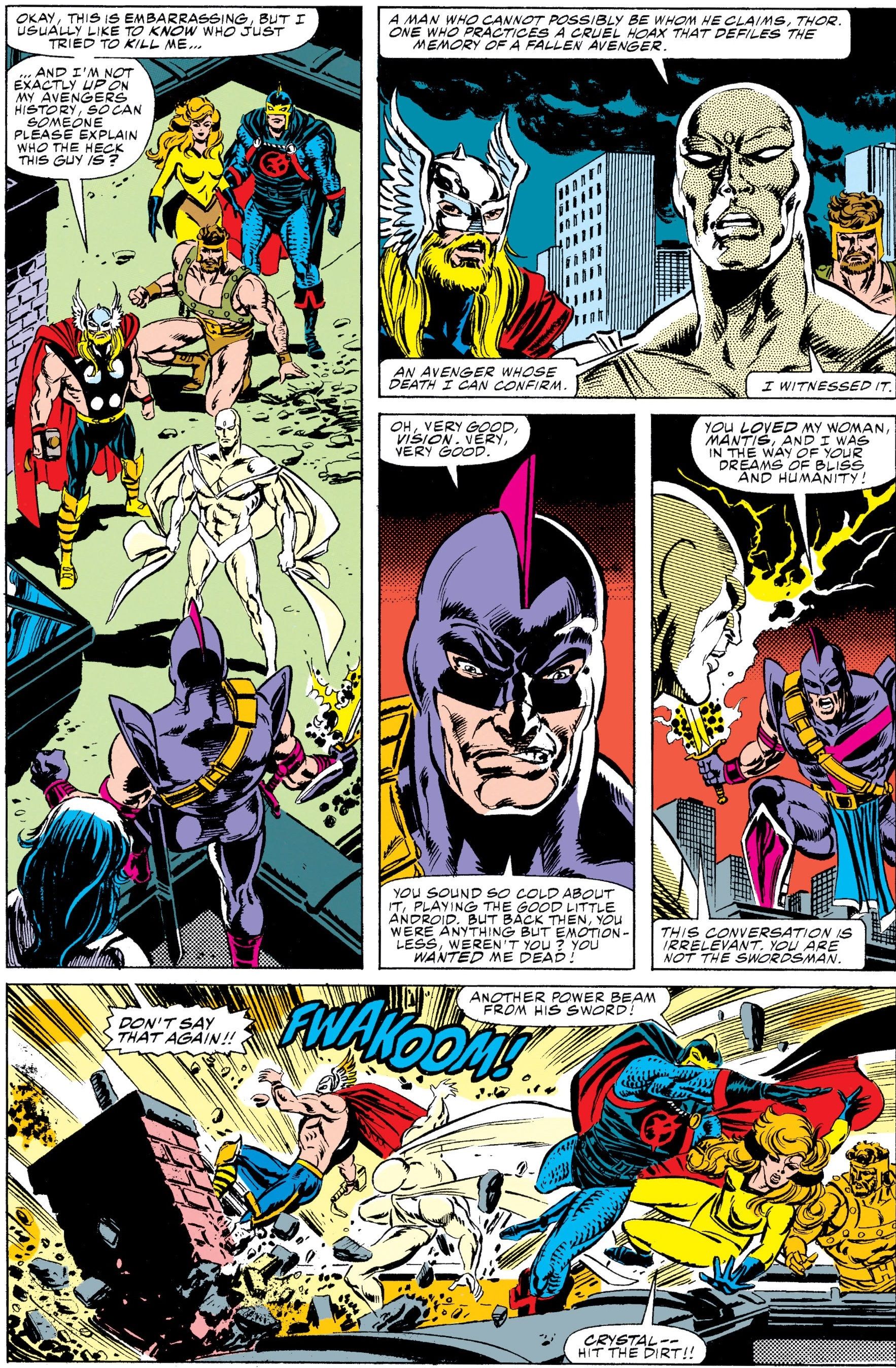 However, something is seriously wrong with this Swordsman, as he gets these attacks of great headaches constantly that are so bad that he can't even stand up straight…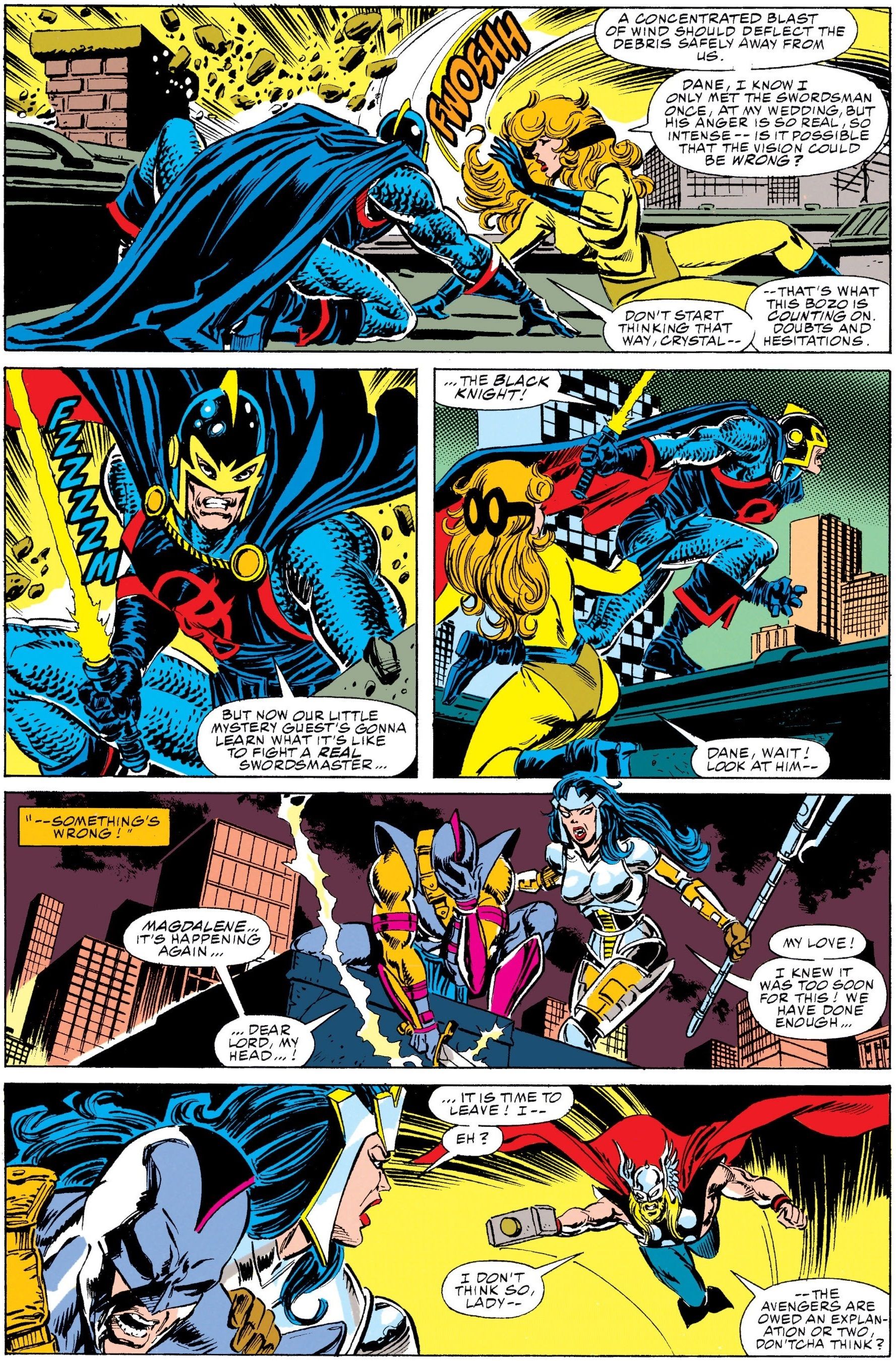 The biggest hint that this wasn't the real Swordsman is when he had a really cool fight with Black Knight…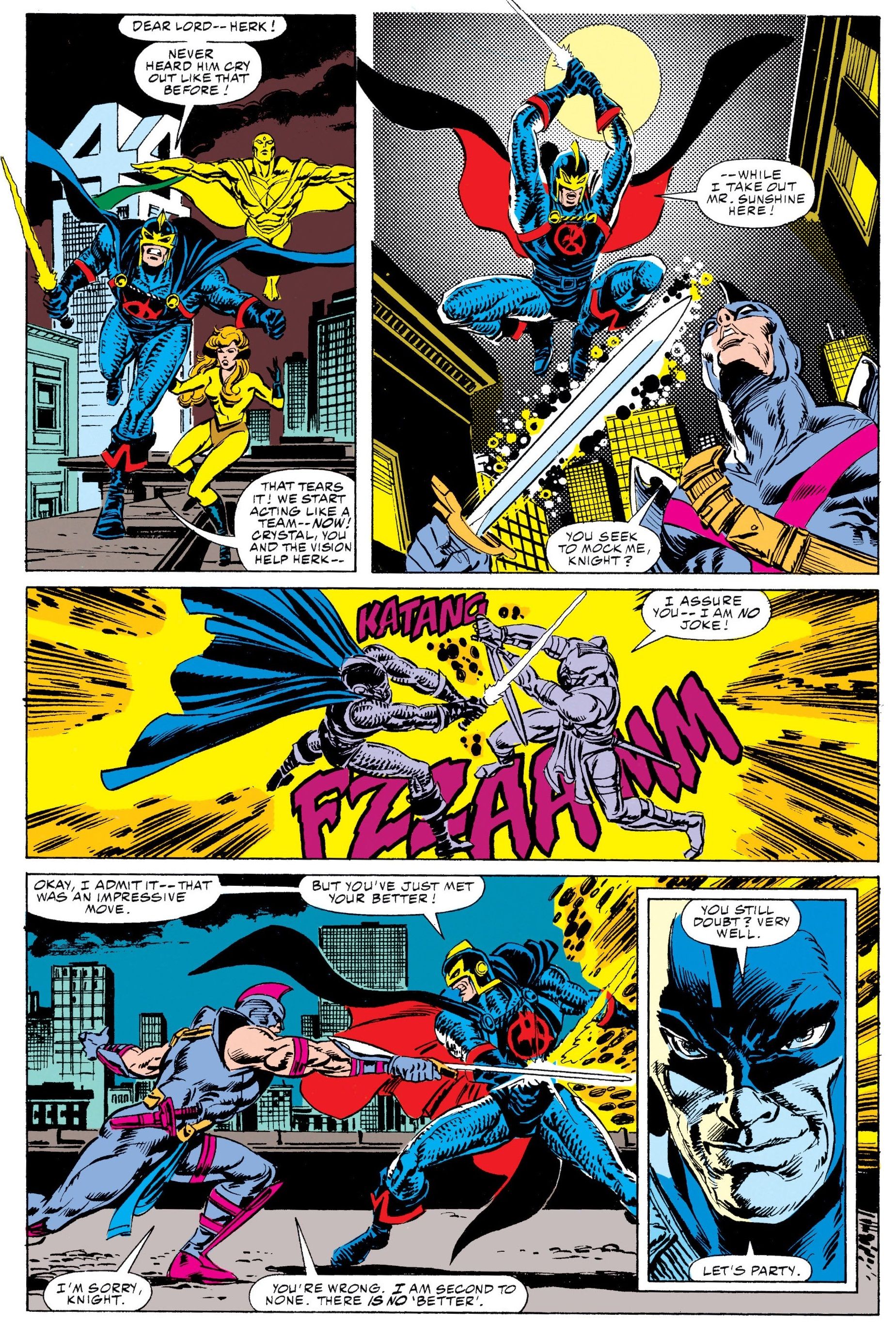 As, well, come on, the real life Swordsman was never this cool…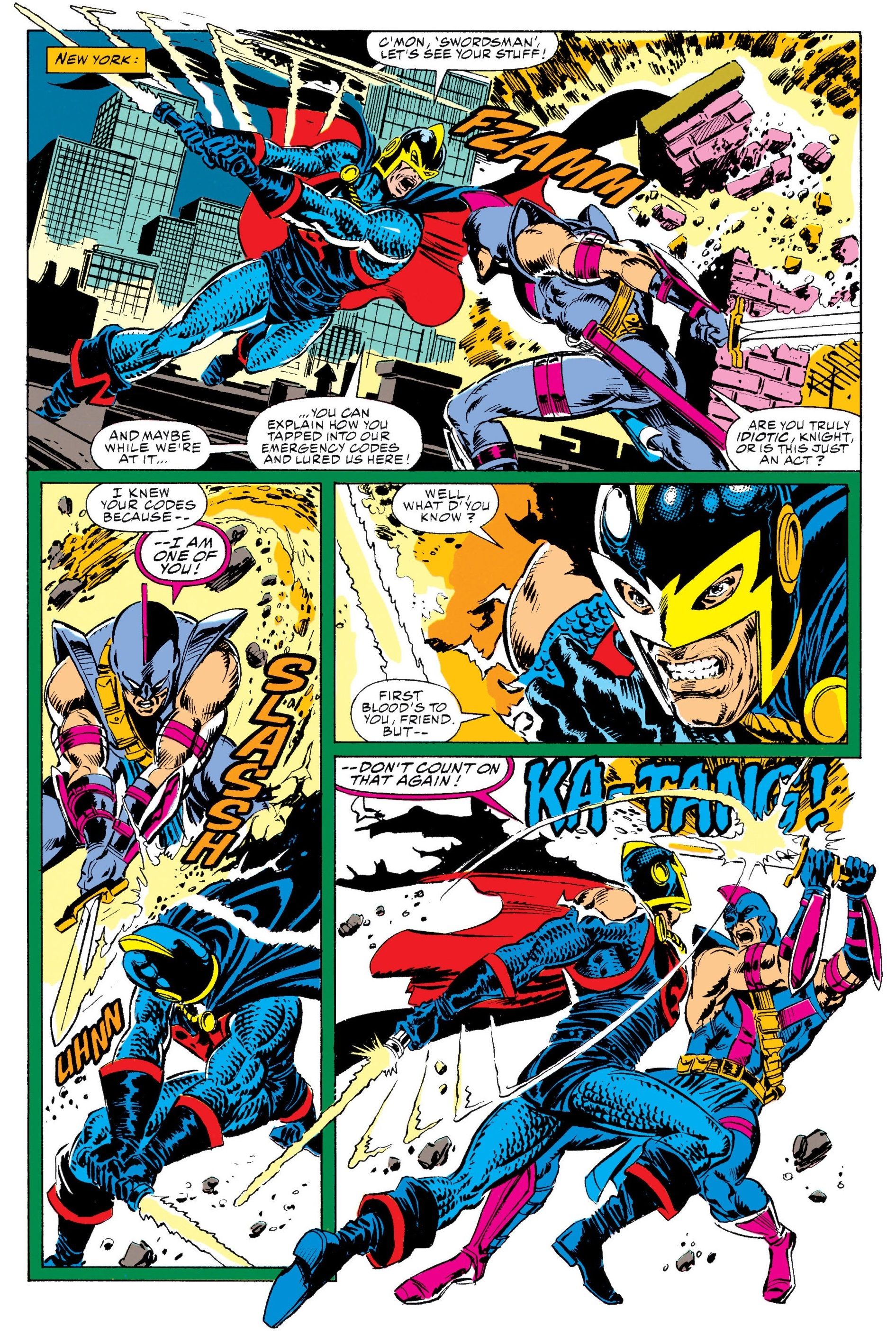 In the end, the fight ended due to Swordsman collapsing again and his cohort (and apparently girlfriend, Magdalene), allowed him to escape. They returned to their master, Proctor, who helped heal the Swordsman's headaches…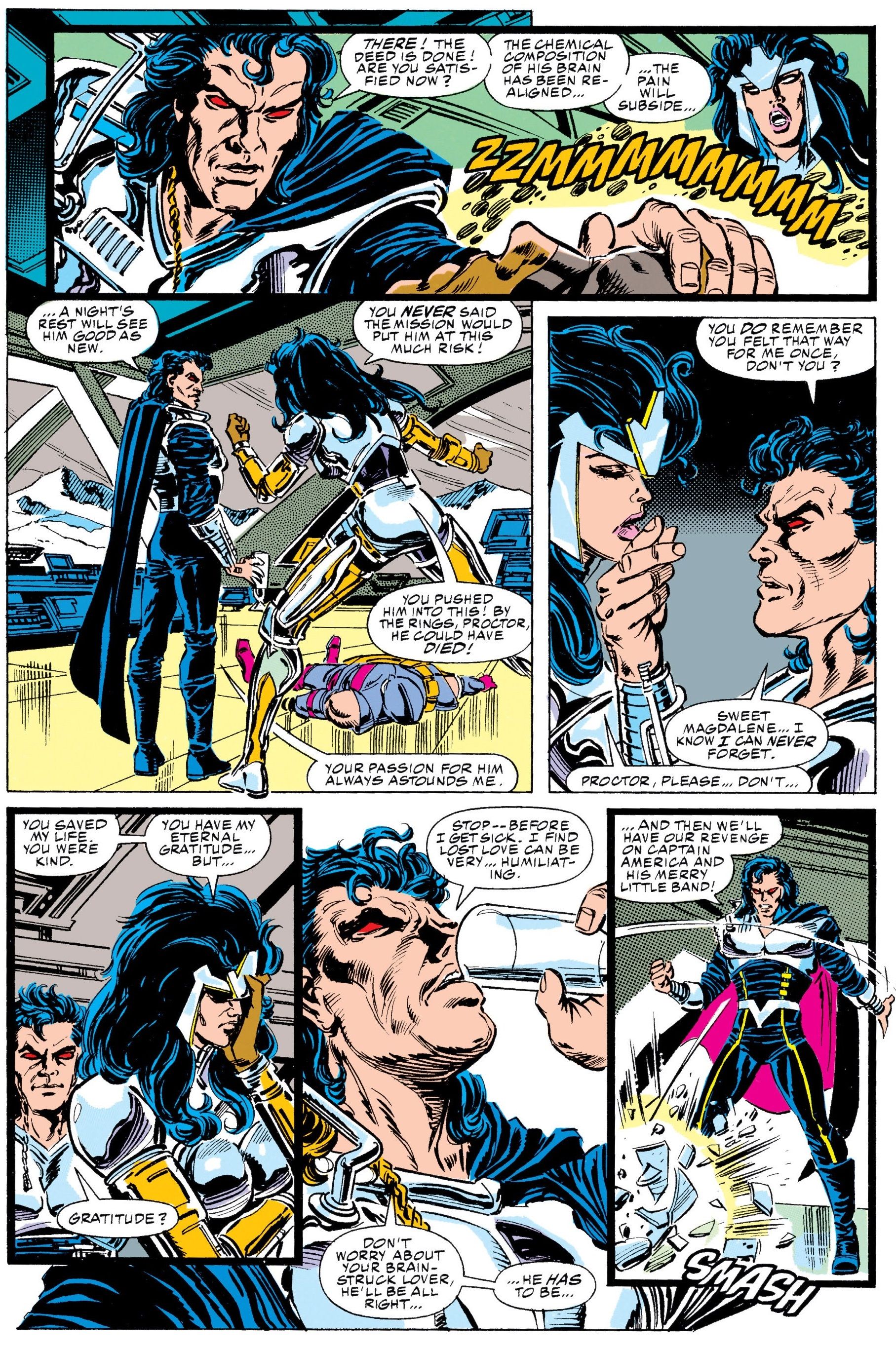 Okay, eventually, in Avengers #356 (by Harras, Epting and Palmer), we learned that the Gatherers went through various universes and pulled out alternate versions of heroes on this Earth, like the Coal Tiger, the alternate version of Black Panther…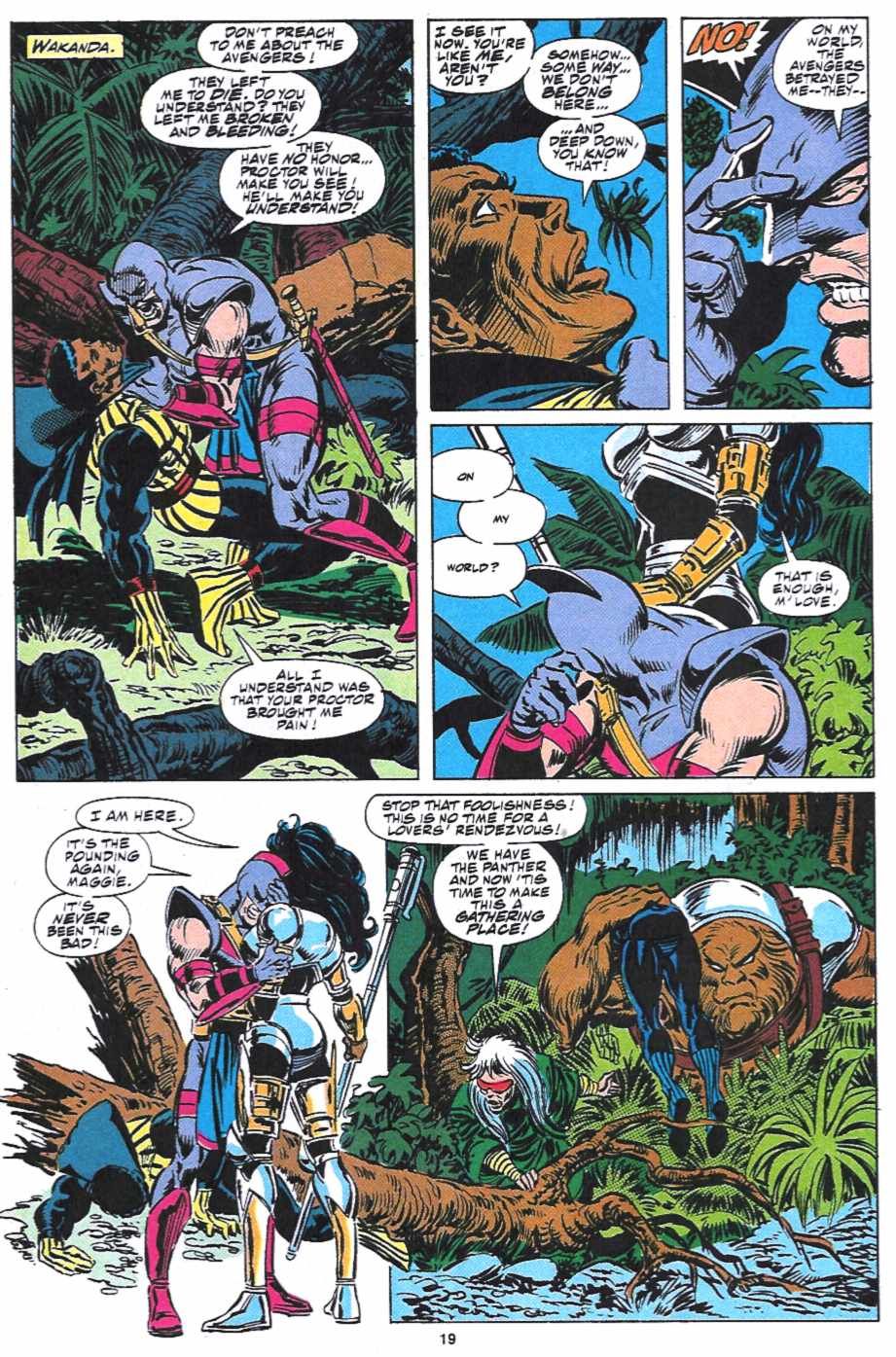 And apparently, Swordsman's mental problems are due to the fact that his alternate on the main Marvel Earth is dead, so he can't be merged into like the others to get permanently "merged"…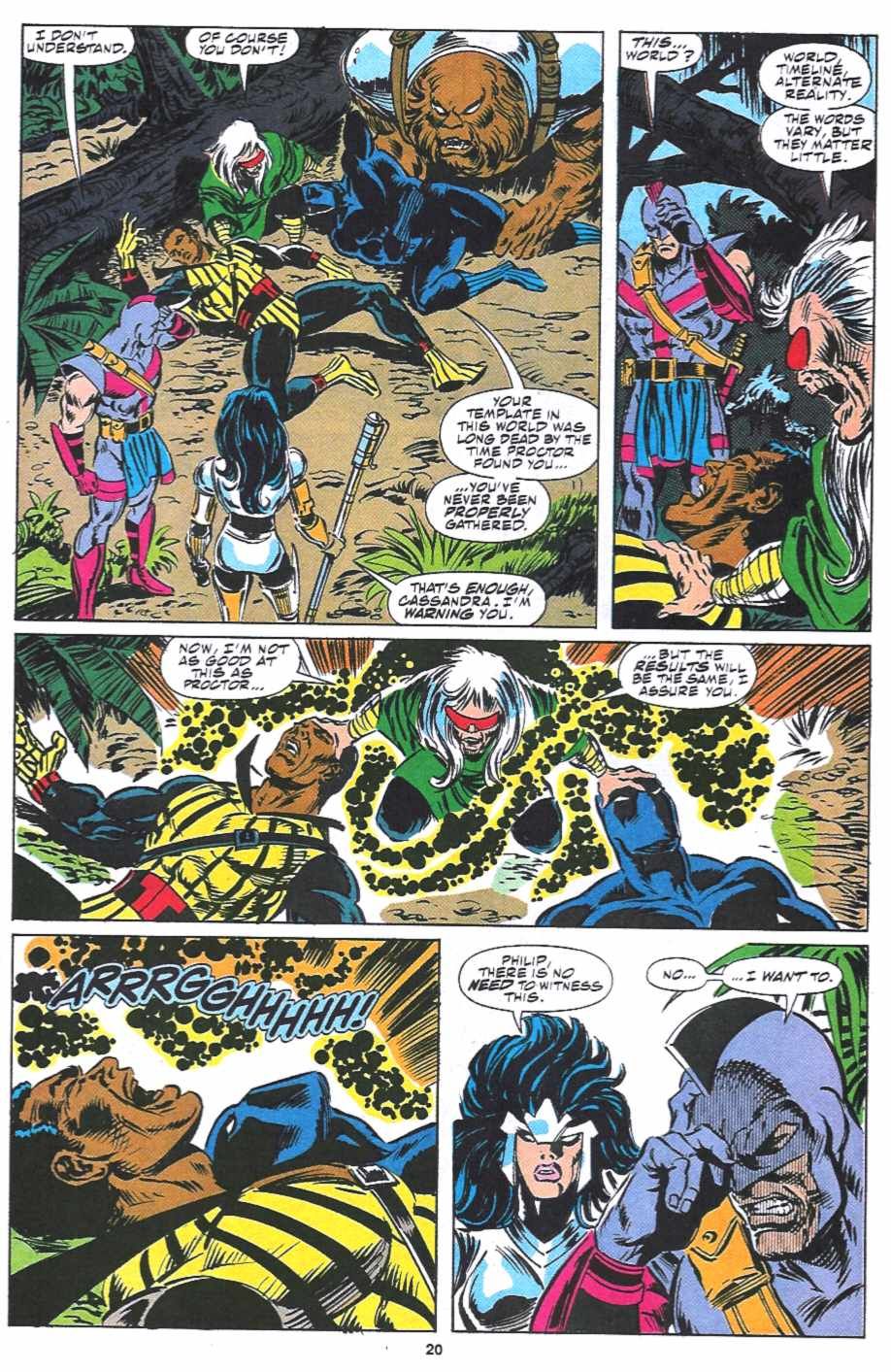 Eventually, Swordsman agrees with the Coal Tiger that he can't just let the Black Panther be murdered, so he turns on his Gatherers teammate (as he dies, the Coal Tiger thanks Swordsman for allowing him to die a hero and not live as a murderer)…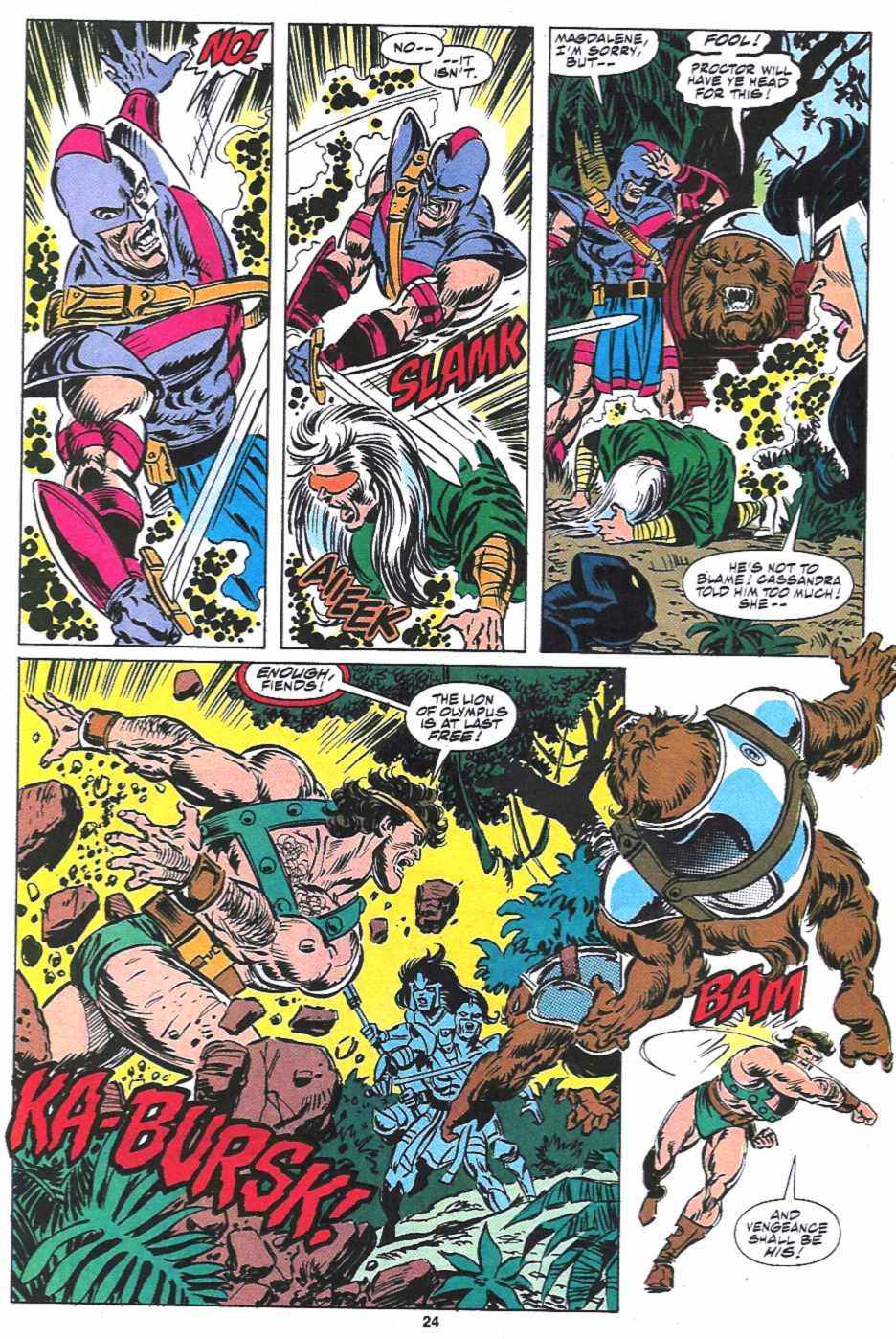 In the next issue, the Avengers get to the bottom of things by showing that Swordsman's world had a very different history than the main Marvel Earth, as he doesn't recognize the red-skinned Vision…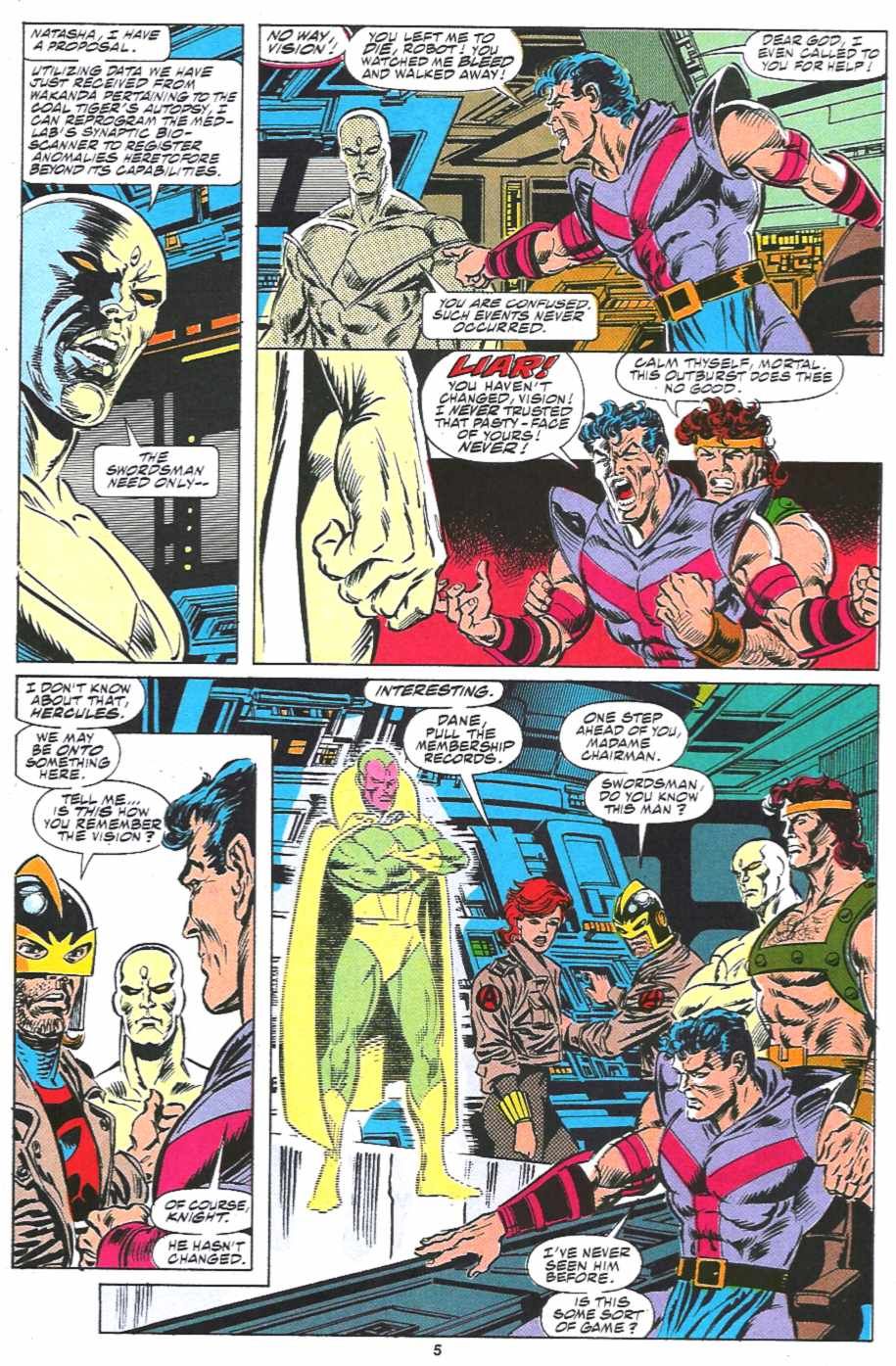 and he doesn't even recognize Mantis, until he sees Moondragon, who is Mantis in his reality!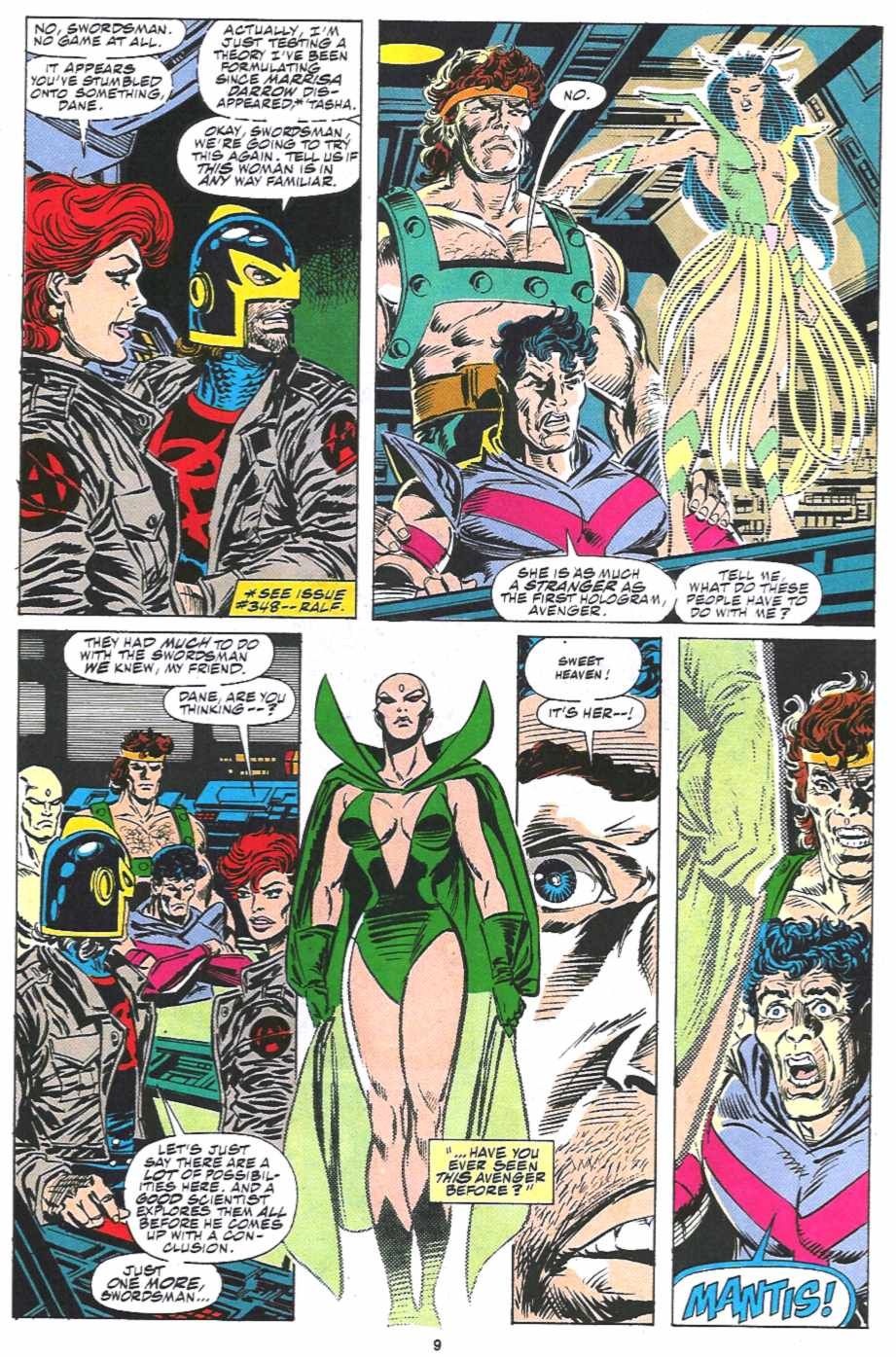 In a really clever bit in the following issue, Marilla fills Swordsman in on Jacques Duquesne's life and death (and plant-based life after death) and Philip Javert (his name in his reality) laughs at how silly it all sounds…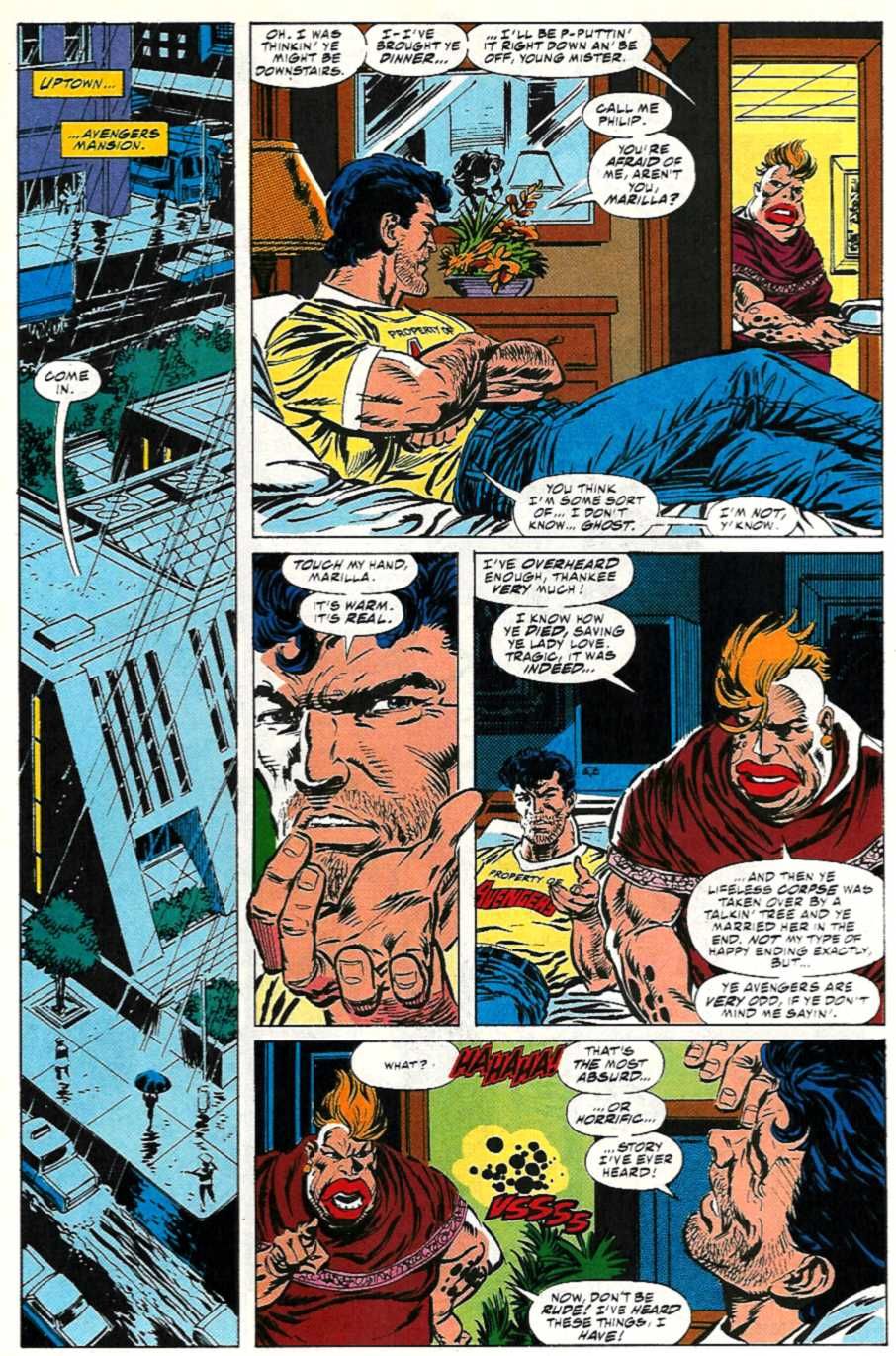 The Vision offers to share him files about his other version on this Earth and finally, Swordsman stops acting like a jerk and agrees…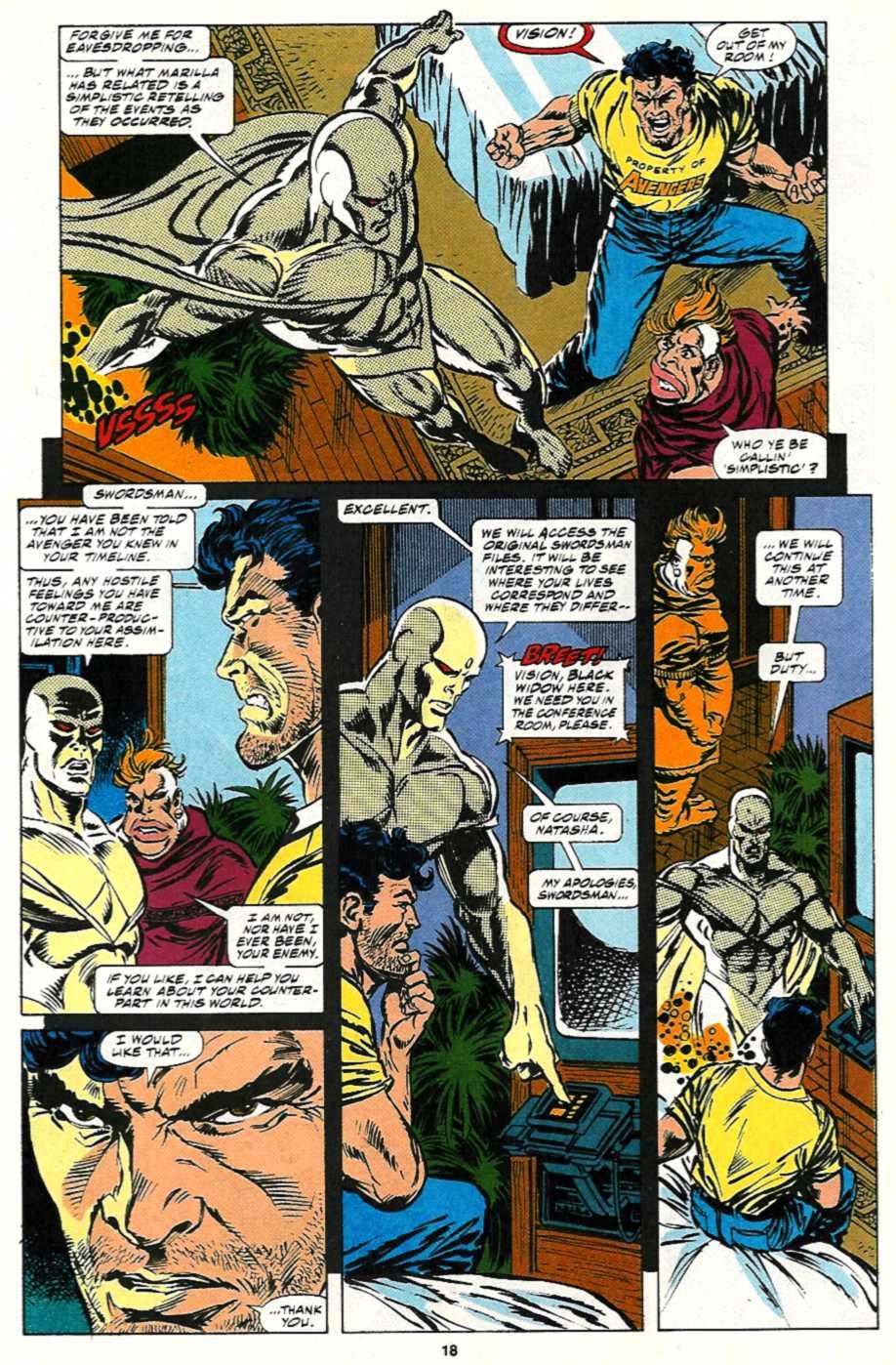 A couple of issues later, we see that the two are now buddies and are studying up on Jacques Duquesne's loser life…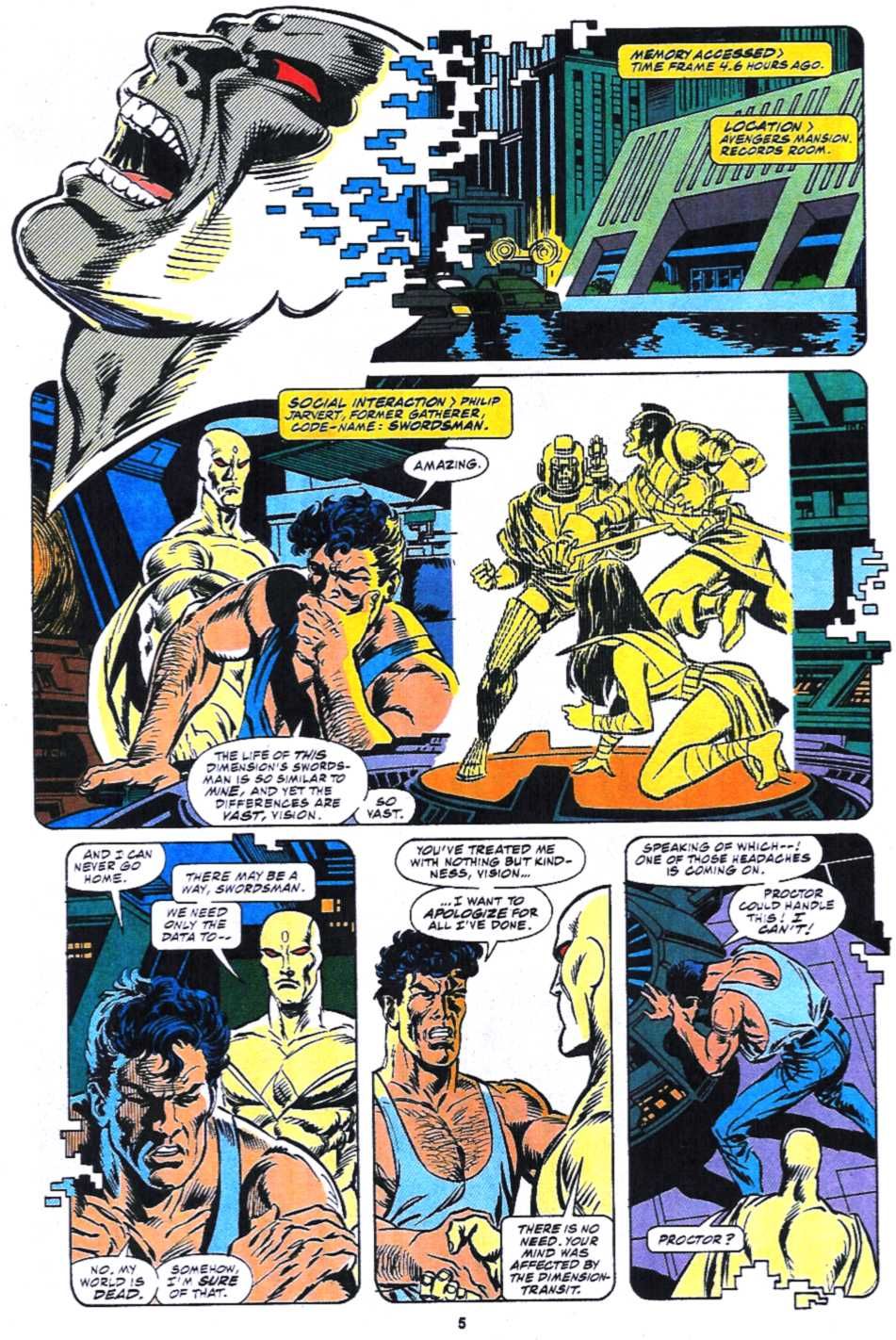 Proctor tries to have him killed by replacing Vision with an alternate reality version of the sythezoid, but Swordsman survives. Magdalene then breaks from Proctor to help the Avengers. In Avengers #367 (by Bob Harras, Jim Hall and Don Hudson), Swordsman and Magdalene are reunited…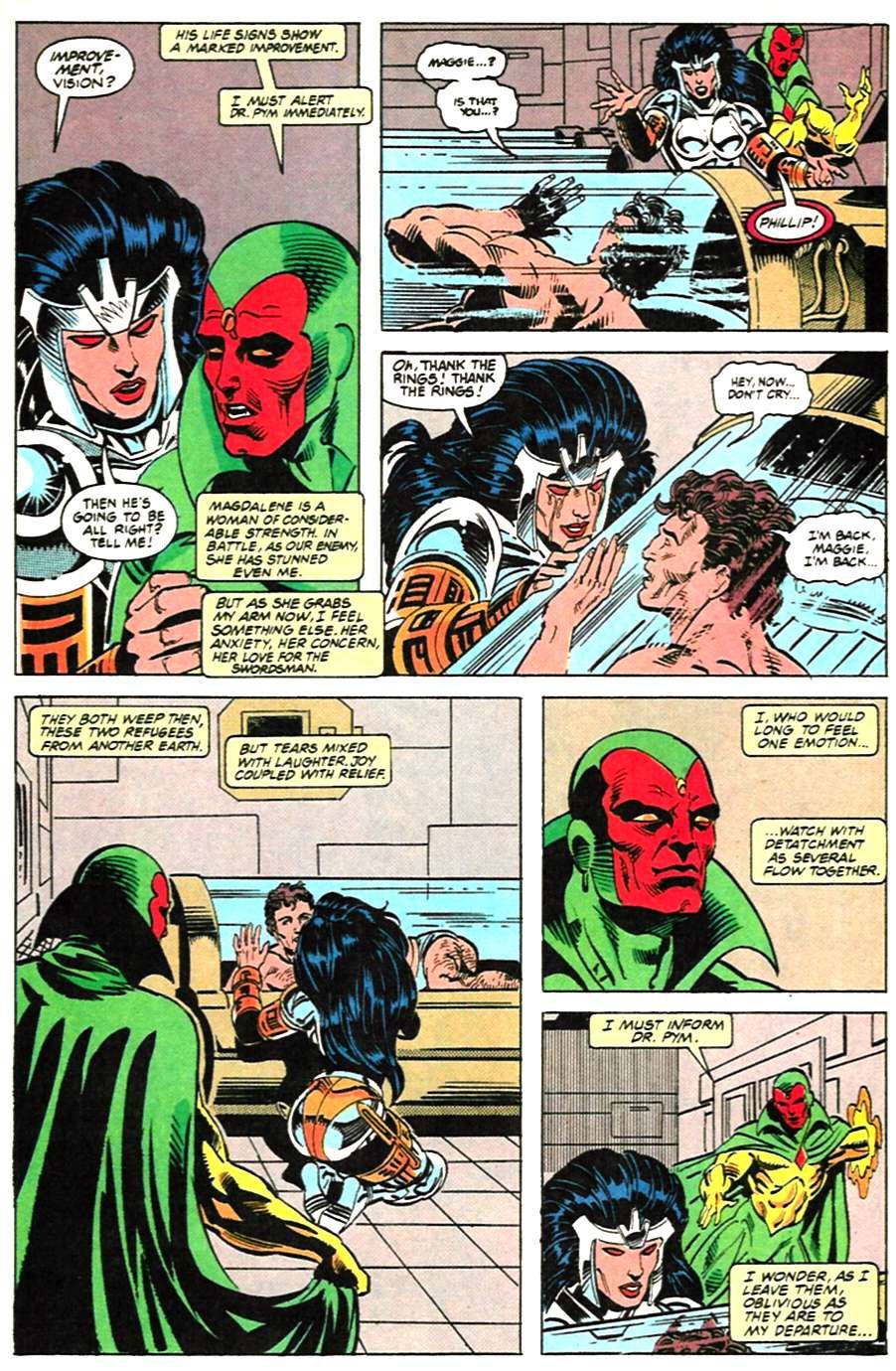 The next few years are weird, as Swordsman and Magdalene never really officially join the Avengers, but they hang around all the time and help when needed, so they are sort of like quasi-members. However, they are not there when the Avengers seemingly die fighting Onslaught.
RELATED: Suicide Squad: How Rick Flag Was Resurrected in the Comics
In the Avengers' absence, Swordsman and Magadalene continued as heroes (but somehow didn't join Black Widow's Avengers for…reasons), as we see in Thunderbolts #8 (by Kurt Busiek, Mark Bagley and Scott Hanna)…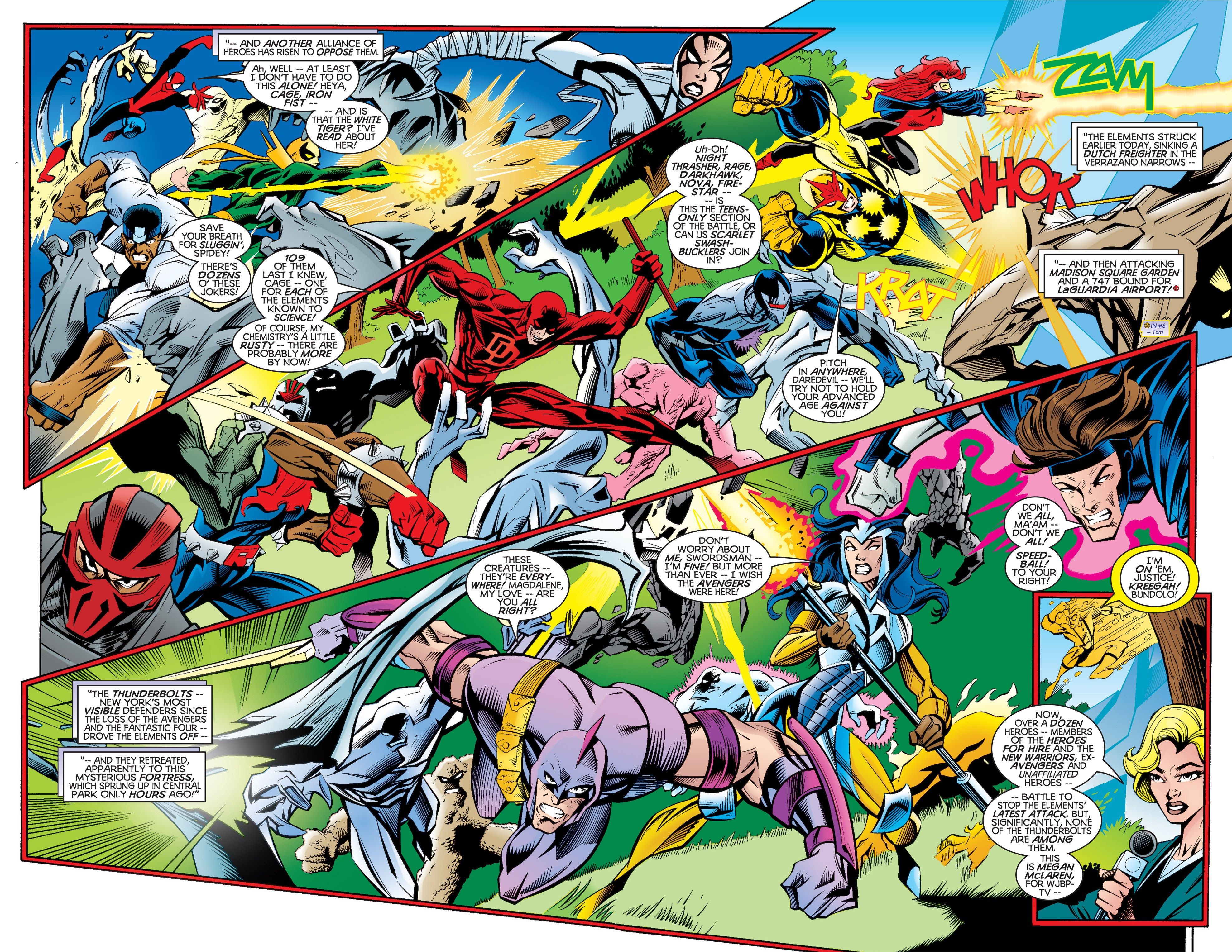 When the Avengers returned to life, Swordsman and Magdalene answered the call (as I guess they were honorary Avengers by this point in time?) and were there when the Avengers realized that they had too many members in Avengers #4 (by Busiek, George Perez, Al Vey and Bob Wiacek)…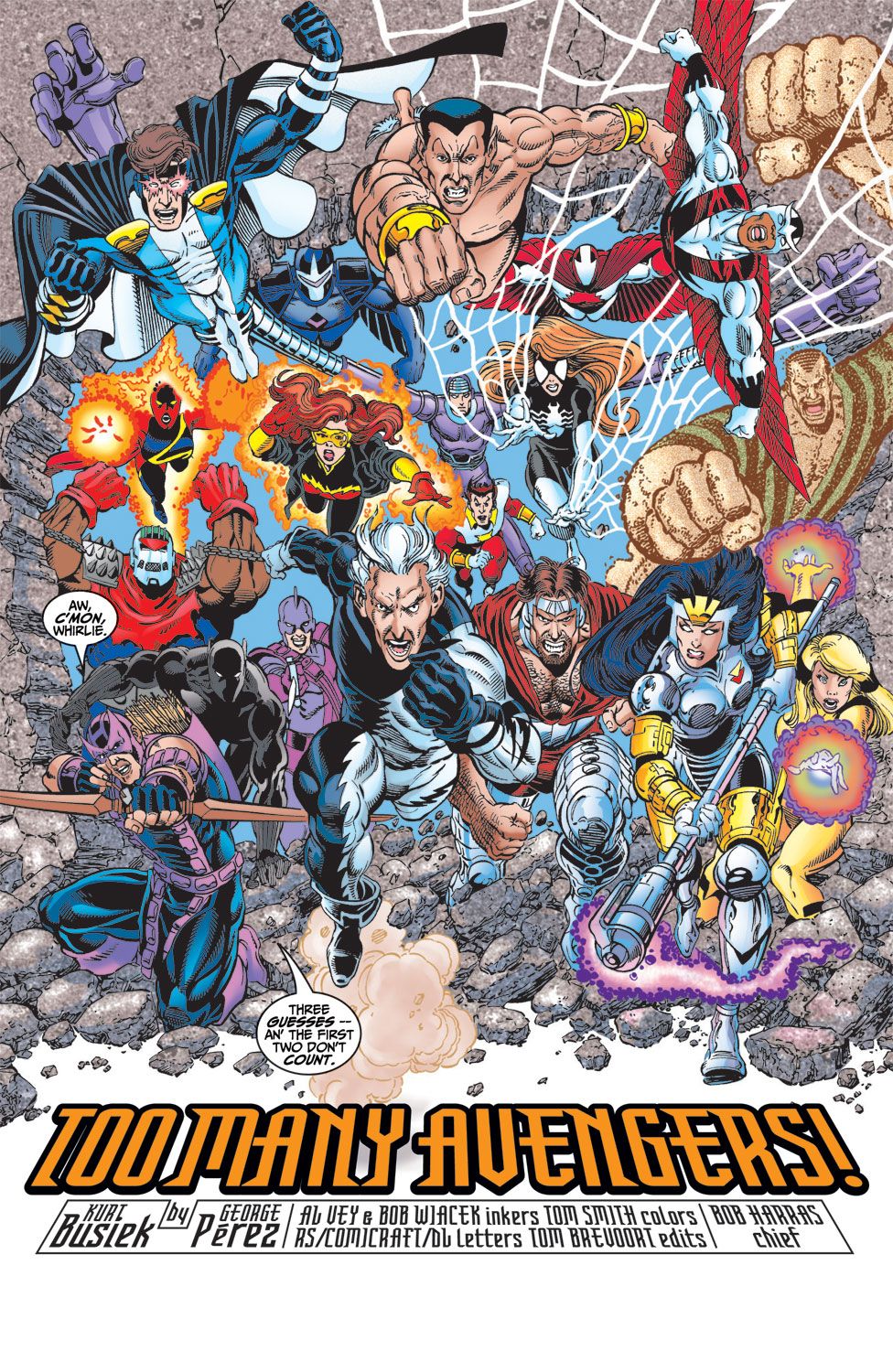 So they, like a bunch of other heroes, left the team by the end of the issue, at which point the team came up with their new roster.
In Avengers/Squadron Supreme '98 (by Busiek, Carlos Pacheco and 3525 inkers), Captain America offers them spots as official reserve members of the Avengers…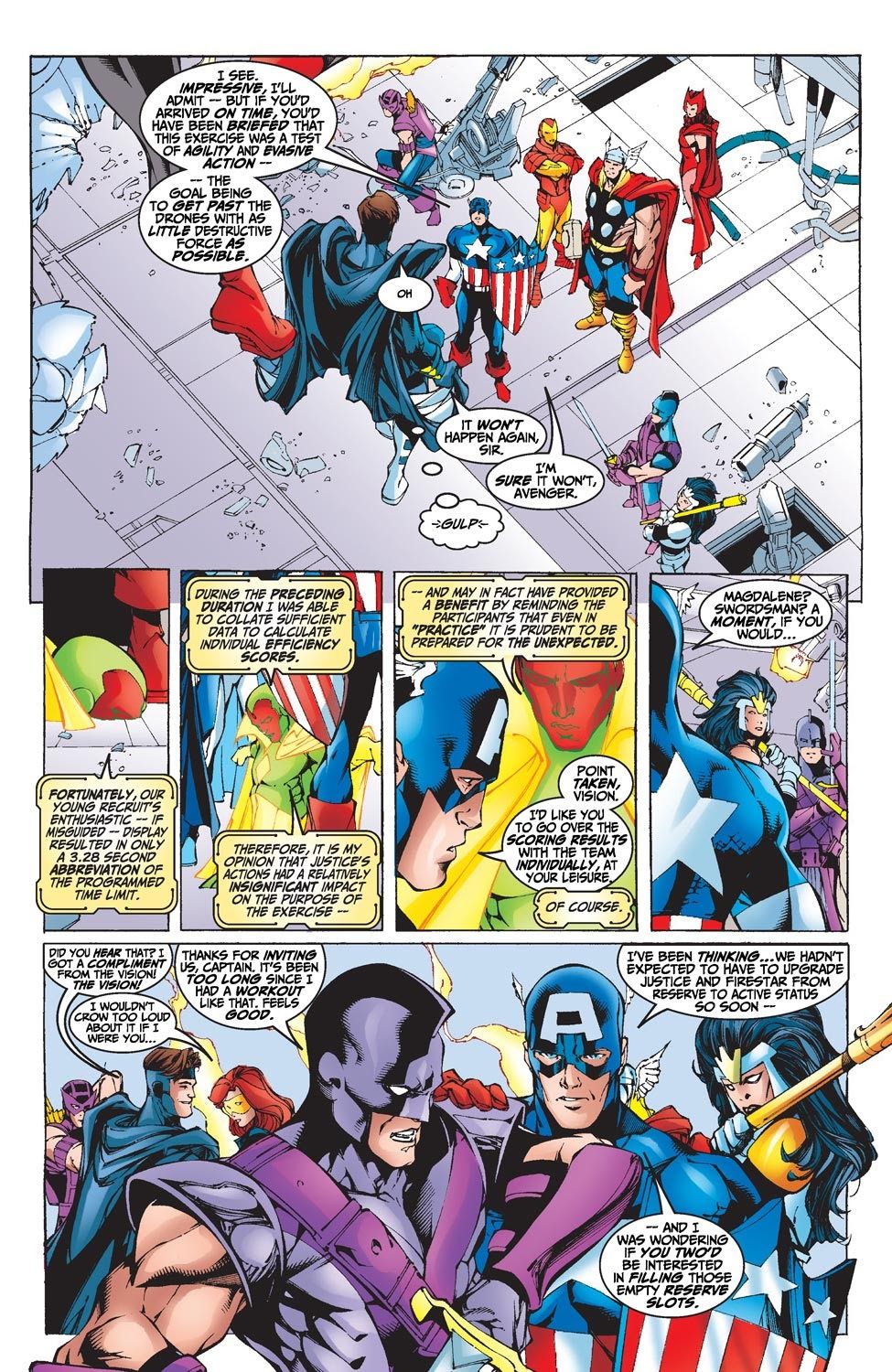 They turn it down, not feeling at home in this universe…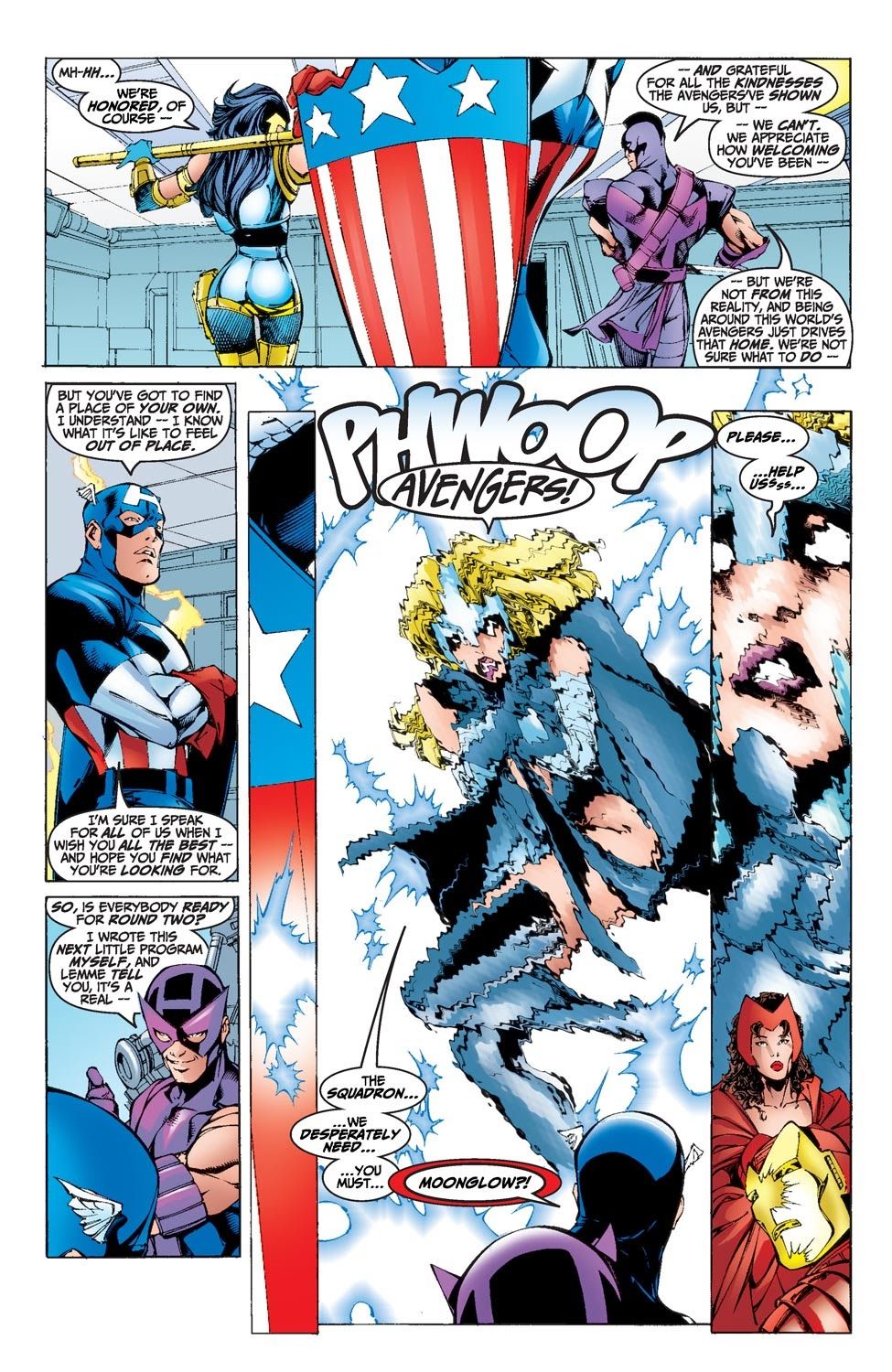 At the end of the issue, when the Squadron Supreme were able to return to their own universe, Swordsman and Magdalene decide to go find another universe where they can live….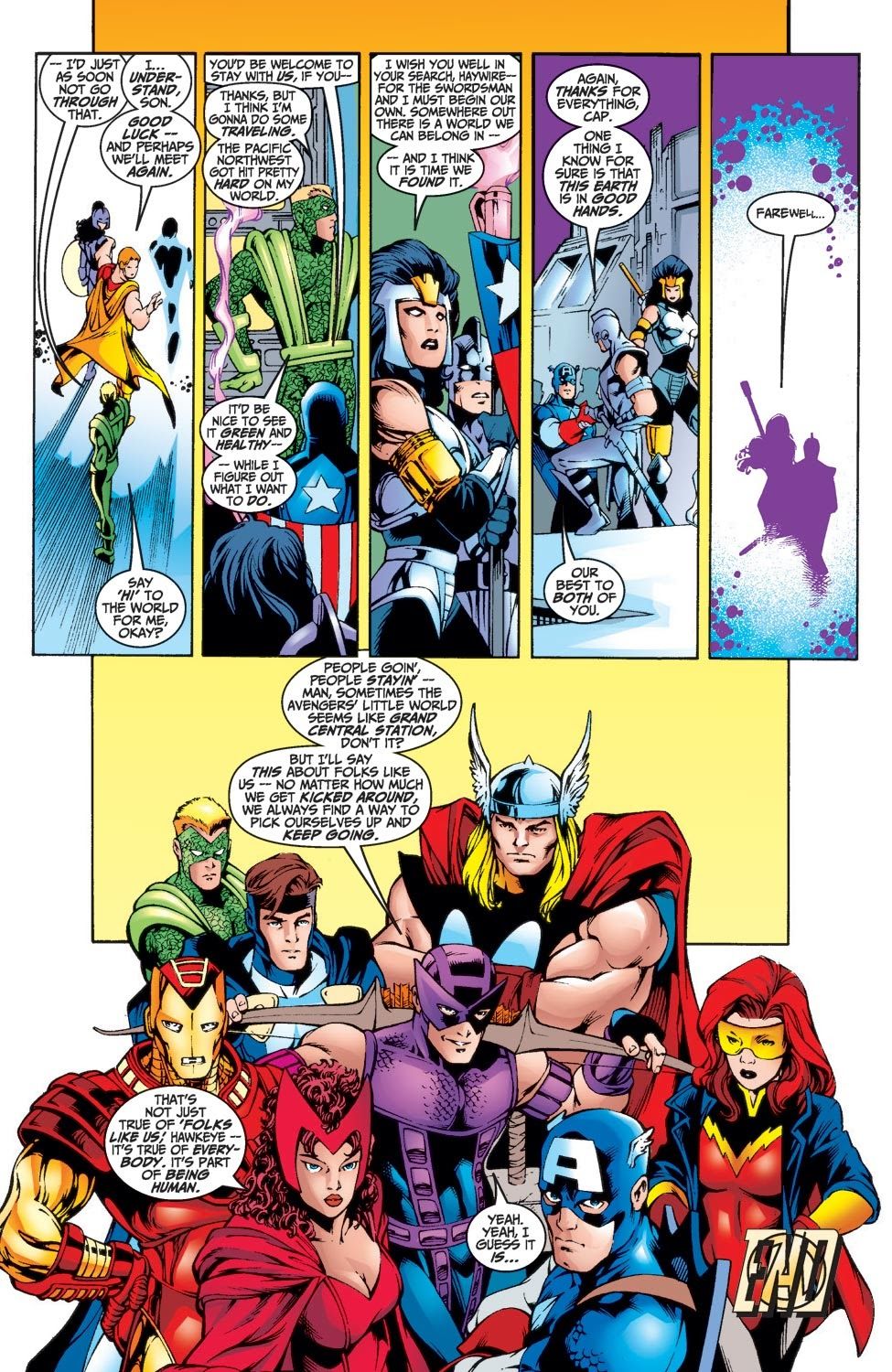 And they haven't been seen since, but that only means that they are ripe for a major return!
If anyone else has a suggestion for a future Death is not the End, drop me a line at brianc@cbr.com!
KEEP READING: How Mister Fantastic & Doctor Doom Returned from Their '90s 'Deaths'
from Ultimate Comic Blog
https://ift.tt/3dJpKgk
via IFTTT