Why Did Spider-Man Celebrate an NFL Player from the Kansas City Chiefs?
https://ift.tt/3FYHMHJ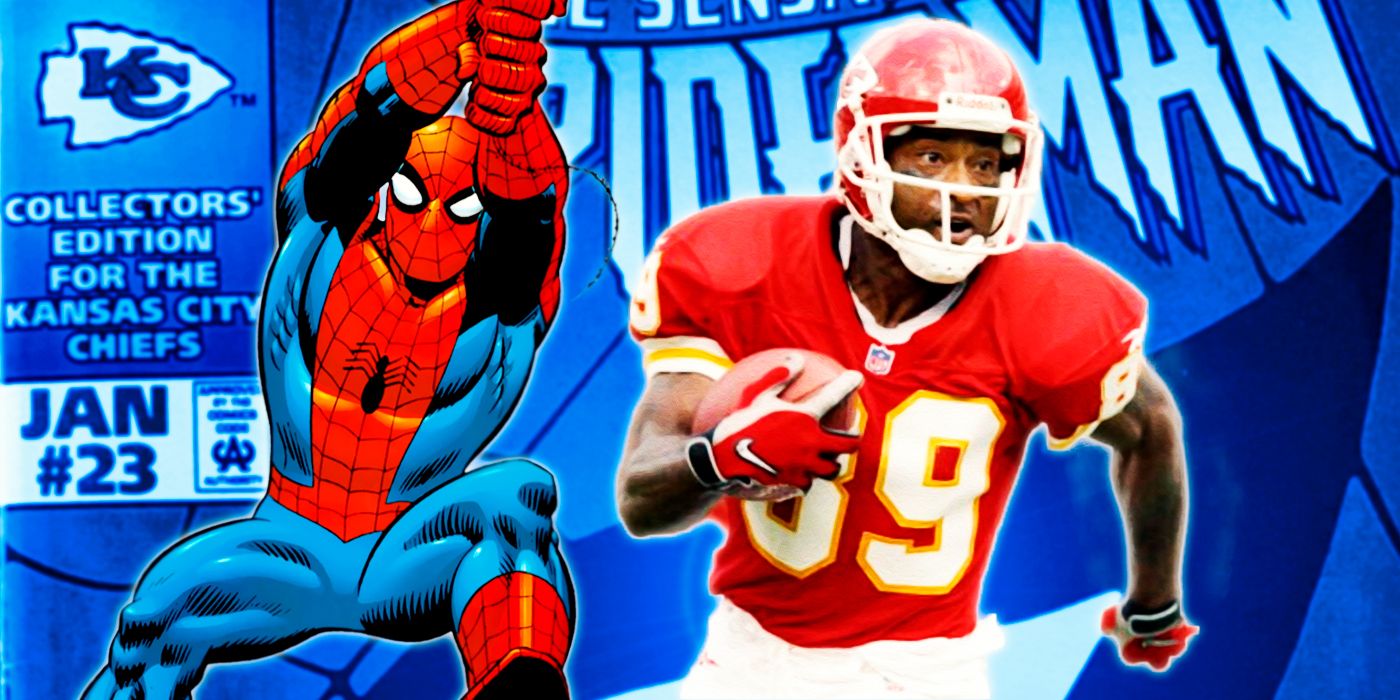 In the latest Comic Book Legends Revealed, see whether Marvel really made a special Kansas City Chiefs edition of a Spider-Man comic book to honor Andre Rison.
Welcome to Comic Book Legends Revealed! This is the eight hundred and eighteenth installment where we examine three comic book legends and determine whether they are true or false. As usual, there will be three posts, one for each of the three legends. Click here for the first part of this installment's legends.
NOTE: If my Twitter page hits 5,000 followers, I'll do a bonus edition of Comic Book Legends Revealed that week. Great deal, right? So go follow my Twitter page, Brian_Cronin!
Marvel made a special Kansas City Chiefs edition of a Spider-Man comic book in 1997 to honor Andre Rison.
True
Earlier this year, I wrote about how Todd DeZago, Mike Wieringo and Richard Case did a special tribute issue of Sensational Spider-Man to honor Mark Gruenwald, who had passed away a year earlier. In the previous issue, Spider-Man was drawn to a mysterious building and so was Doctor Strange. Strange used his powers to show Spider-Man that there was a great magical presence in this tower. You see, there was a powerful item known as the Sphere of Sara-Kath that was opening up doorways to other dimensions. One of those doorways leads to a place that called out to Spider-Man, which is how he came to the tower and met Strange there. Meanwhile, there was a demon from another dimension named Buel that had broken into our dimension to follow the sphere because if he got a hold of the sphere, he could use it to take control of the Multiverse.
RELATED: Did Alan Moore and Dave Gibbons Seriously Do a Fill-in Calvin and Hobbes Strip?
The whole set-up needed someone without magical powers to save the day and that was Spidey. In the end, after defeating Buel, he looked through the doorway that called to him…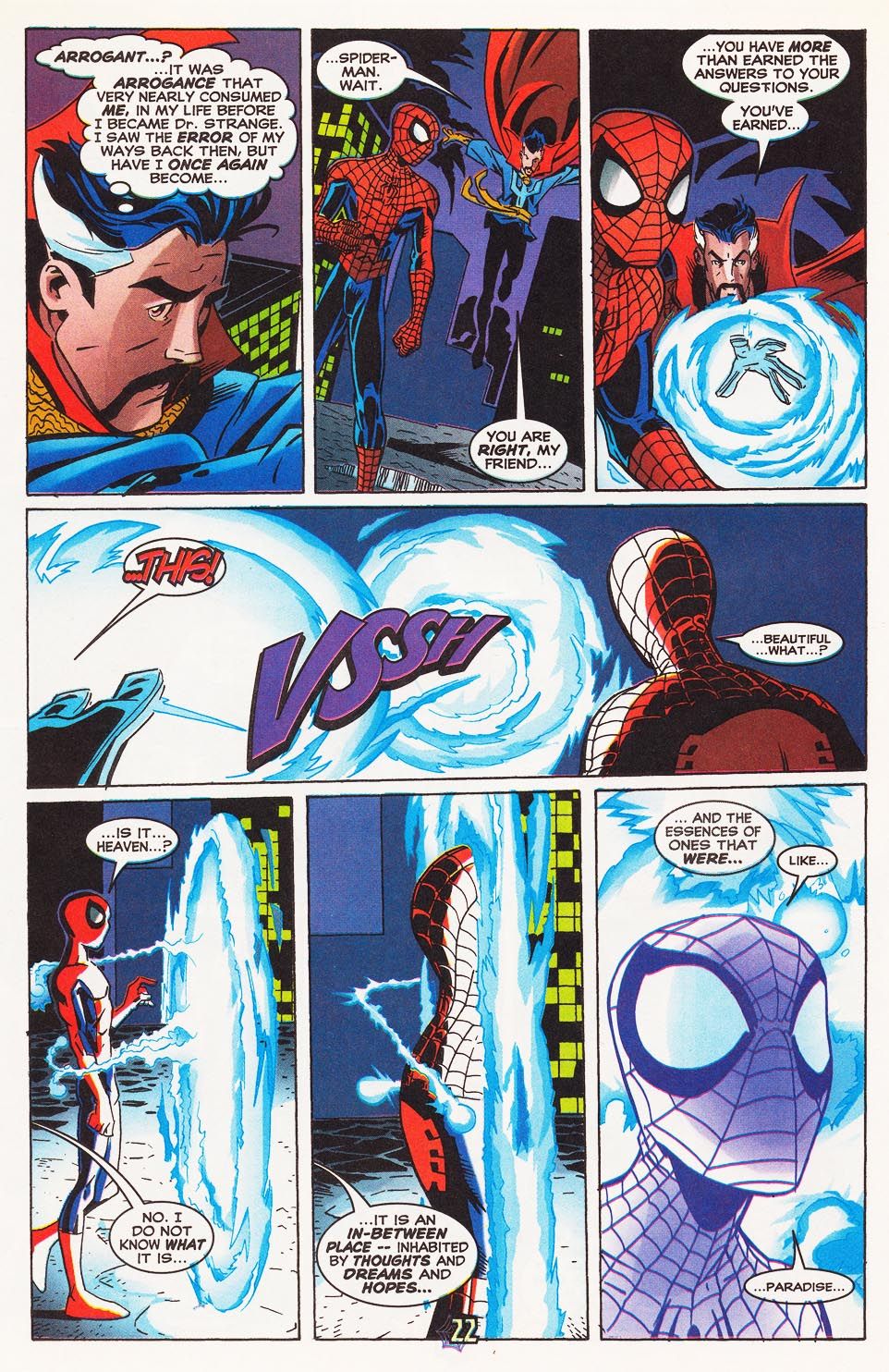 Spidey sees someone and sees a sort of paradise. He is content. The issue then ends with a literal tribute to Mark Gruenwald.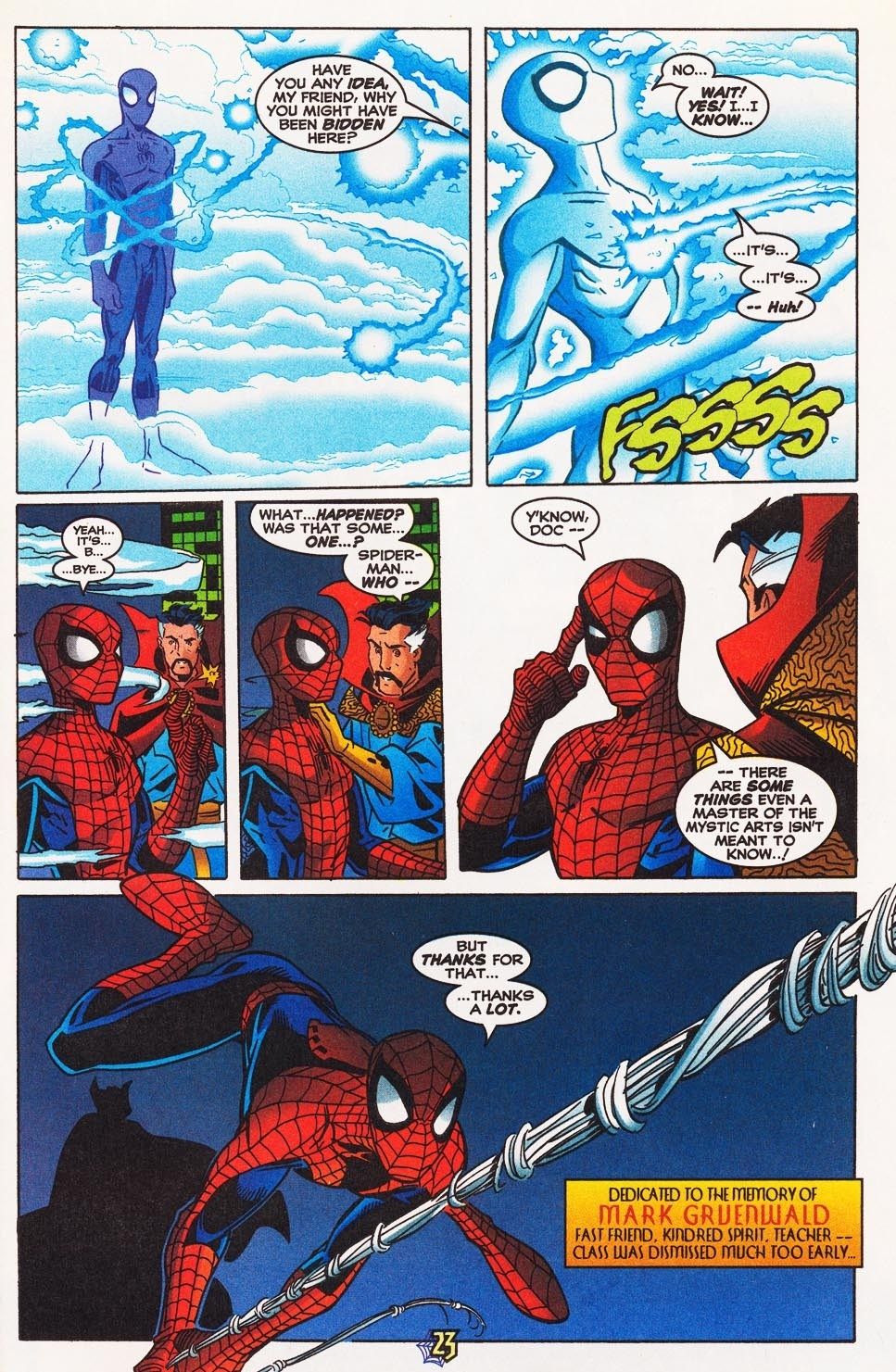 So Sensational Spider-Man #23 was already a special issue. However, for whatever reason, Marvel also chose that issue to be issued as a special Kansas City Chiefs edition!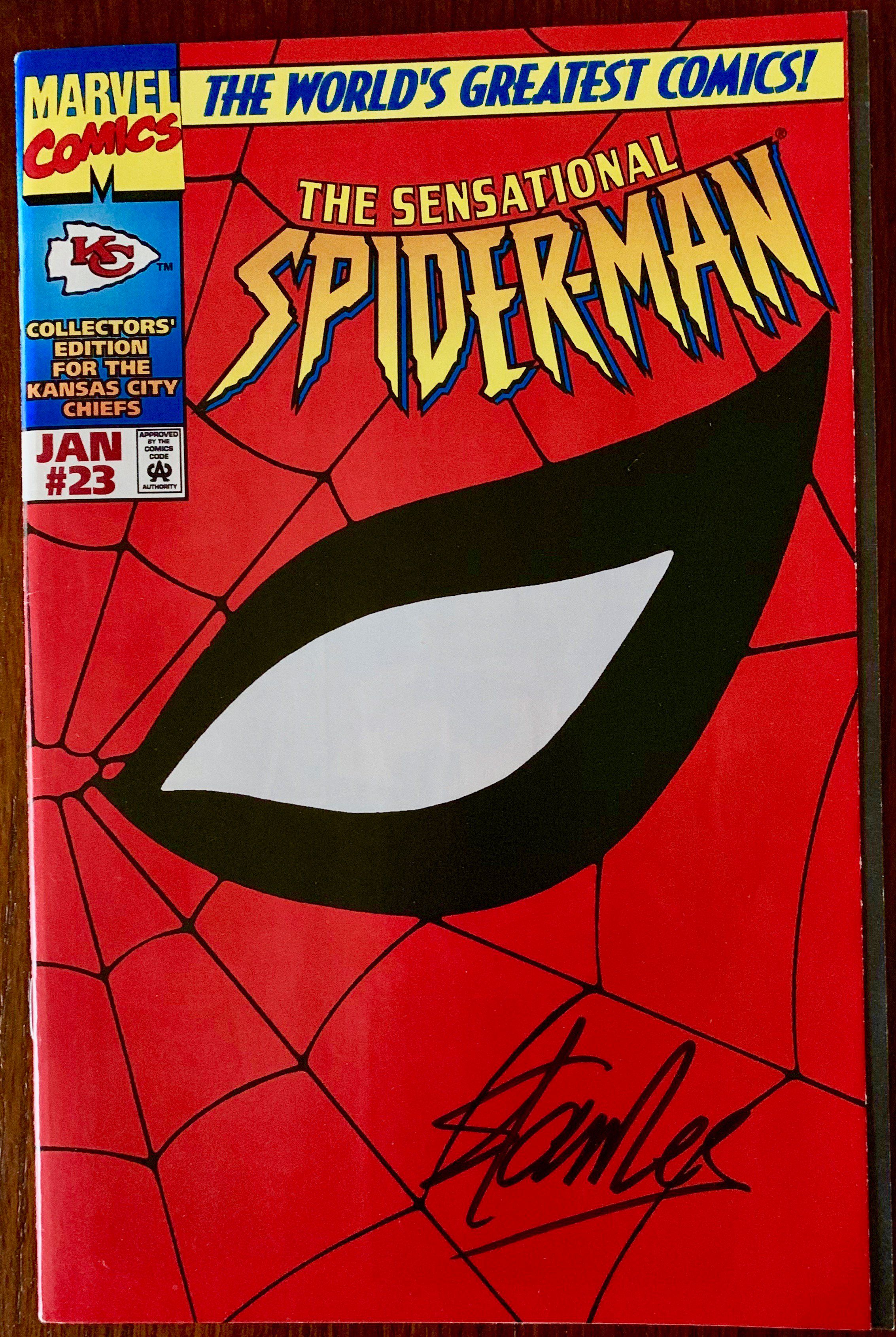 WHY was there a special Kansas City Chiefs edition of a Spider-Man comic book?
It all came down to an All-Pro Wide Receiver named Andre Rison. Rison was a first round draft pick for the Indianapolis Colts who was traded to the Atlanta Falcons in 1990, where he then became a star, making the Pro Bowl in each of his four seasons in Atlanta and making first team All-Pro in his first season there.
He signed a big free agent contract with the Cleveland Browns in 1995, but his production for the Browns fell off and he moved on after that season. In 1996, he started the season with the Jacksonville Jaguars but was cut after ten games when he clashed with the team's star quarterback, Mark Brunell. In a lucky set of circumstances, Rison signed with the Green Bay Packers and went on to perform very well for them in the last five games of the season and got hot in the playoffs, too, with two touchdowns as the Packers went on to win the Super Bowl that season, making Rison one of the most successful instances of a team picking up a released player midseason in NFL history.
Rison then signed with the Kansas City Chiefs for the 1997 and suddenly had his best season in years, making his first Pro Bowl since 1993. With the Chiefs, he decided to nickname himself "Spider-Man" after being known as "Bad Moon Rison" (a nickname coined by ESPN's Chris Berman). He announced, "The Bad Moon Era is over. It's Spider-Man now. Hopefully, Spider-Man will be out there webbing people up."
He started posing as Spider-Man on the field after plays…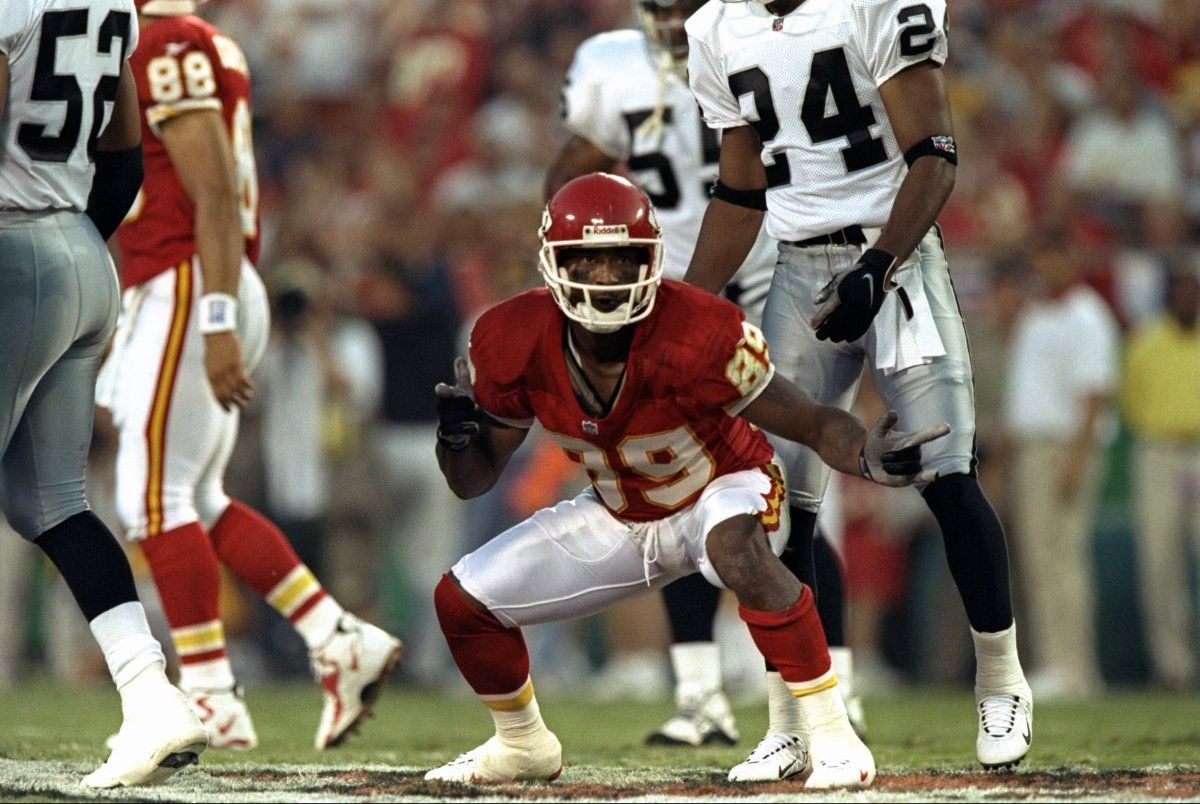 He later would tell reporters (speaking in the third person), "Spider-Man and Andre have more in common than you might think. Spider-Man lets his actions speak for him. I like that. I like the way he moves. The mystique. His body movements. Just the smoothness to him."
RELATED: How Did a Superman/Aliens Crossover Nearly Give Us a Brand-New Supergirl?
His success in Kansas City led to Marvel doing the special tie-in comics. Stan Lee wrote a piece for the comic…
Greetings, True Believers!

Everyone knows that Spider-Man does whatever a spider can. But didja know there's a football pro who's just as amazing, just as spectacular, just as sensational as ol' webhead himself?

Did I hear you say, "Who?" I thought you'd never ask, effendi!

It's awesome Andre Rison, that's who!

Andre Rison, the wondrous wide receiver for the cataclysmic Kansas City Chiefs, is not only a pulse-pounding power on the gridiron, he's also the biggest Spidey fan this side of the Rose Bowl! What other NFL ace has earned the nickname "Spider-Man?" What other rollickin' receiver does a heart-stopping "web-shooter dance" every time he scores a touchdown?

Only the amazing Andre Rison, that's who!

Andre has inspired a veritable Spider-Mania in Kansas City, a craze that has Chiefs fans crawling the walls for all things Spidey. I always said they had great taste!

For his devotion to Marvel above and beyond the call of sanity, it is therefore my honor, nay, my veritable duty, to name Andre Rison a Fearless Front-Facer in the hallowed ranks for Marveldom. That's a title reserved for the highest echelon, the elite, the true keepers of the Marvel flame. And if that doesn't describe Andre Rison to a "T," then I'll eat this very piece of paper — and you know how yours truly feels about between-meal snacks!

So, here's to you, Andre, may thy web-shooters never run dry.

Excelsior!

Stan Lee
Thanks to the brilliant Joe Posnanski for his spotlight on Rison's Spider-Man era here.
In the latest Movie Legends Revealed – Did Roald Dahl hide an X-Rated joke in Willy Wonka and the Chocolate Factory?
Check back soon for part 3 of this installment's legends!
Feel free to send suggestions for future comic legends to me at either cronb01@aol.com or brianc@cbr.com
KEEP READING: Why Marvel Really Published Spider-Man's Seminal Anti-Drug Comic
from Ultimate Comic Blog
https://ift.tt/3o1NF0G
via IFTTT