Top Comic Book Storylines: 9-7 | CBR
https://ift.tt/3lgGIqw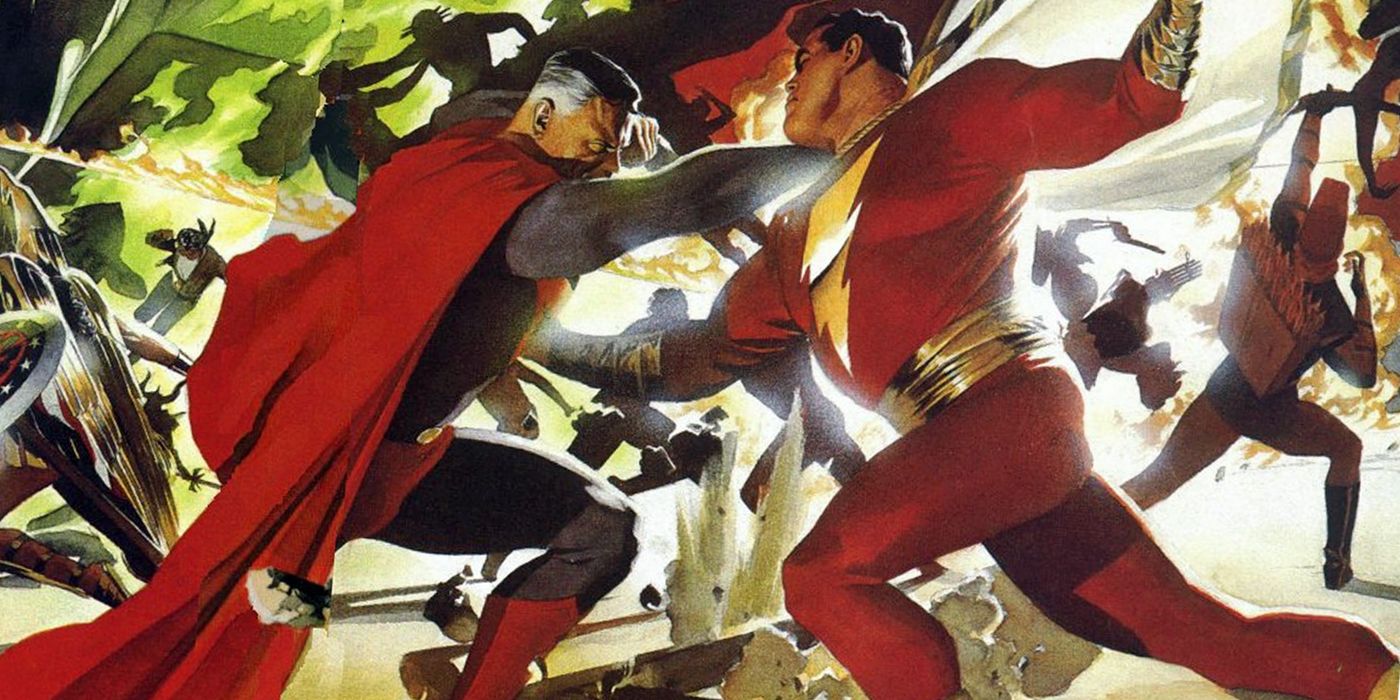 Today, we continue our countdown of your picks for the greatest comic book storylines of all-time with #9-7.
You voted (over 1,000 ballots cast and a little bit more than the last time we did this countdown) and you all sent in ballots ranking your favorite storylines from #1 (10 points) to #10 (1 point). I added up all of the points and here we are!
9. "Crisis on Infinite Earths" by Marv Wolfman, George Perez, Dick Giordano and Jerry Ordway (Crisis on Infinite Earths #1-12, plus a bunch of tie-ins) – 878 points (20 first place votes)
Crisis on Infinite Earths was both a love letter to the past of DC Universe while also the formation of a "new" DC Universe.
Marv Wolfman and George Perez put the DC Universe into a position where worlds were dying and realities were shattering. This allowed the pair to use a cast of literally thousands as they explored the vast realms of DC's comic history in a sprawling epic with more than one "Ultimate Battle Between Good and Evil."
The devices pushing this plot forward are the Monitor and the Anti-Monitor, one a benevolent being who was studying the DC Universe – the other a madman who wants to destroy the Multiverse, the backbone of DC's multiple Earths set-up (which allowed DC to separate their Golden Age creation from their Silver Age counterparts, but also allowed them to integrate comics they bought from other publishers without having to splice them together with their existing heroes).
In a battle this epic, deaths were bound to happen, and this story was SO big that two very big names saw their end – Superman's cousin, Supergirl….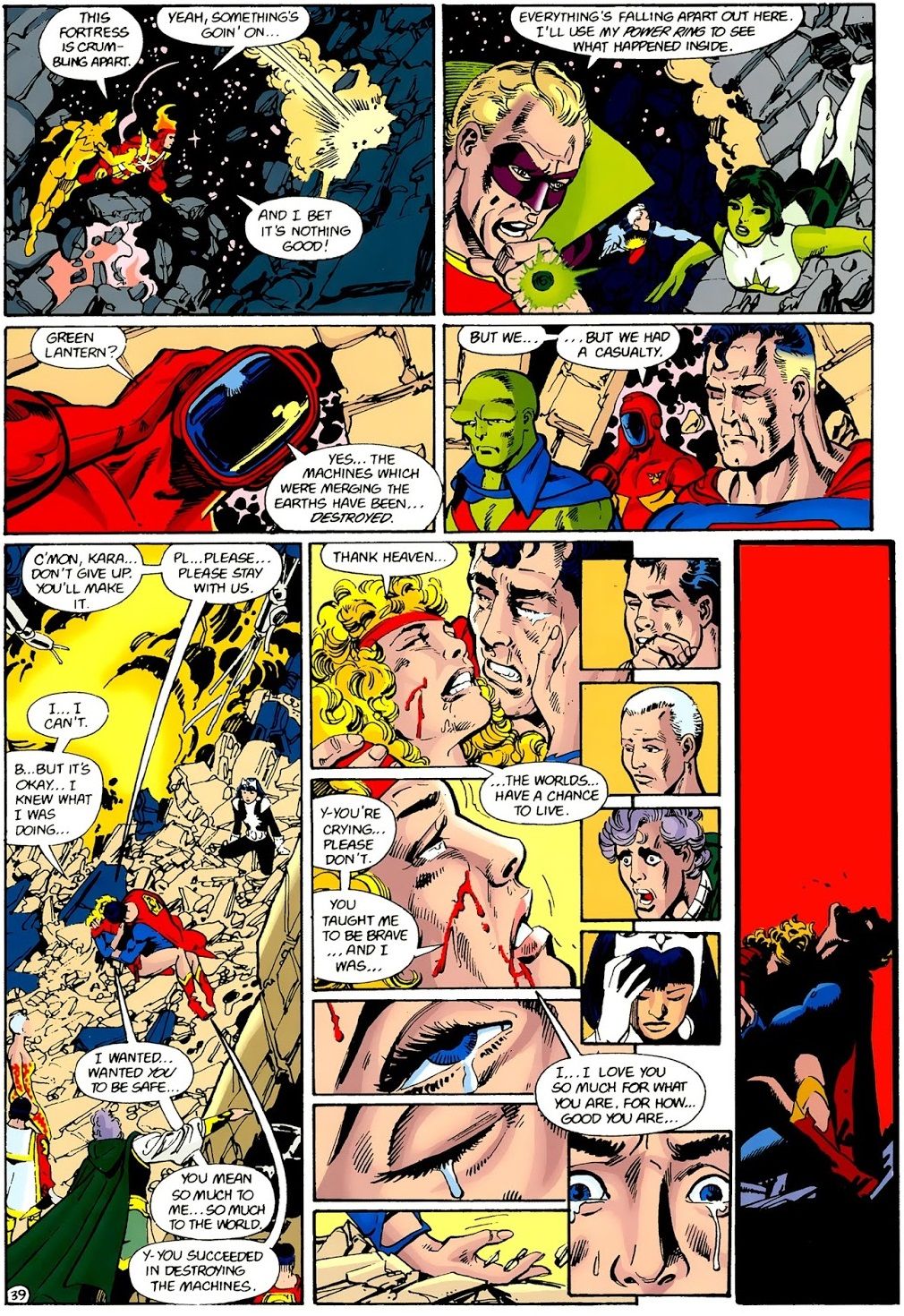 and Barry Allen, the Silver Age Flash….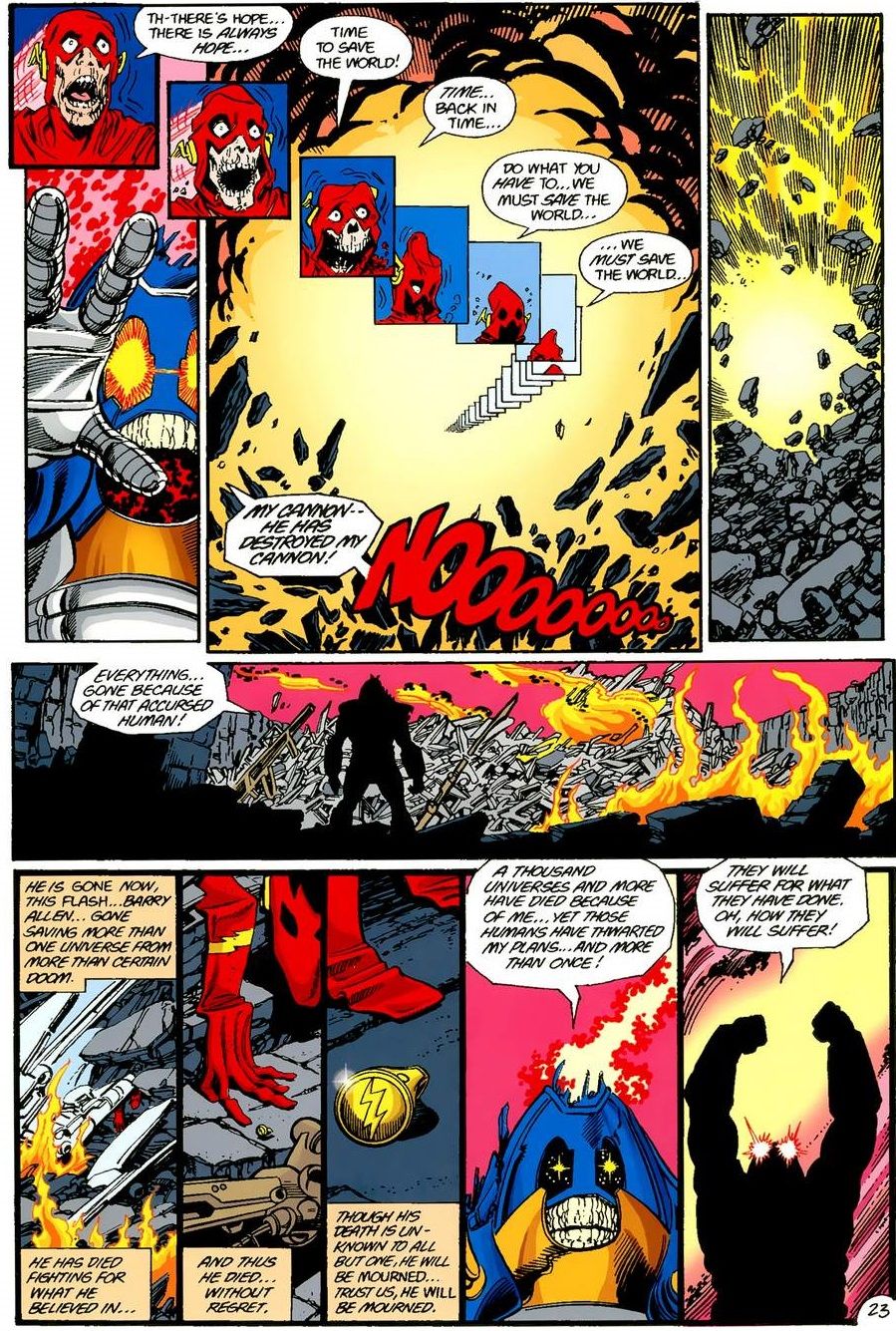 Initially, other titles were hesitant to tie into Crisis, but by the time the series ended, it was such a big hit that books were falling over themselves to tie into the event!
Wolfman and Perez ended the series with more than one magnificently diverse epic slugfests, until the dust settled and the DC Universe was never the same.
What a way to spend a Golden Anniversary!!
RELATED: Top Comic Book Storylines: 12-10
8. "Maus: A Survivor's Tale" by Art Spiegelman (For simplicity's sake, let's just say Maus: Book 1 and Book 2) – 882 points (18 first place votes)
The genius of Art Spiegelman's masterpiece, Maus, is that it is not just a brilliant re-telling of one man's tale of survival during World War II and the Holocaust (with the Jews as mice and the Germans as cats).
If it were just that, then it would still belong on this list, but it isn't. It's also the tale of a man dealing with his father. It's also the tale of how stories are told. And perhaps most fascinating to me is that it also eventually becomes about a man dealing with the fact that his personal story about his father's survival of the Holocaust has become a commercial and critical success. How does one reconcile oneself with something like that? Spiegelman addresses it beautifully in this story. Here's a snippet from later in the series from when Spiegelman deals with the strange turn of events that came about after the release of the first Maus book…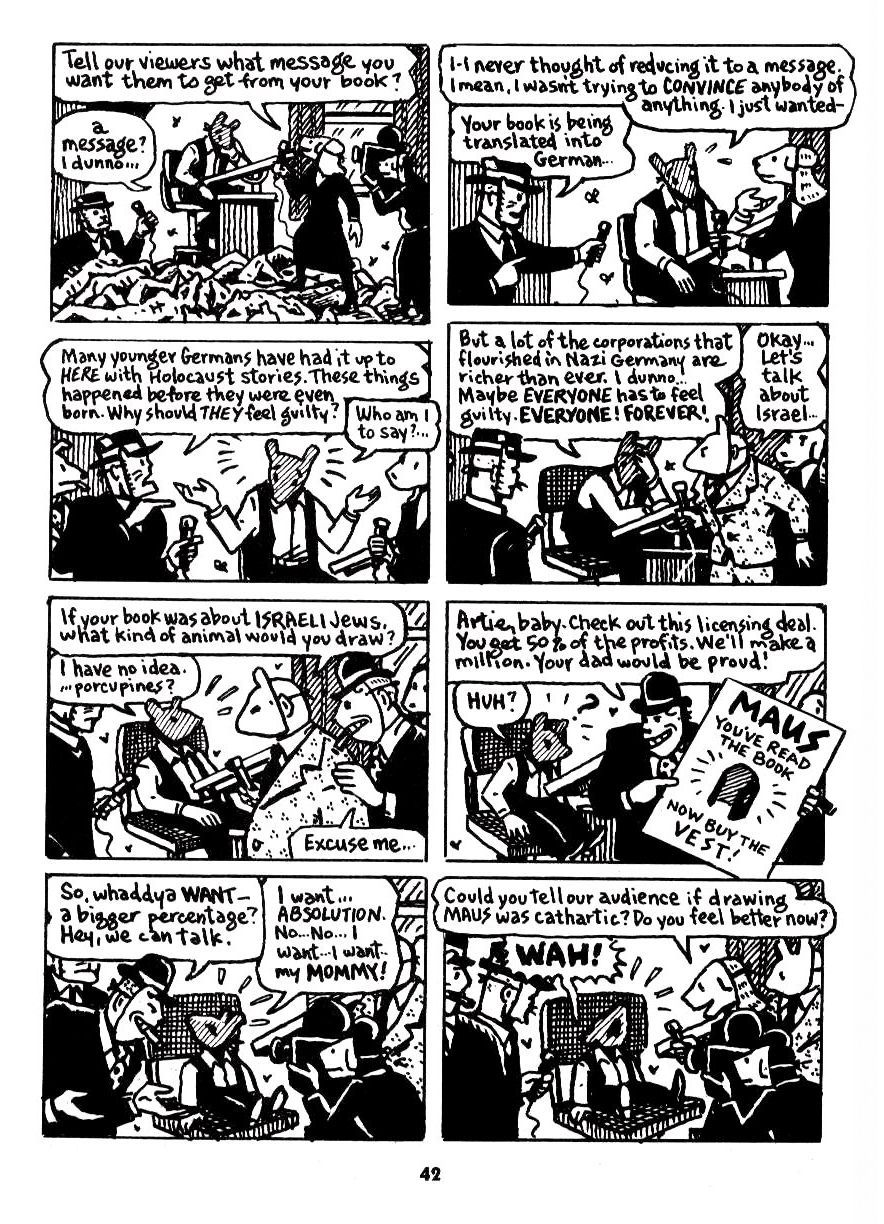 But at the heart of the comic, Spiegelman is telling us how his father, Vladek Spiegelman, survived the war.
And Vladek's tale is absolutely fascinating, made even more so by Art's deft storytelling skills, as he prevents the book from ever getting monotonous, while at the same time being quite detailed in the history of the tale. It reminds me a lot of the work Eddie Campbell did on From Hell.
Here is a section both seeing the horror of war and also Vladek's ingenuity (as well as the kindness of other people)…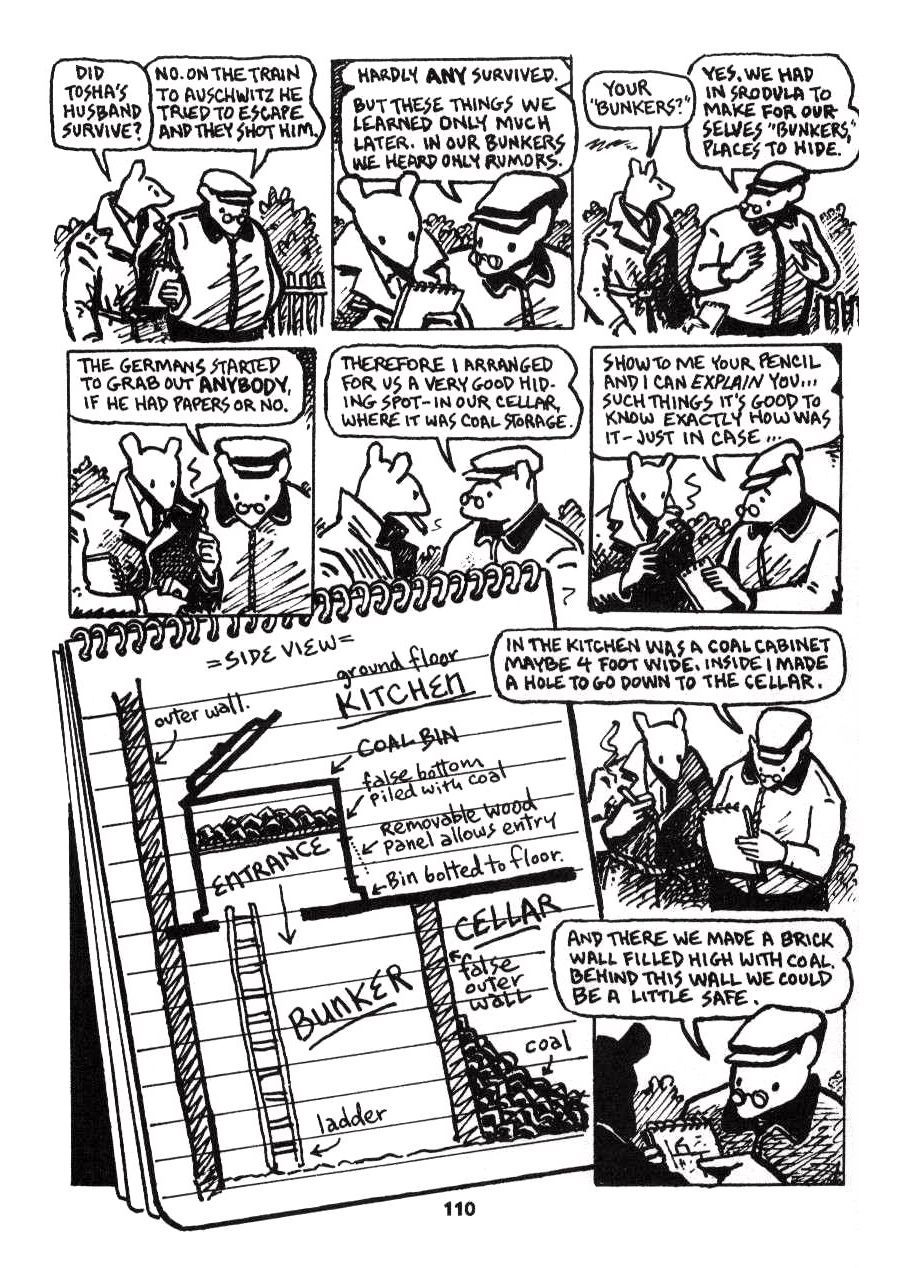 It took Spiegelman years to get this story finished, but it was well worth the wait, as it was an exceptional piece of work.
RELATED: Top Comic Book Storylines: 16-13
7. "Kingdom Come" by Mark Waid and Alex Ross (Kingdom Come #1-4) – 1153 points (19 first place votes)
Kingdom Come is an interesting reflection on the superhero trends of the 1990s.
It is set in the future, a world where "grim and gritty" superheroes have basically taken control of the DC Universe, leading to vast amounts of chaos (and the Spectre is asking an old minister to help pass judgment on the Earth. This minister, Norman McCay, is our eye's on view of the problems of this world).
Superman is pulled out of retirement by a tragedy which left it quite clear that something "had" to be done about the superhero problem. However, unbenown to Superman, other forces were coming together to deal with heroes THEIR way.
Superman's return is breathtakingly delivered by Waid and Ross…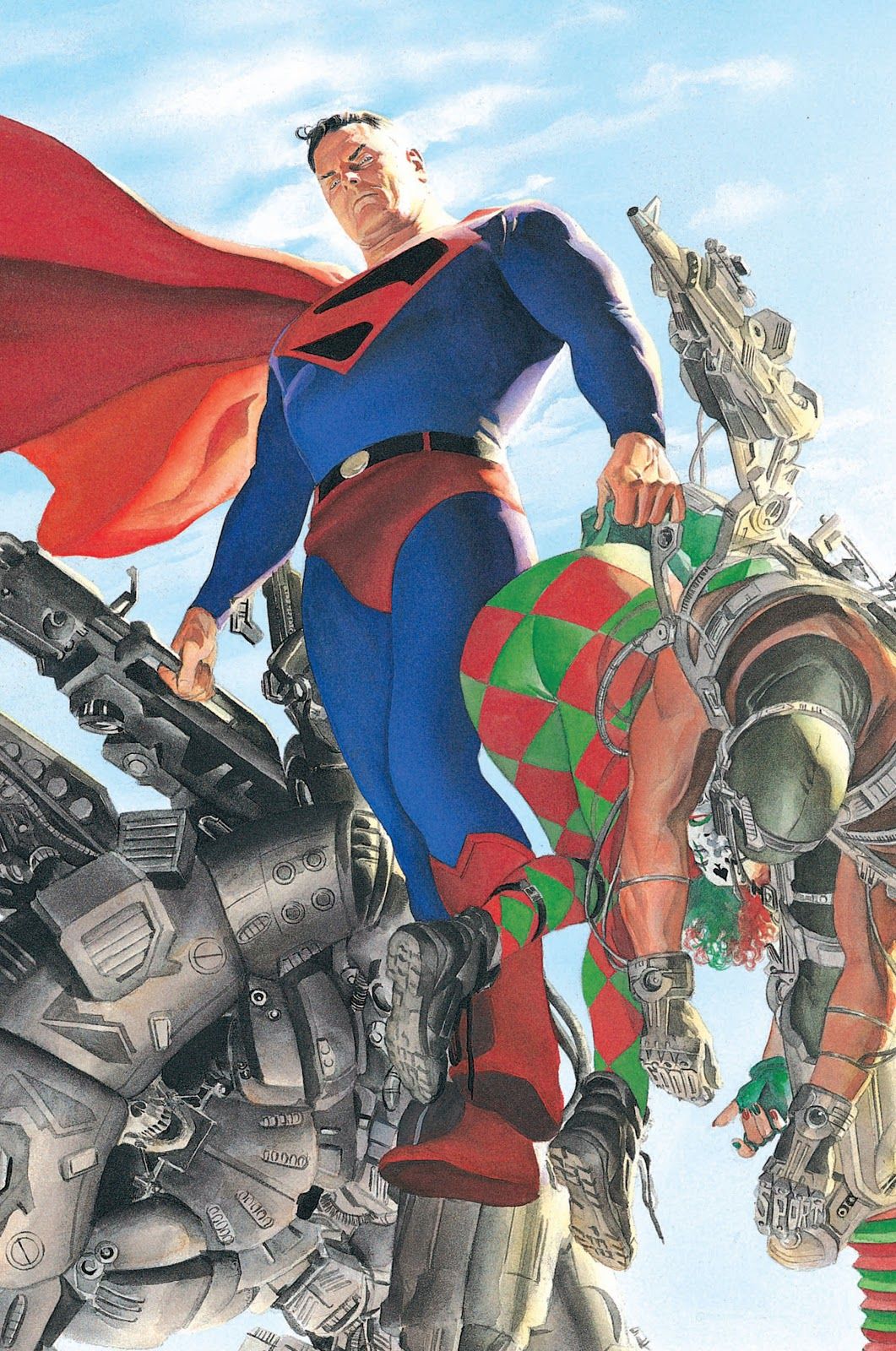 Superman's return led to a resurgence of "traditional" superheroics, and Superman gathers his old friends in a revamped Justice League. Superman gains a number of converts to his way of thinking, but just as many "heroes" turn away from Superman's view of the world, leading to a number of conflicts and Superman effectively imposing his will on these people, something that turns Batman from Superman's crusade.
As the powder keg Superman has been building explodes, it's hero versus hero versus villain while a worried government wonders if they should just try to rid themselves of superheroes once and for all.
It's a tense script by Mark Waid, and Alex Ross' realistic painted artwork brings across the humanity of the story being told. In addition, Ross clearly has a blast revamping the looks for the older heroes and designing costumes for the new characters.
And boy Ross knew how to deliver on dramatic moments. Like the moment above and later in the story when the prison Superman and friends built to hold the rogue heroes and villains is breached. Superman tries to get involved but Luthor has sent an ace in the hole to stop Superman…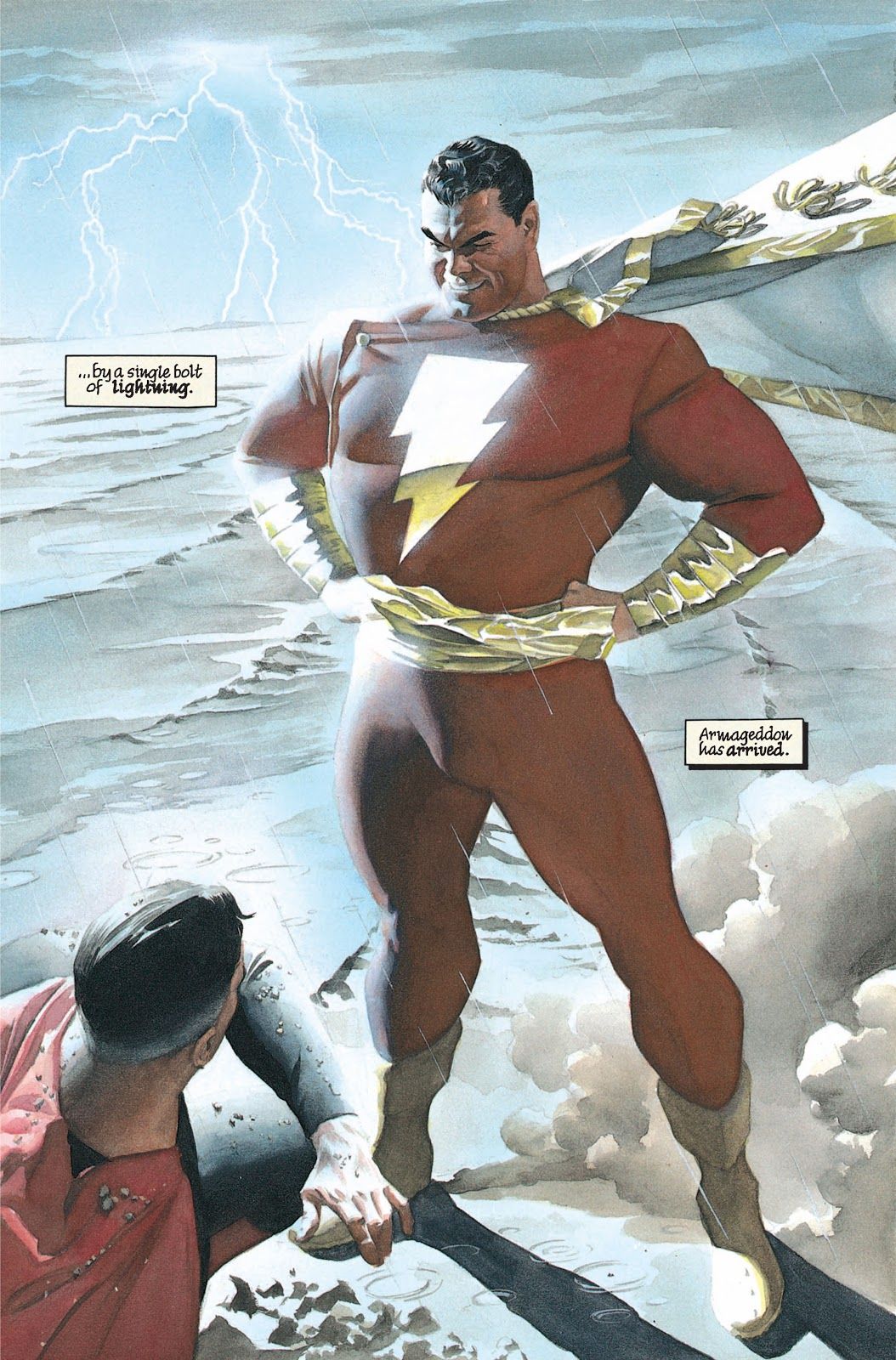 Wow.
What a way to lead into the finale! The finale was one hell of a brawl between heroes, villains, other heroes and, oh yea, the governments of the world. It was quite an ending!
KEEP READING: Top Comic Book Storylines: 20-17
from Ultimate Comic Blog https://ift.tt/3HXE0A2
via IFTTT