Top Comic Book Storylines: 3-1 | CBR
https://ift.tt/3o7jcOt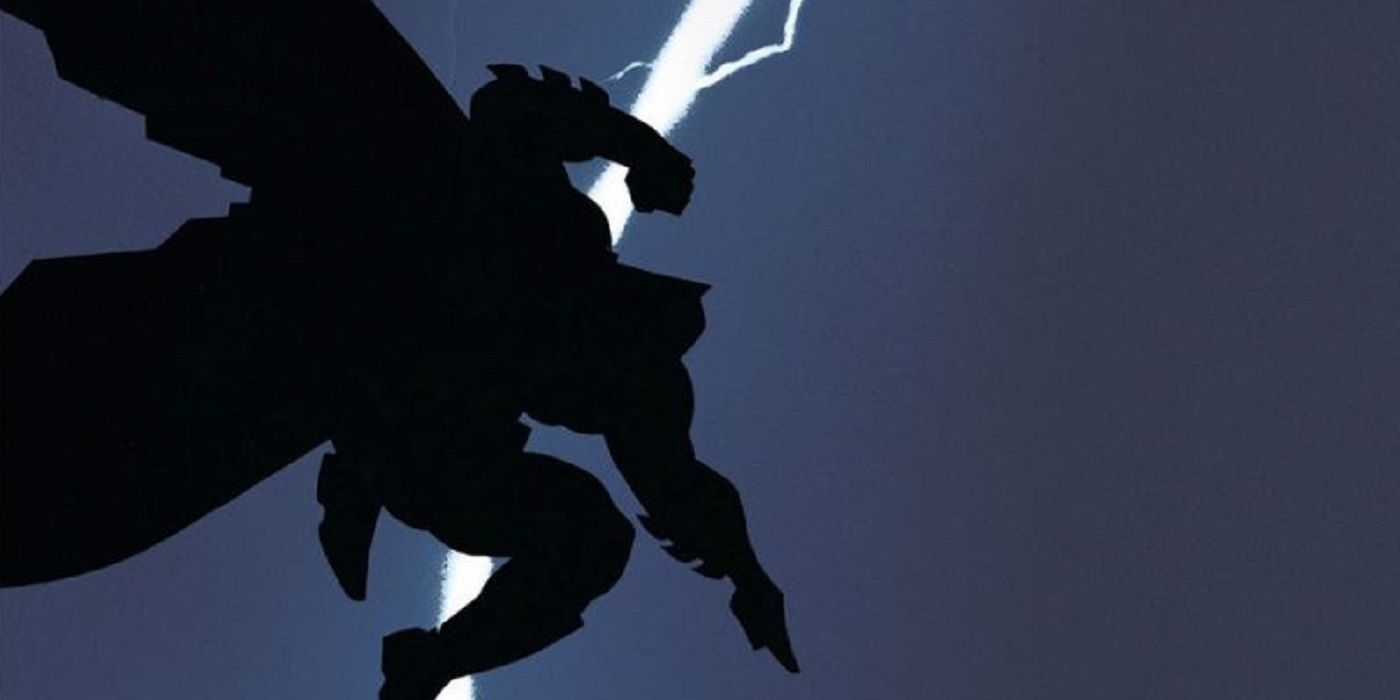 Today, we continue our countdown of your picks for the greatest comic book storylines of all-time with #3-1.
You voted (over 1,000 ballots cast and a little bit more than the last time we did this countdown) and you all sent in ballots ranking your favorite storylines from #1 (10 points) to #10 (1 point). I added up all of the points and here we are!
3. "Dark Knight Returns" by Frank Miller and Klaus Janson (Batman: The Dark Knight #1-4) – 1884 points (53 first place votes)
Dark Knight Returns is one of the most influential Batman comics, well, ever, really. In his four-issue series set 10 years after Bruce Wayne retired as Batman, Frank Miller basically established the way Batman would be presented in comics for the next…well…31 years and counting!
The comic is literally about the return of the Dark Knight, as Bruce Wayne realizes that his city needs Batman again, so he, well, returns. Miller plays with the concept (not originated by Miller but certainly cemented by Miller) that perhaps Batman's existence draws OUT the crazies in an action-reaction deal. For instance, as soon as Batman returns, so, too, does Two-Face and the Joker.
The other major characters in the story (besides Alfred) are Carrie Kelly, the teenaged girl who becomes the new Robin…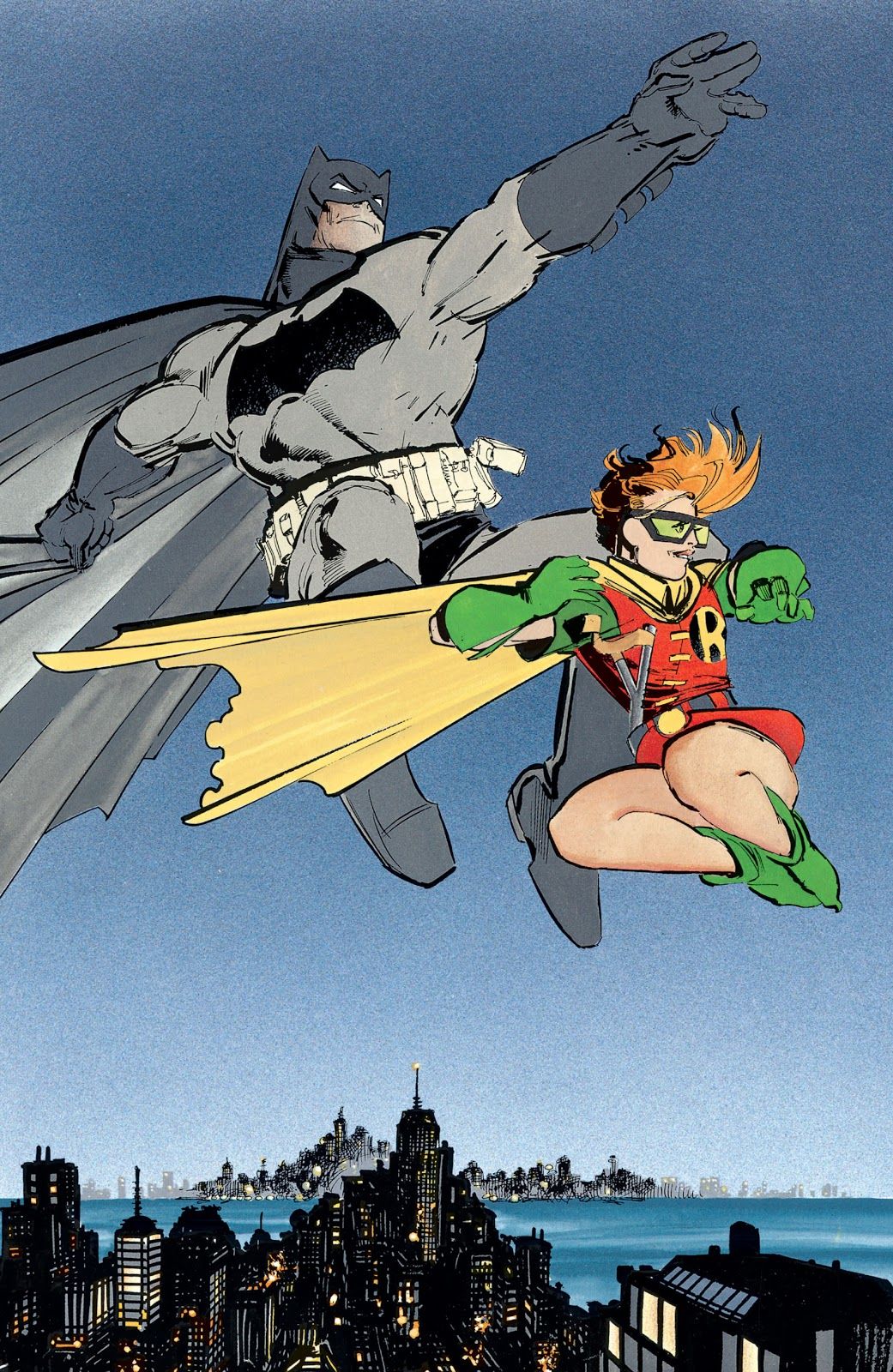 and Superman, whose conflict with Batman makes up the finale to the series (Superman is depicted as a servant of the United States).
Miller's art is in strong form in the series, especially the action sequences, which are dramatic as all hell.
Batman has three (one is a two-parter) extremely memorable fights in this series.
The first is against the leader of the Mutants, the screwed up gang of thugs who are terrorizing Gotham (in his first night back, Batman saves Carrie Kelly from a pair of them, leading to her wanting to become Robin), where Batman tries to compete like he was still young…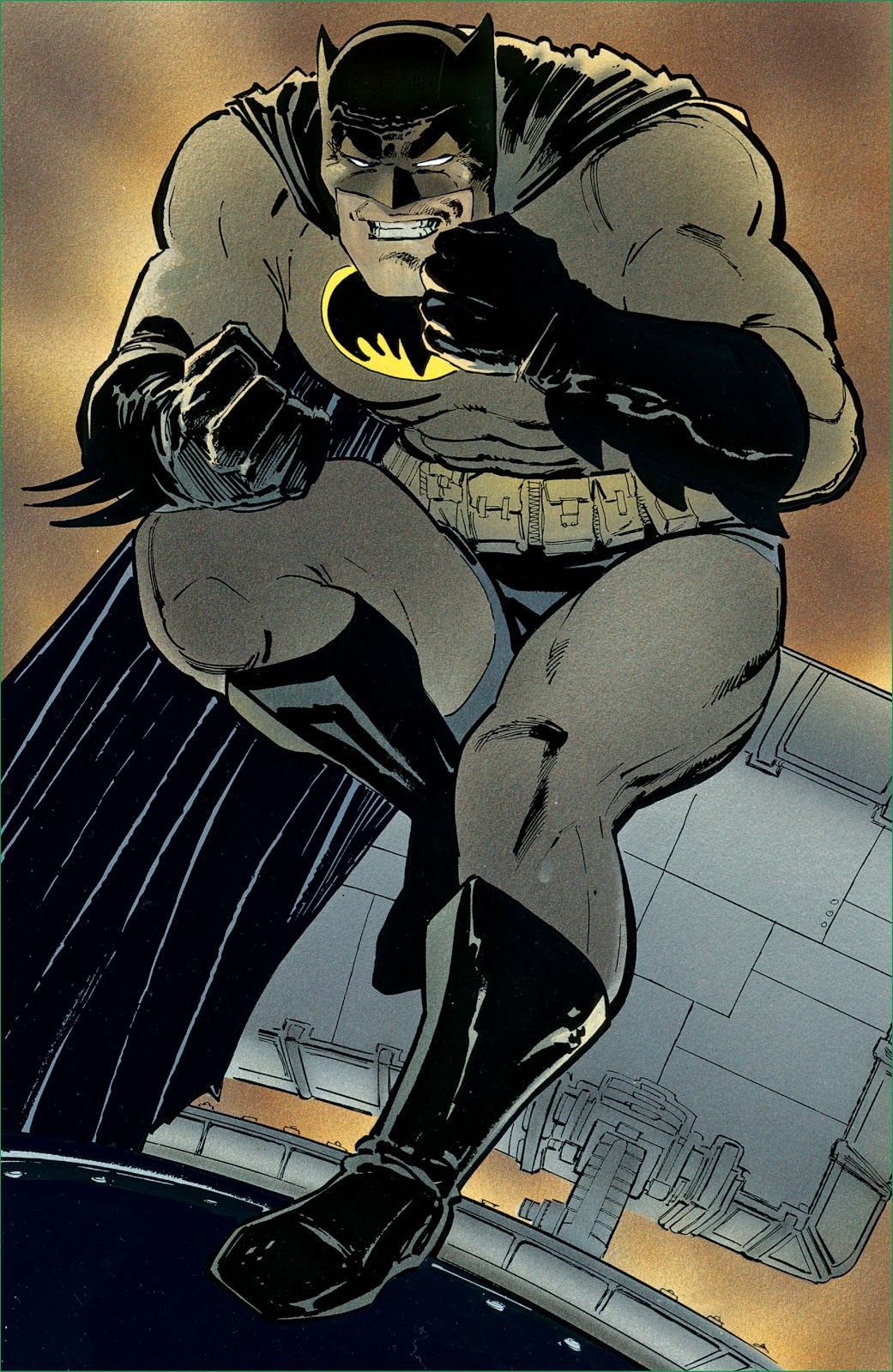 The second is a chilling conflict with the Joker, who figures out the best way (in his mind) to "beat" Batman – it's quite twisted.
The third is the aforementioned battle between Superman and Batman, where we see perhaps the debut of the whole "if Batman had enough prep time, he could beat anyone" mode of handling Batman.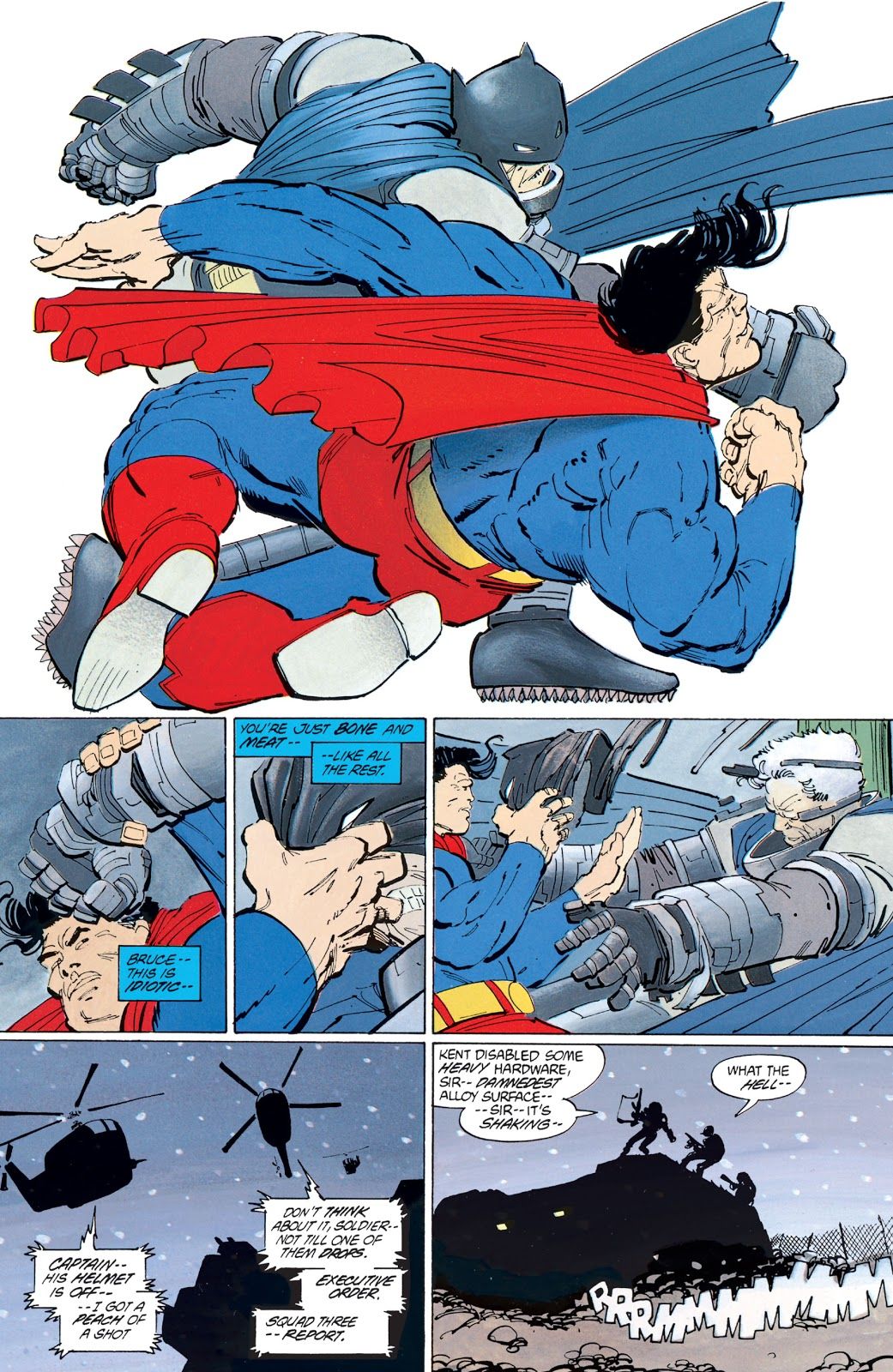 So yeah, Dark Knight Returns – major comic book work.
RELATED: Top Comic Book Storylines: 6-4
2. "Born Again" by Frank Miller and David Mazzucchelli (Daredevil #227-233) – 2207 points (58 first place votes}
Born Again drastically re-shaped Daredevil as a character, in Frank Miller's return to the book that made him famous.
This time, Miller was working with artist David Mazzucchelli, who was already doing very impressive work on the series with writer Denny O'Neil. However, Mazzucchelli was still growing as an artist, and in many ways, Born Again was his "coming out" party, as he at the very least equaled, and more likely SURPASSED the incredible artwork that Miller had done himself when drawing Daredevil years earlier.
The story is about what happens when Matt Murdock's former secretary (and former love of his life), Karen Page, who had left the book to become an actress, was now a drug-addicted porn star. Desperate for drugs, Page sells Matt's secret identity. Eventually this information finds its way to Wilson Fisk, the Kingpin of Crime, who uses it to systematically destroy Matt's life (getting him disbarred, freezing his assets, etc.).
Then, in one of the best scenes you'll see, Kingpin also blows up Matt's brownstone – and then, Matt realizes, all of the terrible things that had been happening to him, they weren't just bad luck, they were because of the Kingpin!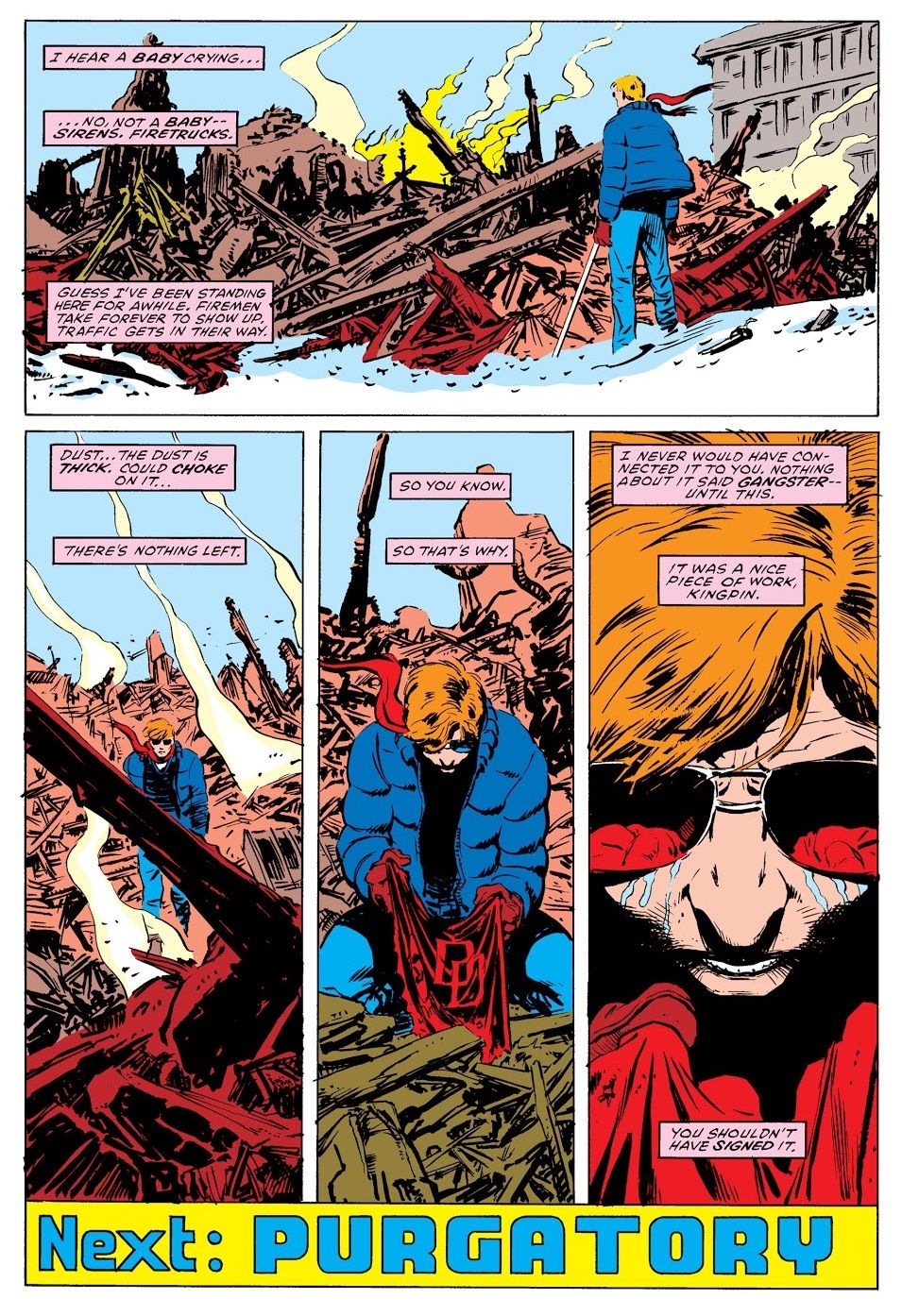 One of the greatest chapter one cliffhangers in comic book history.
That realization, however awesome, is not enough to make Matt "born again," as he still has to fall to the gutters before he can rise above it all.
The story arc is filled with so many great scenes that I once devoted, like, a month, to cool moments from it, years ago.
But here's a quick sampling…
1. Kingpin thinks he has Matt killed, but…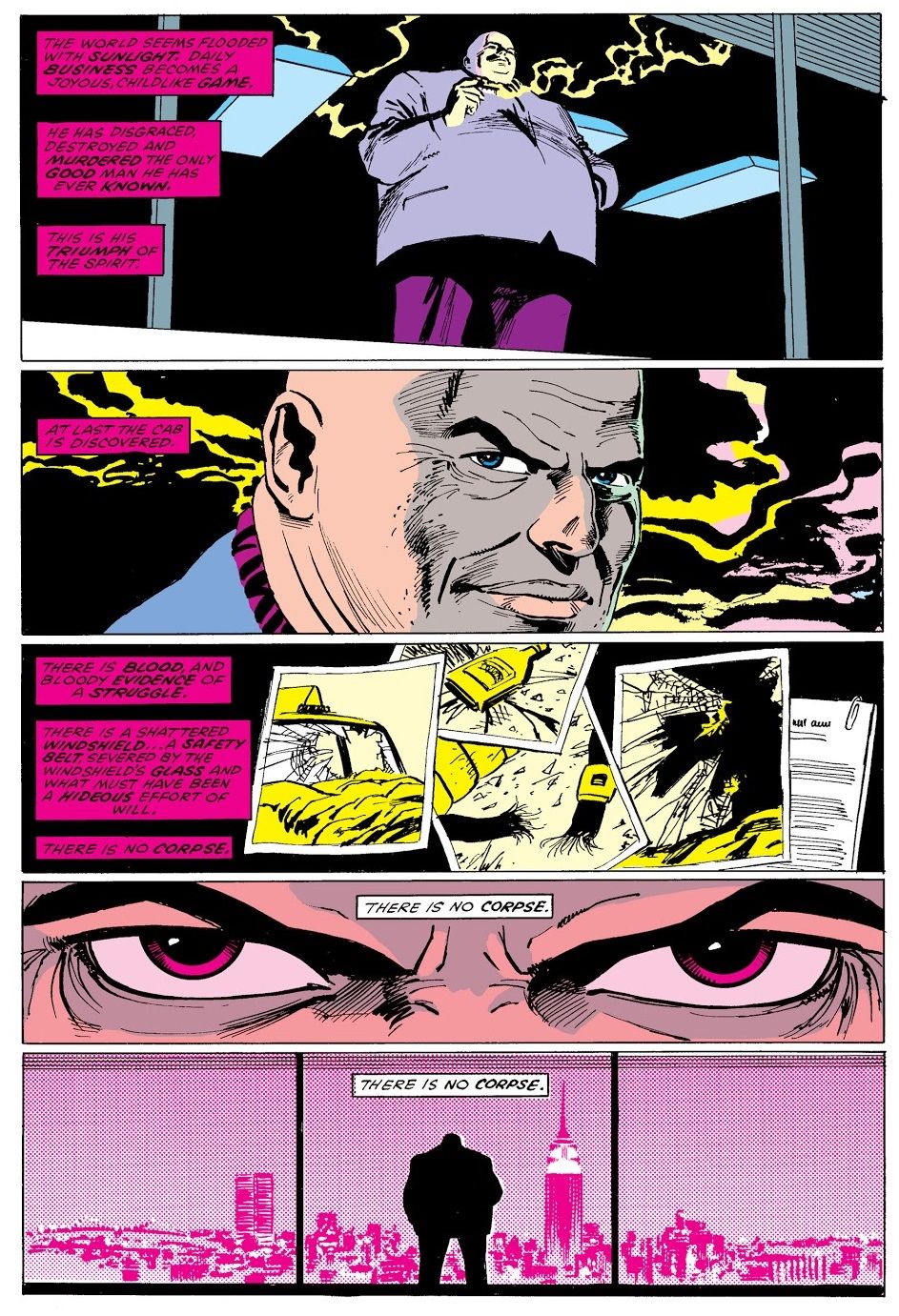 2. Kingpin realizes then that Matt may be more dangerous than ever, as after all…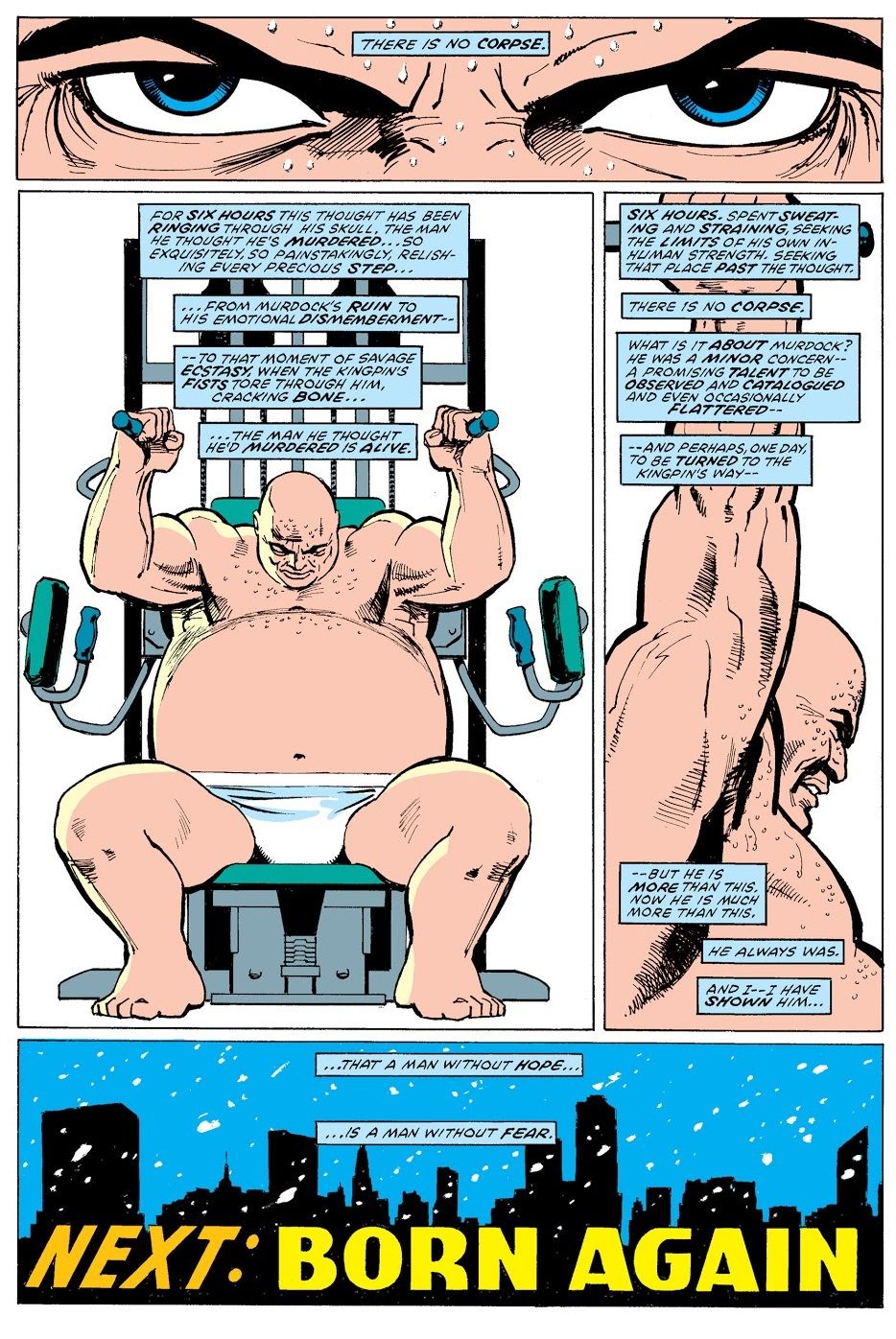 3. Ben Urich knows something is up and is brutalized by the Kingpin's henchmen into cowering away from his responsibilities, choosing to not even say Matt Murdock's name out loud. This comes to a head when a crooked cop tries to come clean to Ben but is murdered while Ben listens on the phone. The way it is handled by Mazzucchelli and Richmond Lewis, who also colored this series, is stunning. However, the effect of hearing a man murdered instead inspires Ben to bravery.
4. Miller introduces an interesting new character called Nuke, and becomes the first writer to extend the whole Super Soldier program into conspiracy theories, which leads Captain America to get involved. But Nuke's involvement helps bring Daredevil back (after Matt and Karen reunite, as Miller redeems Karen), and his return is, well, amazing – Mazzucchelli and Lewis do SUCH an amazing job on the return of Daredevil. A totally iconic shot of Daredevil in front of flames.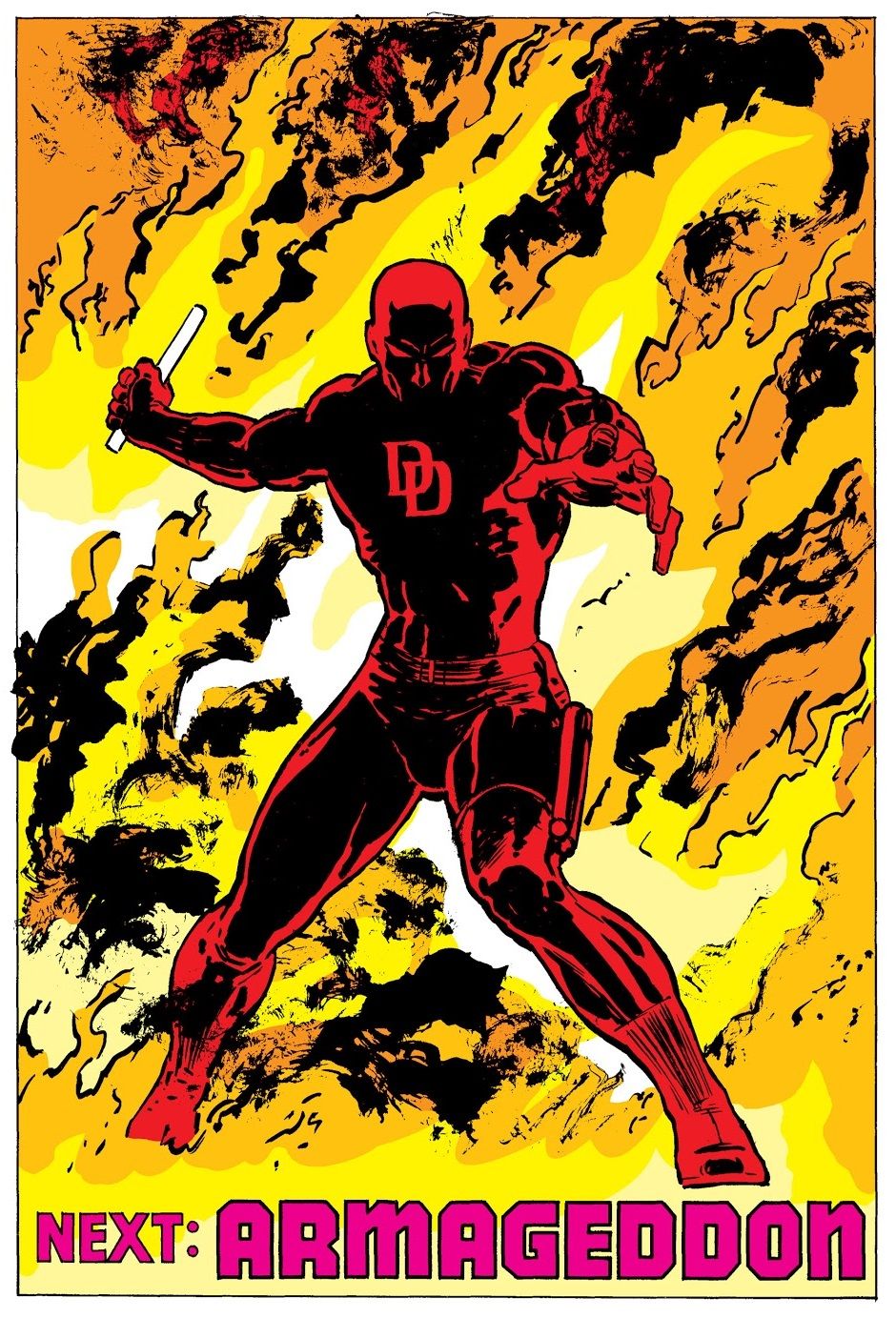 Miller, Mazzucchelli and Lewis depicted the Avengers in such a way that evokes how Alan Moore, Stephen Bissette and John Totleben handled the Justice League in the pages of Swamp Thing – and it's the way you'd almost expect superheroes to be depicted in the "real" world.
And the whole thing ends on such an optimistic note. What an awesome series.
RELATED: Top Comic Book Storylines: 9-7
1. "Watchmen" by Alan Moore and Dave Gibbons (Watchmen #1-12) – 3461 points (146 first place votes)
To give you an idea of how much of a game changer Watchmen was, note that the PROOFS for the issues were passed around the DC offices – that's how much even the other DC employees were enthralled in the story that Alan Moore and Dave Gibbons were producing. Everyone knew that this comic was special, and now nearly thirty years later, it remains a very special story.
A remarkable aspect of Watchmen is the fact that, past the fairly straightforward plot about an older superhero getting murdered, with his former teammates investigating his murder only to find out that it is all tied to a mysterious conspiracy, there is just so much detail and nuance.
Of course, most importantly, it opens with a Bob Dylan song lyric…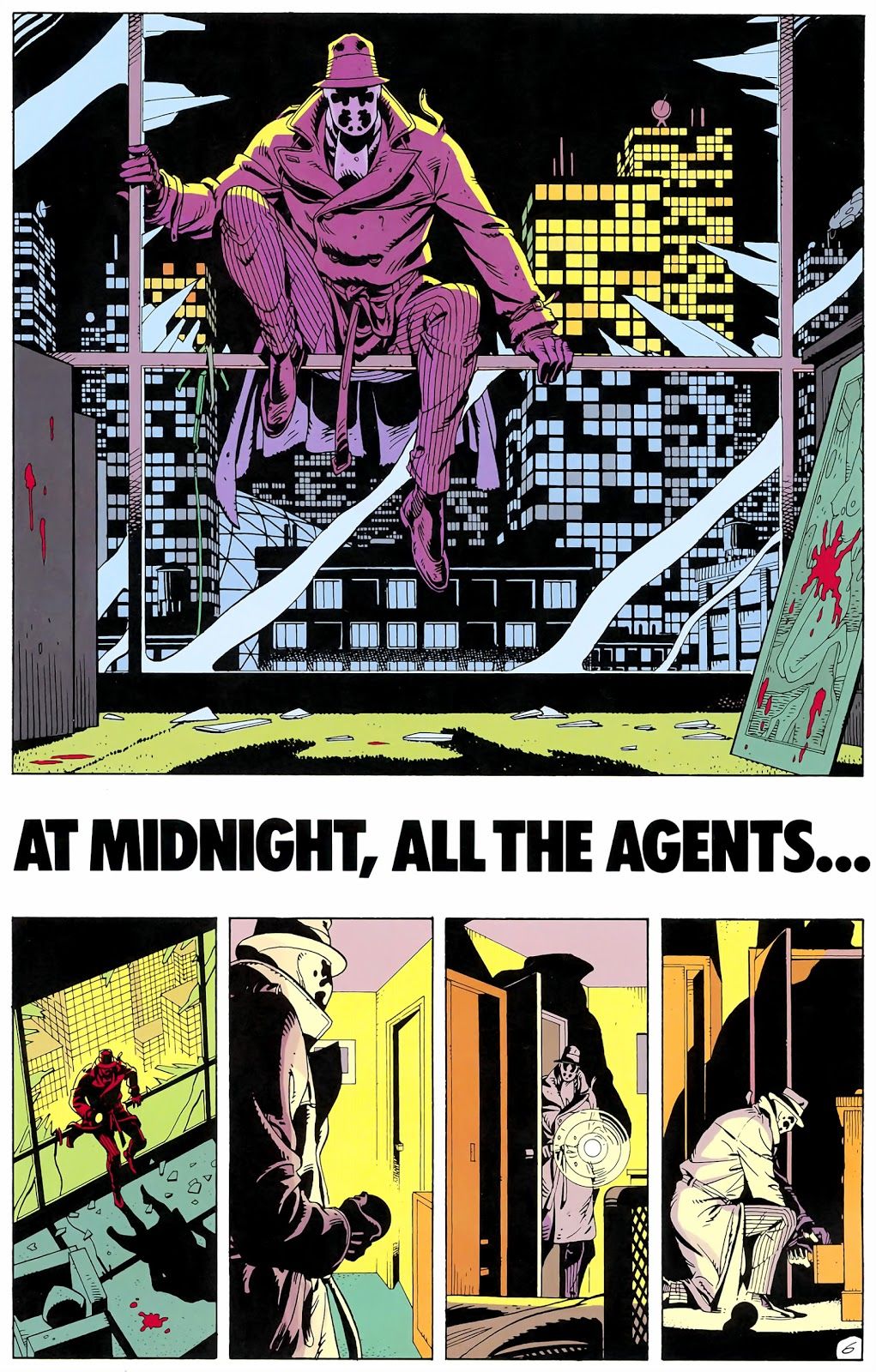 You can examine a single scene and get something new out of the scene practically every time you read it.
And that's even counting all of the famous scenes that are awesome just on a straightforward reading of the book, like Ozymandias' famous "I did it 35 minutes ago" line…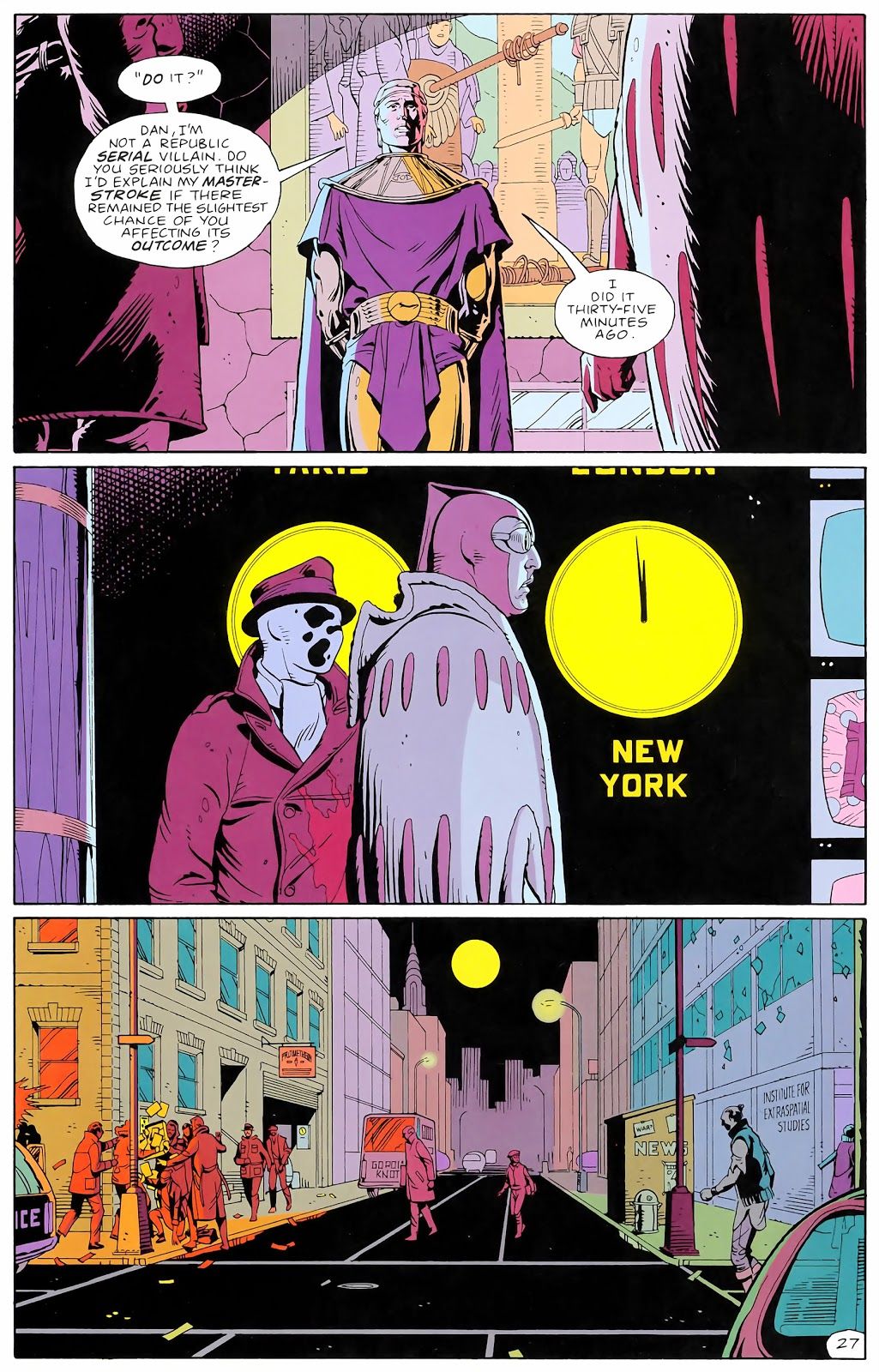 or Rorschach's first meeting with his prison shrink…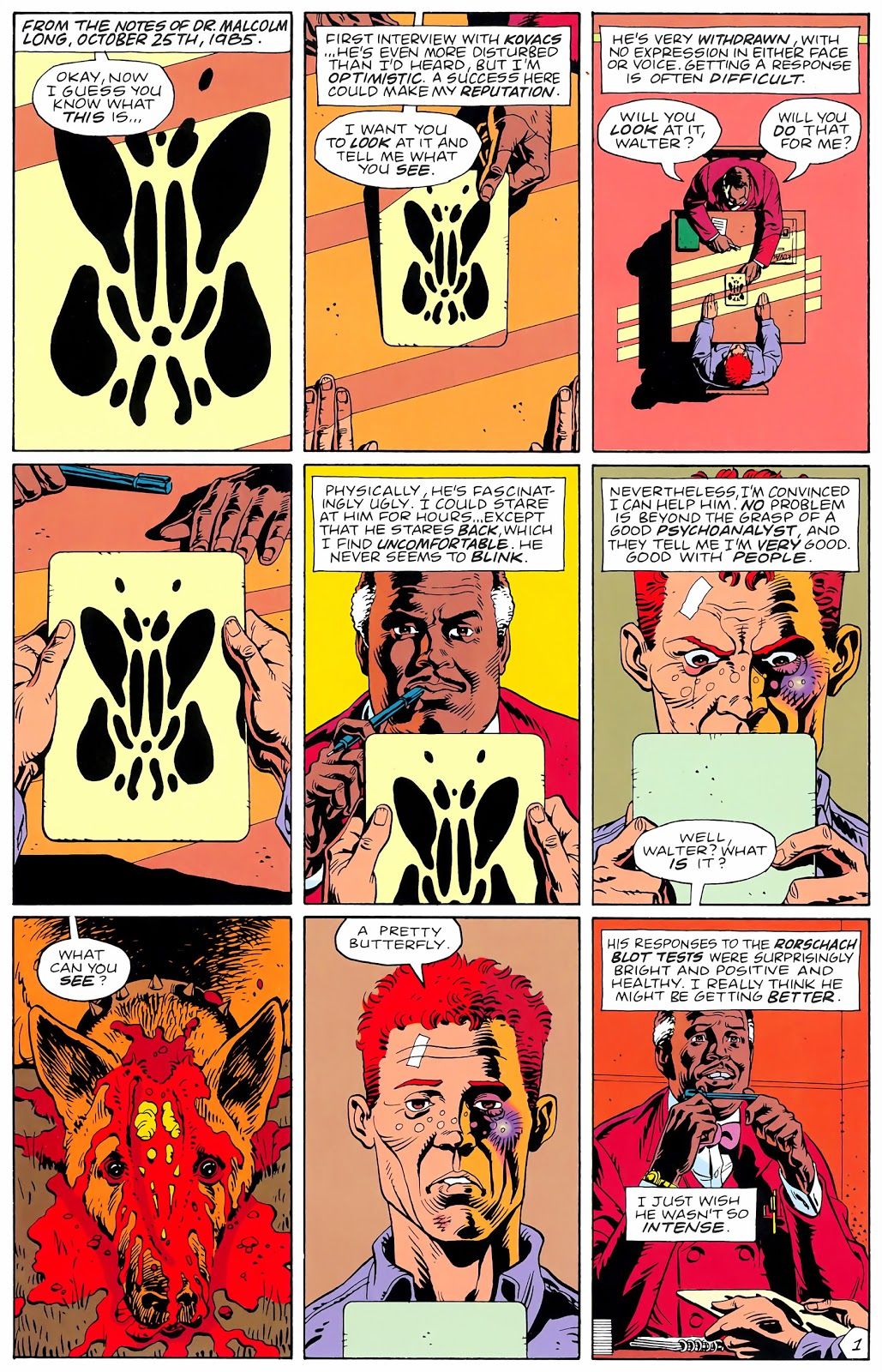 Dave Gibbons does not get enough credit for his amazing artwork in this story. There's a sequence set in the past when the heroes were still all pretty naive (Rorschach was not even using his scary voice as of yet), and Gibbons gives us, ALL IN THE BACKGROUND, a beautiful depiction of Doctor Manhattan flirting with the Silk Spectre, all while his wife is right next to him. As the panels go by, not one doesn't show some sort of interaction in the background of the panel – all of it is important to their characterizations, but none of it is central to the main story being delivered in those panels – so Gibbons basically was giving us two stories at once. The one Moore is telling with the speech balloons at the "front" of the panel, plus the one Gibbons is telling in the "back" of the panel through body language.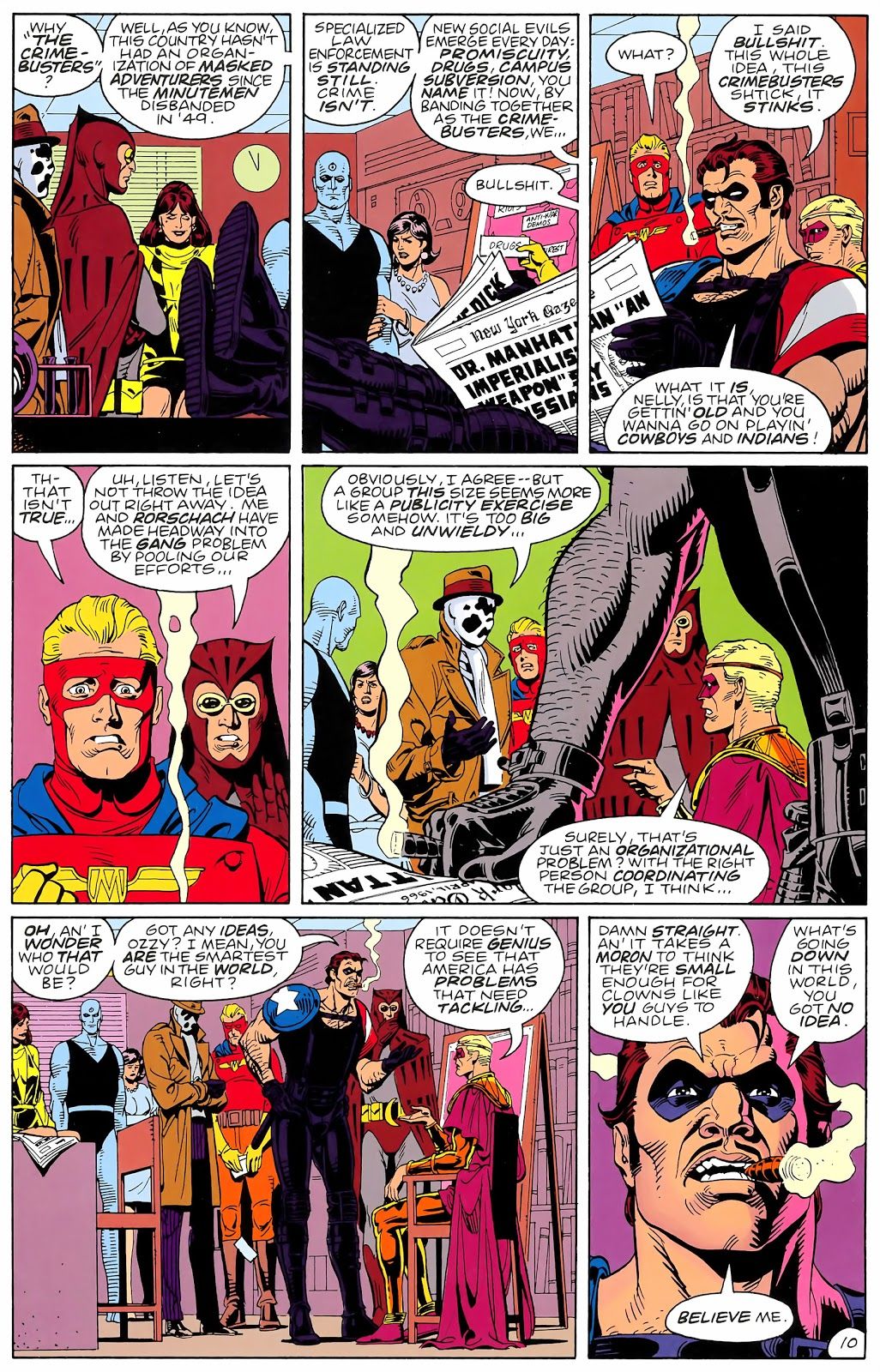 Granted, as great as Gibbons is, Moore DOES work full script, so while I am praising Gibbons, I have to make sure I do give Moore credit for the details, as well.
All in all, there is a reason that this was one of Time magazine's Top 100 Novels of the 20th Century – it's a masterpiece of comic book fiction, both in story and art – and decades later, it is STILL influencing comic book writers.
Hope you all had fun with the countdown! Thanks for voting, everyone!
KEEP READING: Top Comic Book Storylines: 12-10
from Ultimate Comic Blog https://ift.tt/32ODEf1
via IFTTT