The Actor – A Nostalgic 'Star Wars'-Themed Comic Strip from Tony Wolf and SirGryphon
https://ift.tt/3egHcsI
With the new The Mandalorian series The Book of Bobba Fett debuting on Disney Plus over the holiday season we're once again very pleased to bring you another original comic strip from Tony Wolf, fast becoming our "artist-in-residence" here at BF, and colorist SirGryphon. 'The Actor' is a nostalgic piece of autobio with a Star Wars theme that will make perfect reading at this time of year.
(Click on the individual images below to open 'The Actor' into a larger view. Alternatively click on the first image and then use the side left and right arrows to navigate backwards and forwards).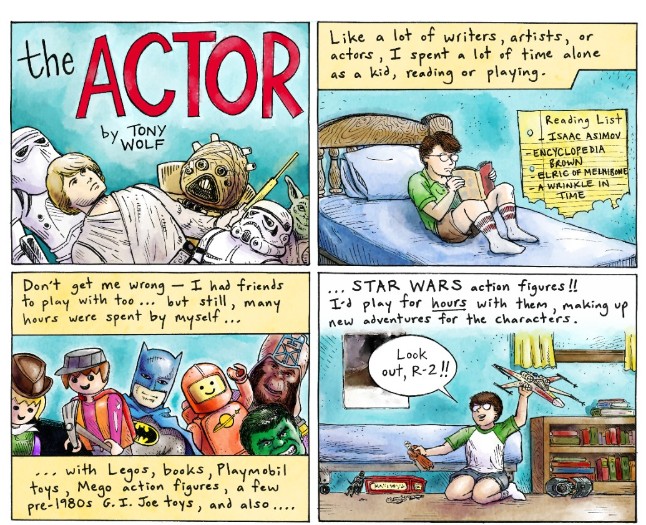 Tony Wolf is a comics creator and actor in NYC. He has written & drawn 4 comics for The New York Times, and had comics featured in New York Magazine's Vulture and The New Statesman. He can be seen in an upcoming role in Season 4 of "The Marvelous Mrs. Maisel". Find him on Twitter & Instagram at @tonywolfness. www.tonywolfactor.com
Thomas Gryphon aka SirGryphon is an artist, colorist, and graphic designer in NYC. He has colored & formatted many comics with Tony, including 3 New York Times pieces and "Greenpoint of View." He co-owns a comics shop, Anyone Comics, with Dimitrios Fragiskatos in Brooklyn, NY. Find him on Twitter & Instagram at @sirgryphon and his store's site: www.anyonecomics.com
This post The Actor – A Nostalgic 'Star Wars'-Themed Comic Strip from Tony Wolf and SirGryphon appeared first on Broken Frontier.
from Ultimate Comic Blog
https://ift.tt/3FhNJ2s
via IFTTT