Skottie Young Teases I Hate Fairyland's Chaotic & Epic Return
https://ift.tt/3DFntxe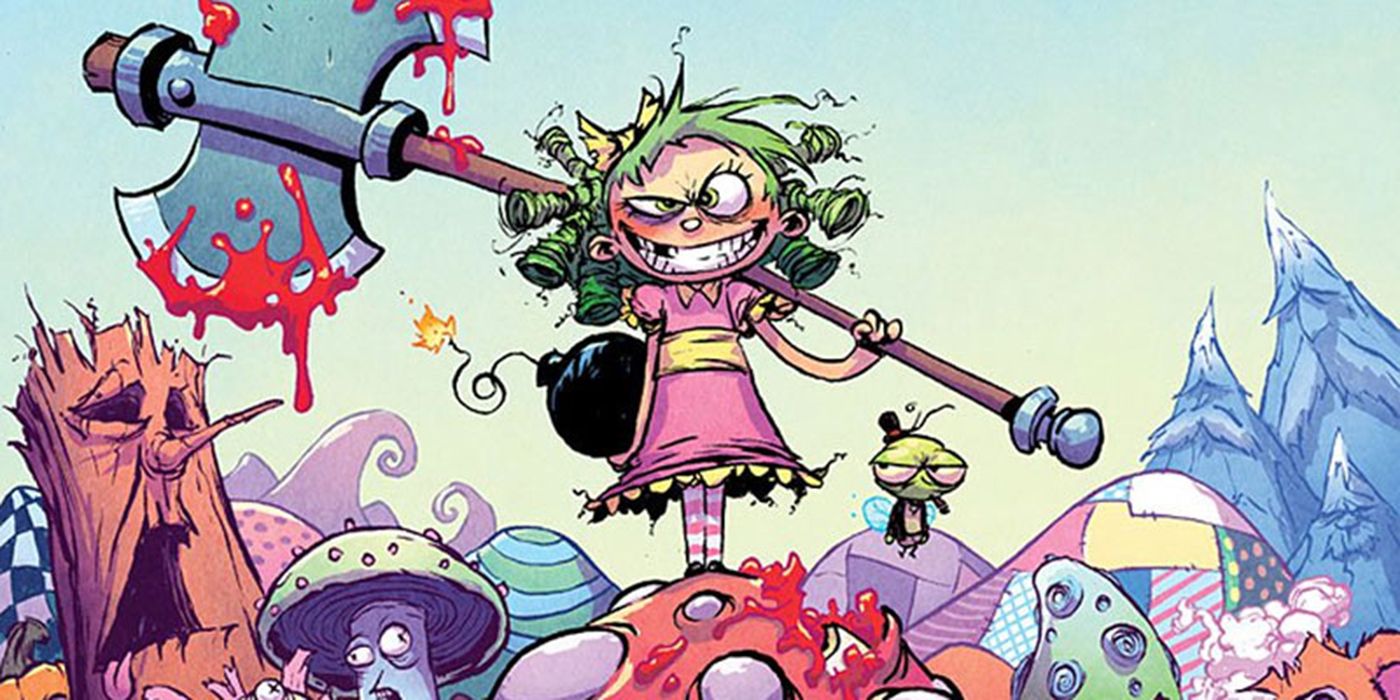 After wrapping its acclaimed run in 2018, Skottie Young's hilariously subversive Image Comics series I Hate Fairyland is coming back. Ahead of the series returning in July 2022, Young is publishing a web-comic set in the series' universe titled The Unbelievable, Unfortunately Mostly Unreadable and Nearly Unpublishable Untold Tales of I Hate Fairyland. Each story features a different superstar artist. Available for free through Young's monthly Substack newsletter Stupid Fresh Mess, the fantastical web-comic expands the world of I Hate Fairyland and Gertrude's backstory — including where she got her giant axe.
In an exclusive interview with CBR, Young praised his collaborators on the return of I Hate Fairyland, teased what readers can expect from The Untold Tales of I Hate Fairyland, and expressed his joy in the fantasy world's resurgence. Also included with this interview is a preview from the first chapter of The Untold Tales of I Hate Fairyland, written by Young, with artwork by Fábio Moon and Gabriel Bá, and leterring by Nate Piekos.
RELATED: EXCLUSIVE: Image's Monkey Meat Attacks Modern Society With Super Powers
Skottie, it's been over three years since we last saw Gertrude and the world of I Hate Fairyland. How is it to come back?
Skottie Young: It's like riding a bike! It feels like the last issue came out last week and I'm just onto the next one! That's a great place to be when starting a not-so-new new project!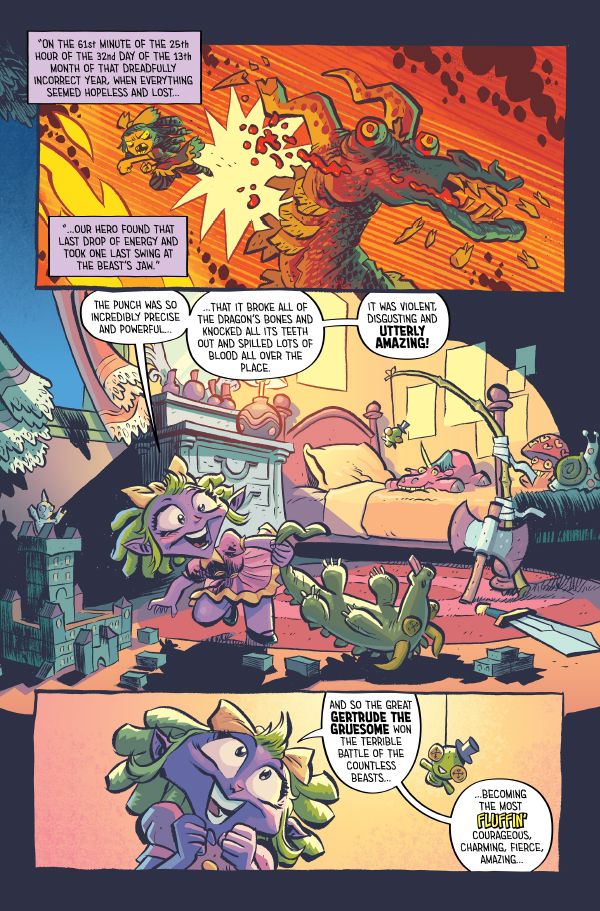 To help kick off I Hate Fairyland's big return, you're teaming up with a whole line of guest artists on a line of mini-comics published through Substack. What did you want to do with this line?
I love the world of I Hate Fairyland so much that I thought it would be awesome to finally get to see it through some other people's eyes. I'm lucky enough to have some of the most talented friends in the world of cartooning, so what better way to ramp up to the new ongoing than to ask them to come play pretend with my toys!
How is it leading the Substack line with Fábio Moon and Gabriel Bá?
I feel spoiled. How did these two amazing humans come into my life ten years ago and allow me to enjoy years of friendship? Then on top of that… They agreed to jump in my wacky world and flex all over the place with their skills! It's truly a gift for me!
While you had taken point on art for the original run of I Hate Fairyland, what made you want to hand or the visual reins to Brett Parson and what made him right for the job?
Brett Parson is such a talented cartoonist! As I was ending my original run, I talked with him and Eric Powell as he was working on run of The Goon. Even though I knew my series was done, I still said, "I'm jealous! I want you to do a run on I Hate Fairyland!"
When I decided to bring it back, I knew I was busy with art duties on another new project (Nope, not telling you yet) and couldn't do both. So I reached out to Brett and he said yes! Again, I'm spoiled AF!
RELATED: The Owl House Writer Launches New Graphic Novel on Substack
The last time we saw Gertrude, she had gotten everything she more or less wanted at the start of the series. What can you tease about how she may resurface beyond The Untold Tales of I Hate Fairyland?
Well, Untold Tales is a chance to tell more stories that happened in between the stories I wrote in the original series. It's a way to expand on some of the other characters, continue some of the stories you read, and find out just where Gert got her big axe!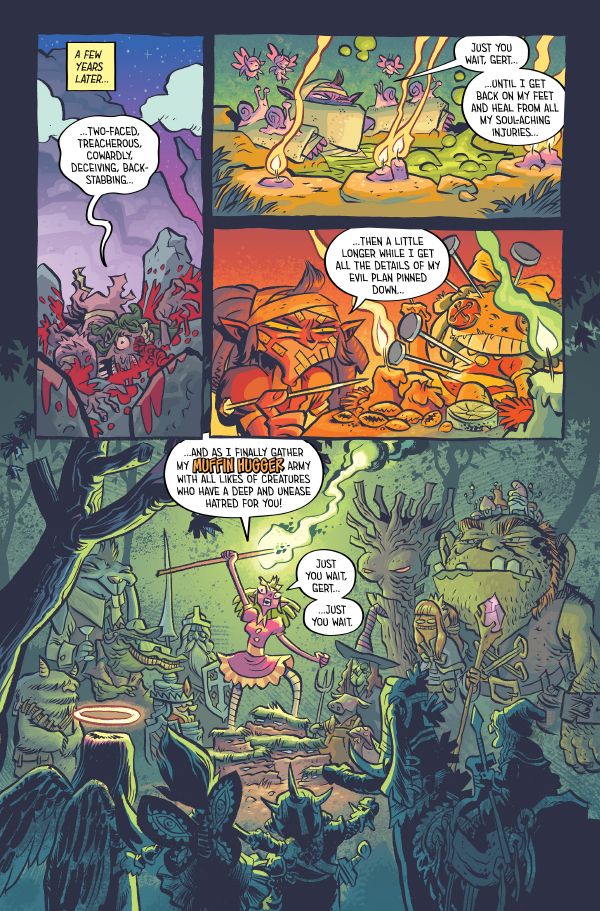 What can readers expect with Substack incentives for The Untold Tales of I Hate Fairyland and the physical release in 2022 through Image Comics?
When I first re-launched my Stupid Fresh Mess newsletter on Substack, my plan was to put The Untold Tales of Fairyland over the wall for paid subscribers only. As stories started to come in and I saw how much fun we were all having, I changed my mind. I used Dean Rankine's first story as a surprise post, announcing that comics were no longer an incentive for paid subscribers. Instead, I would be posting them for free to all subscribers!
The incentives will now be live streams, making-of videos and creator commentaries! Also, I've been giving away free digital copies of out-of-print art books to paid subscribers!
What is it about I Hate Fairyland that keeps you creatively fulfilled and coming back to craft more stories in this fantasy world you created?
Doing creator-owned comics is so freeing. I can do whatever I want how I want to do it. In I Hate Fairyland, I've created a world where I can also do whatever I want. I can do satire and parodies, crime or sci-fi, funny or sad. It's a free world within a free world and it's hard to stay away from a thing like that.
Written by Skottie Young, The Unbelievable, Unfortunately Mostly Unreadable and Nearly Unpublishable Untold Tales of I Hate Fairyland publish monthly for free on Young's Substack newsletter Stupid Fresh Mess. I Hate Fairyland returns July 2022, written by Young and illustrated by Brett Parson and published by Image Comics.
KEEP READING: Image's Crossover Kills a DC Icon With a Shocking Familiar Weapon
from Ultimate Comic Blog
https://ift.tt/3oEj49C
via IFTTT