Marvel's Russian 'Thor' Reveals His True Power – But Is He a Traitor?
https://ift.tt/3nZ5U6P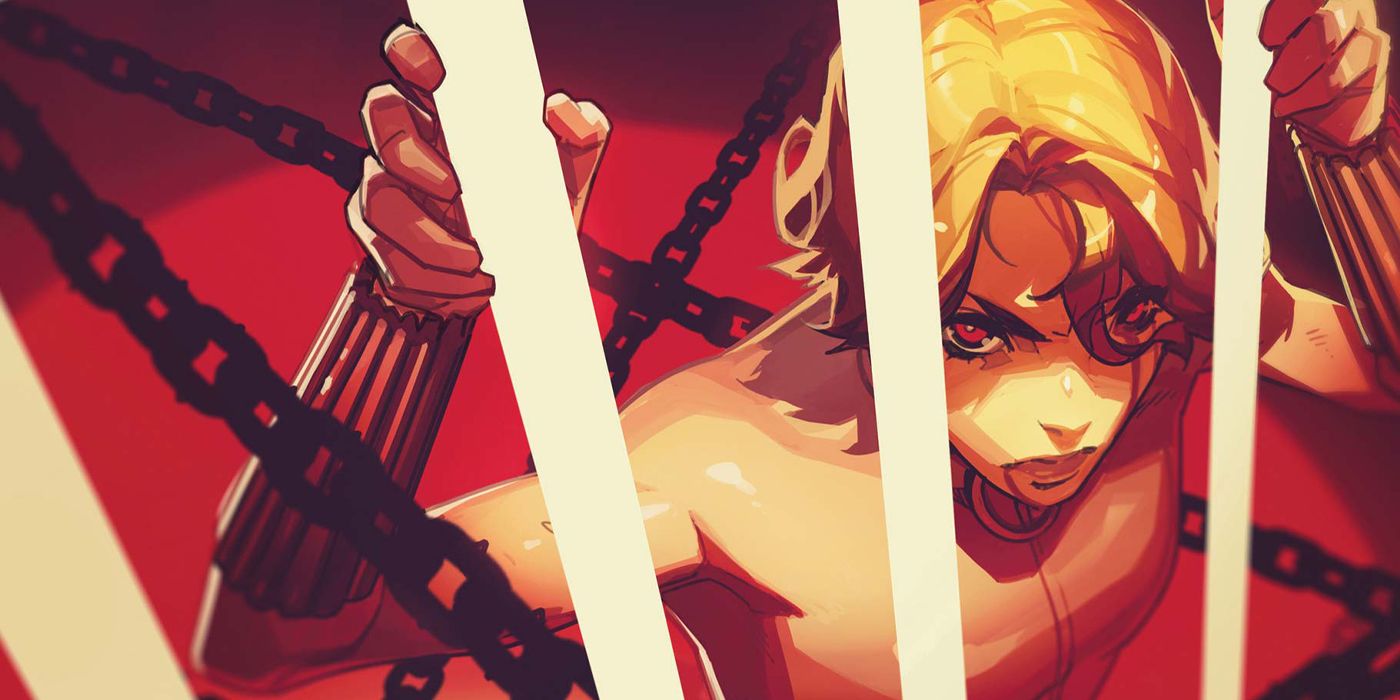 The Winter Guard has captured Black Widow's Yelena Belova — but a betrayal from within their ranks may bring about the downfall of Russia's Avengers.
Throughout Marvel's four-part Winter Guard series, the Red Guardian and Yelena Belova have tried to avoid the titular team while searching for the truth behind Operation Snowblind — a massive cover-up orchestrated by the Russian government. With the duo on the cusp of victory, the Red Guardian betrayed Yelena, leaving her at the mercy of the Winter Guard so he could escape. Now, a preview from Winter Guard #4 shows that the team's attempts to interrogate Yelena for information will unravel their ranks, as Thor's deadly counterpart, Perun, stands up for his idea of heroism. Perun's act of individuality pits him against the Winter Guard, casting doubt on whether or not he has Russia's best interest at heart.
RELATED: Another Marvel Cinematic Universe Hero Just Stole the Falcon's Signature Look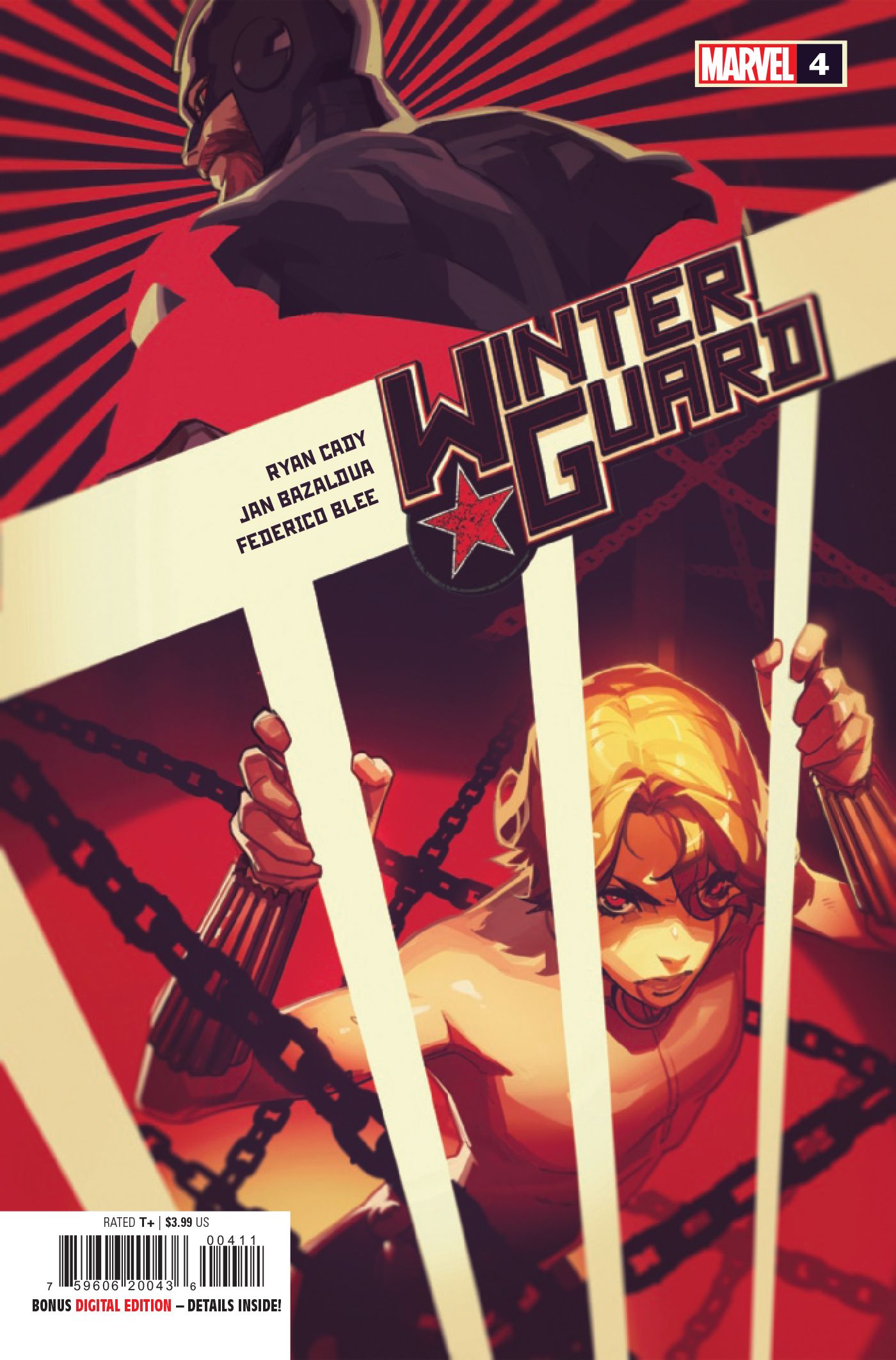 Written by RYAN CADY
Art by RYAN CADY
Cover by TONI INFANTE
Variant cover by Ivan Shavrin
CHECKMATE!
The final issue! The Winter Guard has its hooks in the White Widow—but she's not out of tricks yet. And the Red Guardian is ready to make his last move…but when is he gonna loop in his reluctant ally?! The answers come from a source no one expects, and secrets still abound as Project SNOWBLIND rushes to its bloody conclusion.
32 PGS./Rated T+ …$3.99
On Sale 12/1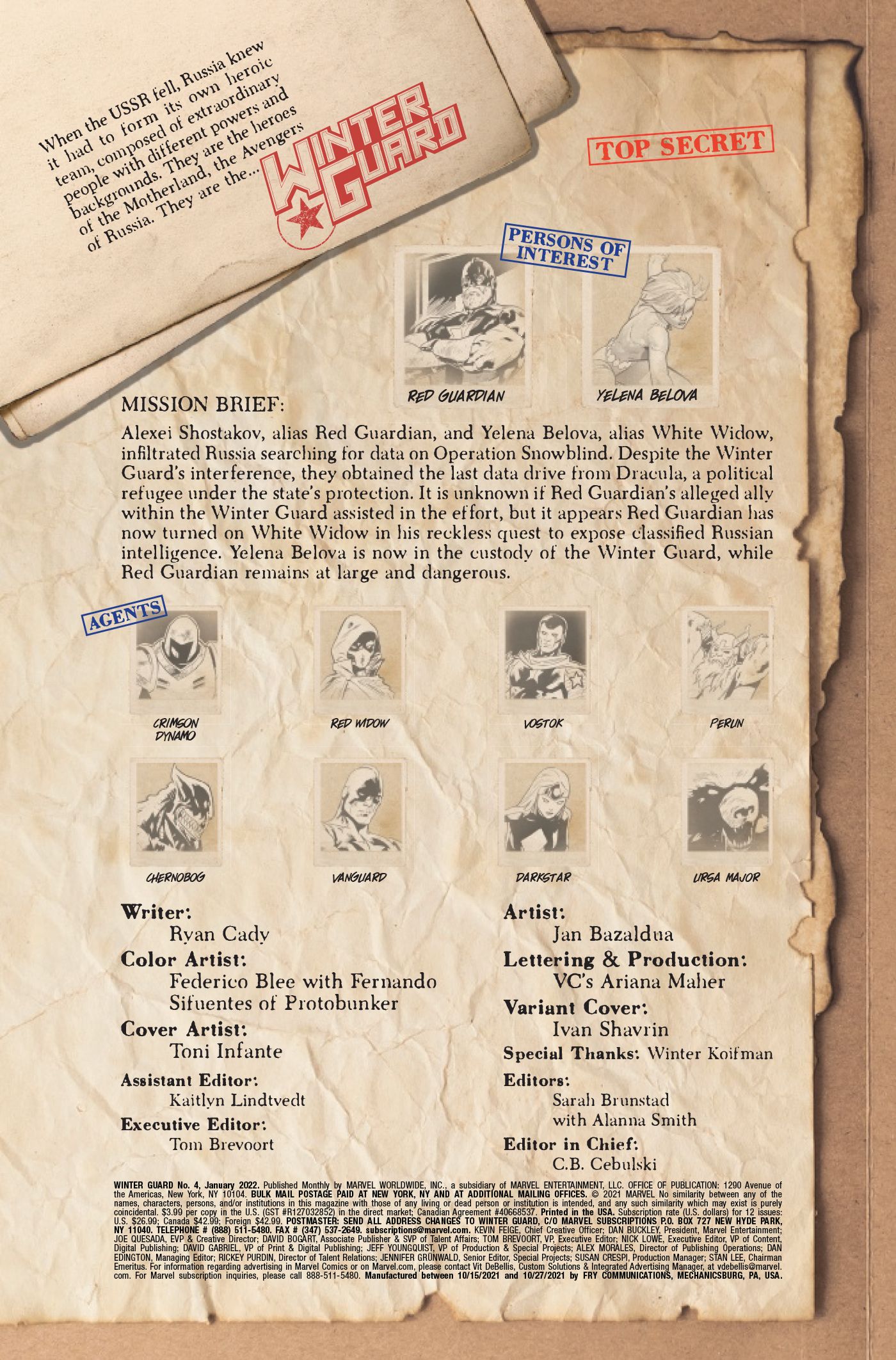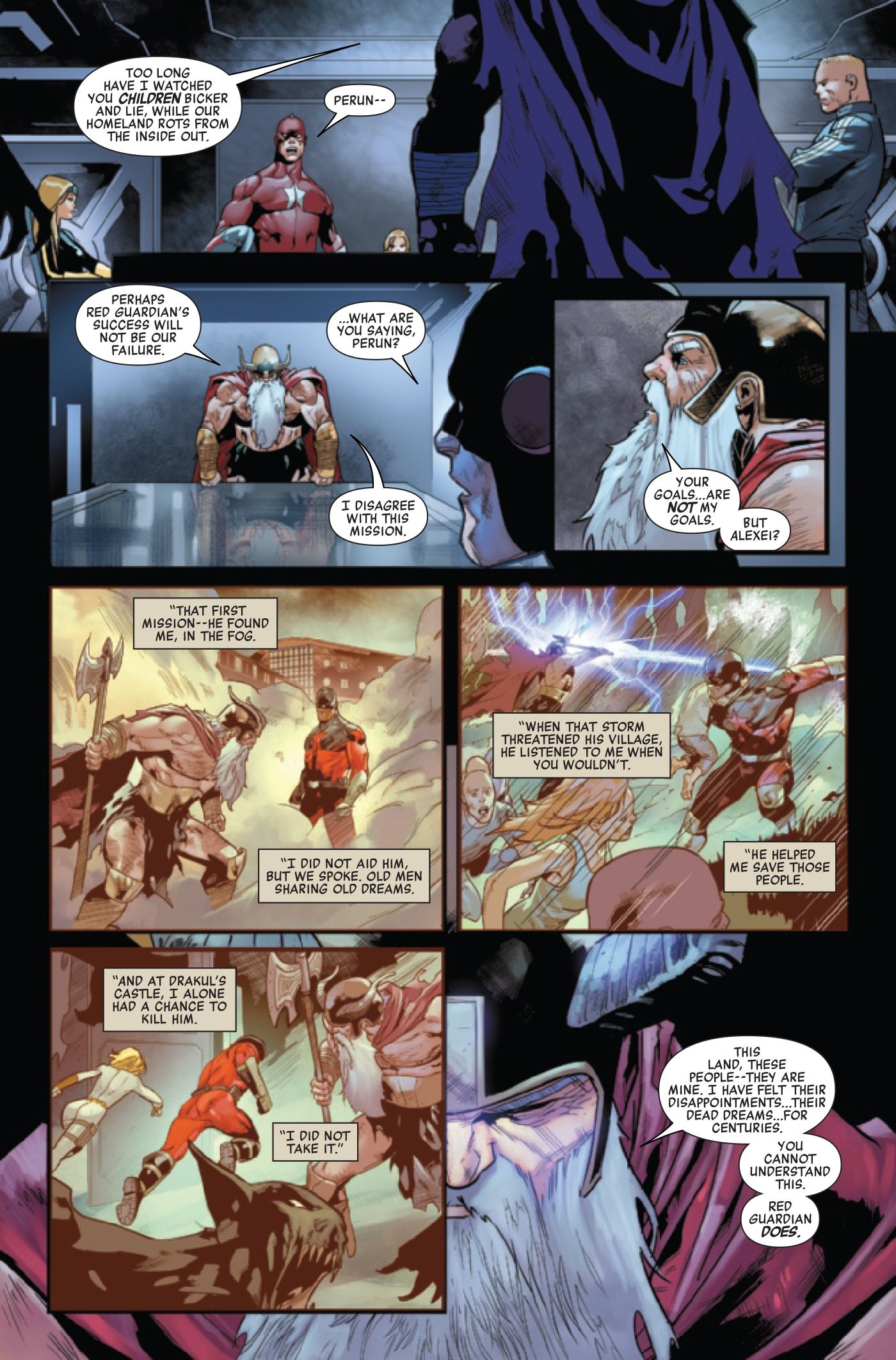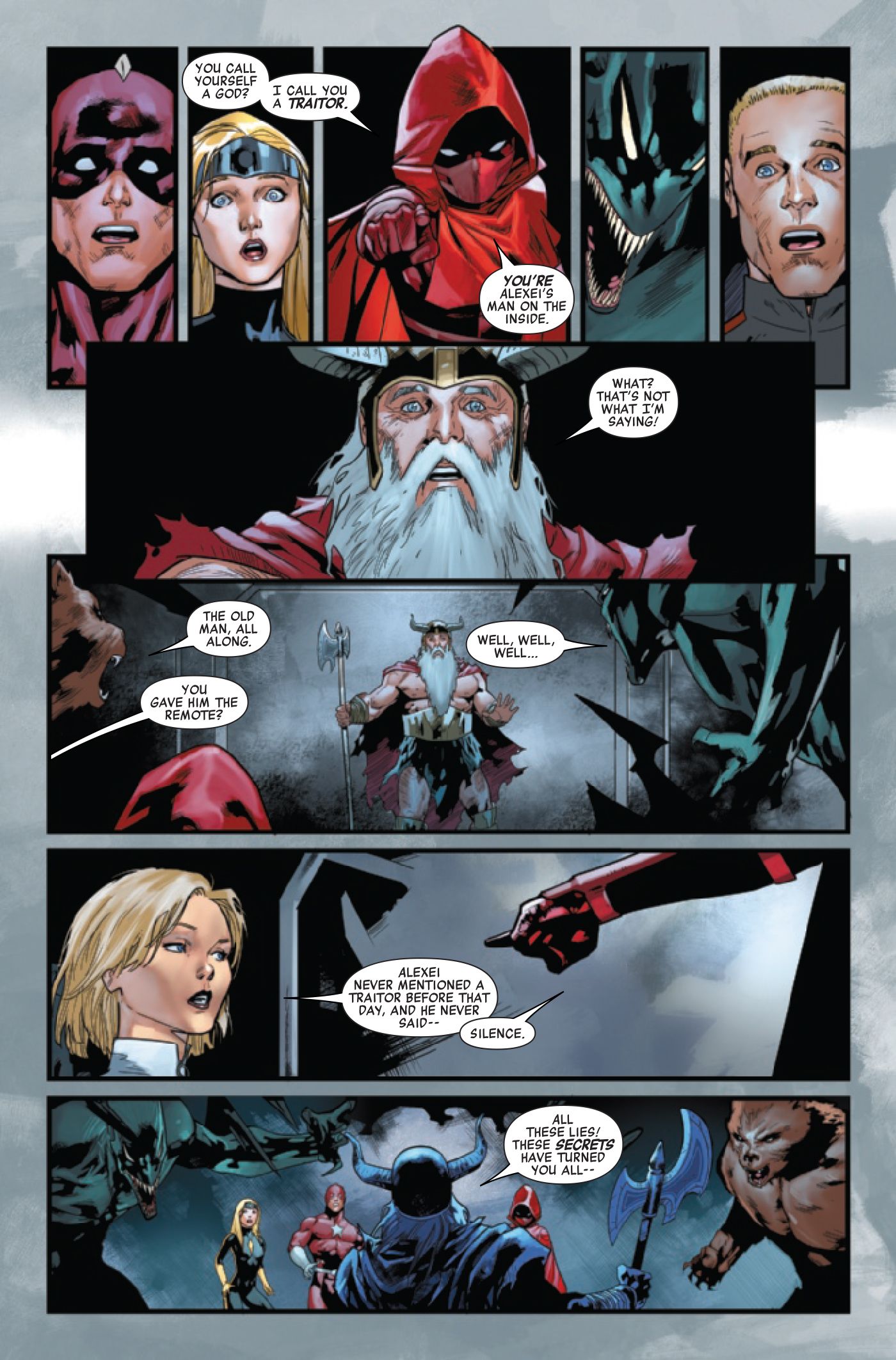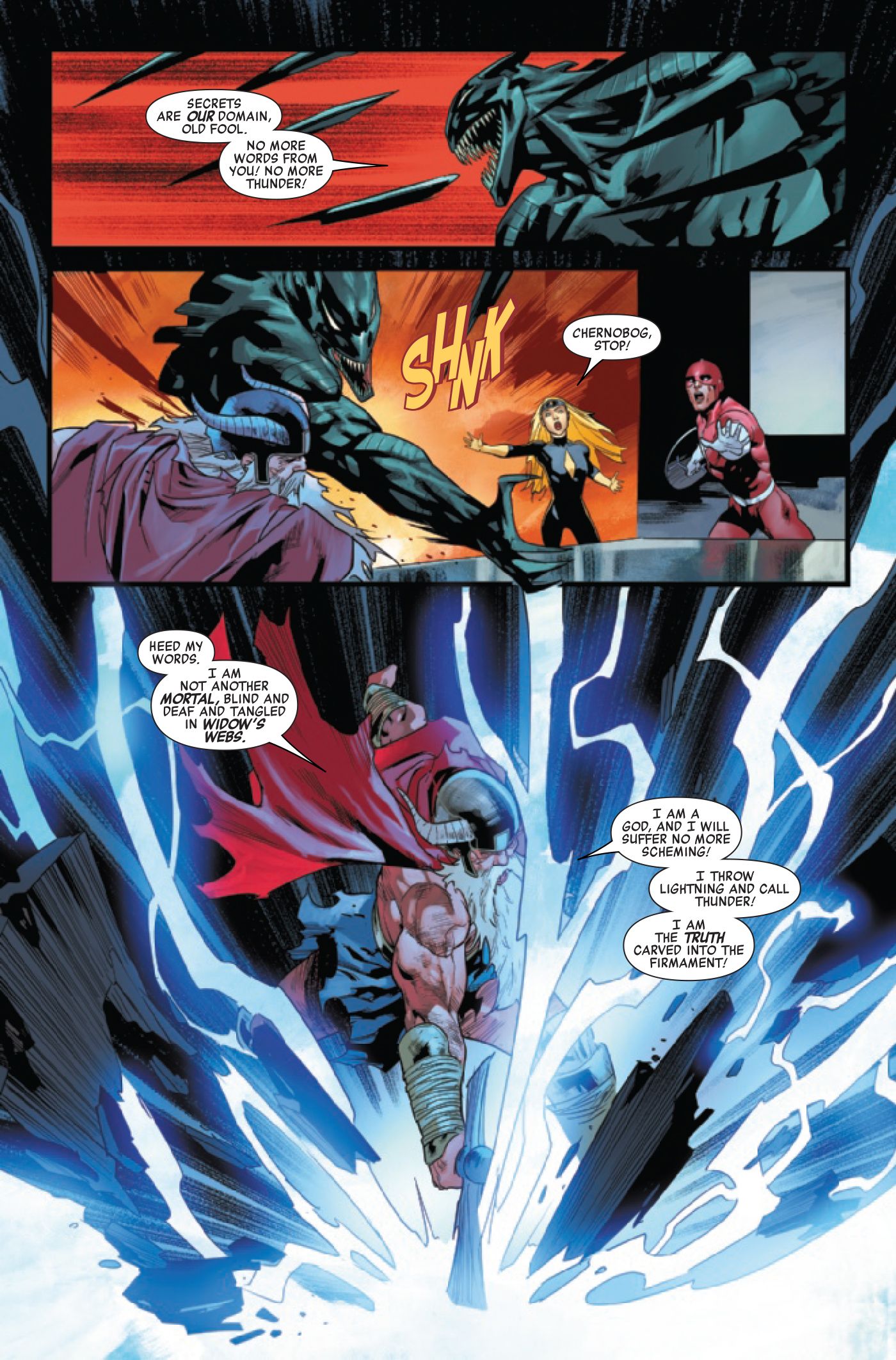 Perun first appeared in Captain America #352 by Mark Gruenwald and Kieron Dwyer. He is a Slavic god with the power to control storms, thunder and lightning, much like the Avengers' Thor. Recently, Perun joined the Winter Guard to help Russia further advance its superhero presence. The preview pages for Winter Guard #4 tease that this might be a short tenure, though, as Perun reveals to his teammates that he aided Red Guardian on two occasions. First, Perun teamed up with the Red Guardian to save the citizens of a small Russian village. Later, Perun restrained himself when given an opportunity to attack the Red Guardian from behind at the castle of Lord Drakul, aka Blade's arch-rival, Dracula, which led to the Red Guardian's escape.
Since the beginning of Winter Guard, the Red Guardian has teased that there is a traitor amongst the ranks of the titular team. However, now that the Red Guardian has successfully uncovered Operation Snowblind's secrets, there is seemingly no need for the traitor to stay hidden. While Perun's position potentially proves his guilt, the hero claims that his actions were spontaneous decisions. If that is the case, it could mean that Yelena Belova still has a hidden ally protecting her. Still, it is unclear if Red Guardian has actually had a friend in waiting or if he merely said that to try and sow dissent amongst the Winter Guard since he refused to offer up his "ally's" identity to anybody else.
RELATED: Black Widow Just Discovered How She is Ruining Her Family's Life
Outside of the Winter Guard, Avengers #50 will host an appearance from Russia's premiere superhero team. In addition to offering up the final chapter of the "Winter Hulk" storyline, the oversized special will celebrate 750 issues of Earth's Mightiest Heroes and pit the titular heroes against villains from across the Multiverse, such as Doctor Doom, Wolverine and a Kid Thanos who wants to kill every Avenger. The events of that issue will also set up the new series Avengers Forever, starring Avengers from across multiple realities who team up to protect all of existence.
Written by Ryan Cady and illustrated by Jan Bazaldua, Winter Guard #4 goes on sale Dec. 1 from Marvel Comics.
KEEP READING: Avengers Forever: Russell Dauterman Cover Celebrates Nearly Every Black Widow, Ever
Source: Marvel Comics
from Ultimate Comic Blog
https://ift.tt/3FYWCh5
via IFTTT