Marvel's Avengers Teases a New Look for Thor's Father – and a New Mjolnir?
https://ift.tt/3oaZxNC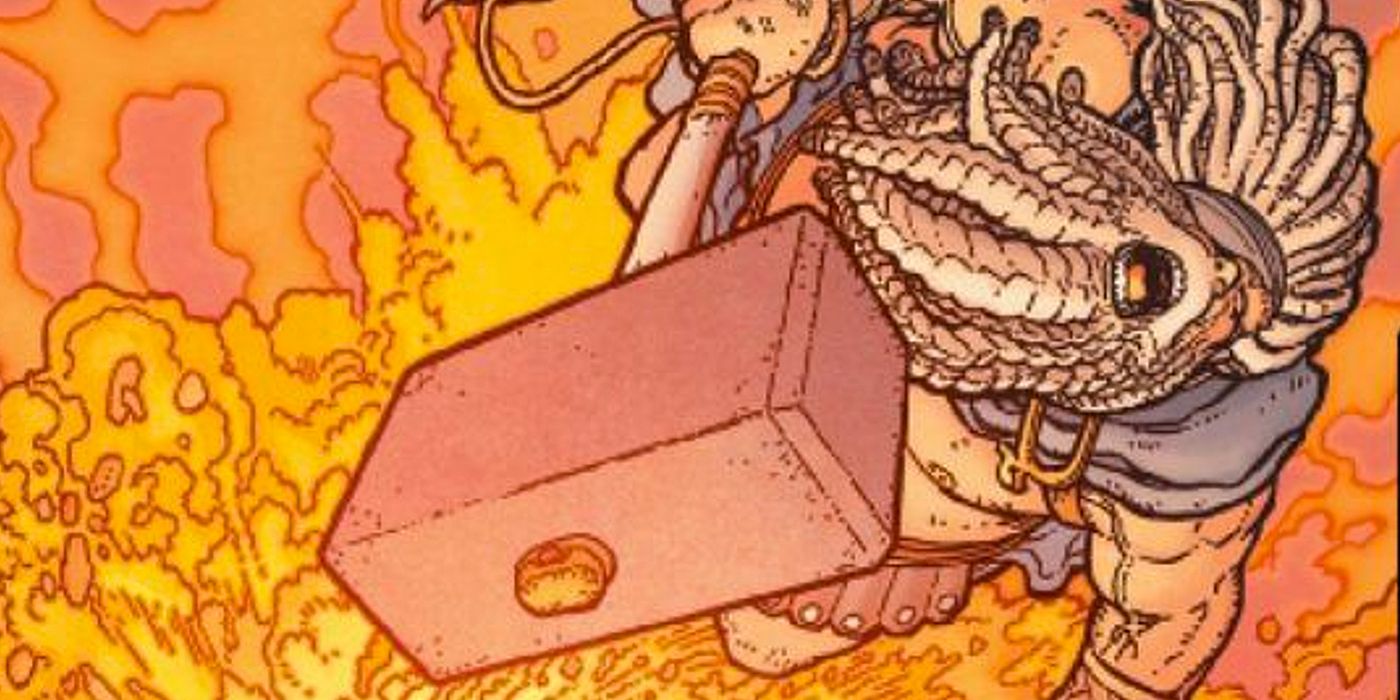 A very different sort of Odin Borson makes an appearance in the upcoming 750th legacy issue of The Avengers, along with a Stone Age look for Mjolnir.
Spotted in a preview for The Avengers #50, a white-haired and rounder Odin appears to be the final surviving member of an attack on the Prehistoric Avengers. Lamenting the demise of his comrades, Odin rants that there is rage burning in his heart and a "hammer of living storm" in his hand, and dares his opponents to oppose his godly fury. The father of Thor swings his mighty hammer, which looks more like the rustic one uncovered by an alternate version of Ant-Man in the upcoming Avengers Forever.
RELATED: The Avengers vs. Omni-Man: Could the Marvel Team Beat Invincible's Villain?
The Prehistoric Avengers, also known as the Stone Age Avengers or the Avengers of 1,000,000 B.C.E., debuted in 2017's Marvel Legacy #1 and were created by Jason Aaron and Esad Ribić. Composed of Odin, Lady Phoenix, Agamotto, the Black Panther of the Panther Tribe, the first Ghost Rider, the Iron Fist known as Fan Fei, and Vnn, the first known host of the Star Brand, this ancient collection of Earth's Mightiest Heroes battled the deranged Celestial known as Zgreb in their initial appearance. The team has made additional appearances throughout Aaron's 2018 run on The Avengers and also encountered the Eternals.
The members of the team appear to have changed in the preview of The Avengers #50, just as Odin himself has aged from a warrior in his prime to an elderly All-Father. Lady Phoenix — Odin's lover on the team — has been replaced by a Gorgilla, who appears to have inherited the power of the Phoenix Force, while characters named Lady Starbrand and the Savage Iron Fist have taken the places of Vnn and Fan Fei, respectively.
RELATED: How Did Marvel Redeem Its Worst Avenger?
Aside from promising the final fate of the Prehistoric Avengers, The Avengers #50 also features Ka-Zar, Kid Thanos — an alternate version of the Mad Titan who boasts that he wants to "murder the Earth in its crib" — and the conclusion of the "World War She-Hulk" story arc.
The Avengers #50 is written by Aaron along with Christopher Ruocchio, and illustrated by Aaron Kuder, Carlos Pacheco, Ed McGuiness, Javier Garrón and Steve McNiven. A variety of variant covers are available, including pieces by the likes of Ed McGuinness, Rob Liefeld, Ron Lim, Arthur Adams and the legendary Jack Kirby himself. The issue goes on sale Dec. 1 from Marvel Comics.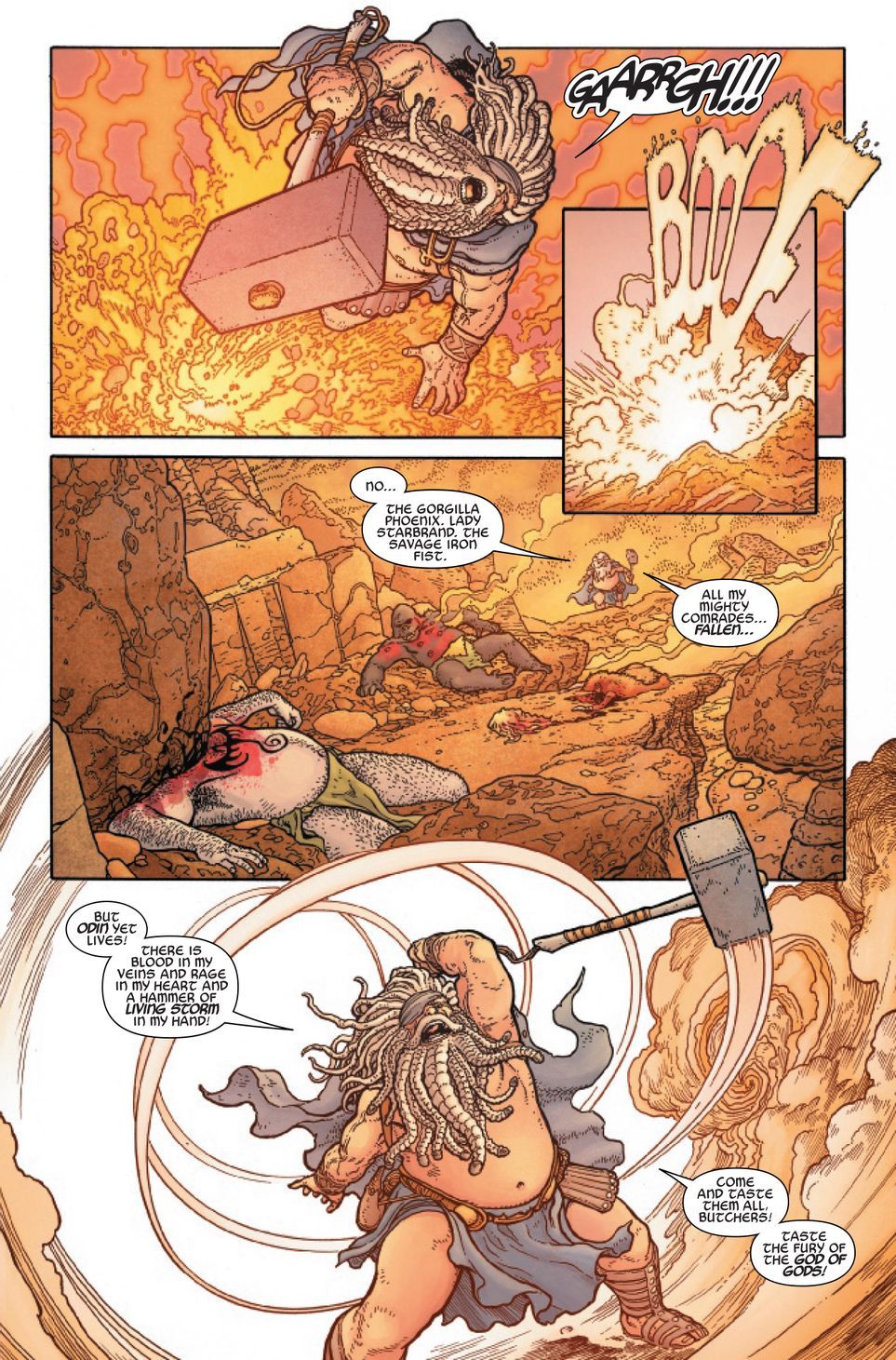 JASON AARON & CHRISTOPHER RUOCCHIO (W) • AARON KUDER,
CARLOS PACHECO, ED MCGUINNESS, JAVIER GARRÓN & STEVE MCNIVEN (A)
Cover by ED MCGUINNESS
Deadpool 30th Anniversary Variant Cover by ROB LIEFELD
VARIANT COVER BY ED MCGUINNESS
VARIANT COVER BY STEVE MCNIVEN
VARIANT COVER BY STEFANO CASELLI
VARIANT COVER BY MARCOS MARTIN
HIDDEN GEM VARIANT COVER BY JACK KIRBY
VARIANT COVER BY SIMONE BIANCHI
STORMBREAKERS VARIANT COVER BY CARMEN CARNERO
VARIANT COVER BY RON LIM
INFINITY SAGA PHASE 1 VARIANT COVER BY ARTHUR Adams
COMMEMORATING LEGACY #750!
Supersize extravaganza of Earth's mightiest action and surprises!
Witness the jaw-dropping conclusion of "World War She-Hulk!" Learn the true purpose of the prehistoric Avengers! Uncover the shocking secret of the Iron Inquisitor! Behold the most powerful collection of super-psychopaths that any Earth has ever seen! Watch the Avengers recruit some shocking new members! And follow the Ghost Rider on a quest for vengeance across the Multiverse that will spark an all-new era in Avengers history!
Plus: A bonus story featuring Thor by Christopher Ruocchio and Steve McNiven!
96 PGS./Rated T+ …$9.99
KEEP READING: The Infinity Gauntlet's Strongest Powers, Worst Weaknesses and Biggest Dangers
Source: Marvel
from Ultimate Comic Blog
https://ift.tt/3FYiDwE
via IFTTT