Marvel's Avengers #50 Comic Review | CBR
https://ift.tt/302win2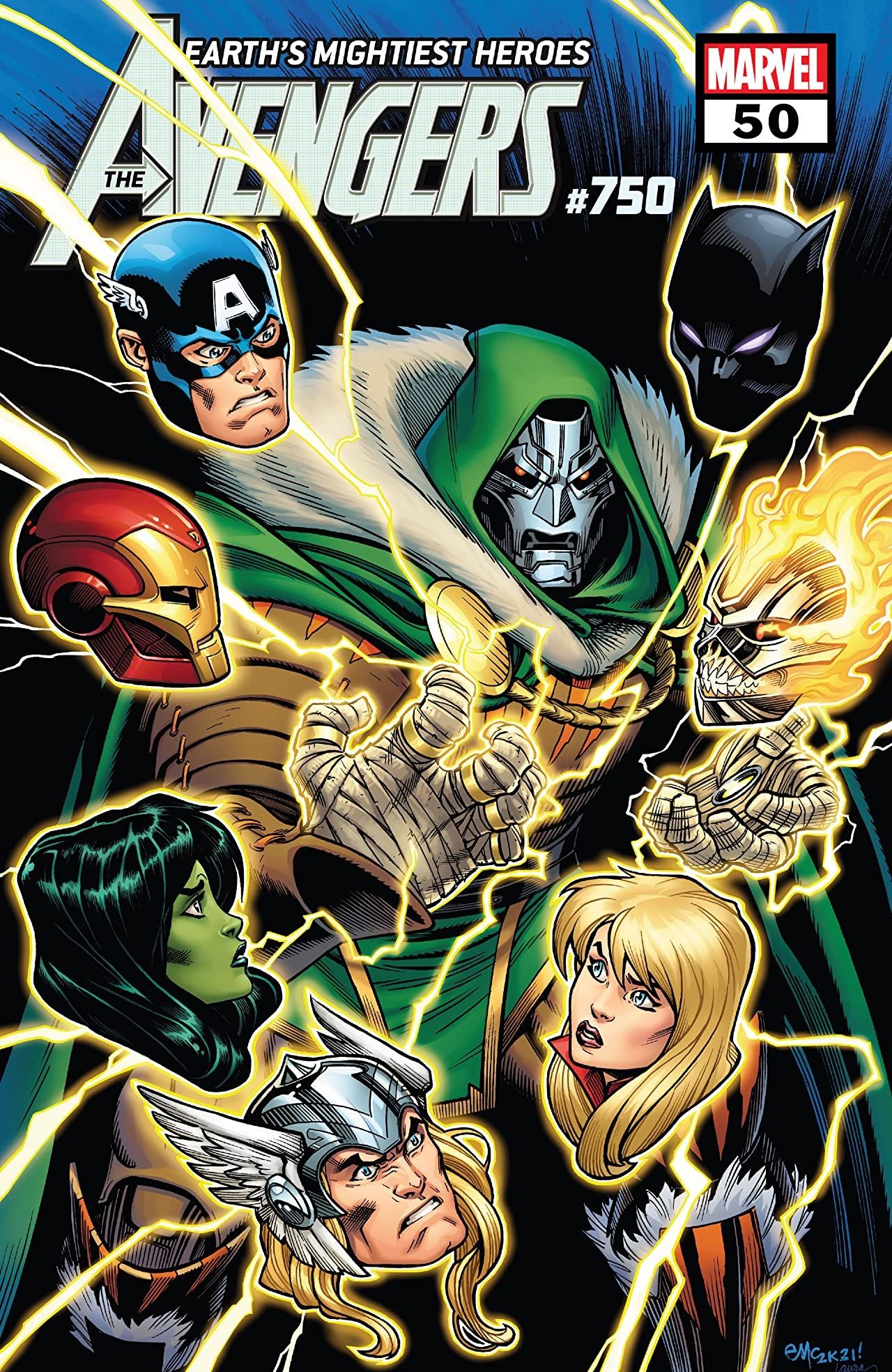 After nearly 60 years and 750 issues, Avengers #50 celebrates Marvel's premiere superhero team in an oversized epic featuring the talents of Jason Aaron, Aaron Kuder, Carlos Pacheco, David Baldeón, Ed McGuinness, Javier Garrón, and Rafael Fonteriz. The issue is packed with content, moving the Avengers past their adventures with the Squadron Supreme of America and into a future filled with new variants on Marvel's classic heroes and villains. Along the way, Aaron and the all-star array of artists touch upon many key storylines from recent years. While it may not necessarily be an easy introduction for fans that aren't already familiar with the franchise, Avengers #50 is a sensational tribute to Earth's Mightiest Heroes that reminds readers why they're the best at what they do.
Though Avengers #50 is divided into multiple intertwining narratives, the crux of the issue is the conclusion of "World War She-Hulks" by Aaron and artist Javier Garrón. The storyline began in Avengers #46 and transformed Jennifer Walters into the Winter Hulk, a Soviet superpower with enhanced abilities. In this issue, Jen fights against her Winter Guard-programing and races to save Atlantis from the fallout of a gamma bomb. It is a satisfying resolution that returns She-Hulk to her traditional status quo while helping to ease tensions between Namor and the Avengers. This development allows Aaron to highlight She-Hulk as one of their most versatile team members and shows how valuable her talents can be when applied correctly. As always, Garrón's art highlights the story's action and emotional depths, which is appropriate for the larger-than-life characters featured. In particular, the scintillating splash page of Jen emerging from the blast echoes back to John Byrne's time on the hero, almost breaking the fourth wall to say, "She-Hulk is back."
RELATED: Who Is 'Kid Thanos,' What Are His Powers… and Why Is He So Damn Annoying?
Another essential narrative present throughout Avengers #50 is the story of Ka-Zar traveling across time to see the different incarnations of Earth's Mightiest Heroes from various millennia. Drawn by Ed McGuinness, Carlos Pacheco, and Rafael Fonteriz, these stories build on the overall Avengers narrative that Aaron started in Marvel Legacy #1. Each artist brings a unique skill set to the story. McGuinness' bombastic silhouettes project a sense of power and draw in readers by directing them towards the action with foreshortening. Elsewhere, Pacheco's intricate details make the Omni-Avengers feel like fully-fleshed-out characters, despite their relative newness.
Additionally, Avengers #50 lays the foundation for the upcoming multiverse-themed Avengers Forever. As such, Jason Aaron and Aaron Kuder's exploration of the Multiversal Masters of Evil takes many of the ideas from the last few years and thrusts them forward into the unknown. As the Avengers try to understand the threat waiting beyond the horizon, Doctor Doom's new team is already busy killing the Orb, a longtime favorite of Jason Aaron's that has popped up in many of his comics over the years. Since the villain could observe all of reality, killing the Orb gives this story a sense of finality and helps to elevate the villains — since they have effectively ended one of Aaron's longest-running threads.
RELATED: Marvel's New Iron Man May Be the Multiverse's Darkest Avenger
Finally, Avengers #50 features a short tale by novelist Christopher Ruocchio and artist Steve McNiven. In it, Thor defends the not-yet-King Arthur from a Brood attack in the fifth century. It is a fun bonus that compliments Thor's run-in with the Brood from "Starbrand Reborn." It is incredibly accessible and provides a welcome respite from the high-octane action of the central narrative, with enough quality character work to justify its inclusion. This tale is the first comic from Ruocchio, so the novelist may be set for a bright future at Marvel comics.
Avengers #50 is filled with everything fans could ask for from Earth's Mightiest Heroes. Aaron, Garrón, McGuinness, Pacheco, Kuder, and Fonteriz craft an enthralling narrative that encapsulates all that the Avengers have been, are, or ever will be. Complimented by an engrossing back-up by Ruocchio and McNiven, Avengers #50 catapults the team into Avengers Forever with style and flair in Marvel's mighty manner.
KEEP READING: Galactus' New Herald Happens To Be One of Marvel's Least-Powerful Avengers
from Ultimate Comic Blog https://ift.tt/339bN9z
via IFTTT