How the Worst Avenger Was Redeemed After Breaking Up the Team
https://ift.tt/3F7Z84O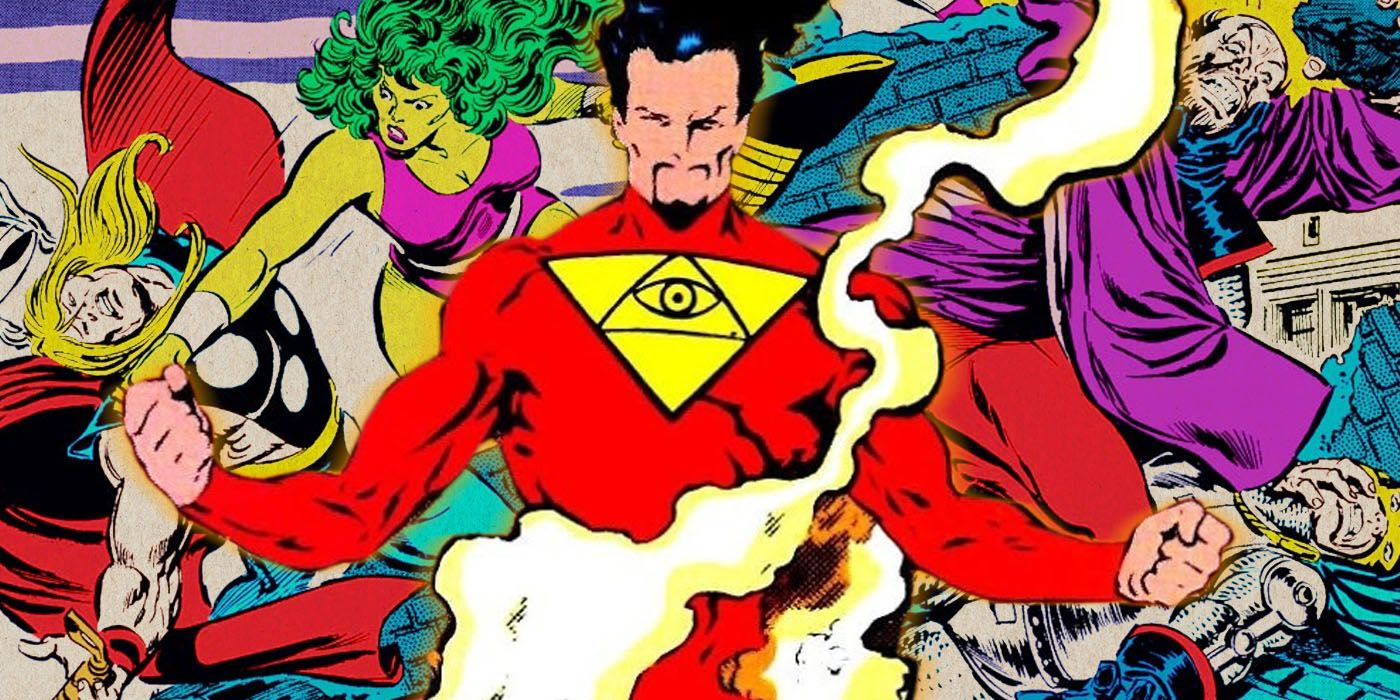 Today, we look at how Doctor Druid redeemed himself after being the cause of the Avengers breaking up.
This is "Walkin' Backwards," a feature where I look into how superheroes who turned to villainy were walked back from their heel turn and turned into superheroes once more.
Recently, I detailed the story of Doctor Druid, a revamped version of a pre-Fantastic Four Marvel hero who eventually joined the Avengers in the mid-1980s when the writer who revamped Druid, Roger Stern, thought that he would work well as an annoying hero who would irritate his teammates but always come through in the end when it counted. Once Stern was off the book, though, Druid's tenure on the Avengers went from irritant to just flat out antagonist. How did he get back from that low point?
RELATED: The Flash: How Wally West Finally Outran Heroes in Crisis
Walter Simonson followed Stern as the writer on Avengers and his editorial orders were to break up the Avengers. So Simonson did so through the use of Druid, who began to be visited by a mysterious woman in his dreams beginning in Avengers #291…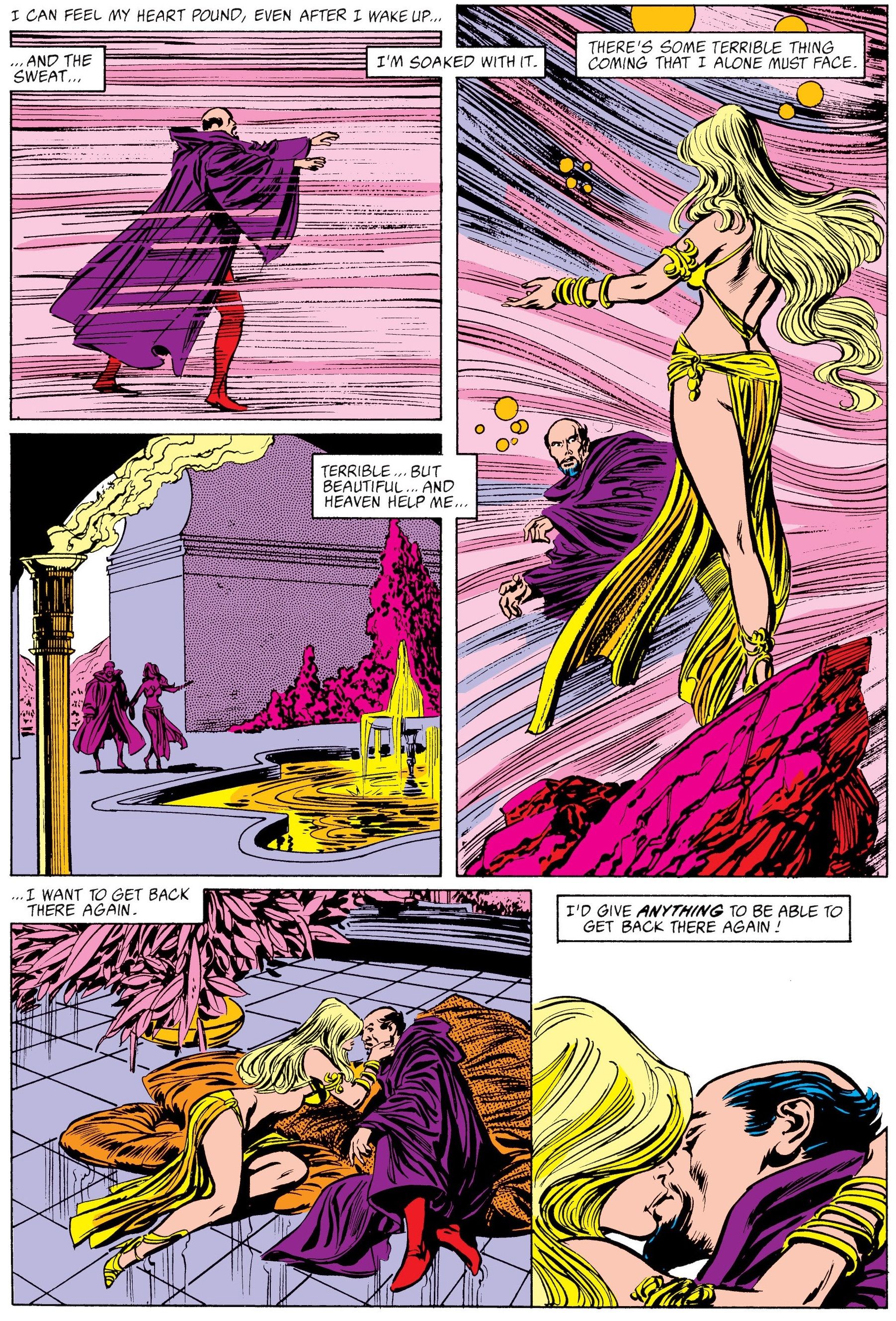 He constantly had conflict with Captain Marvel, the leader at the time, and his dreams of impending doom caused him to be an even bigger jerk to her than he normally was…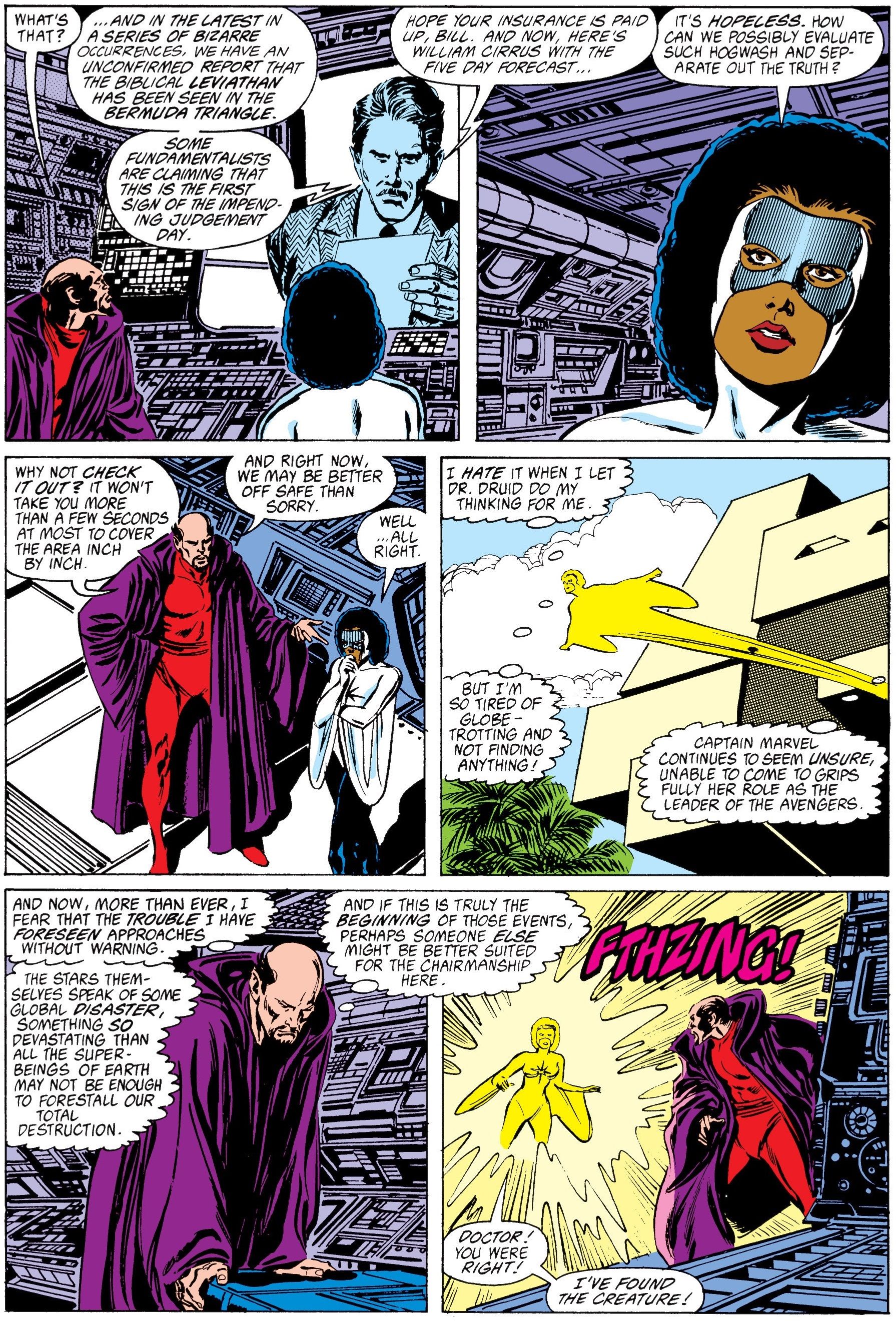 The dreams continued and they got more intense, even causing him to daydream in the middle of Avengers missions, like in Avengers #292…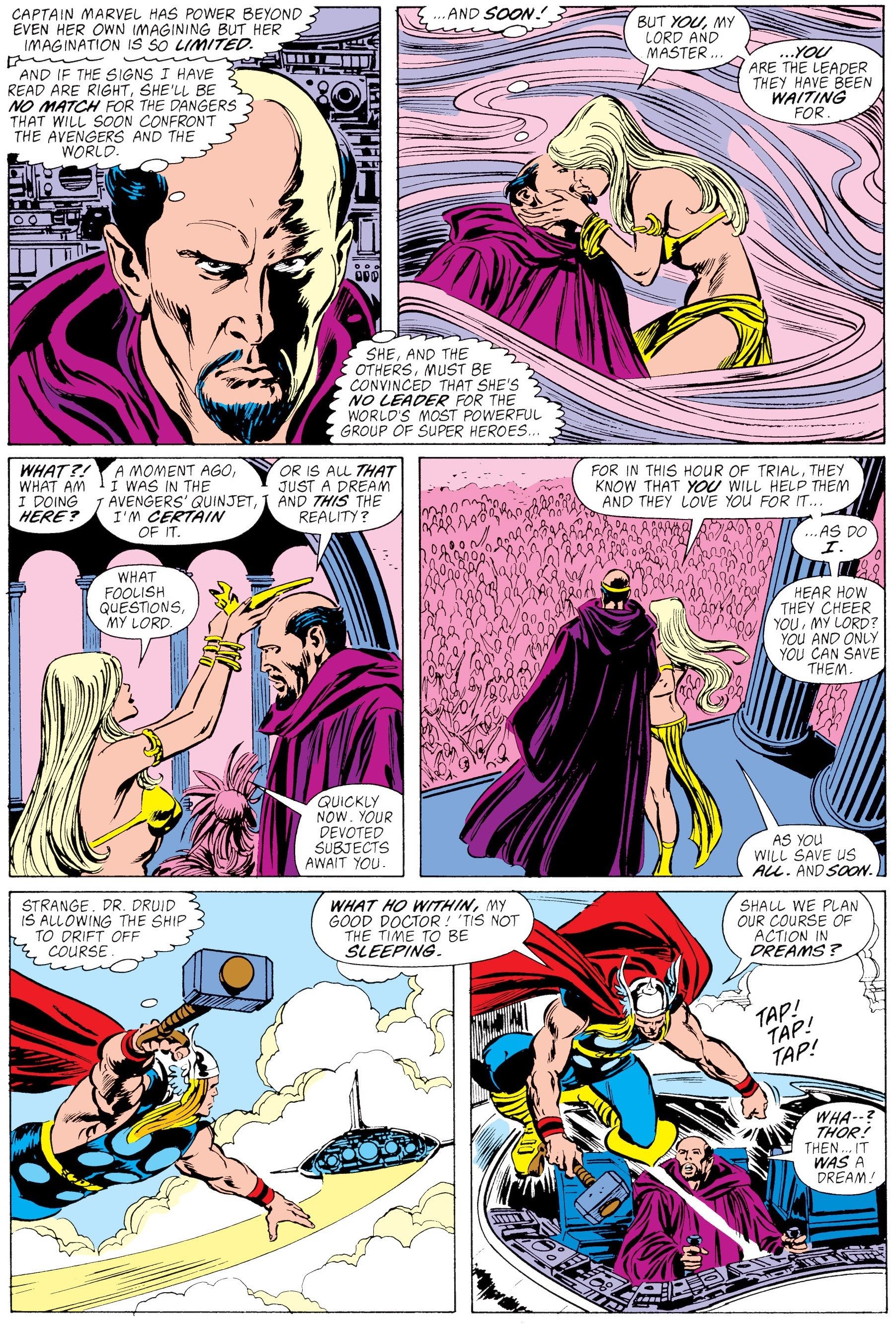 The woman (who turned out to be the villain known as the Terminatrix, but at the time, she was going by the name Nebula) kept manipulating Druid, pumping up his ego in his dreams…
She had him decide that he needed to take over as the leader of the Avengers from the injured Captain Marvel…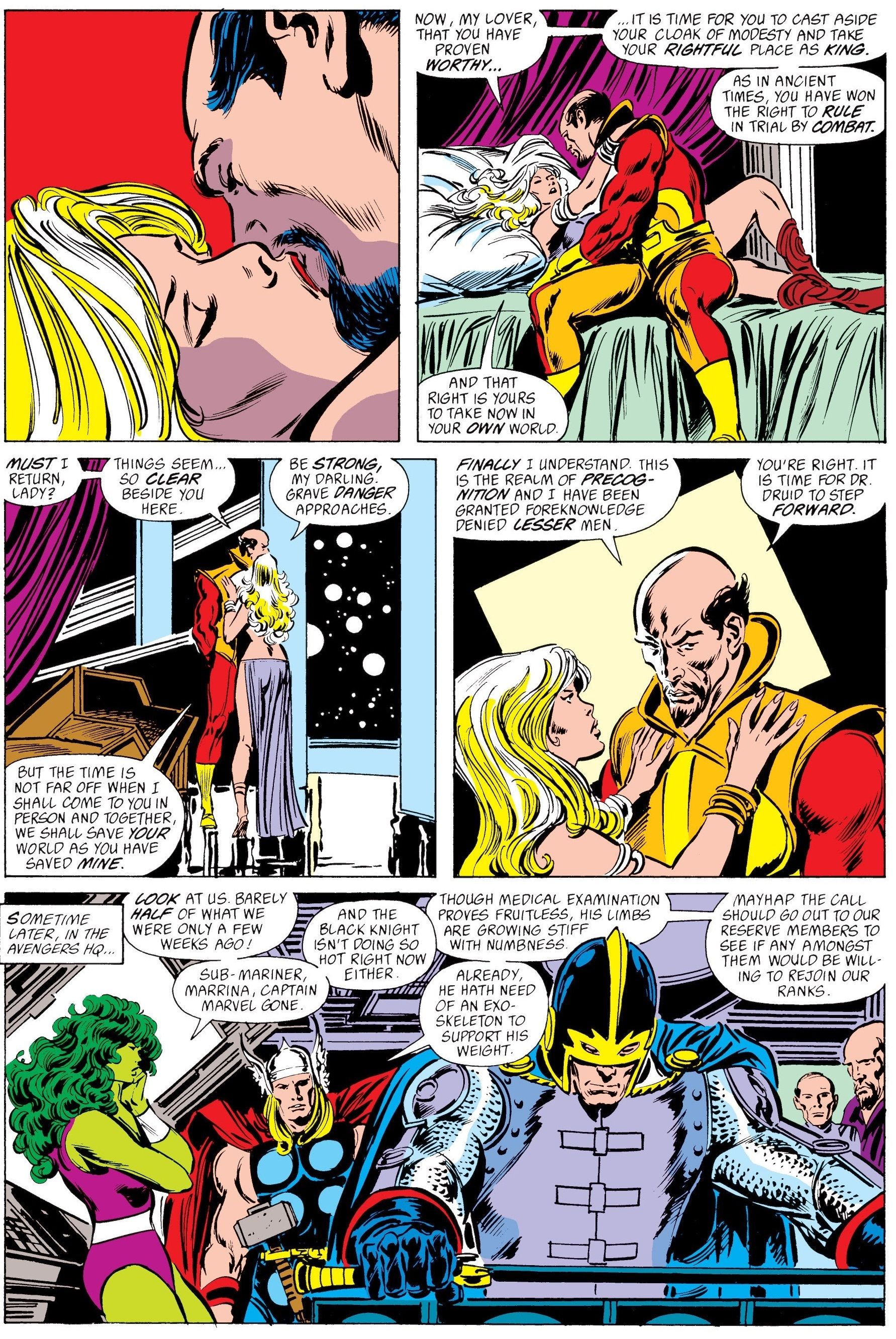 He then used his powers to make Captain Marvel back him as her replacement, despite everyone there knowing she hated him…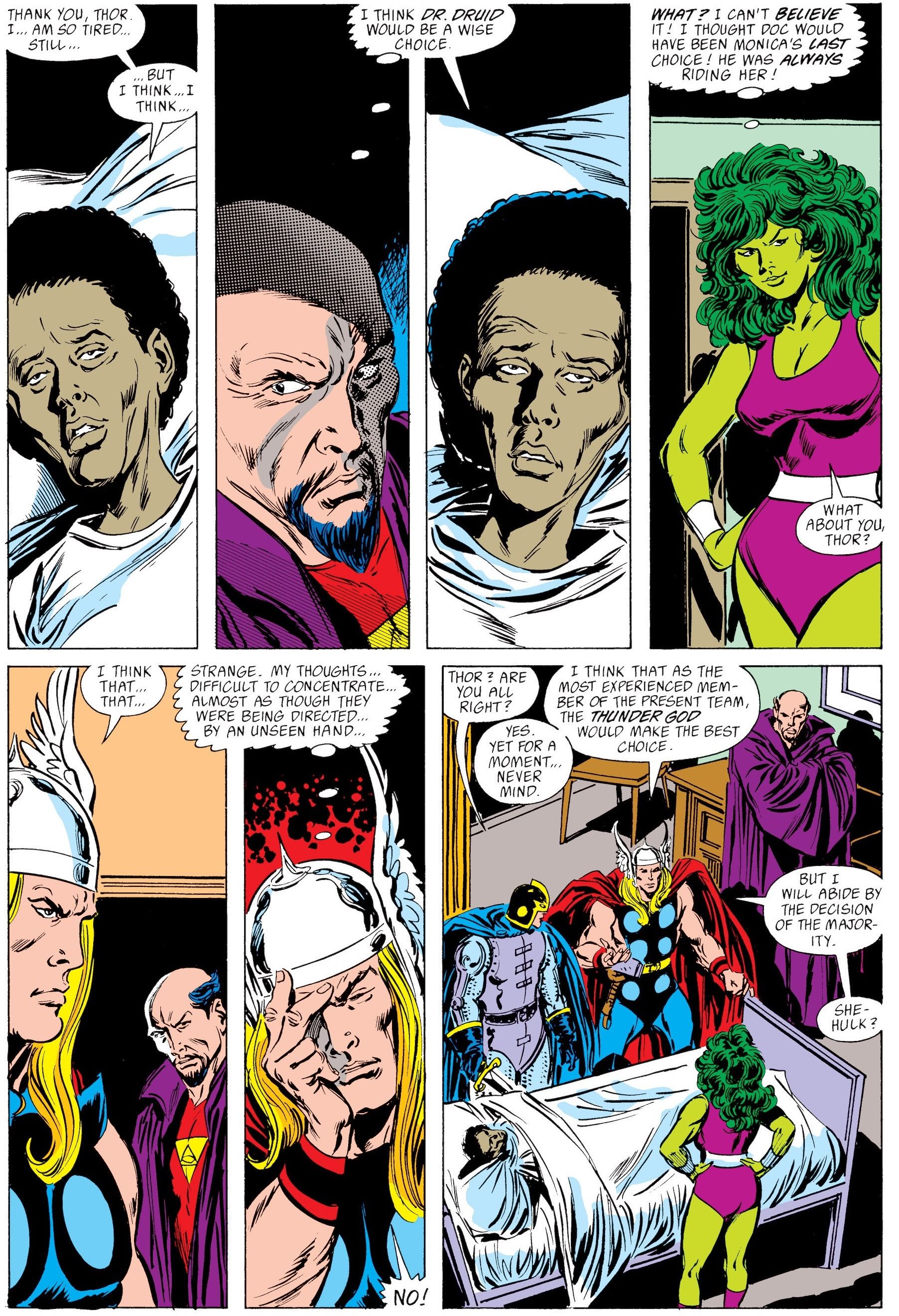 His powers failed with Thor, but he was able to get She-Hulk and Black Knight to back him and he was now the Avengers leader as of Avengers #294…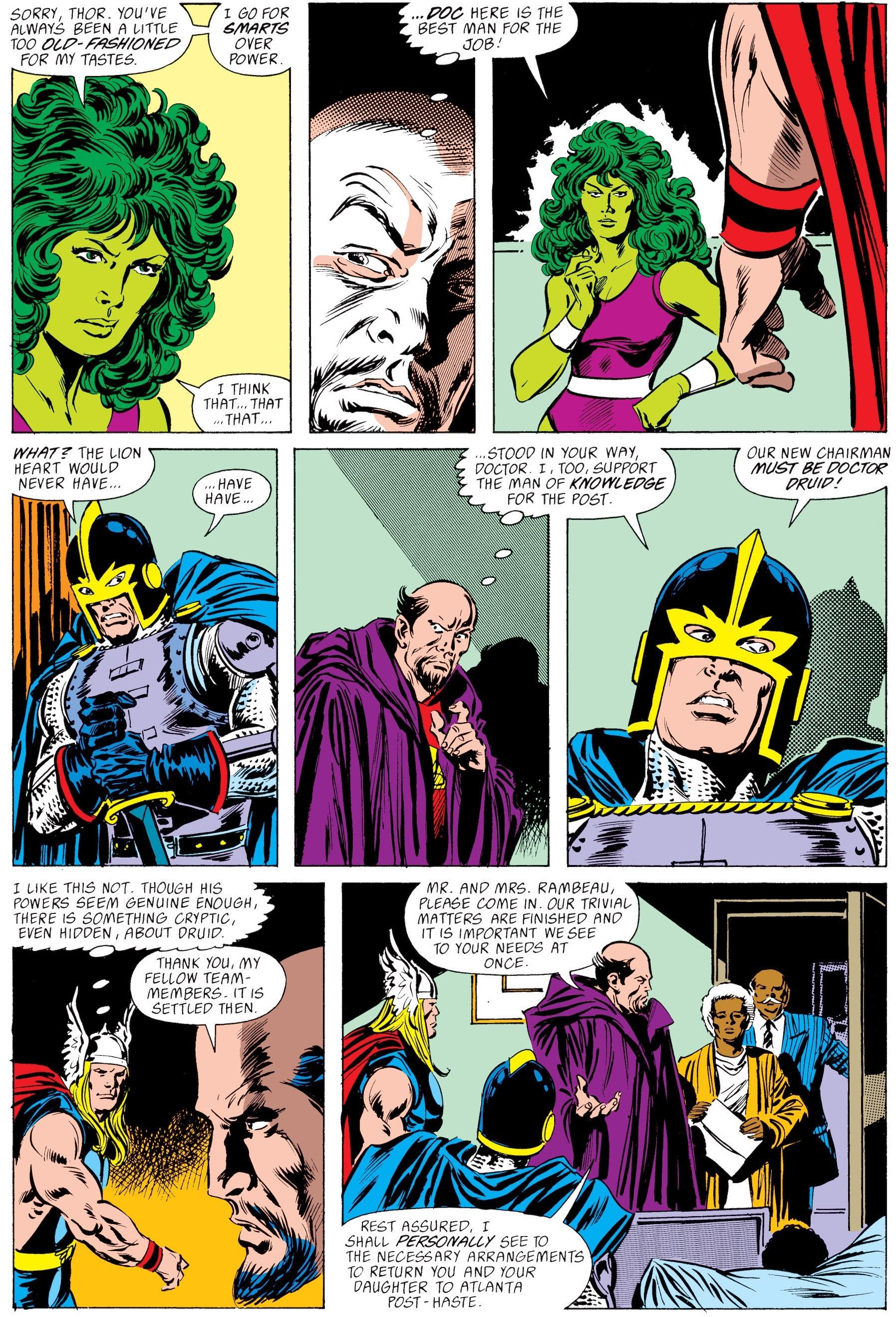 However, Terminatrix/Nebula knew that Thor was going to be a problem, so she arranged for him to be killed off and Druid was not supposed to let She-Hulk or Black Knight go to rescue him….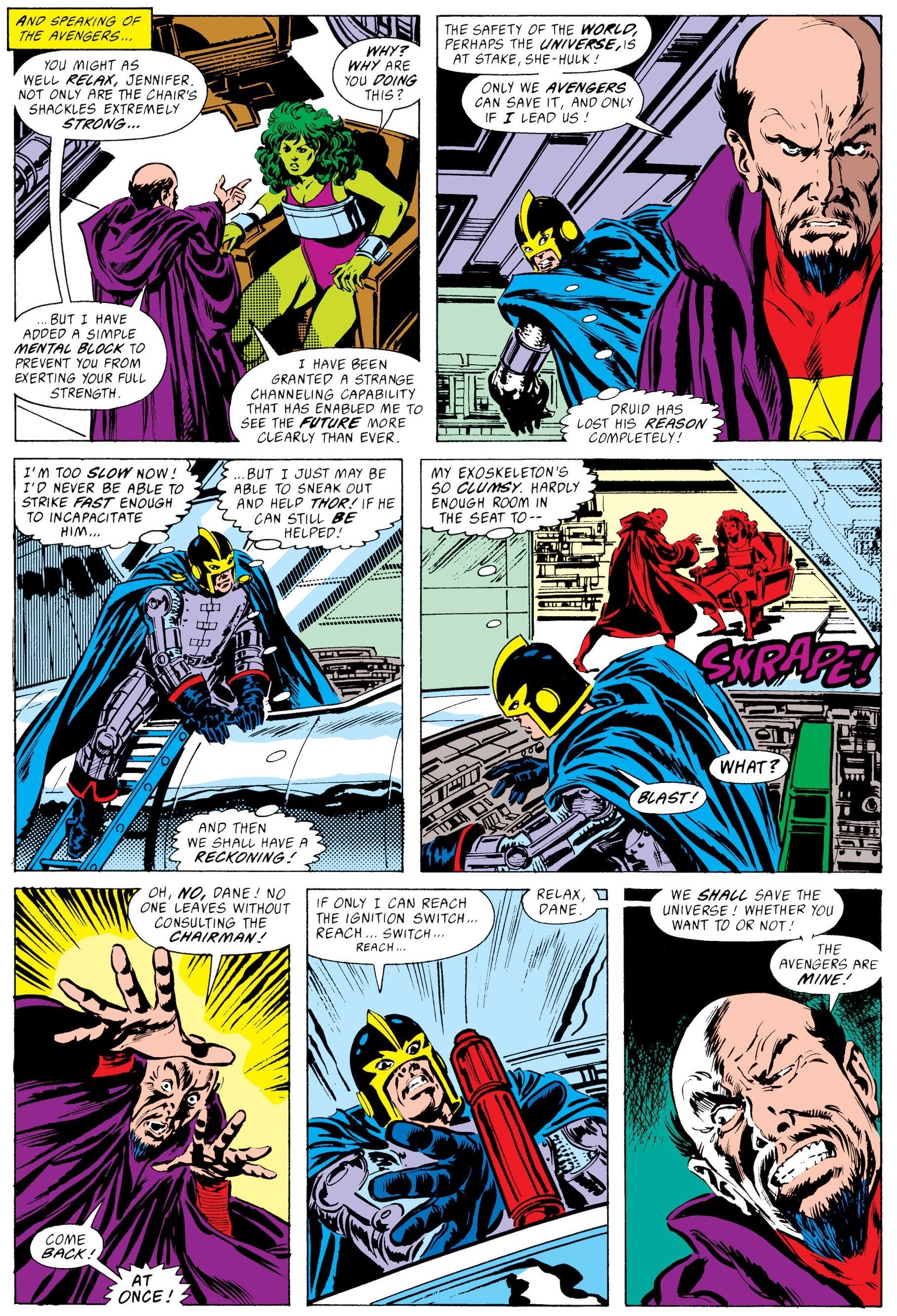 It is hilarious to see how even the Terminatrix thought that Druid was a pain in the butt…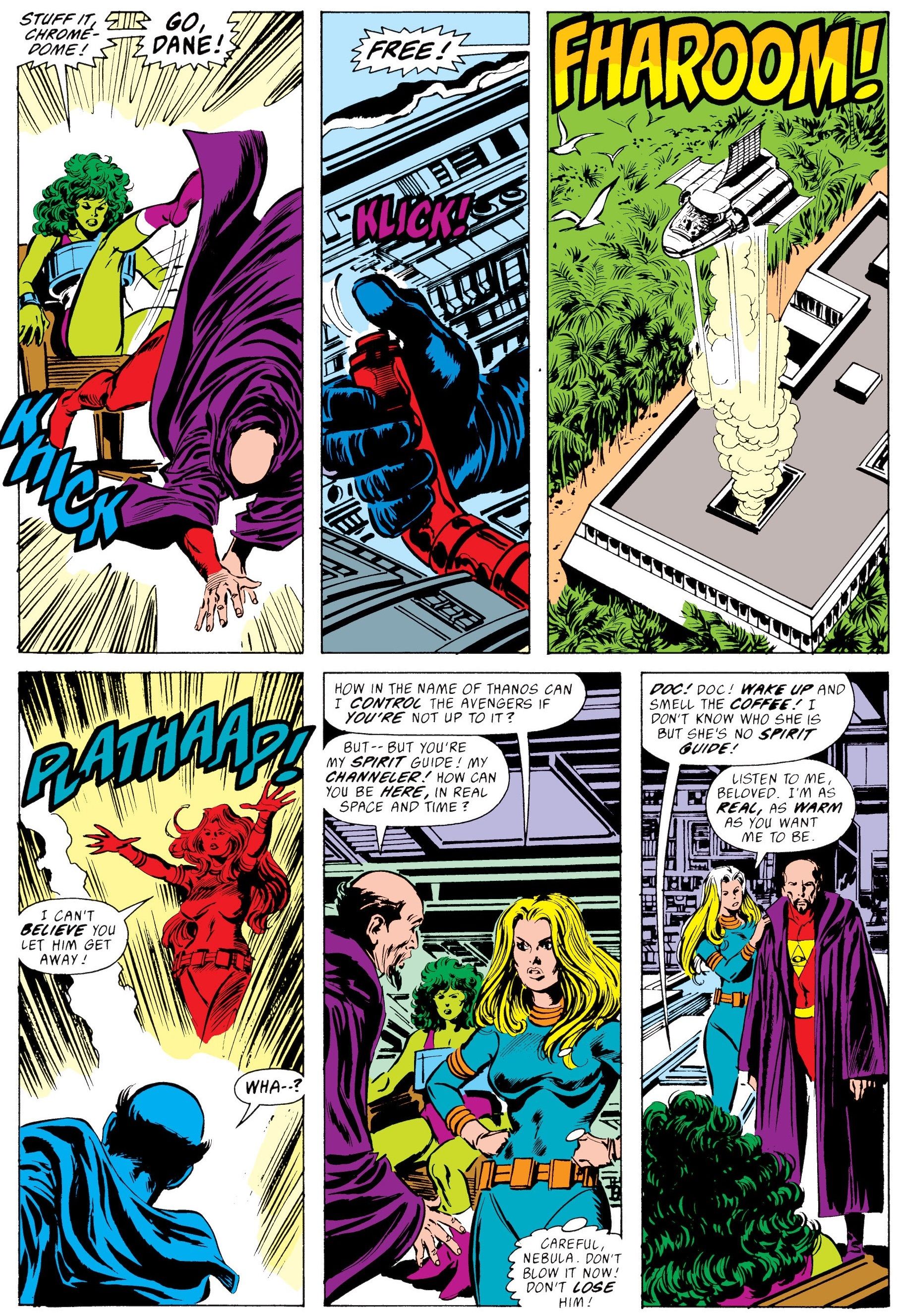 In the next issue, Thor (who survived the assassination attempt) and Black Knight headed back to the Avengers base to deal with Druid, but he had a new plan to take over the Avengers…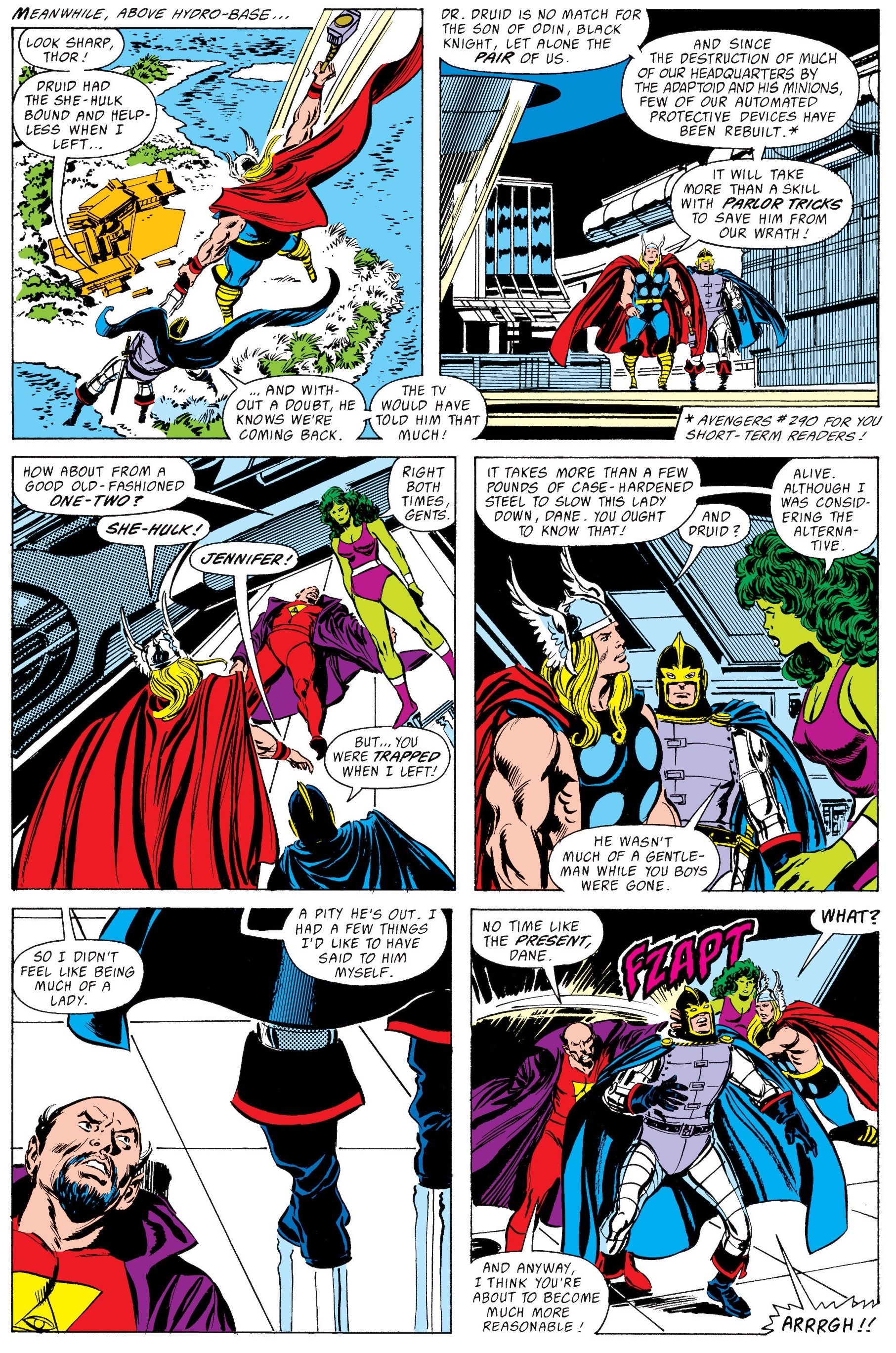 Yep, he was just going to mind control them!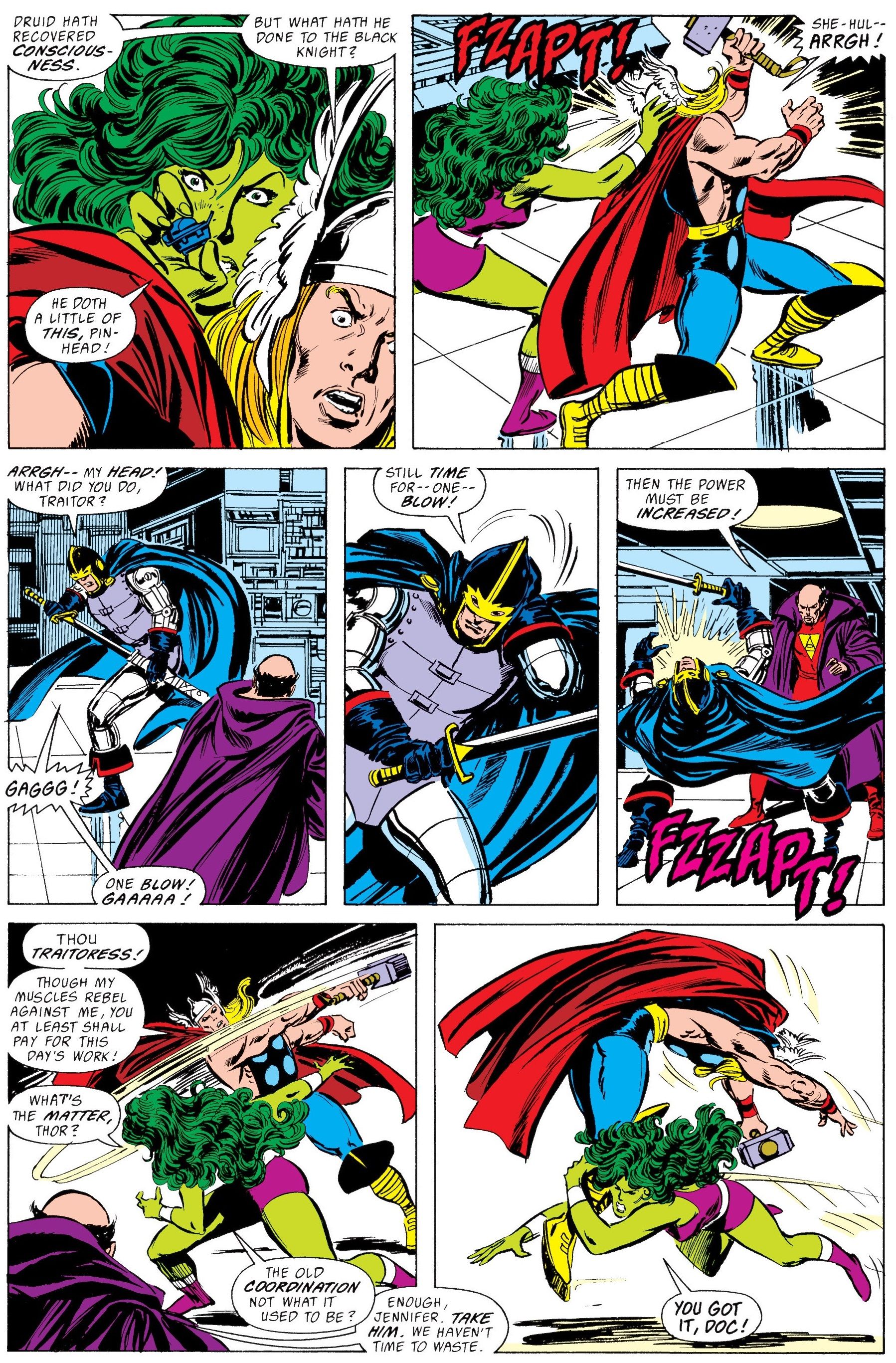 And somehow, it was able to work and he had the Avengers now under his thrall, which meant that the Terminatrix had them under her thrall.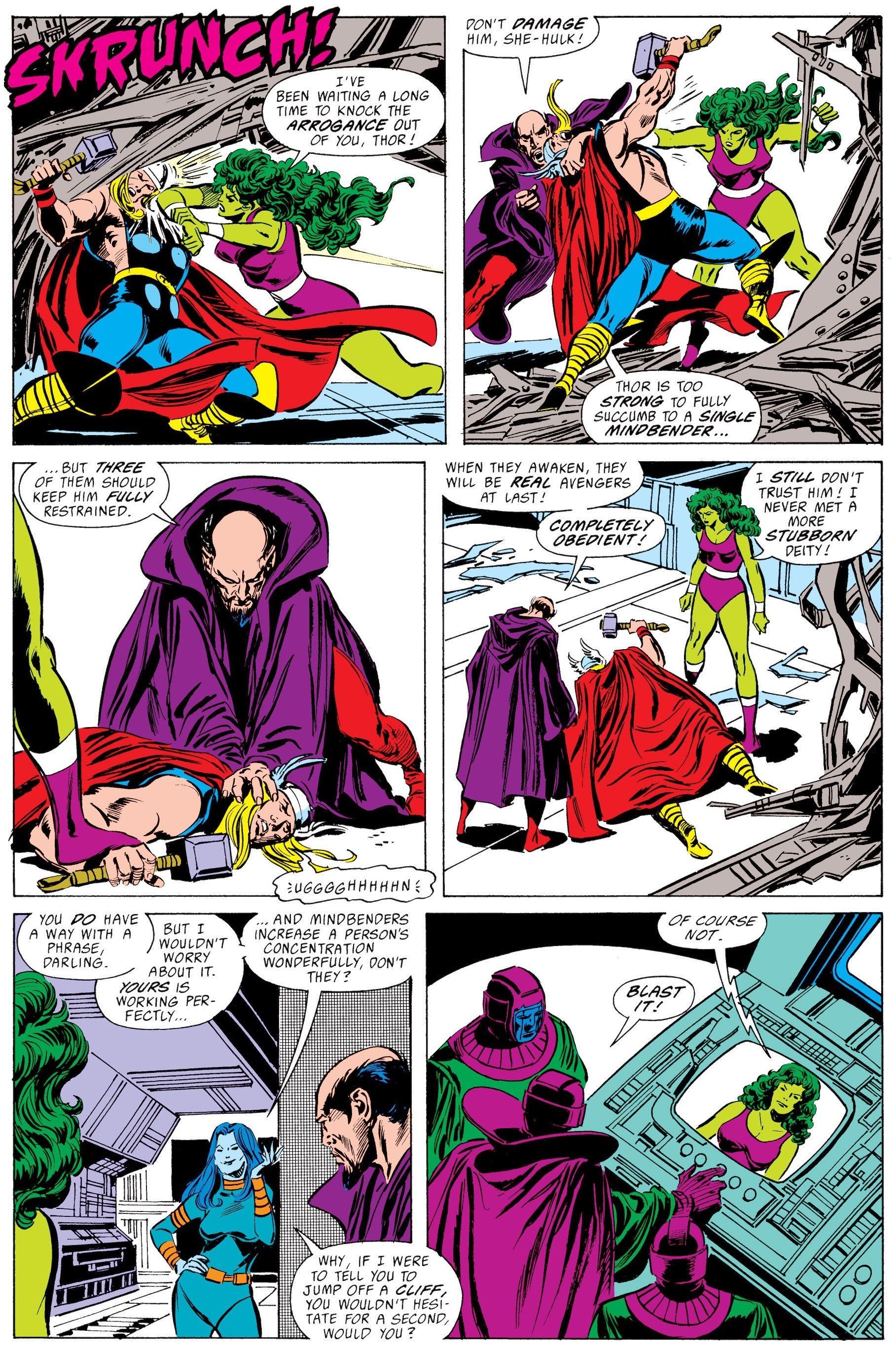 Finally, though, in Avengers #297, the heroes broke free of the mind control and Terminatrix was seemingly killed, with Druid chasing after her…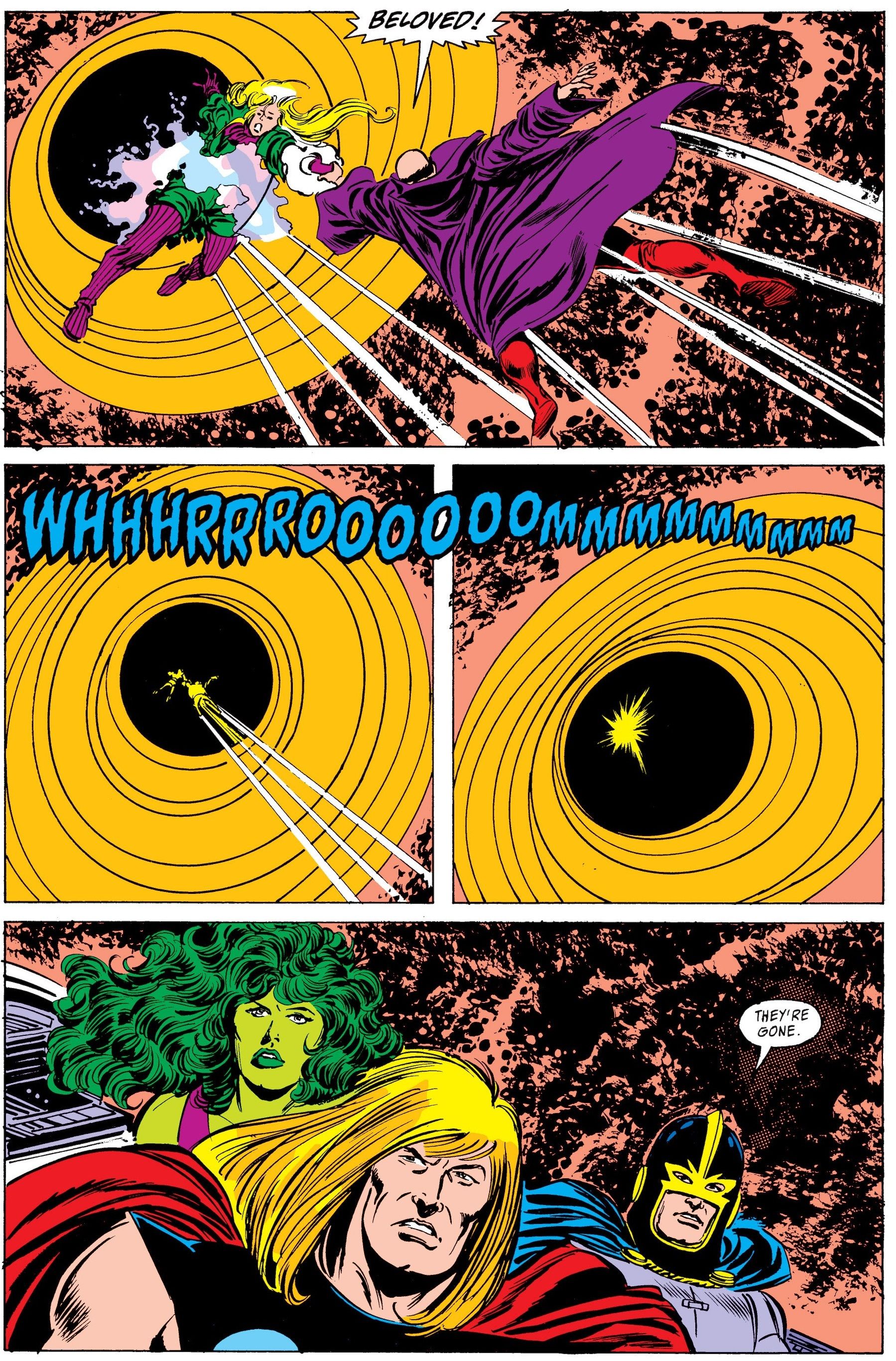 She-Hulk was so disgusted over the mind control that she quit the team…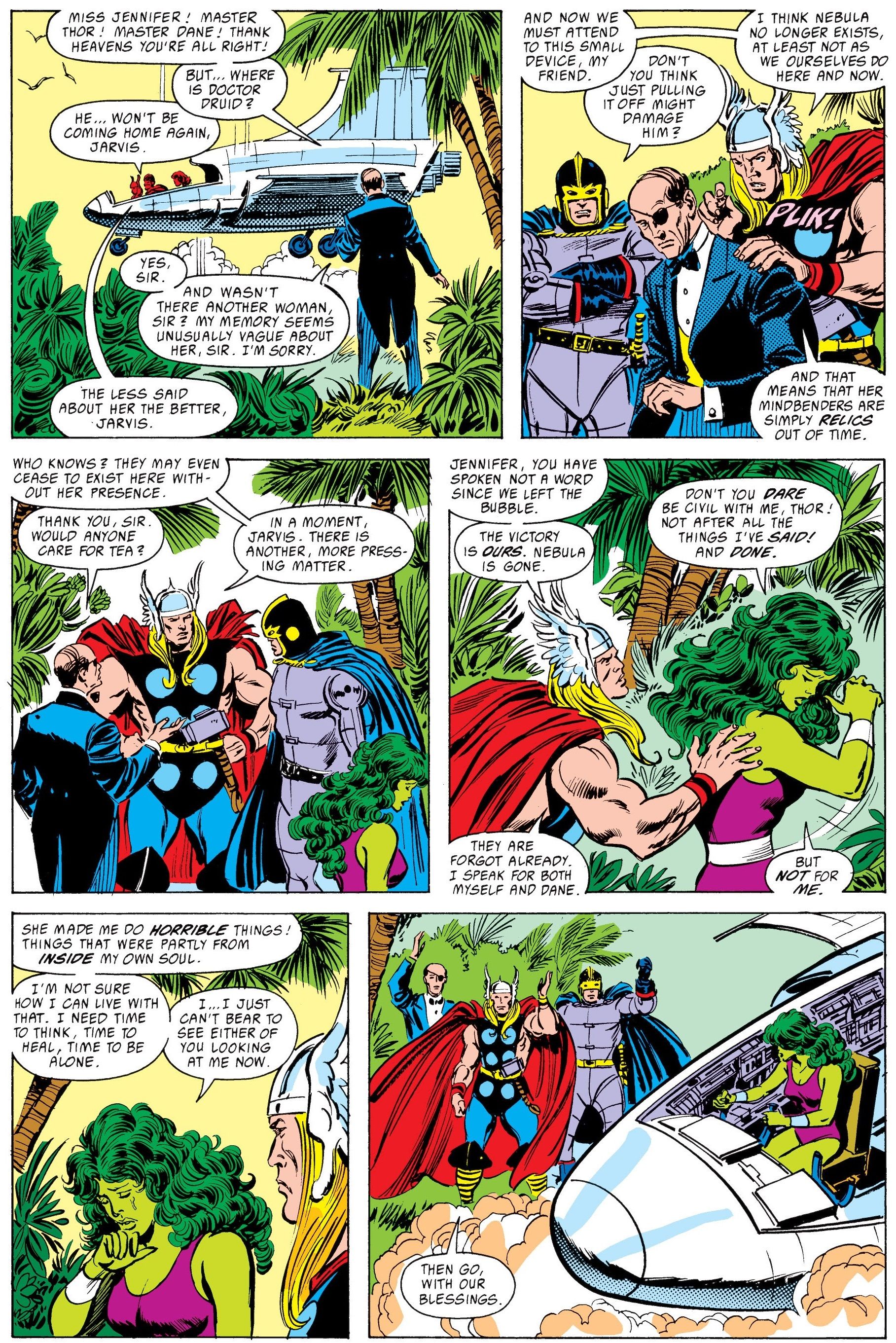 Thor and Black Knight had a mission to go on and so, for a while, there literally was no Avengers…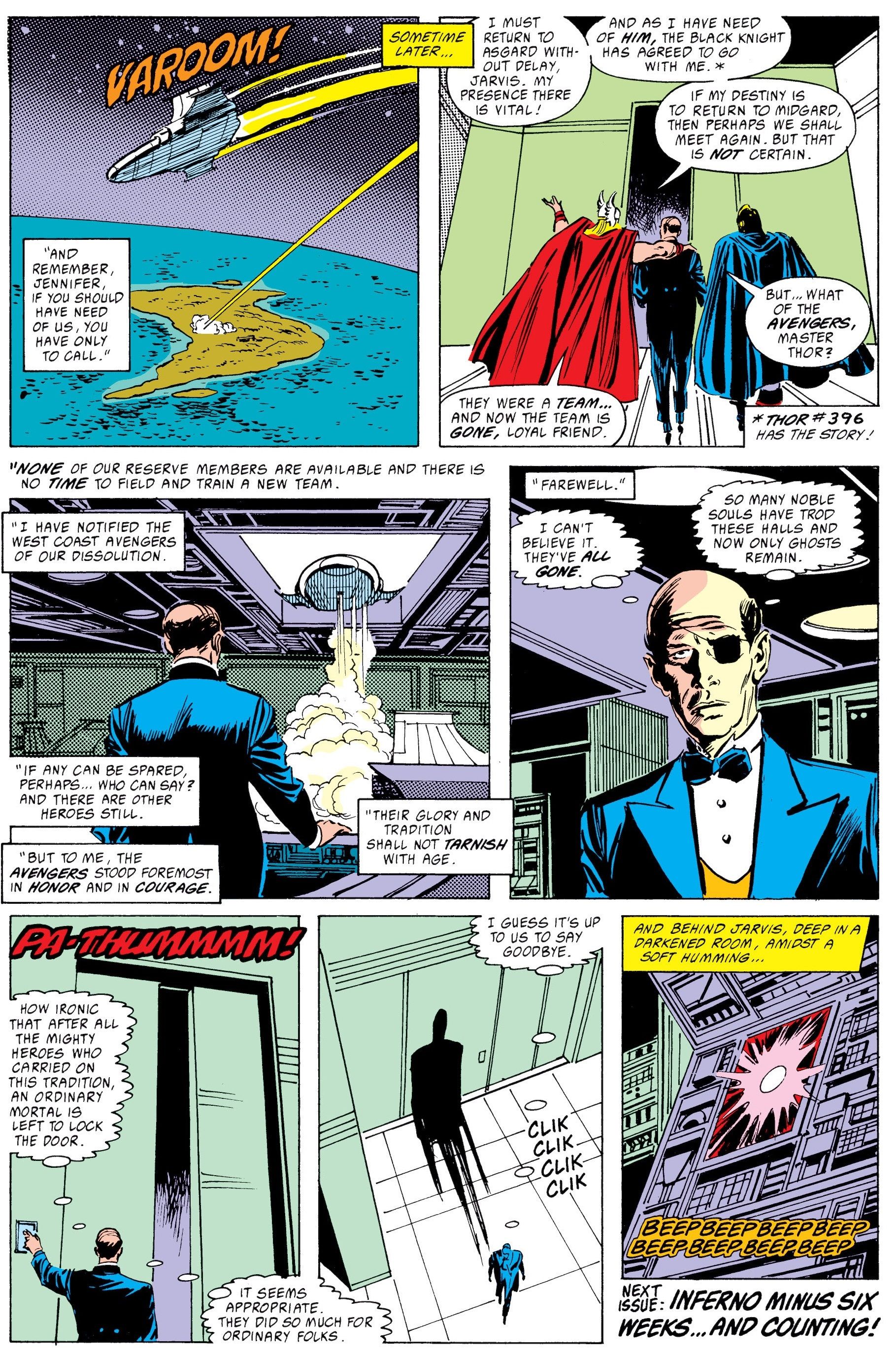 Luckily, Thor eventually returned just as Steve Rogers (then known as The Captain) was in the midst of reforming the Avengers. So Druid didn't do LASTING damage, but he did do some damage.
RELATED: How Moondragon Became a Hero Again With the Defenders
In Avengers Spotlight #37 (by Roy and Dann Thomas, Bob Hall and Win Mortimer), we see where Doctor Druid and "Nebula" ended up after being caught in a time vortex.
They find themselves in 1961, where Druid goes and revisits his own origin but discovers that the whole thing was a bit of a fraud. His "master" was secretly the Ancient One in disguise and it turned out that the Ancient One just needed someone to fill in before Stephen Strange could fulfill his destiny as the actual Sorcerer Supreme of Earth.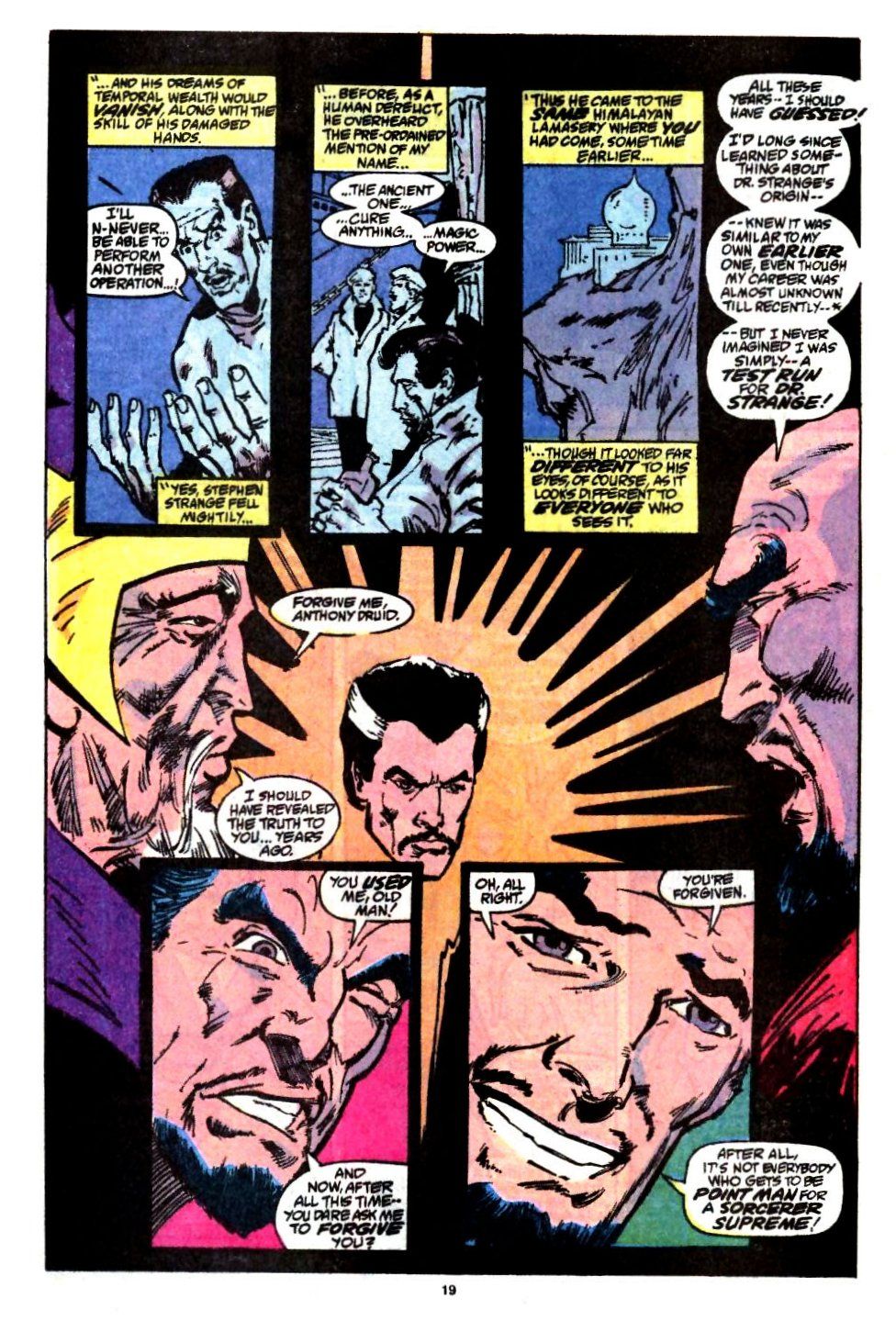 Doctor Druid takes the fraud in good humor and returns to the present.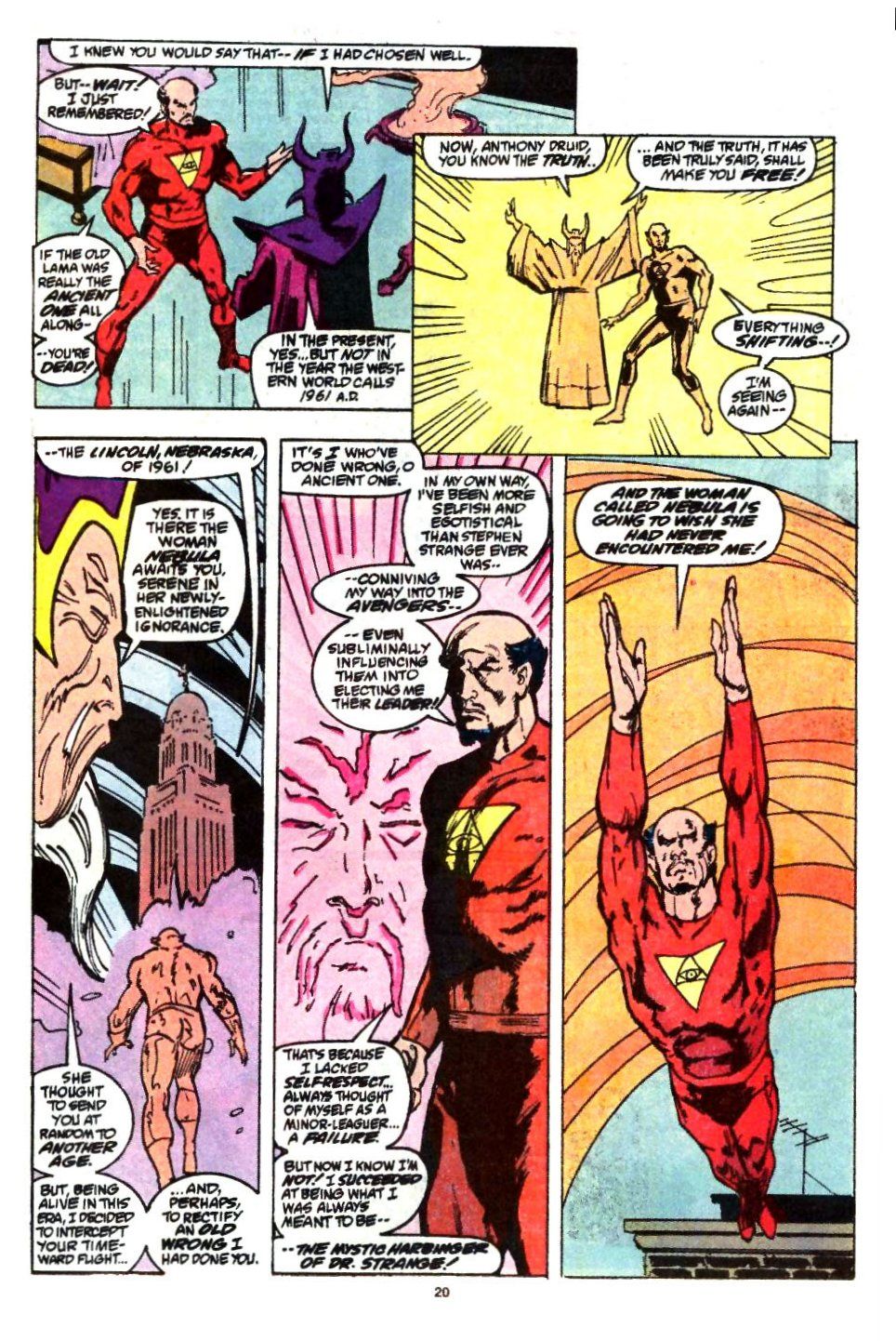 In the meantime, though, he still has to deal with Nebula, who came to the past with him. While he manages to defeat her, he has done so much messing around with time that he finds himself reverted to his younger form…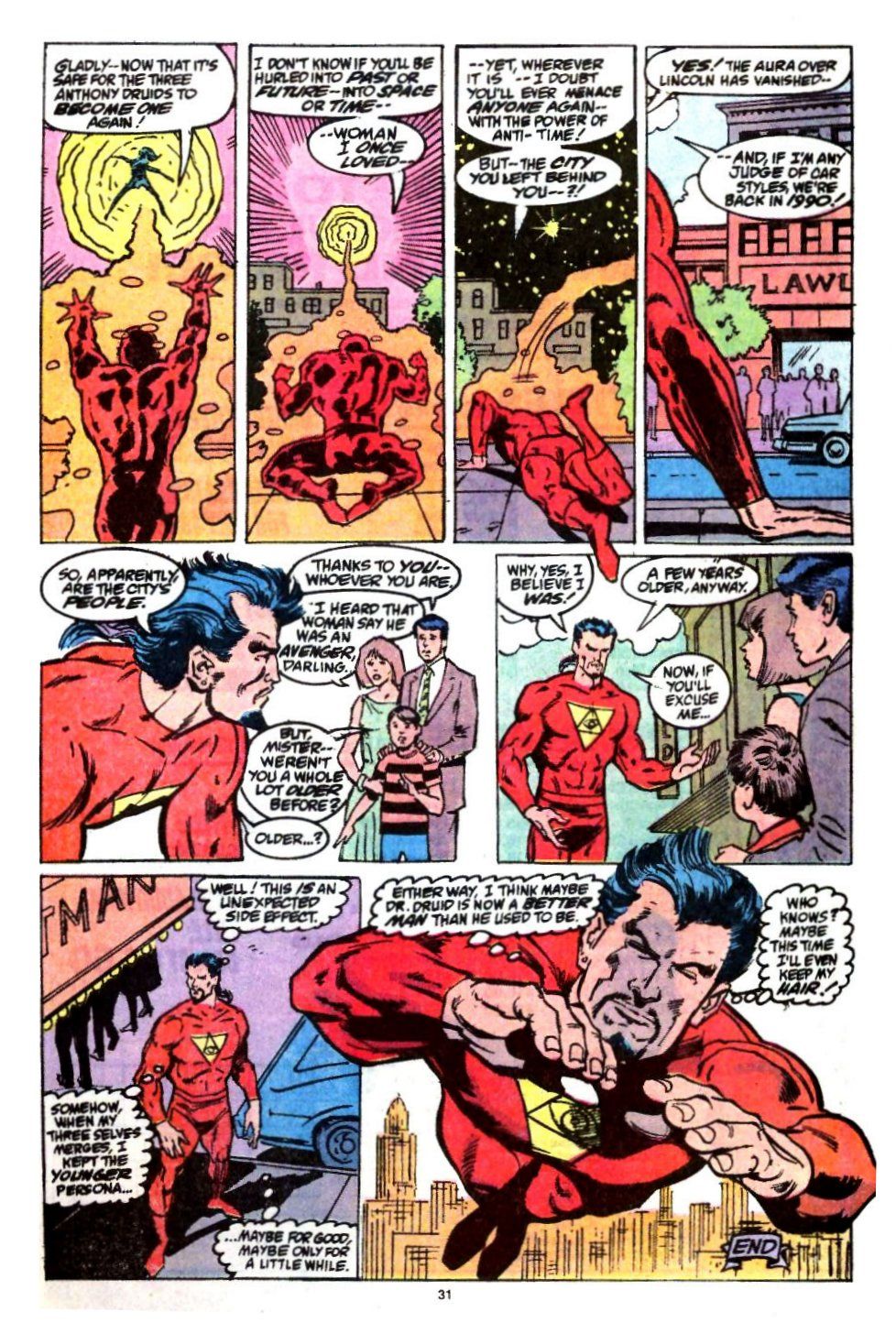 Now back in the present, Druid was quickly accepted by Doctor Strange back into his collection of fellow magicians, as shown in Quasar #25 (by Mark Gruenwald, Greg Capullo and Keith Williams). He's the first head with the goatee…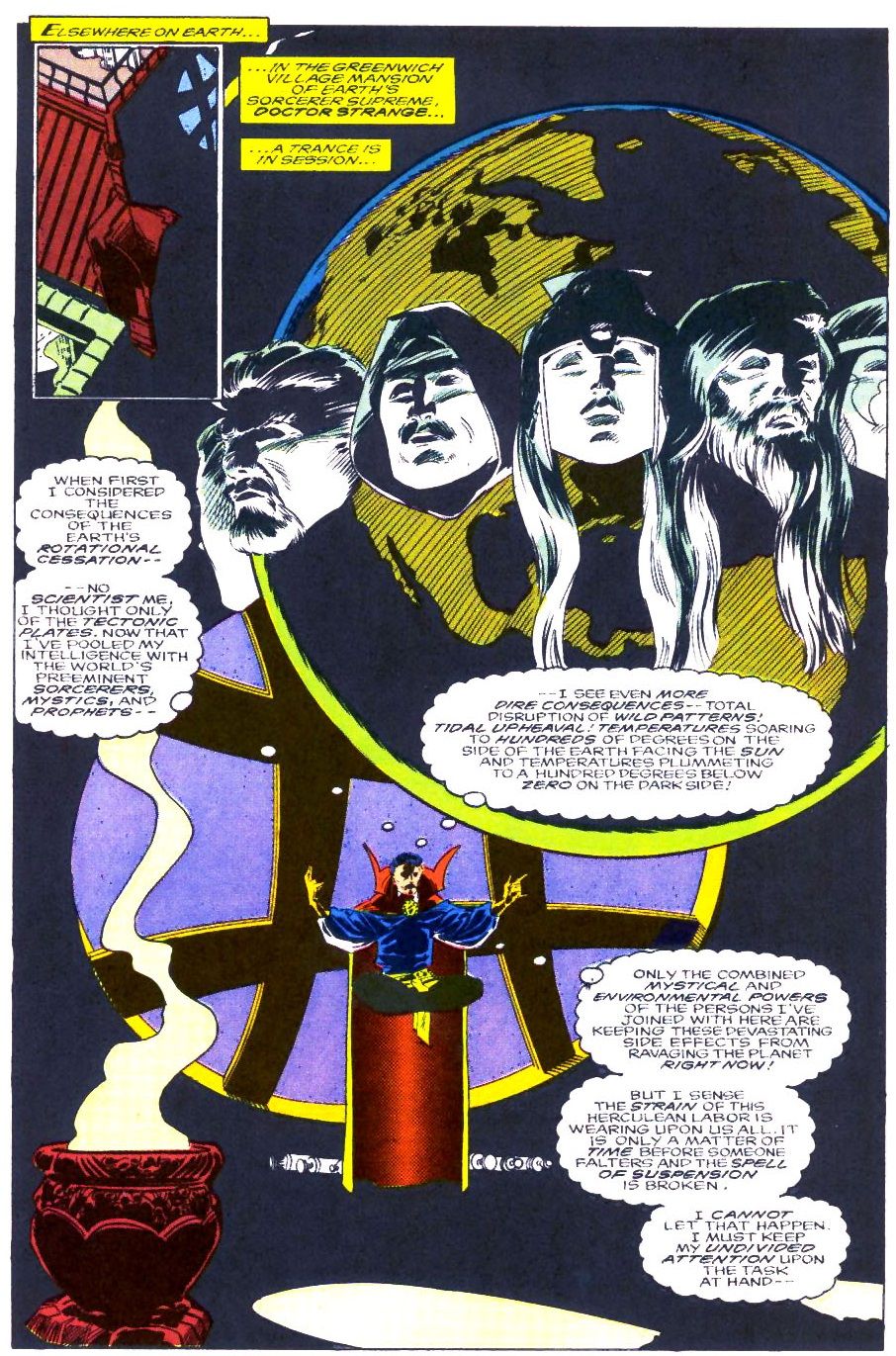 Soon after, Roy Thomas brought Doctor Druid over to his run of Doctor Strange, Sorcerer Supreme in issue #33 (by Roy and Dann Thomas, Chris Marrinan and Mark McKenna), where Druid helped Strange out during Infinity Gauntlet…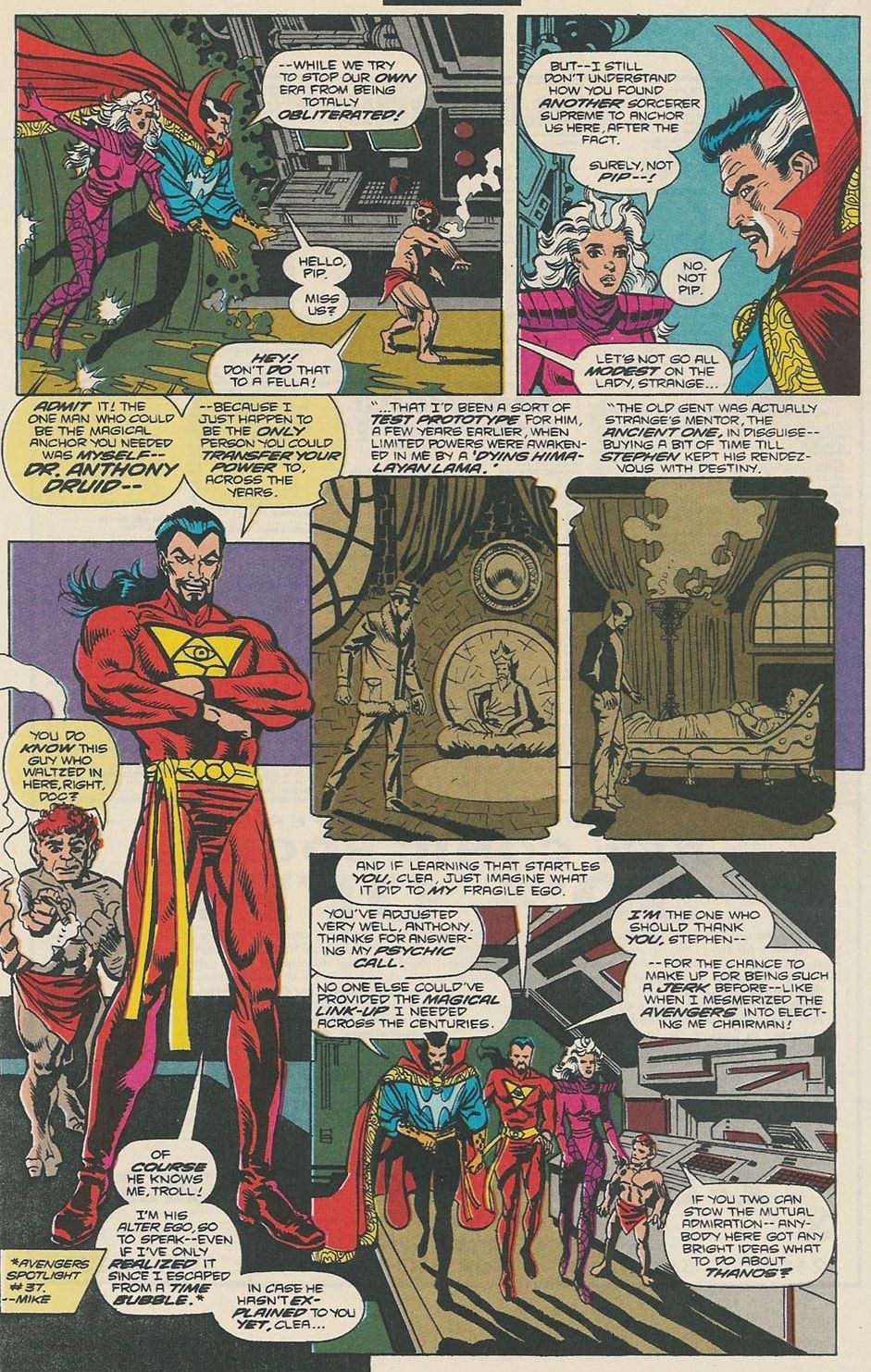 Two issues later, Druid had his first team-up with one of the Avengers, as Scarlet Witch showed up to help Doctor Strange during the crossover (art by Dan Lawlis, Sam De La Rosa and Don Hudson)…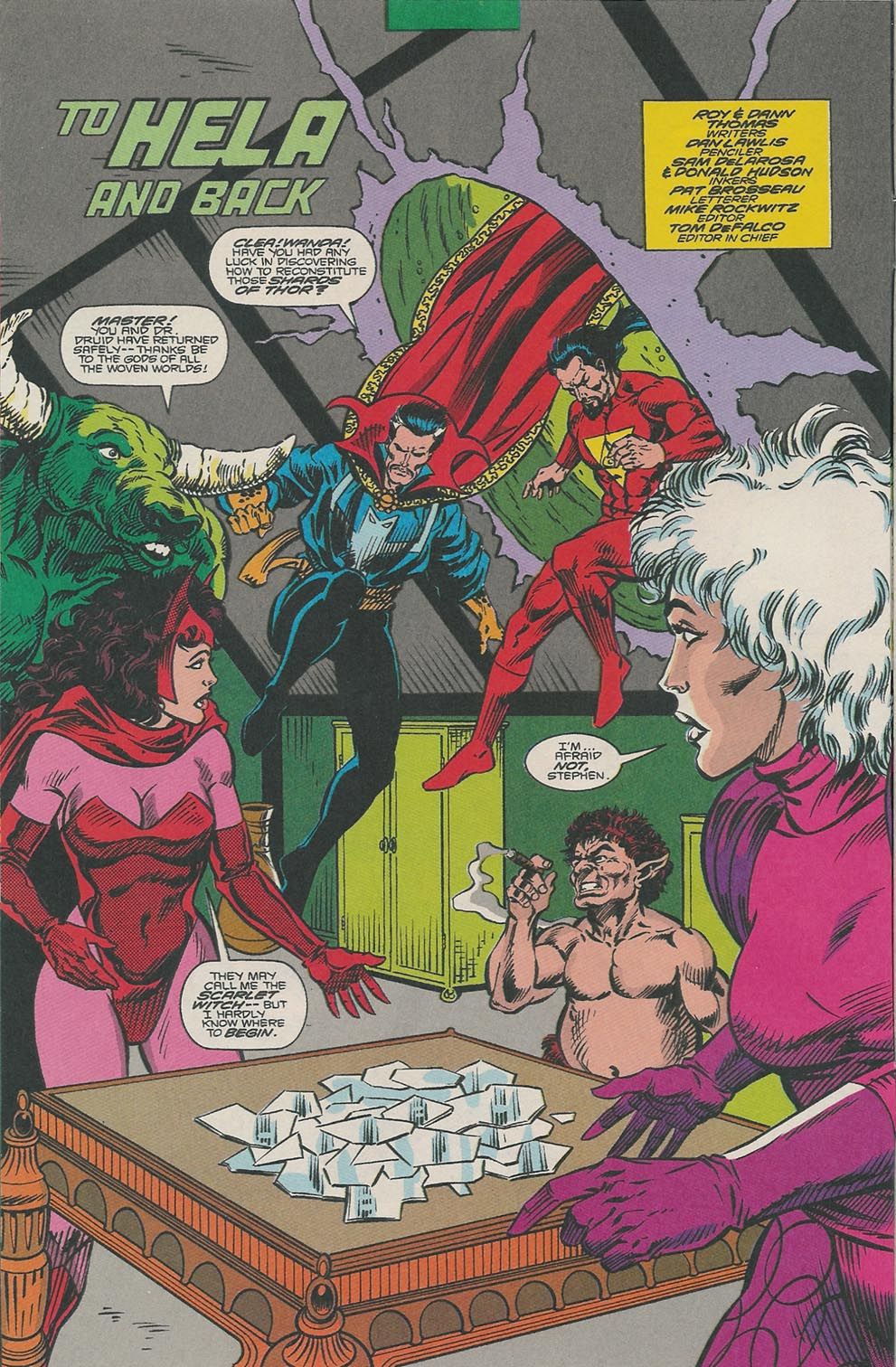 It really feels like everyone was just going with "Nebula was controlling Druid," since no one even brought up all of the messed up things he did to the Avengers when he was their leader. In fact, when Captain America is forced to turn to the #2 occult expert in Captain America #402 (by Mark Gruenwald, Rik Levins and Danny Bulanadi) while Doctor Strange was busy, Cap says that he wants to see Druid in person to "patch things up"…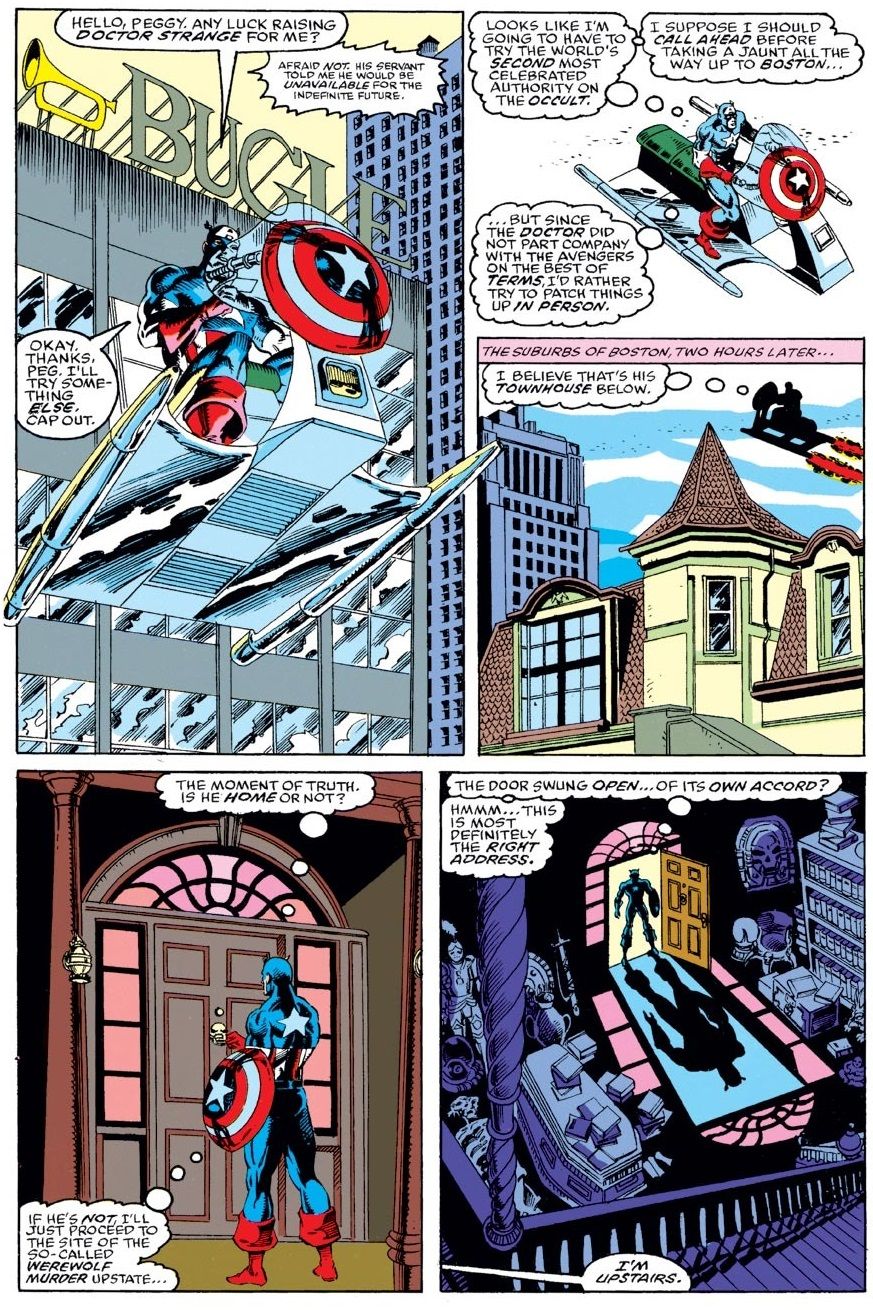 Certainly not the kind of thing you say about a guy you think is evil, right?
Cap is, of course, shocked to see such a young Druid…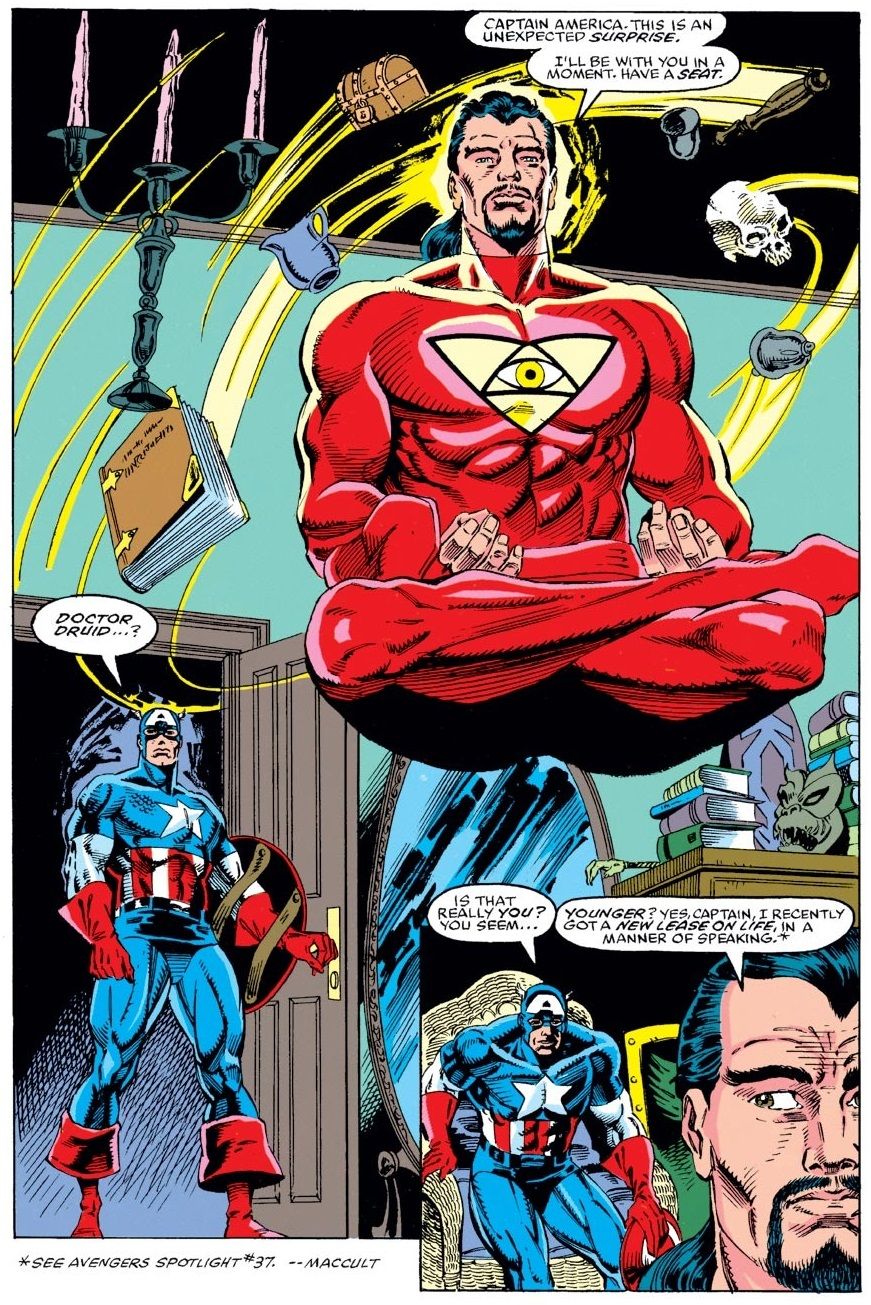 But in the end, Druid is willing to help Cap out on the mission and Cap accepts the help, so the Avengers couldn't be TOO down on the guy, right?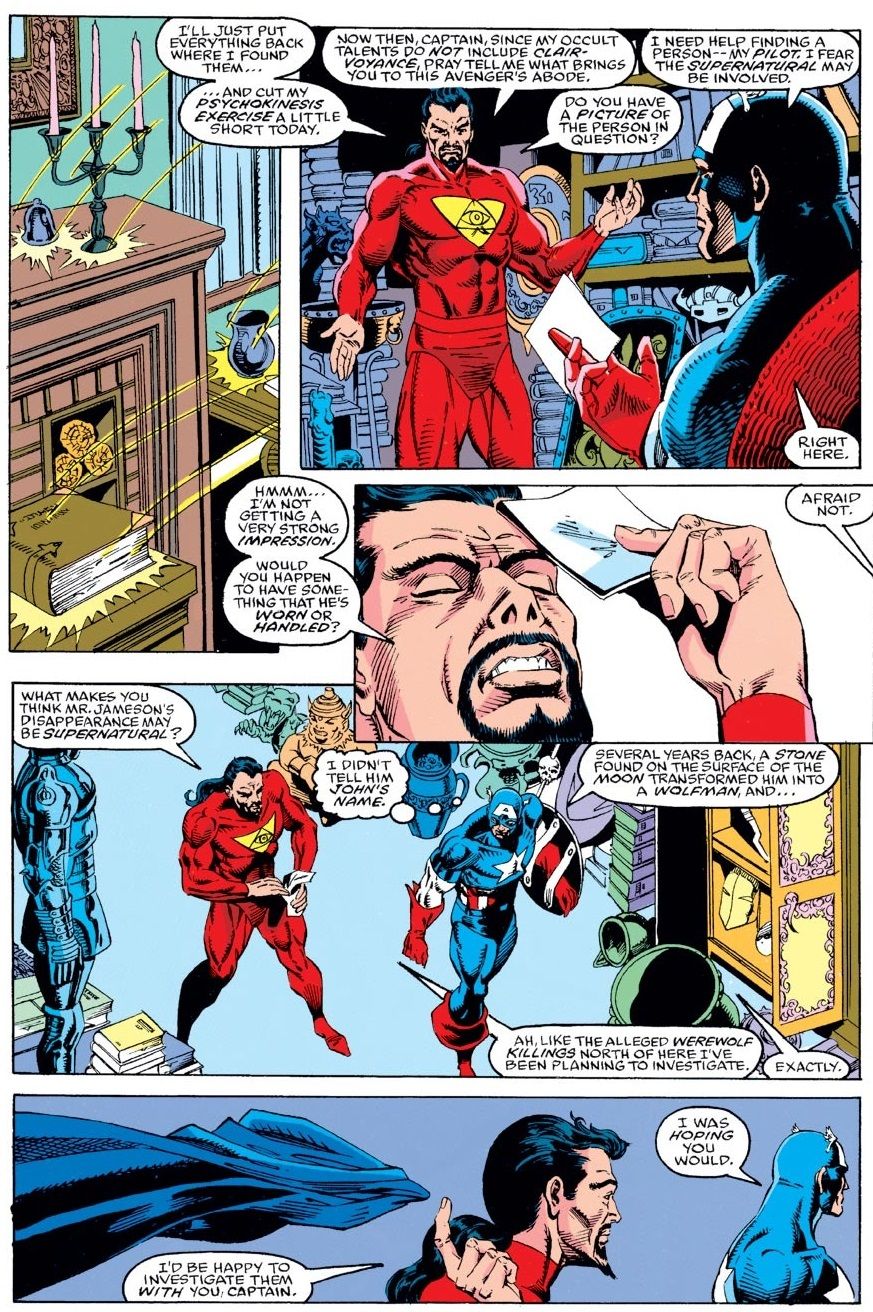 Later, though, Druid forms a team of supernatural heroes called the Shock Troop and they help out Quasar in Quasar #46 (by Mark Gruenwald, Andy Smith and Ralph Cabrera)…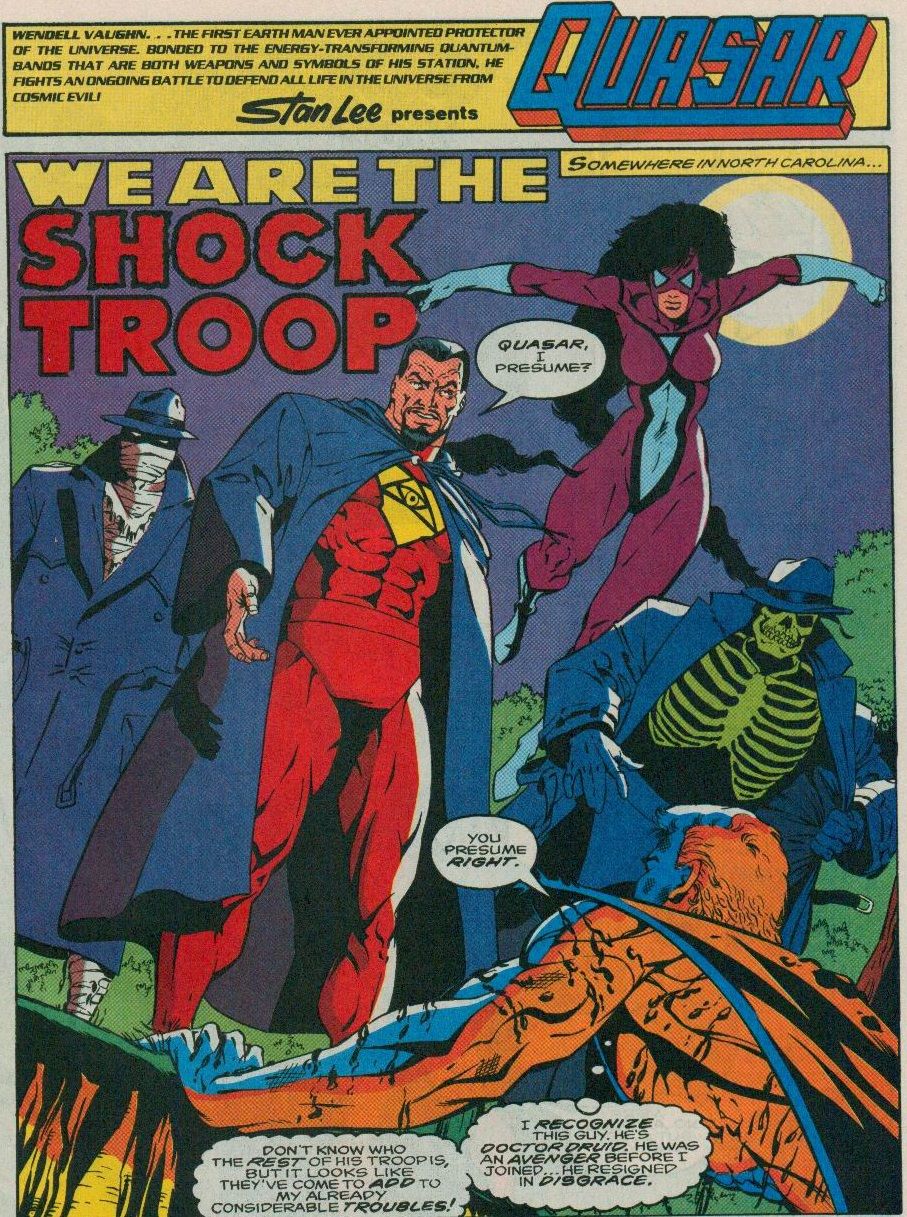 When the fight is over, Quasar notes that the Avengers must have been wrong about Druid…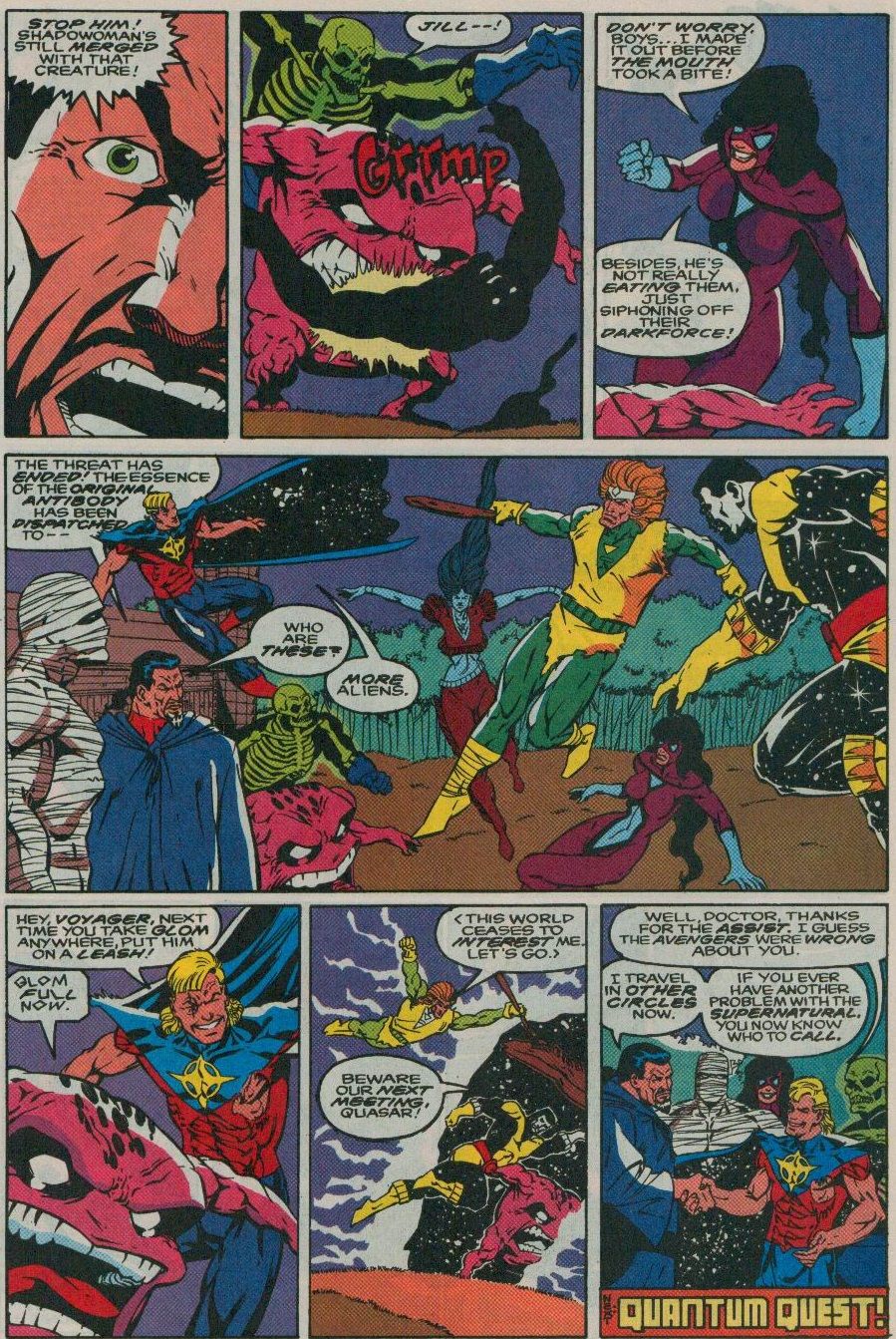 However, when Druid takes over control of the Secret Defenders after Doctor Strange can't do so anymore, he makes a point to not let Giant-Man know who he is when he enlists Pym's help in Secret Defenders #18 (by Tom Brevoort, Mike Kanterovich, Bill Wylie, Don Hudson and Tony DeZuniga)…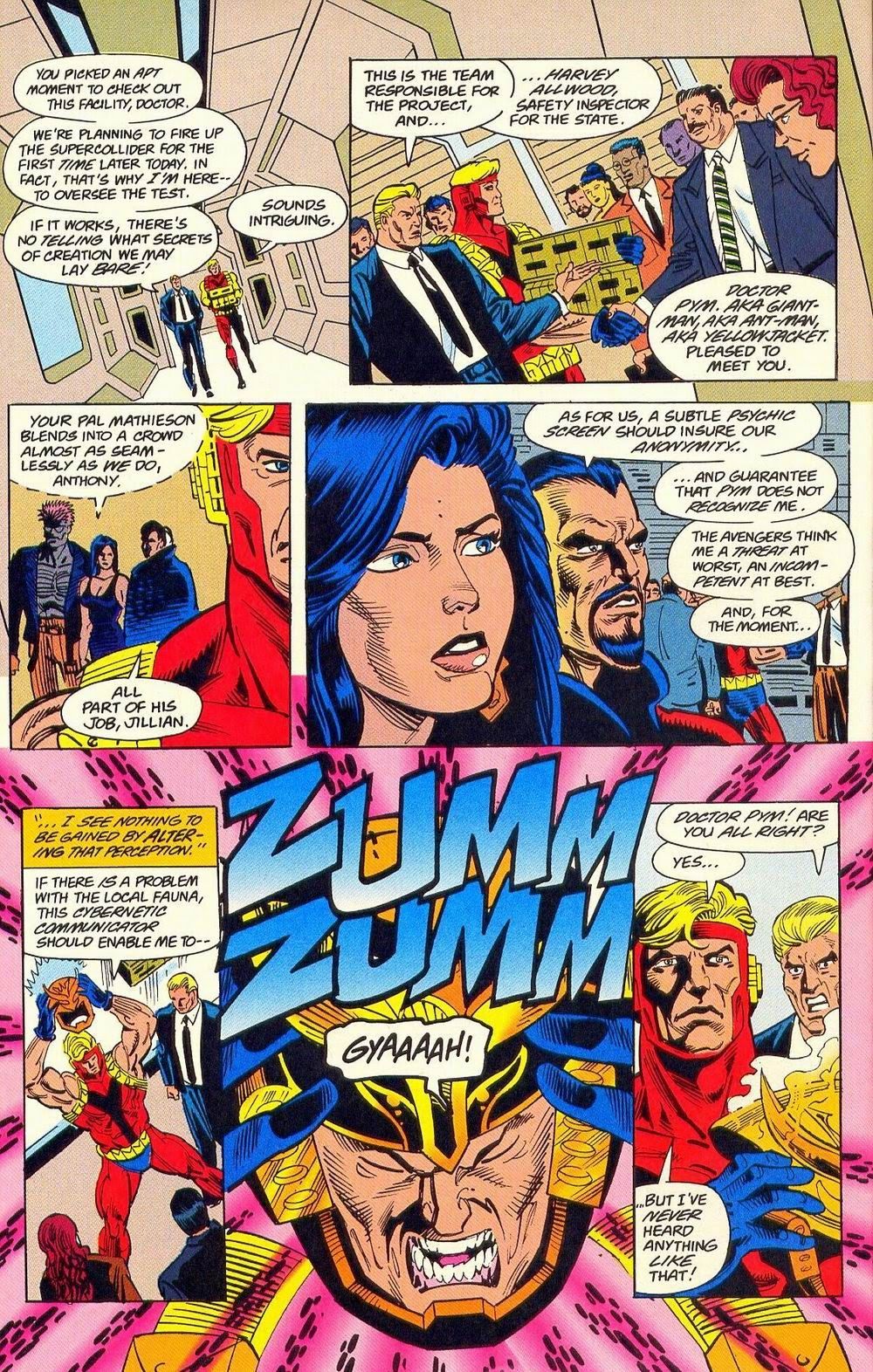 And when he enlists Spider-Woman's help two issues later, he does so by specifically insulting Captain America and the Avengers…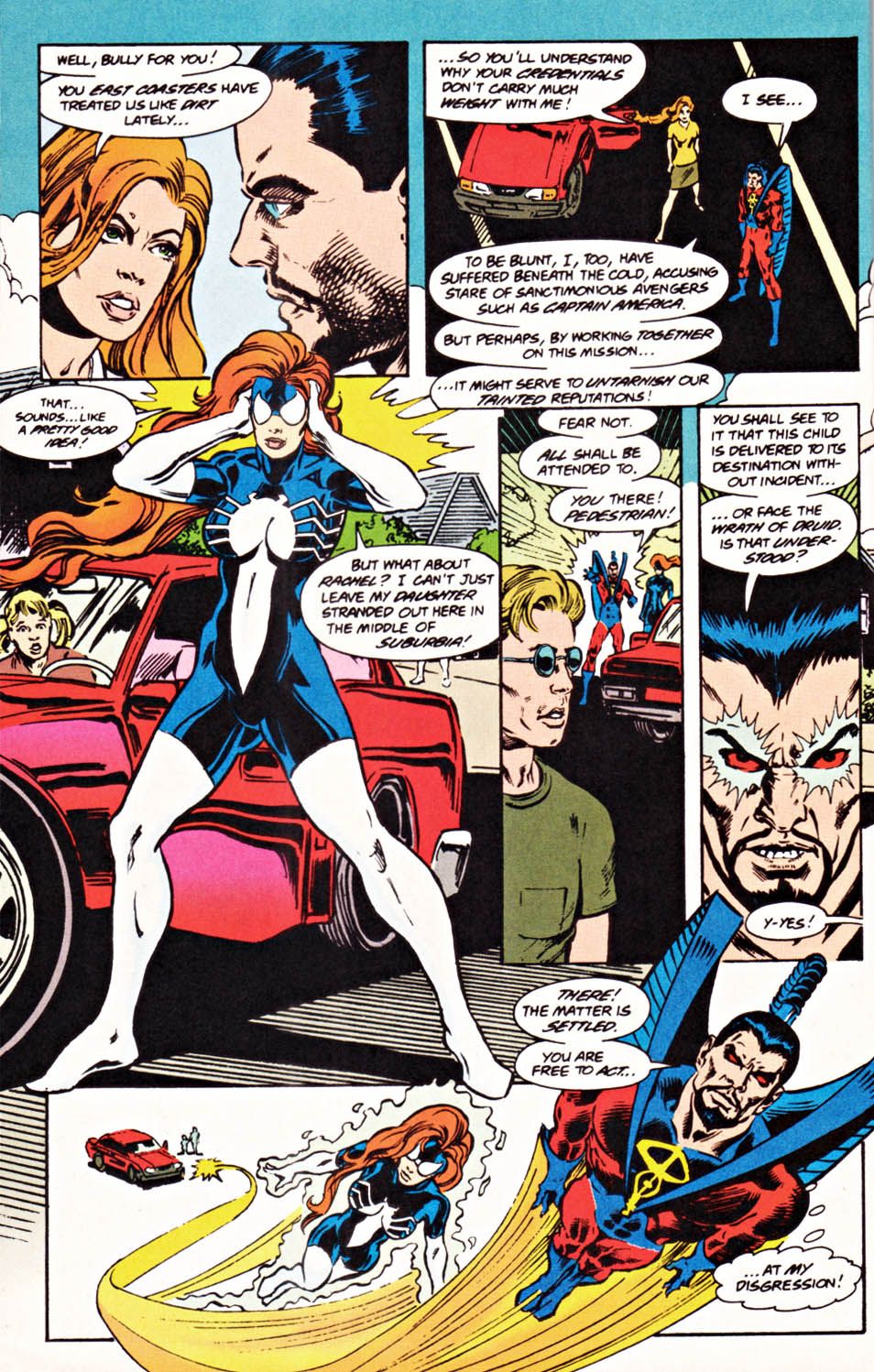 But whatever, he had become a hero again, and that's the important thing. Now, perhaps, I'll get into his Warren Ellis revamp some day.
Okay, folks, feel free to suggest more examples of this sort of thing! Obscure ones, famous ones, whatever! Send your suggestions to brianc@cbr.com!
KEEP READING: How Did Forge Get Past That Whole 'Inter-Dimensional Invasion' Thing?
from Ultimate Comic Blog
https://ift.tt/3e22oD2
via IFTTT