Demon Slayer Fully Introduces Tengen Uzui to the Anime
https://ift.tt/3Il5EHj
Demon Slayer: Kimetsu no Yaiba has fully introduced Tengen Uzui to the anime with the second season's newest episode! After spending the first few weeks of its new season in a re-run with the events of the Mugen Train arc, the second season of the series has finally started adapting brand new material from Koyoharu Gotouge's original manga series. The series kicked off this brand new arc with a special one-hour premiere episode, and with it not only wrapped up the final moments of the Mugen Train arc but set the stage for the next episodes of the anime.
Demon Slayer: Entertainment District arc officially began with this special one-hour premiere episode, but the final half of it truly helped to establish what was coming next for Tanjiro. While he and Nezuko had come face to face with the Sound Hashira before during the first season of the series, the newest episode of the second season was Tanjiro's first full introduction to the fighter as he bluntly came to the Butterfly Mansion in order to recruit some women for a dangerous new mission he has in store.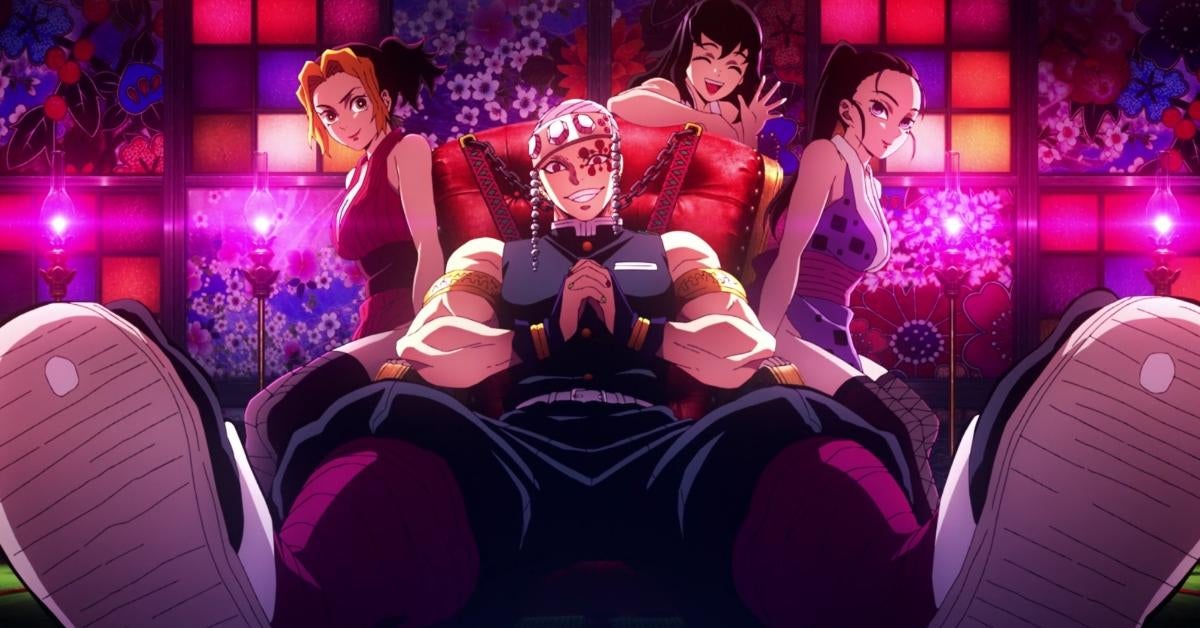 (Photo: ufotable)
While much of the start to the Entertainment District arc was an emotional fallout from the Mugen Train, Tanjiro, Inosuke, and Zenitsu had been training to get stronger in the months following that deadly fight. They have been taking on several dangerous missions since that point, but the three of them finally were ready to take on a mission together when they spotted Tengen at the end of the newest episode. He had come to recruit women for his mission, and was nearly going to kidnap the young girls of the Butterfly Mansion for it.
While Tengen has yet to reveal what he needed women for, he did mention that this new mission needed some women from the corps regardless of their strength and status. Tengen then agrees to take Tanjiro, Zenitsu, and Inosuke on this mission instead as the episode comes to an end, but he's already getting off to a much different impression than Kyojuro Rengoku ever did with the three. Now as they are teaming up with him next, we'll be seeing a lot more of this Hashira going forward.
What do you think? How did you like Tengen Uzui's first full introduction to the anime with Demon Slayer's newest episode? What did you think of the Entertainment District arc's premiere overall? Let us know all of your thoughts about it in the comments! You can even reach out to me directly about all things animated and other cool stuff @Valdezology on Twitter!
from Ultimate Comic Blog
https://ift.tt/3ImSf1x
via IFTTT