DC's Batman & Nightwing Tackle Gotham City's Mental Health Crisis – And It Works
https://ift.tt/3xOr4I6

After the Earth-shattering events of Fear State, there is something refreshing about the format of Detective Comics 2021 Annual #1, a one-shot prelude to DC's anticipated "Shadows of the Bat" story arc. Writers Mariko Tamaki and Matthew Rosenberg, and artist David Lapham craft an entertaining and thought-provoking comic around Gotham's mental health.
Detective Comics 2021 Annual begins when Bruce Wayne is a young boy walking the streets of Gotham with his parents. Their stroll through the city is interrupted by the madman Peter Faust, who throws himself through the window of a blood transfusion clinic and attempts to attack the Wayne family. Years later, Batman and Nightwing follow the trail of a villain known as the Meager Man and grapple with the city's inability to provide for the mentally ill.
Related: Gotham Sees Batman as Something He's Not – And That's a Good Thing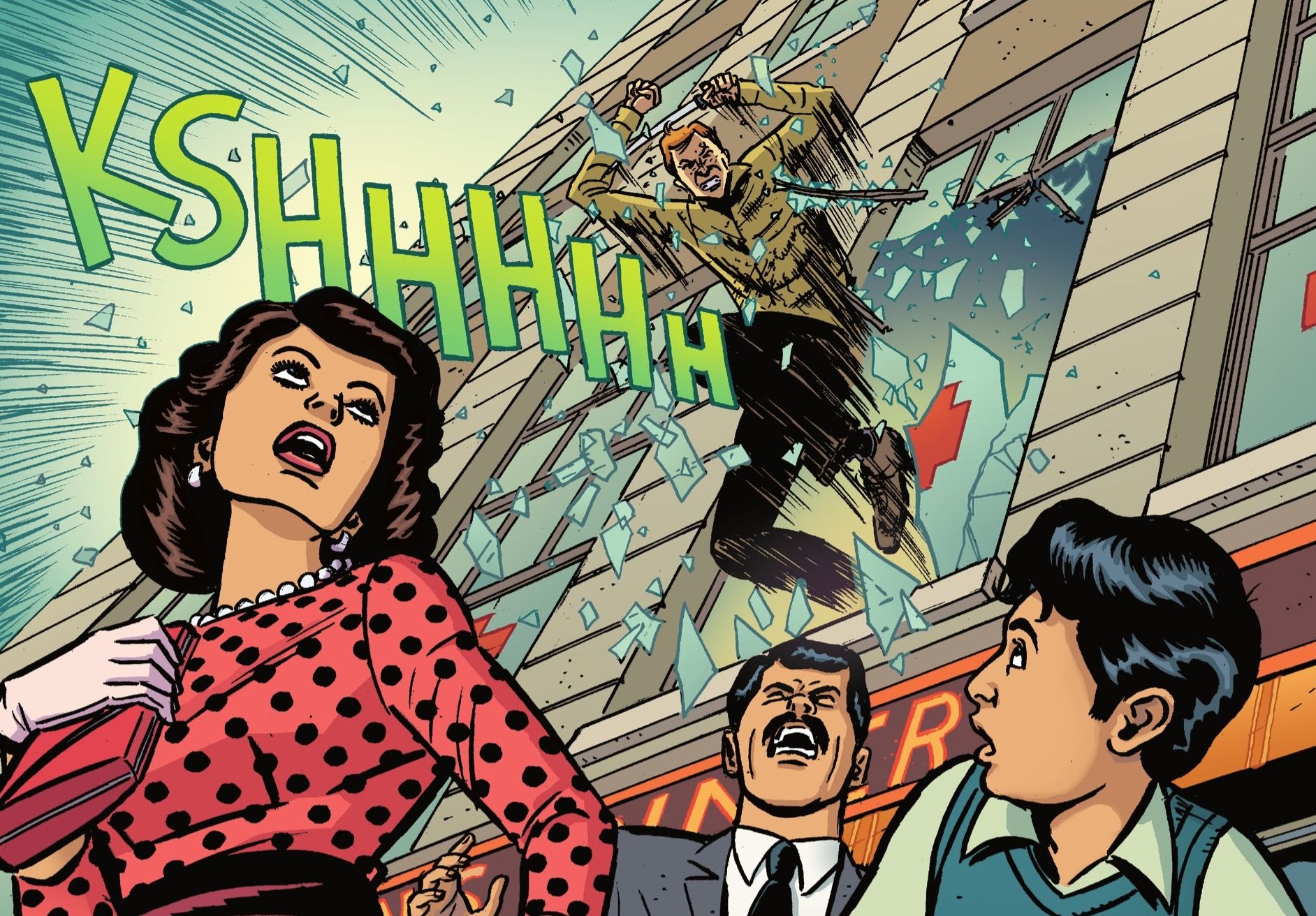 Tamaki and Rosenberg craft an entertaining story that simultaneously sheds new light on Batman's childhood and brings attention to the lack of real-world resources for people struggling with their mental health. Nightwing and Batman's conversation forces the dark knight to confront his legacy of putting the criminally insane into an institution that lacks mental health resources. This conversation about the justice system and mental health feels remarkably poignant. Its messaging doesn't stand in the way of an exciting narrative that puts two DC heroes on a manhunt. Tamaki and Rosenberg bounce back and forth between Bruce's past and the present to give readers an insightful glimpse into Batman and the Meager Man's psyches.
Lapham, who is best known for his long-running crime-fiction series Stray Bullets, is the perfect artist for Detective Comics 2021 Annual #1. His art boils the complex and chaotic narrative down to its clearest form. His bold lines and dynamic compositions are the results of a singular aesthetic, but they also evoke the personality of Neal Adams' Batman stories. Lapham's talents are especially apparent in the scenes featuring the Meager Man. He lovingly renders the villain's costume of bones to create a menacing, but meager image. Just looking at him, it is clear to see that he represents a great amount of danger and pain. This haunting image underscores the theme Tamaki and Rosenberg's writing establishes and makes for some thrilling comic pages.
Related: DC's Batman Secret Files: The Gardener #1 Comic Review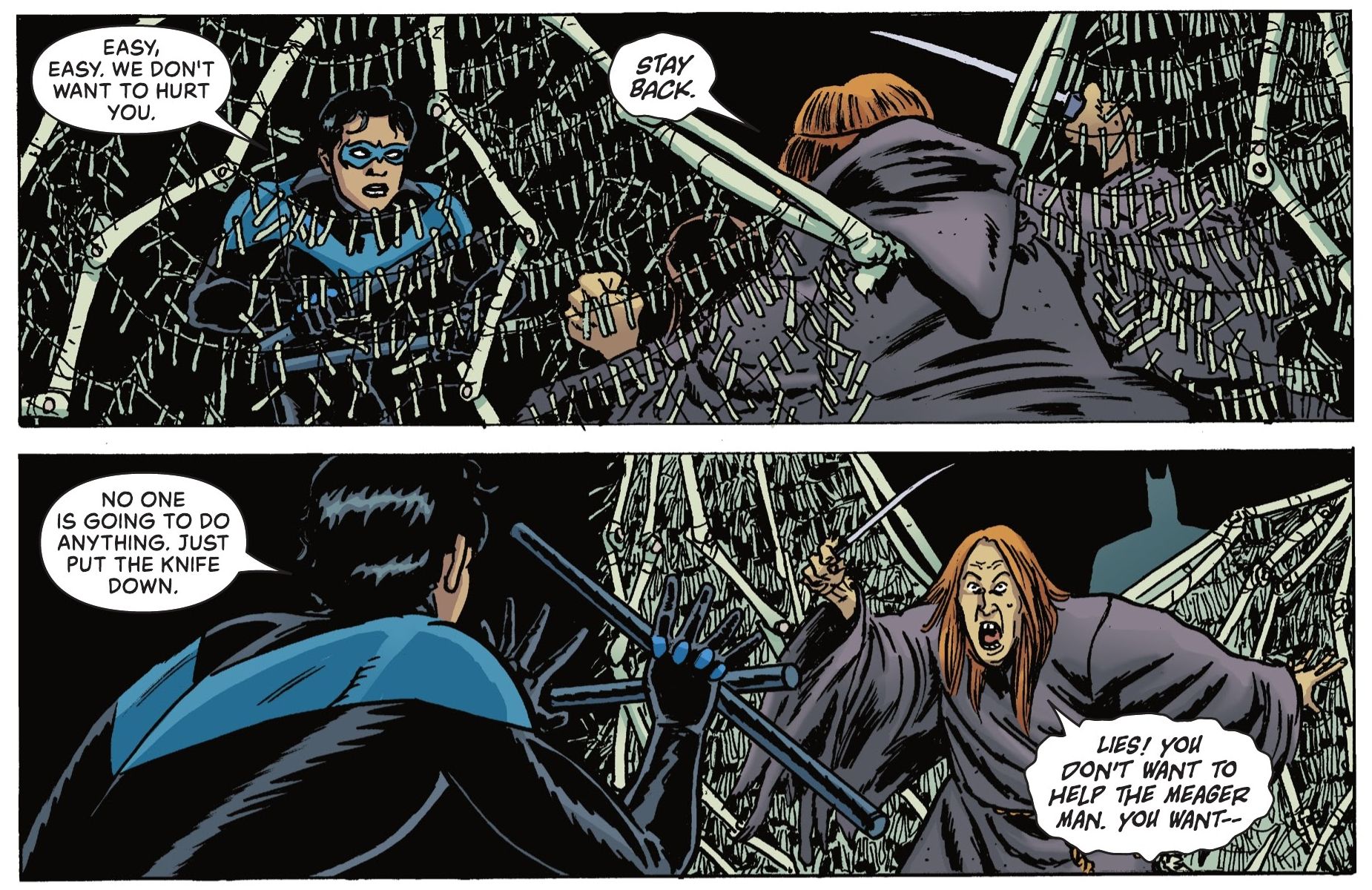 Colorists Trish Mulvihill and Lee Loughridge create two separate palates for the two timelines in this story. The flashbacks are bright and hopeful; whereas, the present day is a dimly lit labyrinth of shadows and literal buckets of blood. The contrast between the two timelines helps to highlight the versatility of Lapham's style and to represent the rose-colored lenses through which Batman sees his childhood. It is easy to relate to his cynicism when comparing the bright images of his parents with the grim faces of the villains he fights.
Detective Comics 2021 Annual #1 tells an exciting and surprisingly thoughtful story. Tamaki and Rosenberg lean into some of the most outlandish and deranged sides of Gotham City to discuss contemporary ideas about mental health and carceral justice in a story that feels timeless and urgently relevant. Lapham's art makes every page a joy to read. This annual has plenty to offer to even the most casual Batman fan.
Keep Reading: A Controversial Robin Villain's Dark Batman Secret Could Change Everything
from Ultimate Comic Blog
https://ift.tt/31i3jwm
via IFTTT