Captain Marvel Unlocks a New and Unexpected Power | CBR
https://ift.tt/3xBpc5z

Marvel Comics has provided CBR with an exclusive preview of Captain Marvel #34, by Kelly Thompson, Sergio Dávila, Sean Parsons, Jesus Aburtov and VC's Clayton Cowles. In the preview, Carol Danvers/Captain Marvels taps into a power deep inside of her to, hopefully, thwart Vox Supreme's dark plan.
The current arc of Captain Marvel, which is titled "The Last of the Marvels," has seen the villainous Vox Supreme looking to assemble an army through the use of black suits that bend the wearer to their will. This led to Carl teaming up with Kamala Khan/Ms. Marvel, James Rhodes/War Machine, Jessica Drew/Spider-Woman and Jennifer Takeda/Hazmat to stop the villain. However, pretty much everyone except Ms. Marvel ended up getting captured. Eventually, Monica Rambeau/Spectrum pointed Captain Marvel in the direction of Vox Supreme's base. This resulted in her getting captured and imprisoned in a container designed to resist her powers.
RELATED: Marvel Hypes a Mysterious New Era for the X-Men in Spring's Destiny of X
In Captain Marvel #34, Carol initially struggles to get out of her prison. She thinks back to how Monica used her powers to phase out of a black suit. Carol admits her powers aren't quite the same as Monica's, noting that she uses her own more instinctively. So Carol instead taps in and tries to use her powers more intentionally, allowing her to power up in a whole new way.
Just whether Carol's new way of accessing her powers will help her escape Vox Supreme's prison isn't revealed in our preview of Captain Marvel #34. However, if Carol does indeed use her powers to escape, that might give her a great advantage in her fight against the villain. Part of what makes Vox Supreme deadly is that they understand and know Captain Marvel's powers well.
RELATED: Iron Man Adjusts to His New Cosmic Powers
You can see CBR's exclusive preview of Captain Marvel #34 below alongside the solicitation information for the issue. Releasing Dec. 1, Captain Marvel #34 features covers from Iban Coelle and Jesus Aburtov; Stanley "Artgerm" Lau; and Simone Bianchi.
KELLY THOMPSON (W) • SERGIO DÁVILA (A) • Cover by IBAN COELLO
Teaser variant cover by ARTGERM • VIRGIN VARIANT COVER BY ARTGERM
VARIANT COVER BY SIMONE BIANCHI
"THE LAST OF THE MARVELS" PART 3
There is no hope for Carol or the Captain Marvel name. There is only imprisonment…and with Carol trapped, who will save her friends? It's going to take something more powerful to break free…something nobody, not even Carol, knew was possible… Don't miss the reveal of the year in the penultimate chapter of "Last of the Marvels"!
32 PGS./Rated T+ …$3.99
RELATED: No More 'Avengers Assemble?' Black Panther Debuts a New Team Catchphrase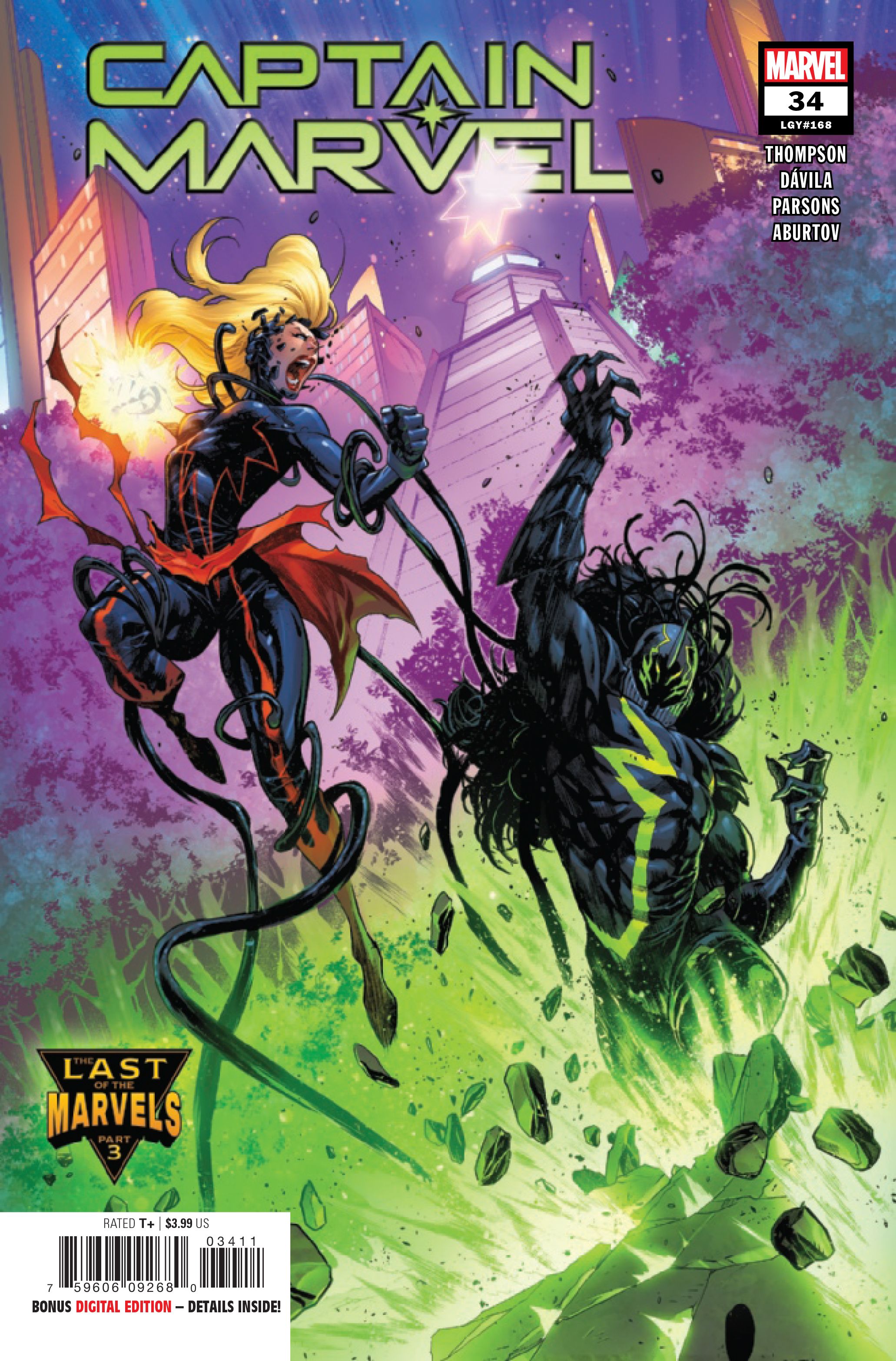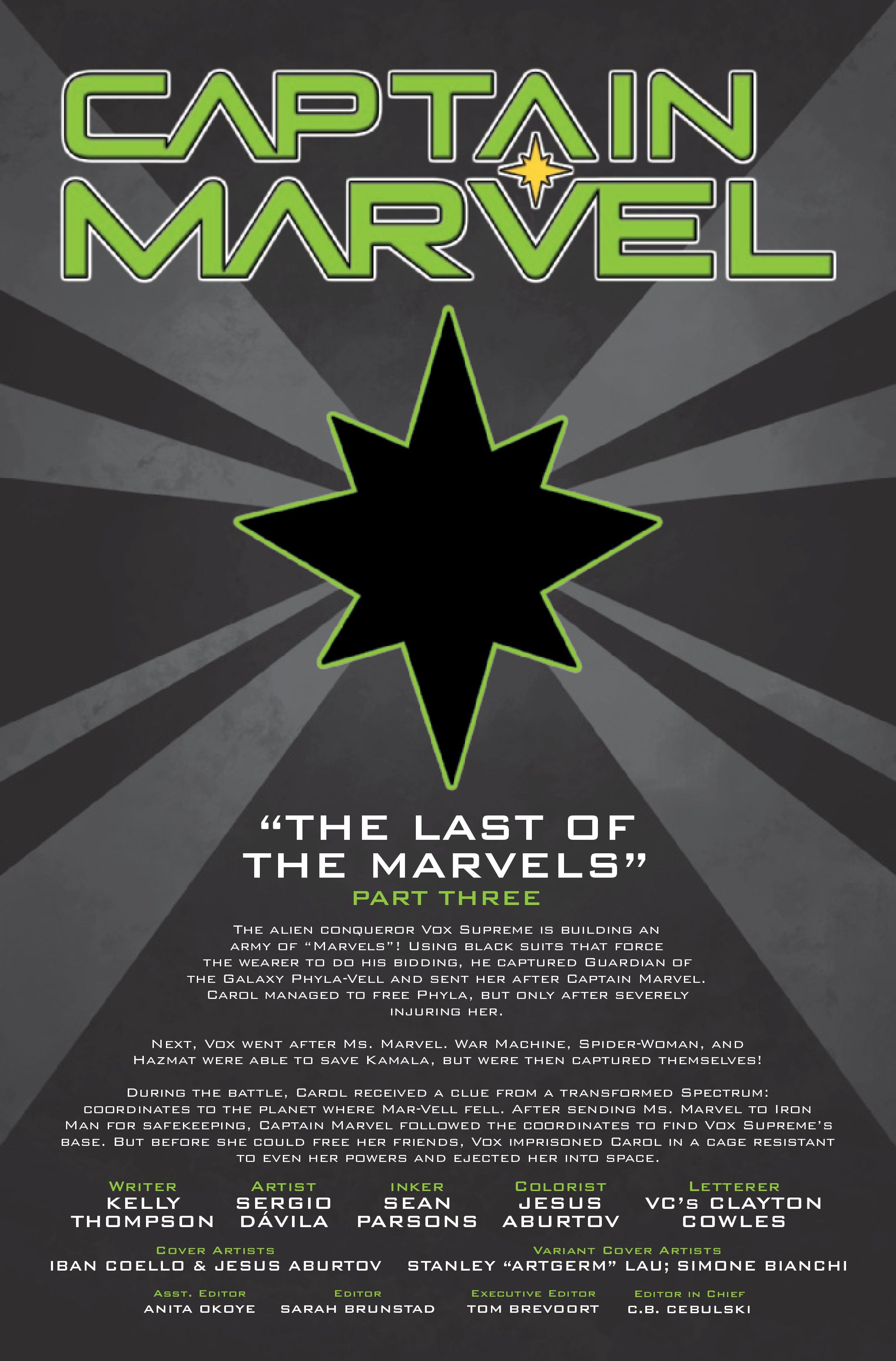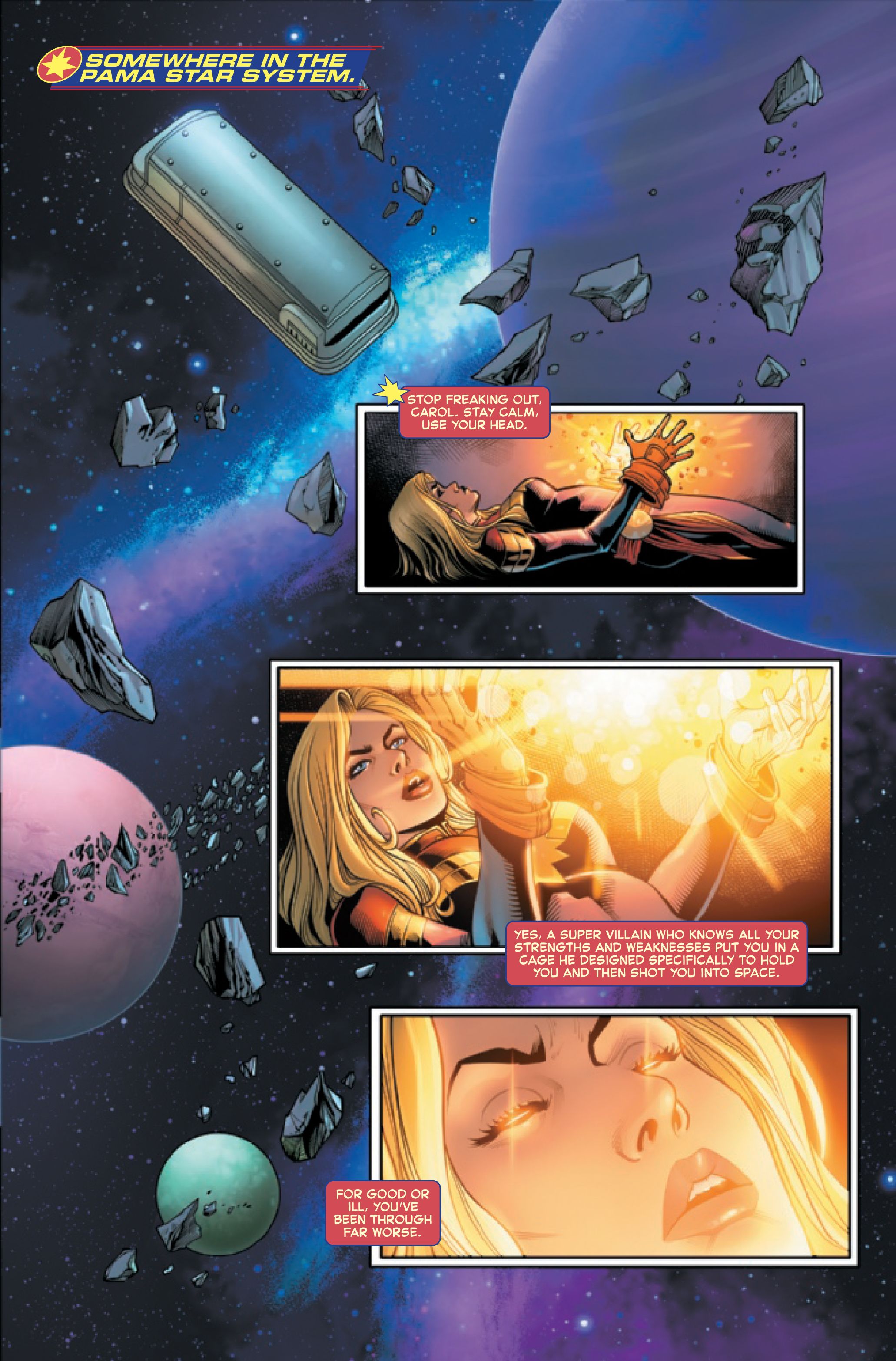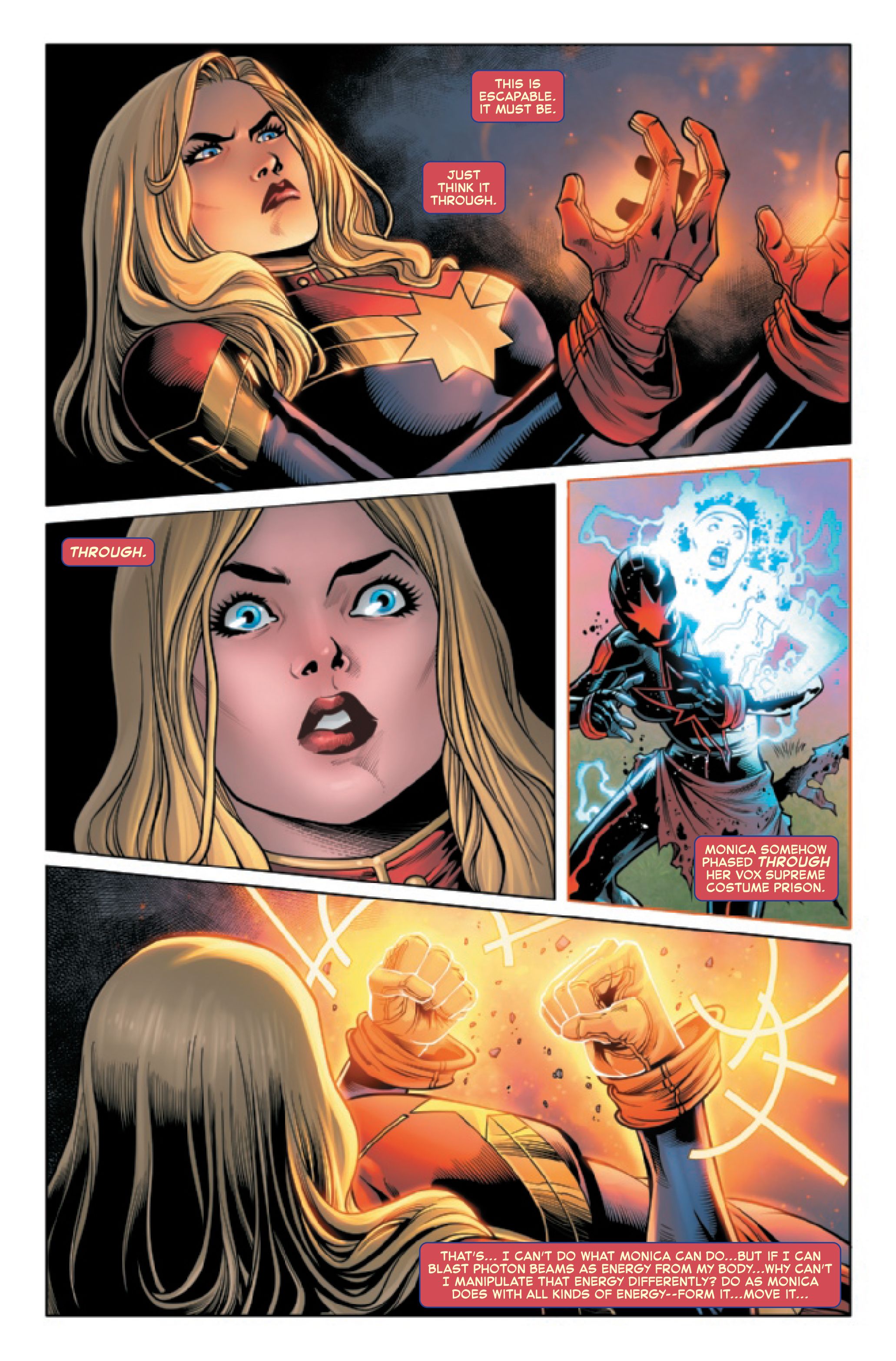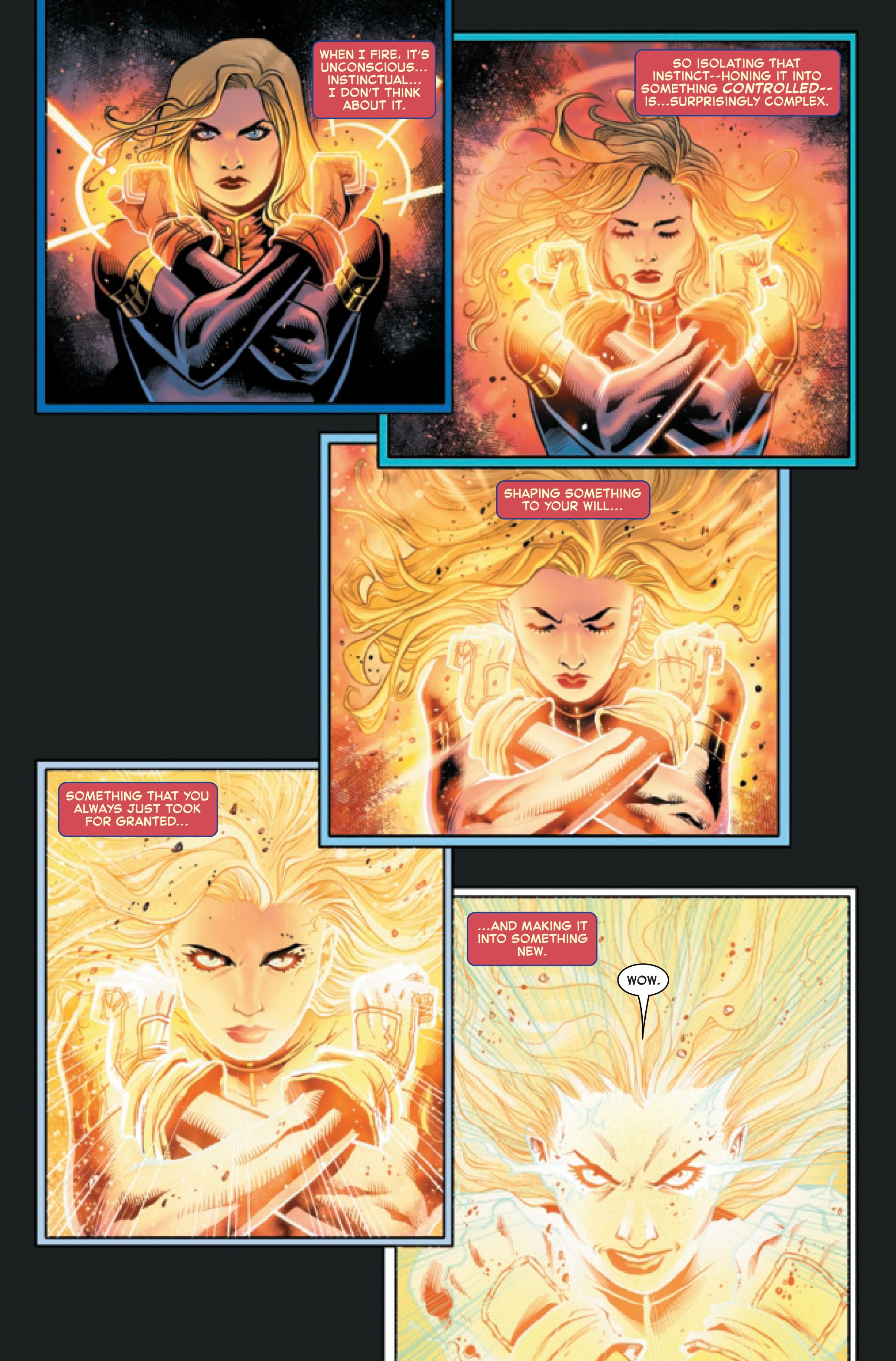 KEEP READING: Marvel's History Reveals What Really Killed the Dinosaurs
from Ultimate Comic Blog
https://ift.tt/3l9sFmG
via IFTTT