Brian Michael Bendis' Joy Operations #1 Tells a Thrilling Sci-Fi Story
https://ift.tt/3xGFbPA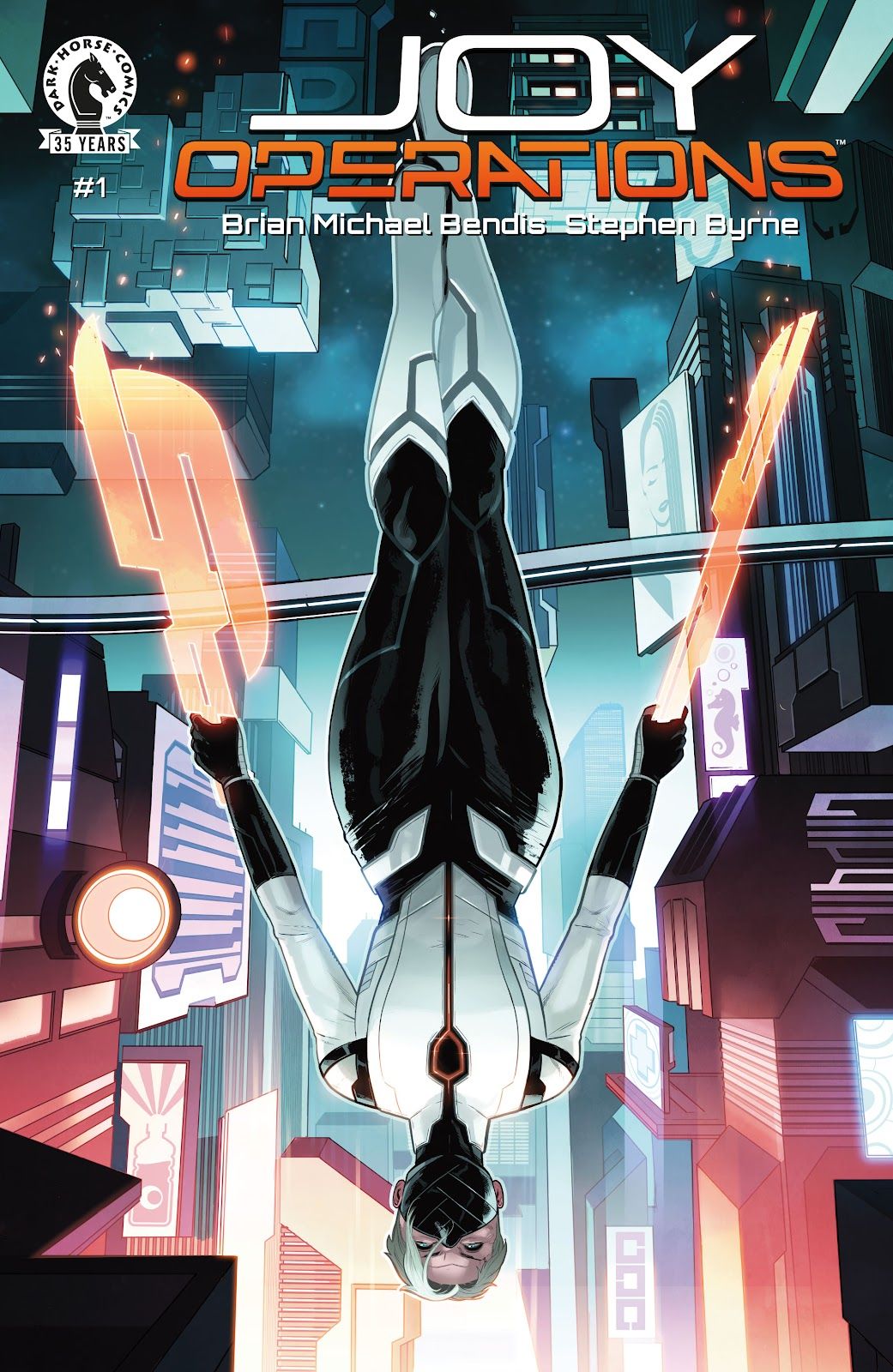 Brian Michael Bendis is one of the most prolific writers in the comic book industry. With over three decades of experience, Bendis has earned five Eisner awards for his creator-owned work and Marvel Comics titles. He recently partnered with Dark Horse Comics to create a futuristic new science fiction odyssey. Published in association with his own imprint Jinxworld and featuring artwork from artist Stephen Byrne, Joy Operations is set fifty years in the future and depicts a society ruled by corporate overlords and their enforcers, the EN·VOI. A.
Joy Operations #1 opens with Joy teleporting into Jornando Trust, a corporate-owned metropolis that is a beacon of technological advancement and is owned by the powerful and eccentric Kathryn Menteuse. Joy is an EN·VOI. A, protector of Jornando Trust and personal enforcer of Mentuese. Joy encounters a Gerxhart as soon as she arrives in Jornando. Due to oddities in its programming, the Gerxhart attacks Joy despite being protectors of the same Trust. As Joy wards off attacks, she realizes that the voice in the back of her head is not hers.
RELATED: Image Comics' Shadecraft Vol. 1 Comic Review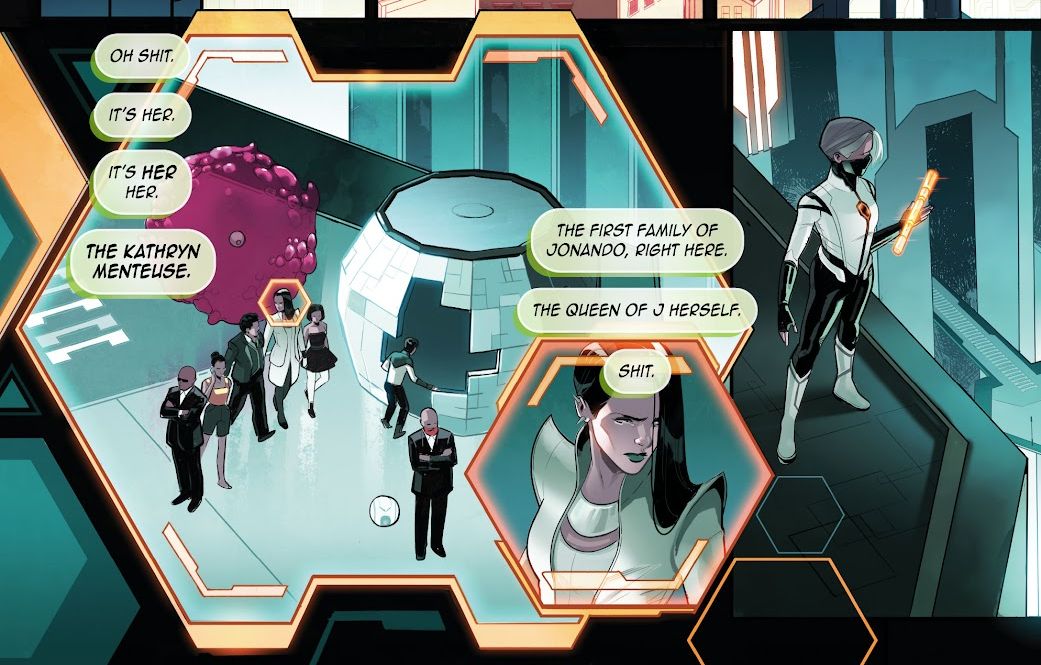 The debut issue of Joy Operations leans heavily on world-building, explicitly explaining the hierarchies of a society where plutocrats rule the world. Bendis imagines a world that has given free rein to the wealthy to mold civilization as they see fit while creating false narratives that pushes humanity towards the brink of irreparable damage. However interesting the premise might be, the story is burdened with a ton of one-sided conversations.
Joy Operations #1 is a neon-lit, techno-modern spectacle. Its artwork plays a big part in immersing the reader in this world filled with futuristic urban architecture. Artist Stephen Byrne (DC Comics' Justice League/Power Rangers) creates wide panels filled with vibrant action. The book is littered with expansive two-page splash pages that not only foreshadow the scope of the story but also depict the sci-fi, neo-futuristic aesthetic of the comic book. Byrne uses a restrictive palette of blue, magenta, and auburn to set the book's mood. The pièce de résistance of this issue is the fight between Joy and the Gerxhart where the color contrast between the EN·VOI. A's energy weapons and the muted background shines.
RELATED: Boom! Box's Getting Dizzy #1 Comic Review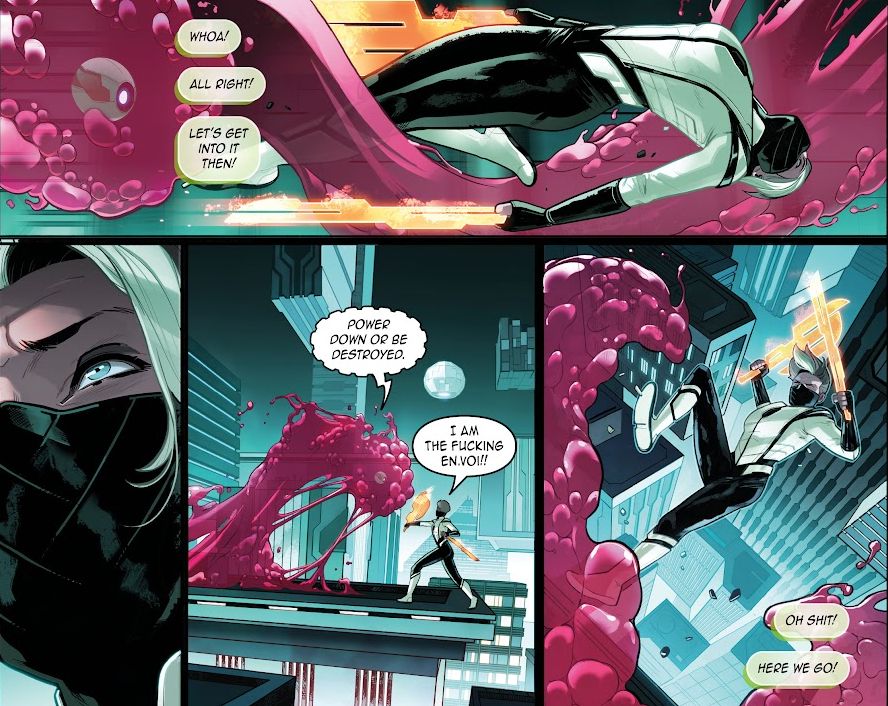 Joy Operations #1 ends with a shocking revelation that is bound to shake up Joy's world. Despite its explosive start, the story may overburden the reader with information — even if these details feel necessary to its world-building. The comic book hides visual Easter eggs that reference Marvel's Old Man Logan title and gives an amusing nod to the fan theory of Keanu Reeves being ageless. Joy Operations #1 is an intriguing start to a new sci-fi series. With Bendis at the helm, there will certainly be more surprises to come.
KEEP READING: EXCLUSIVE: Image's Monkey Meat Attacks Modern Society With Super Powers
from Ultimate Comic Blog https://ift.tt/3pmfgJr
via IFTTT