Before WandaVision: Did Heroes Reborn Change Vision Forever?
https://ift.tt/3DYRw3a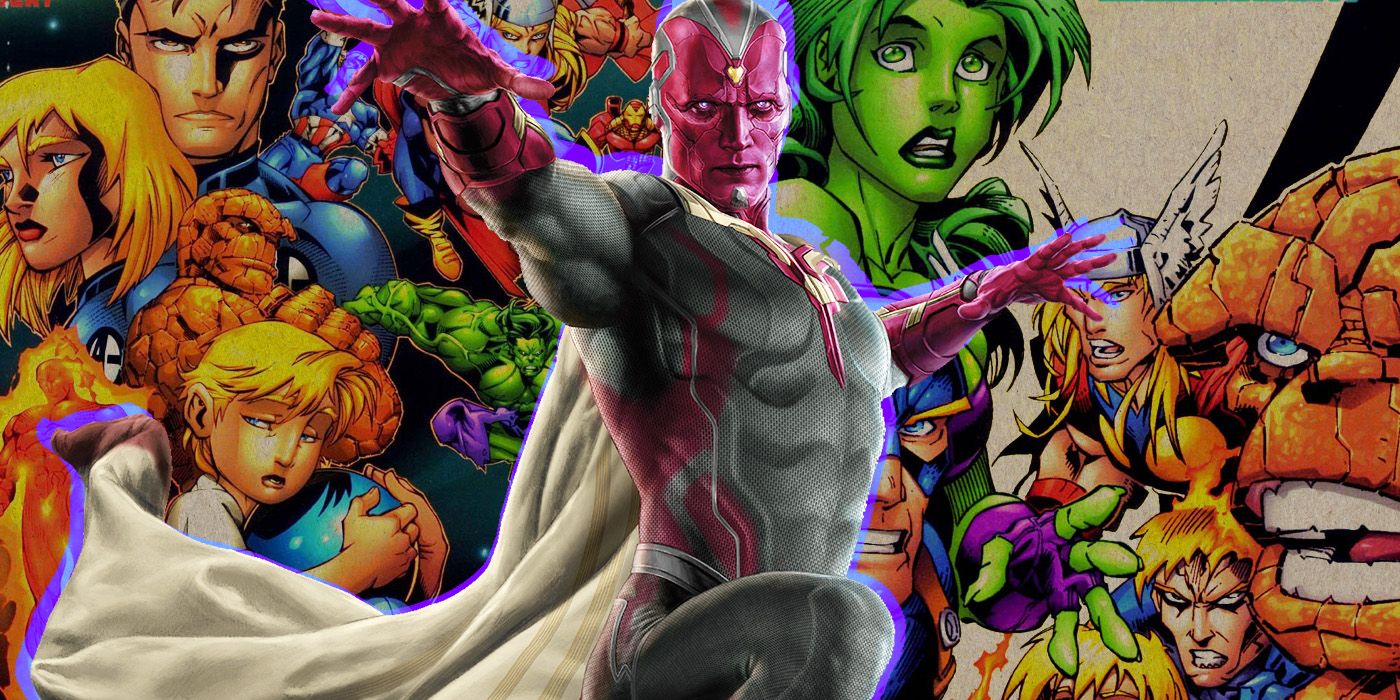 Today, we look at how the Vision's body was transformed once again by the events of Heroes Reborn (and Heroes Return).
In every installment of Abandoned Love we will be examining comic book stories, plots and ideas that were abandoned by a later writer without actively contradicting an earlier story (so the more passive definition of retcons as being anything that is retroactively added to continuity, even if there is no specific conflict with a past story). Feel free to e-mail me at brianc@cbr.com if you have any suggestions for future editions of this feature.
Recently, I wrote about how the Vision went from his "White Vision" phase back to his classic red-skinned look. A few different people wrote in to suggest, though, that there was a whole other angle involved in the Vision's red skin that meant that he had moved past the alternate reality body that he was in circa 1994. So I figured I'd explain all of that. First off, though, a recap!
RELATED: Why Did DC Make Supergirl… a Demon-Worshiper?
In the pages of John Byrne's West Coast Avengers, Byrne explained the change in the Vision's circumstances as simply resolving a bit from Roger Stern's Avengers run where Vision essentially took over the world by having the world's governments dismantle Vision and wipe his memories.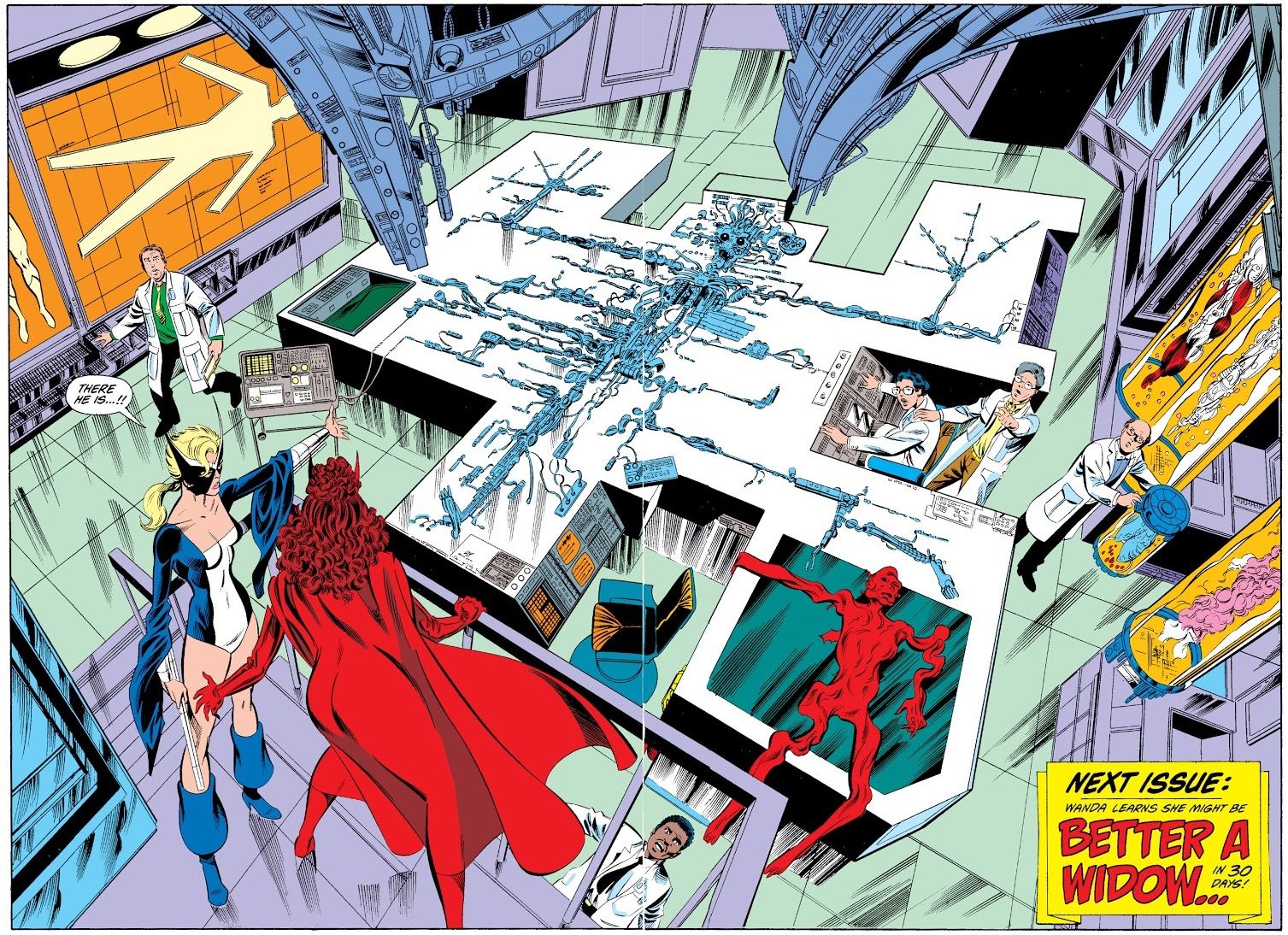 The Vision was then rebuilt, only now he was all white (and he no longer had brain patterns based on Wonder Man, so he had no human brain patterns)…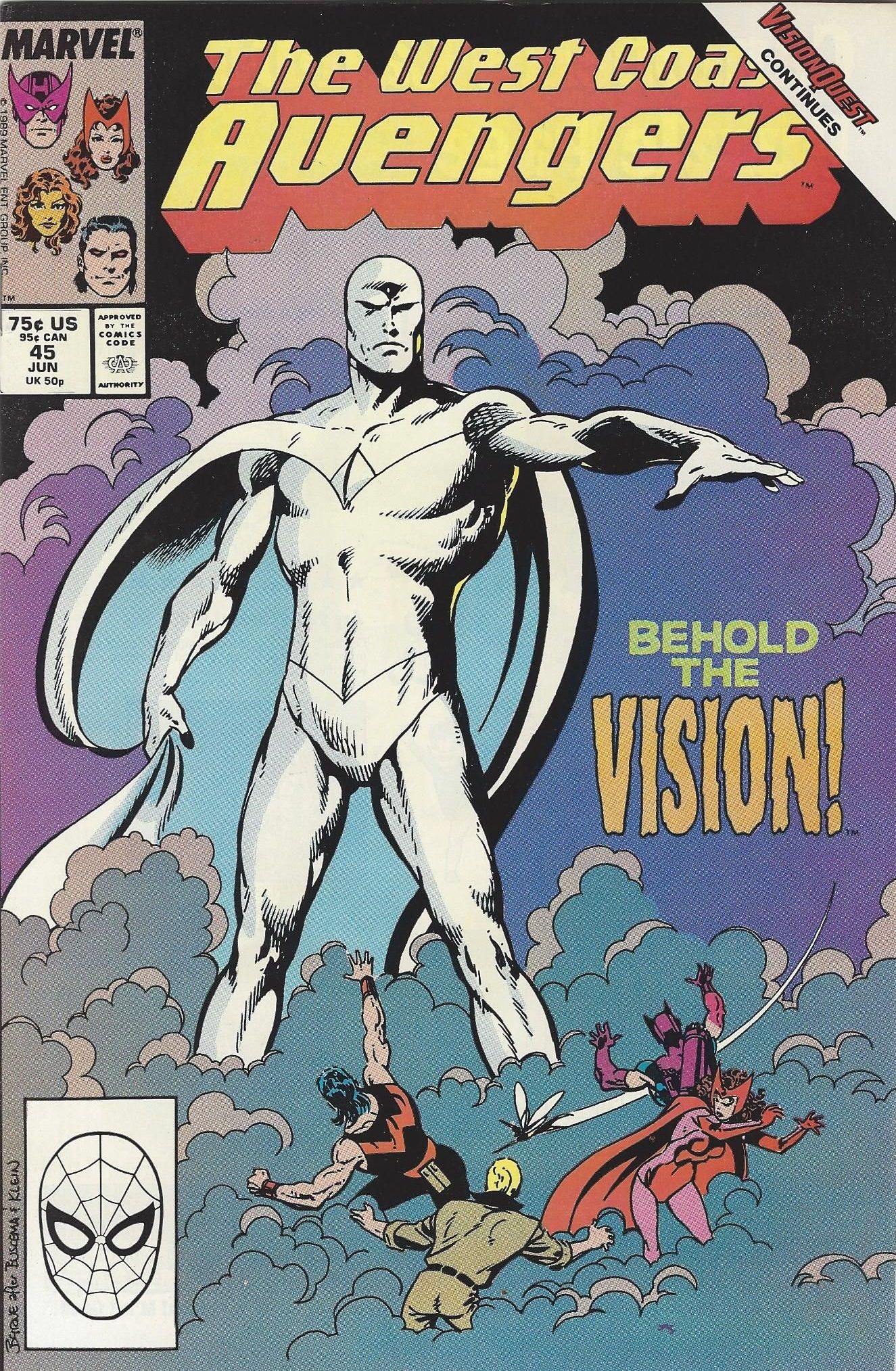 Later, in In Avengers Spotlight #40 (the final issue of the series), writers Len Kaminski and Carrie Barre and artists Gavin Curtis and Dan Paonosian, the Vision was given the brain patterns of the murdered son of a scientist (who luckily had his son's brain patterns on file)…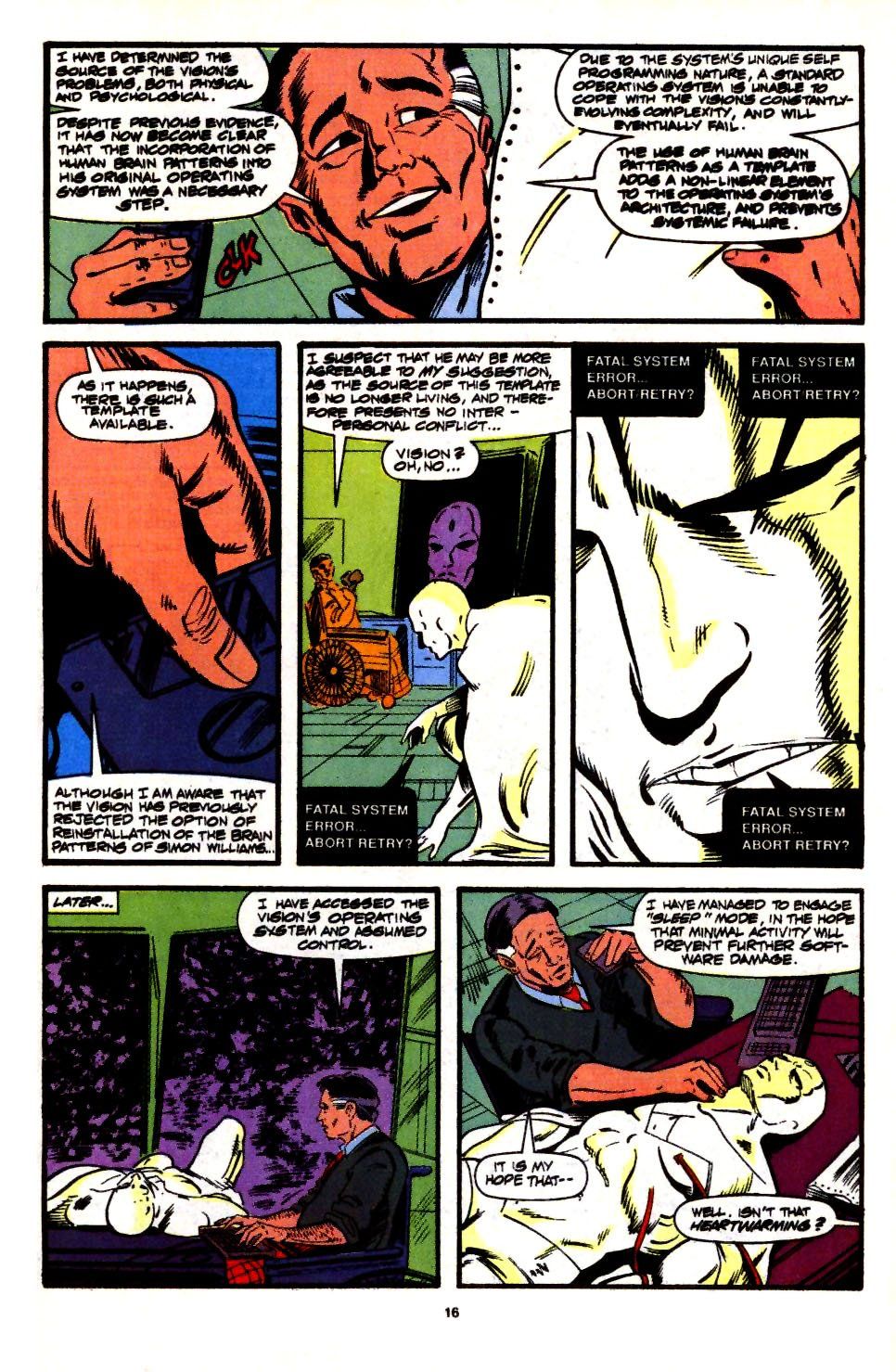 Soon after, the Avengers started dealing with a villain known as Proctor who had put together a team of alternate reality heroes called the Gatherers. This included a Vision from another timeline who was a total jerk, who we met in Avengers #360 (by Bob Harras, Steve Epting and Tom Palmer)…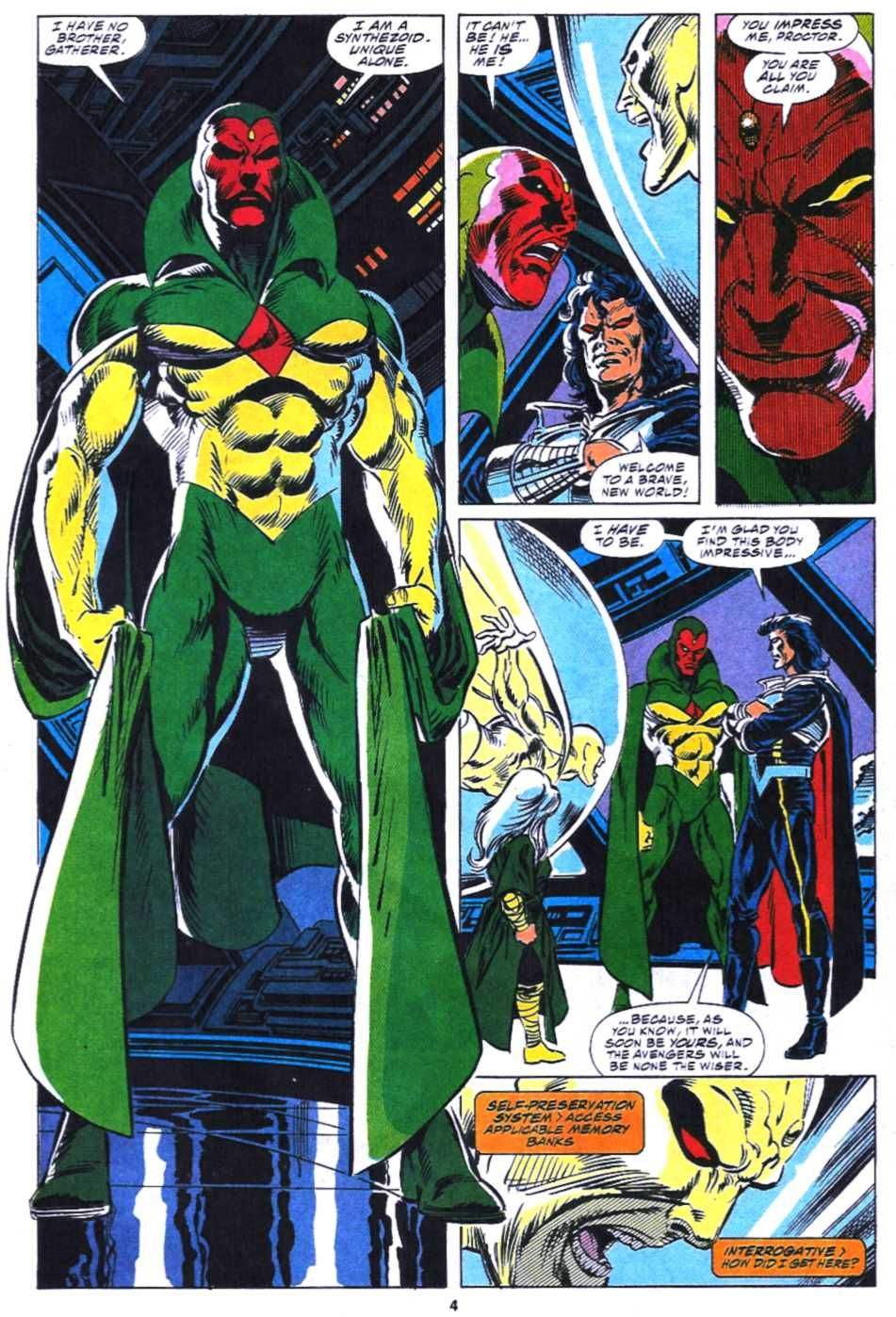 The two Visions switched bodies and the other Vision infiltrated the Avengers…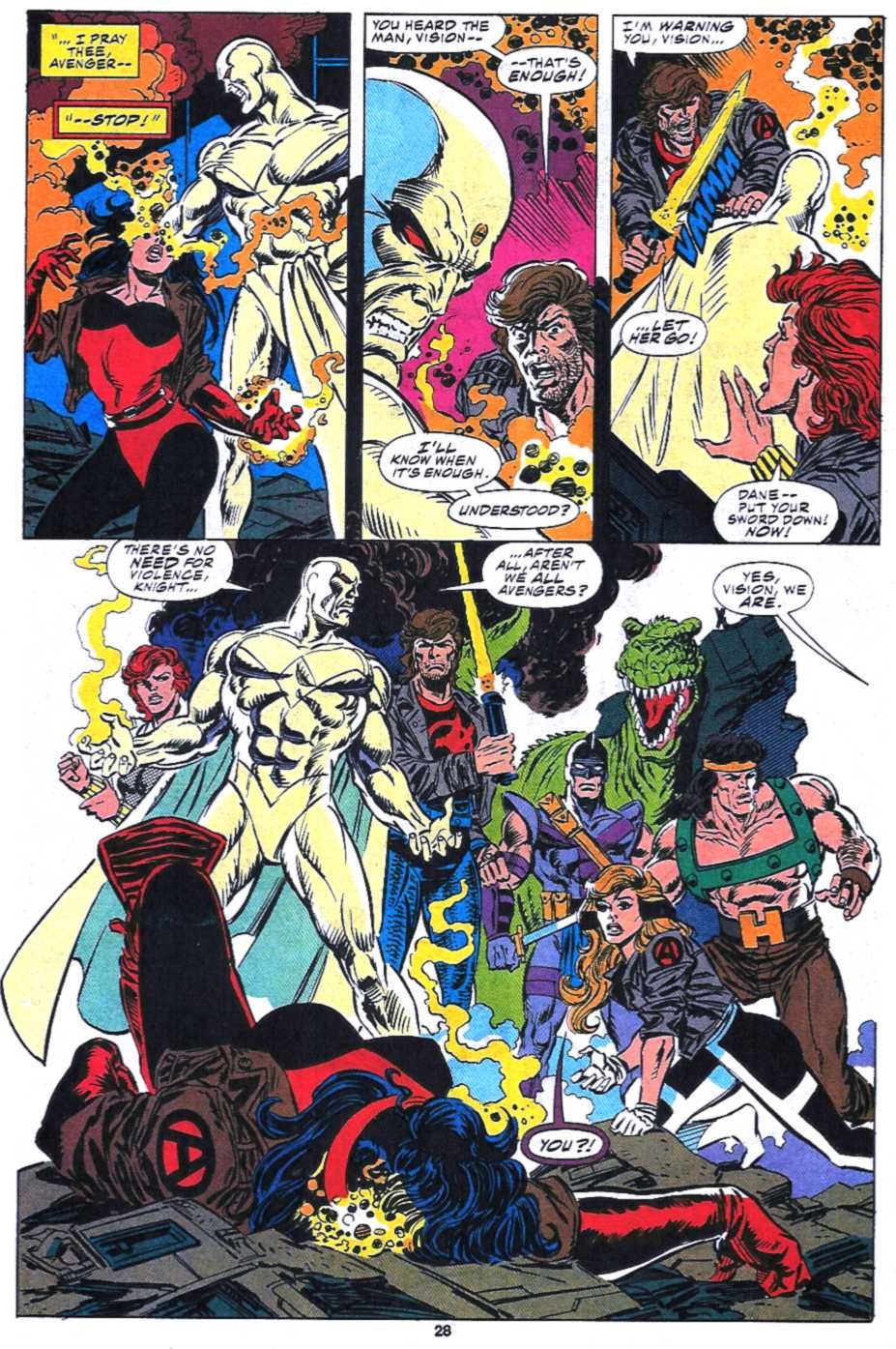 The Avengers eventually figured it out and had their captive Vision bring them to the real Vision in Avengers #363 (by Harras, Epting and Palmer). However, in the process, Proctor destroyed the other Vision who was still in White Vision's body…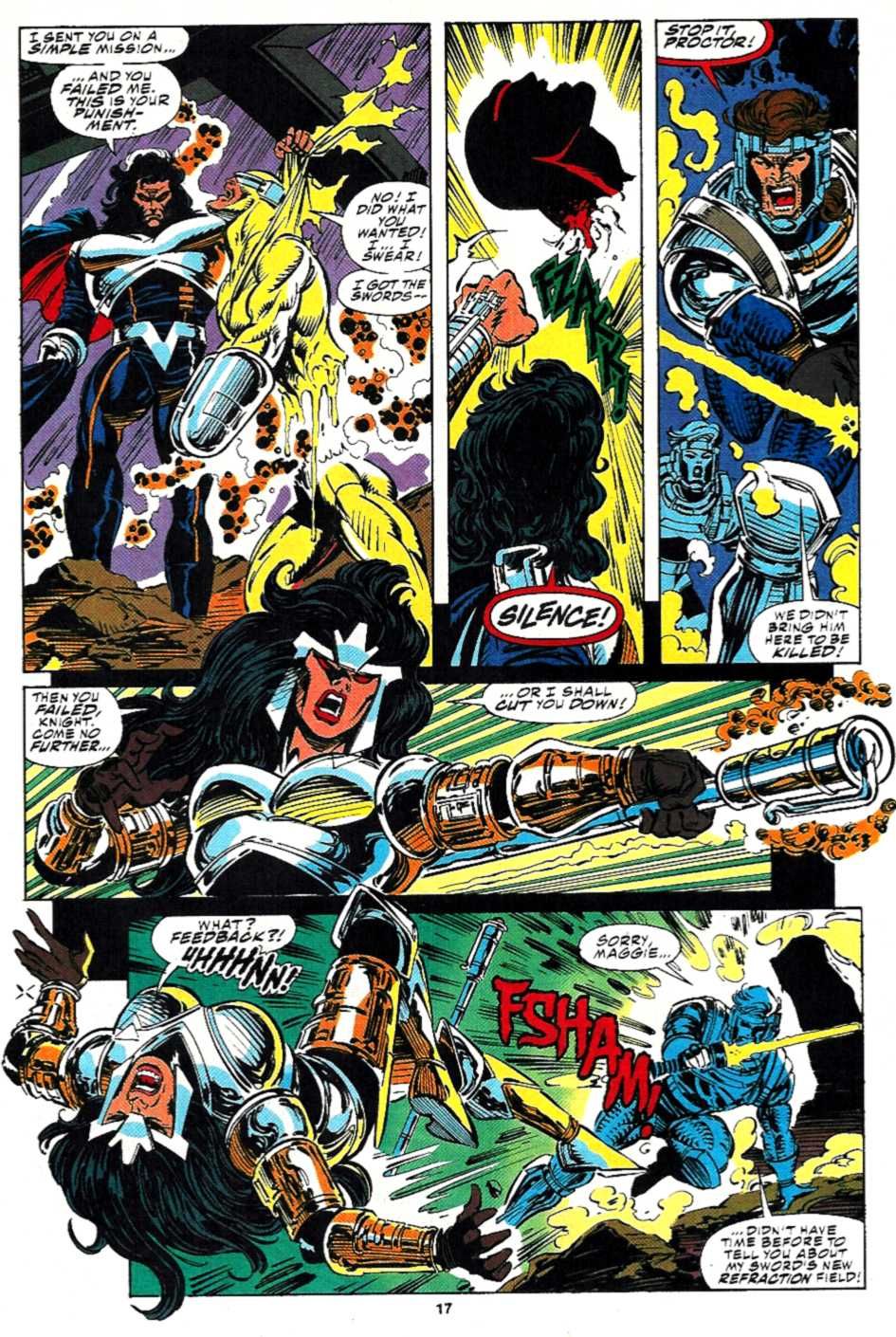 The Avengers escaped with their friend, but he was now in the Red Vision body…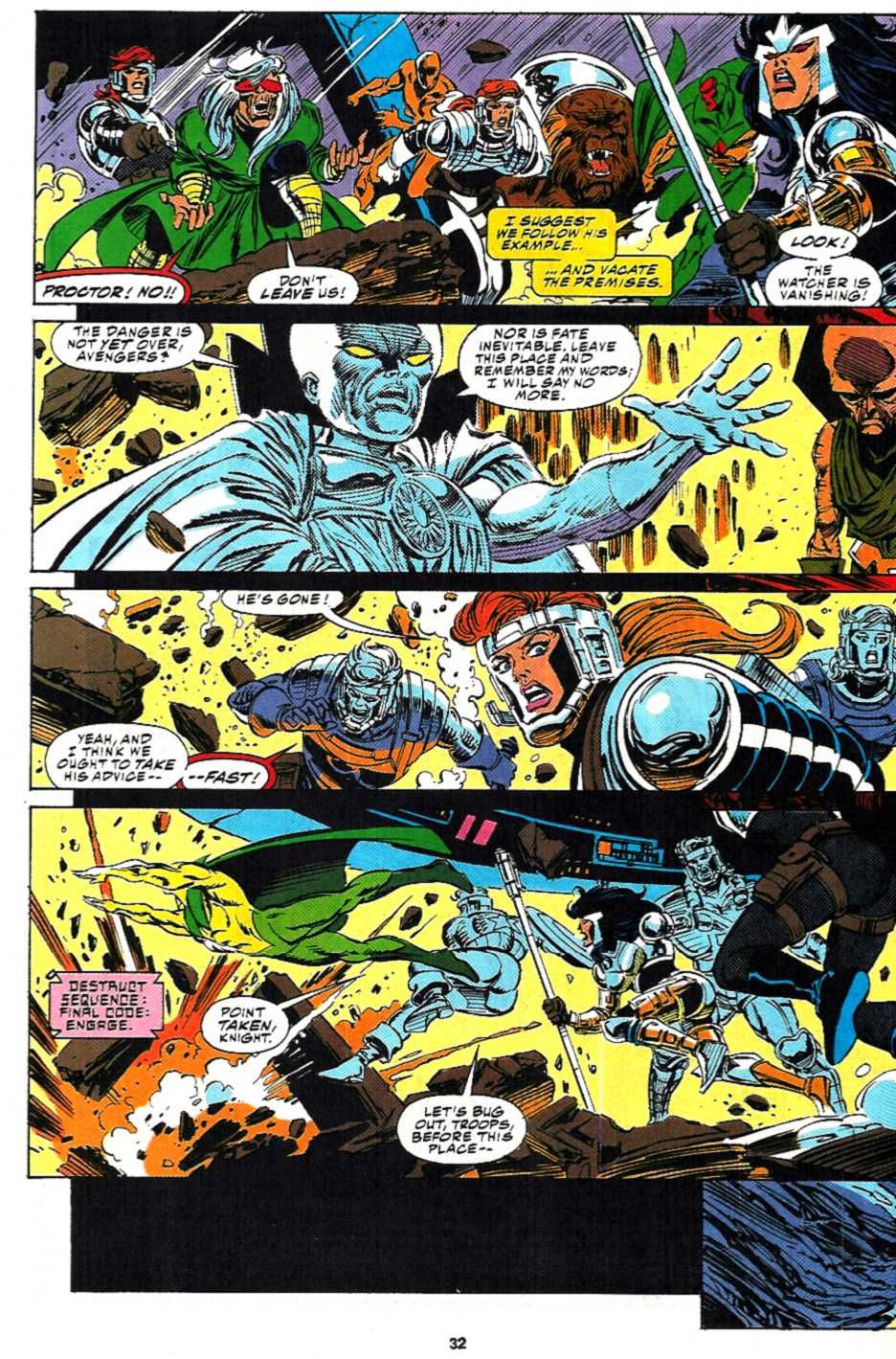 That was the Vision's new status quo for the next few years, he was just his old self, but he was technically in the body of an alternate reality Vision. Things changed during the dramatic battle against the villainous Onslaught where the Vision, and his fellow Avengers, seemingly lost their lives.
RELATED: Green Arrow's Infamous 'Drugs Story' Was Dark Enough – So DC Made It Worse
Onslaught was the manifestation of Professor Xavier's psychic abilities tainted by having Magneto's personality mixed with the Professor's (after Xavier wiped Magneto's mind out during the "Fatal Attractions" crossover). Magneto's personality amped up all the worst parts of Xavier's personality and the end result was a psychic being with its own personality – the malevolent being known as Onslaught. It encased itself in a special armor so it could hold physical form and then it started kicking some ass.
The final battle took place in Central Park in Onslaught: Marvel Universe #1 (by Scott Lobdell, Mark Waid, Adam Kubert, Joe Bennett, Dan Green, Art Thibert, Tim Townsend and Jesse Delperdang), where the X-Men are getting destroyed by Onslaught when suddenly, the other prominent superheroes of the Marvel Universe show up to help out…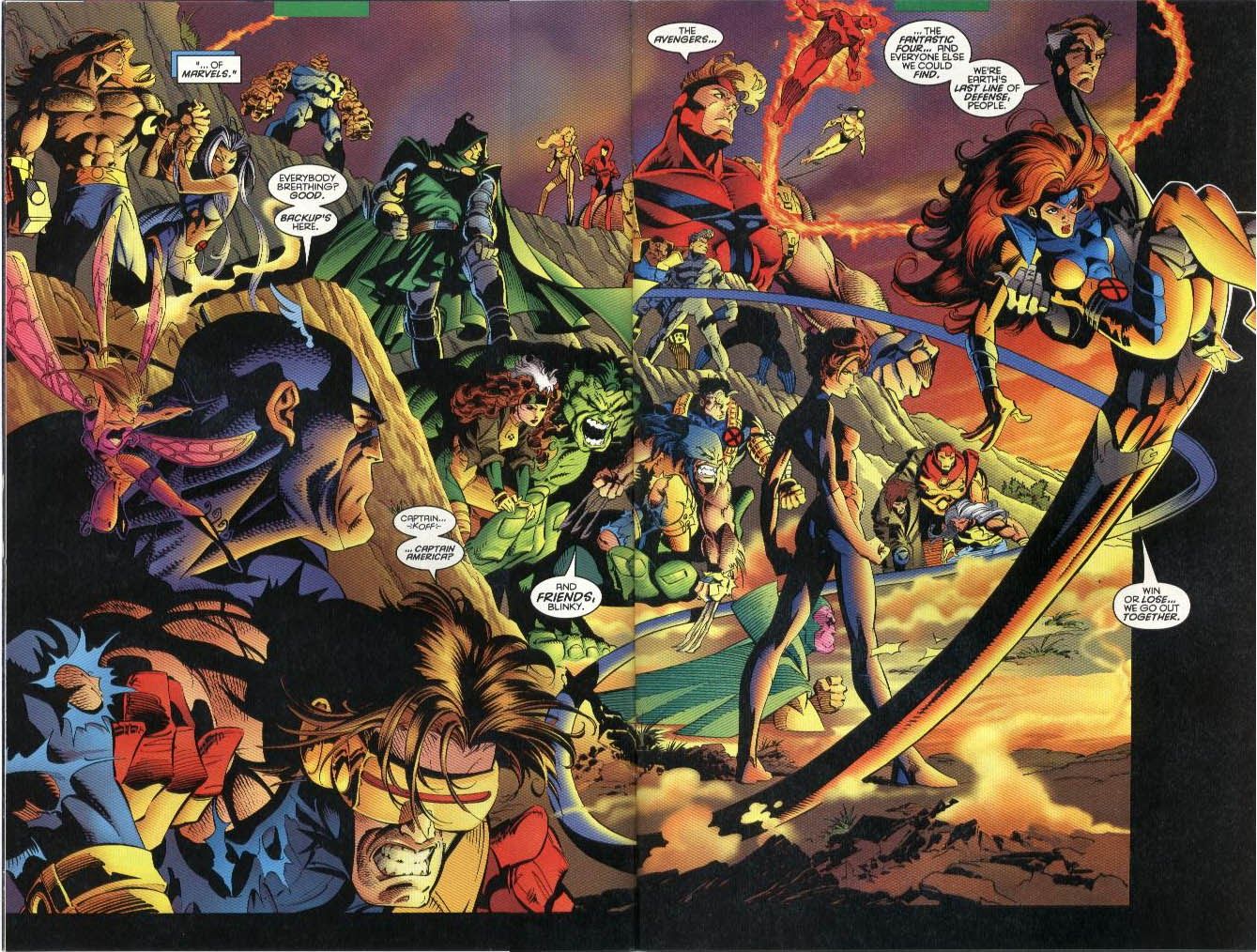 In the ensuing big fight, the Hulk is able to crack Onslaught's armor and then the villain's psychic energy was leaking out there, which was dangerous, as now there was no way of physically harming him. However, the heroes discovered that if humans entered the psychic energy, they could absorb some of his power (mutants couldn't do it because he would just take over their bodies as a host, which is what he was planning to do with the kidnapped X-Man. Scarlet Witch being able to go in due to her hex), so the heroes all sacrificed themselves to suck away his power, even though it seemingly killed them doing so.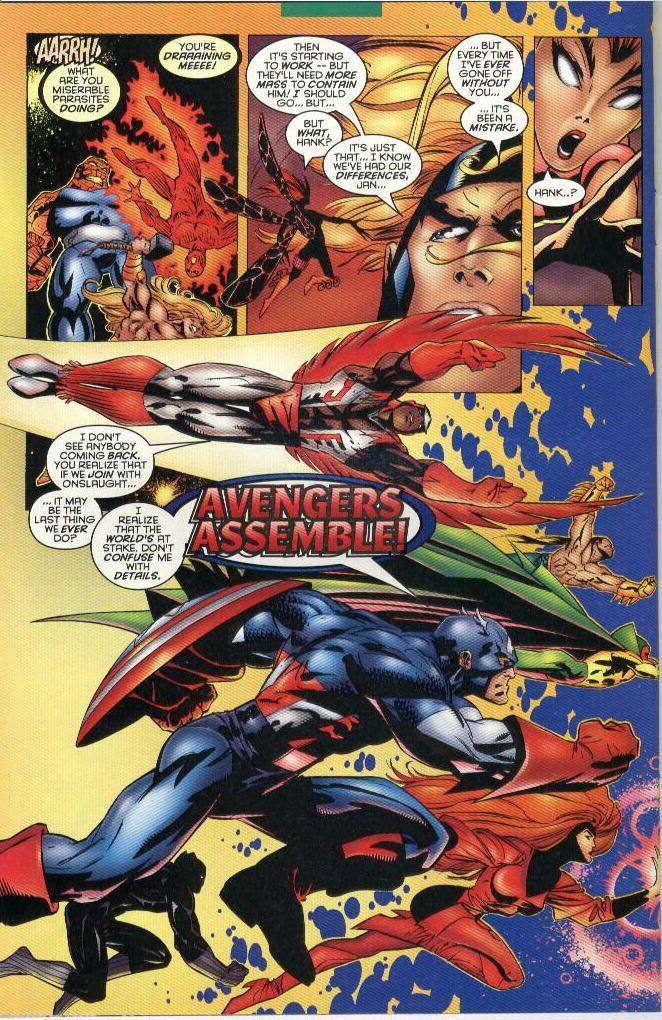 Once he was "anchored" by the humans (and, apparently, the Vision), the mutants then destroyed the energy, but, again, in the process it seemed like the Fantastic Four, Captain America, Thor, Iron Man, Hawkeye, Black Panther, Crystal, Vision, Scarlet Witch, Namor, Doctor Doom, Giant-Man, Wasp and Falcon were all killed.
Of course, in actuality, Franklin Richards used his powers to create an alternate Earth where the "dead" heroes were all changed again from energy back to their bodies (along with other versions of characters who did NOT make the journey) and that was Heroes Reborn. The Vision was still a member of the Avengers in this reality, as shown in Avengers #1 (by Rob Liefeld, Jim Valentino, Chap Yaep, Jon Sibal and Mario Alquiza)…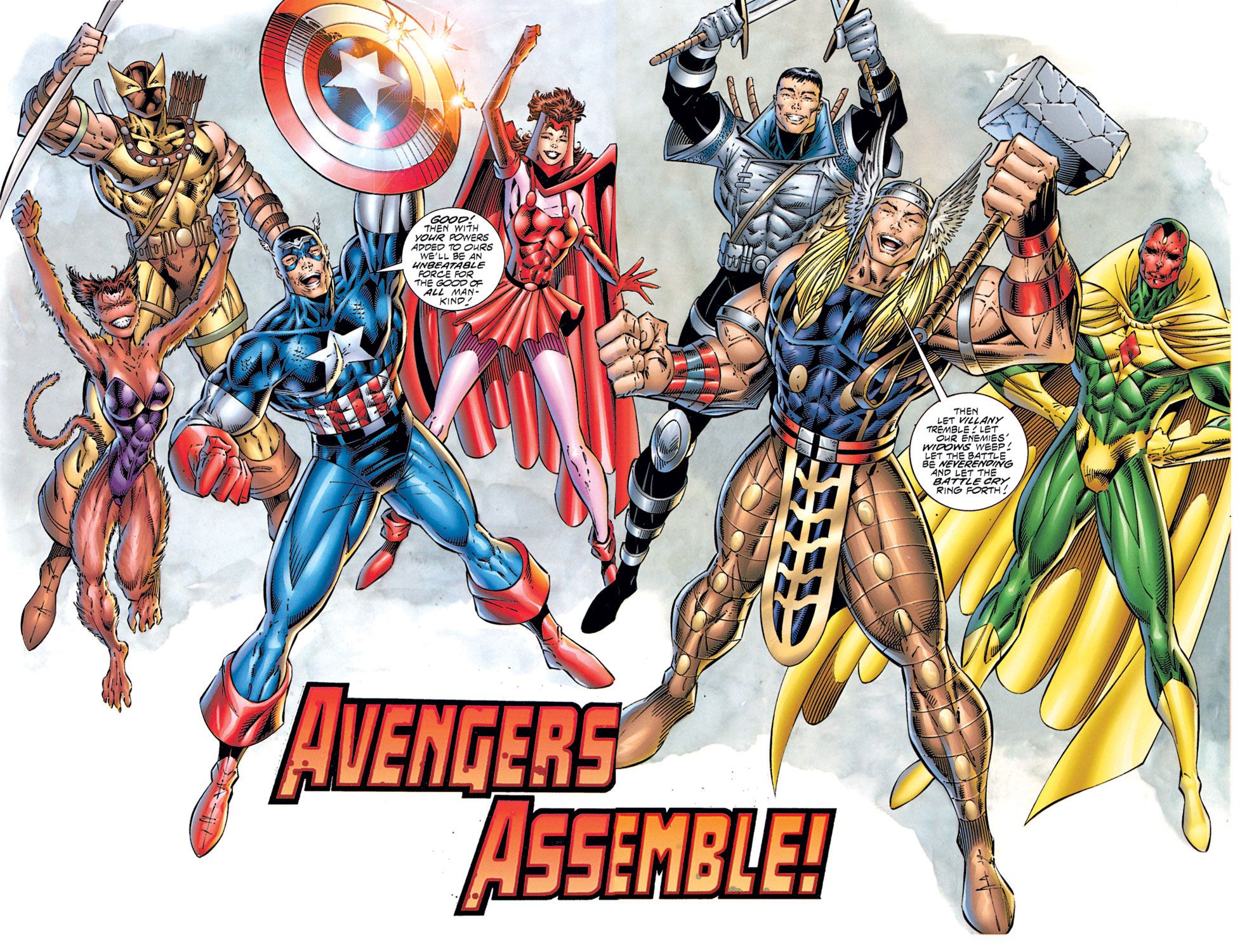 After a little over a year, the heroes then returned to our Earth in Heroes Reborn: The Return, and as we saw in Heroes Return #4 (by Peter David, Salvador Larroca and Scott Hanna), the Vision was one of the returning heroes…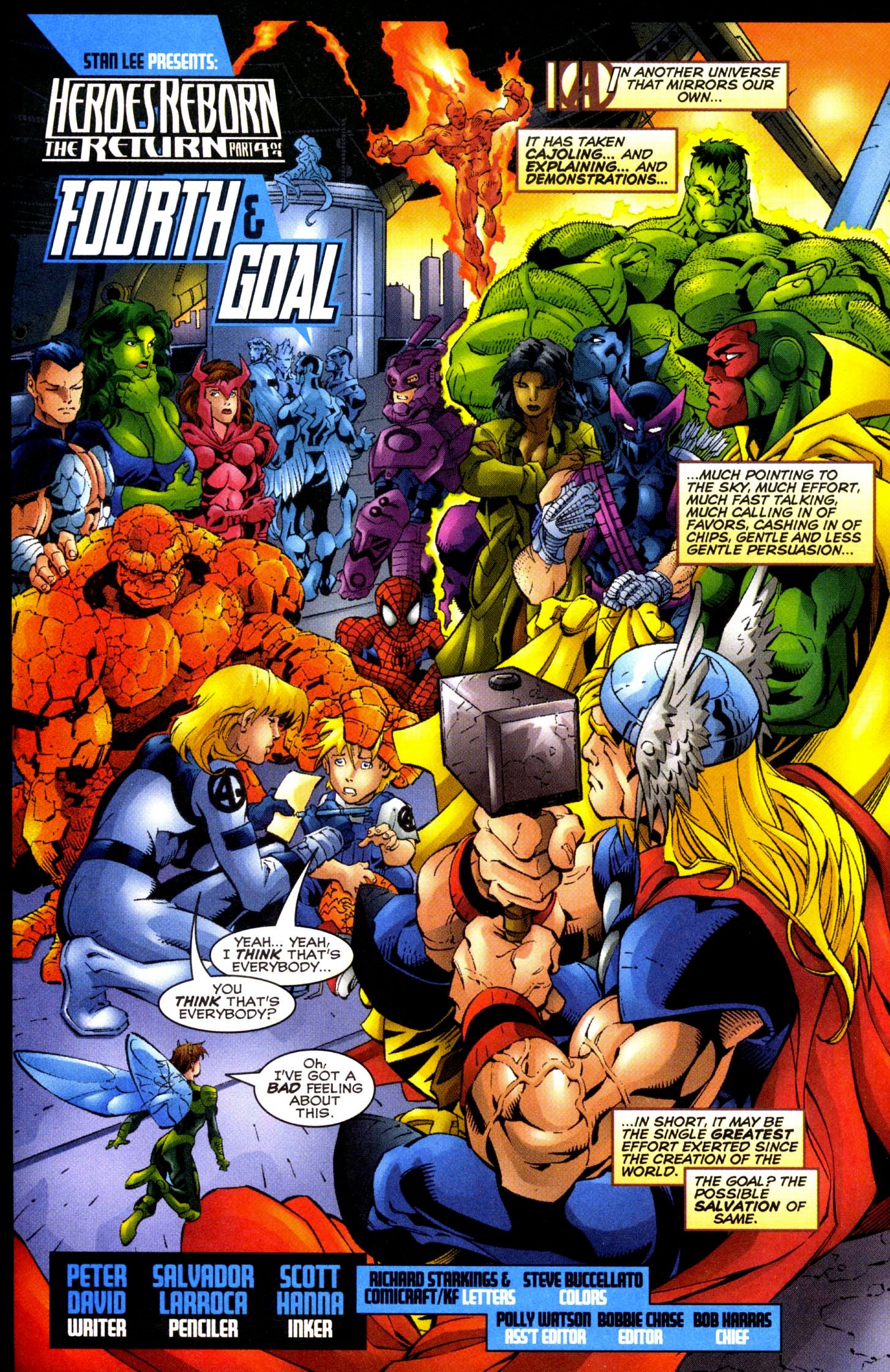 Once back, we learned in Avengers Annual 2001 (by Kurt Busiek, Ian Churchill and Norm Rapmund) that when Franklin Richards brought the heroes back to their bodies in the alternate version of Earth, he also altered them, essentially "fixing" them all to the form that Franklin knew them as…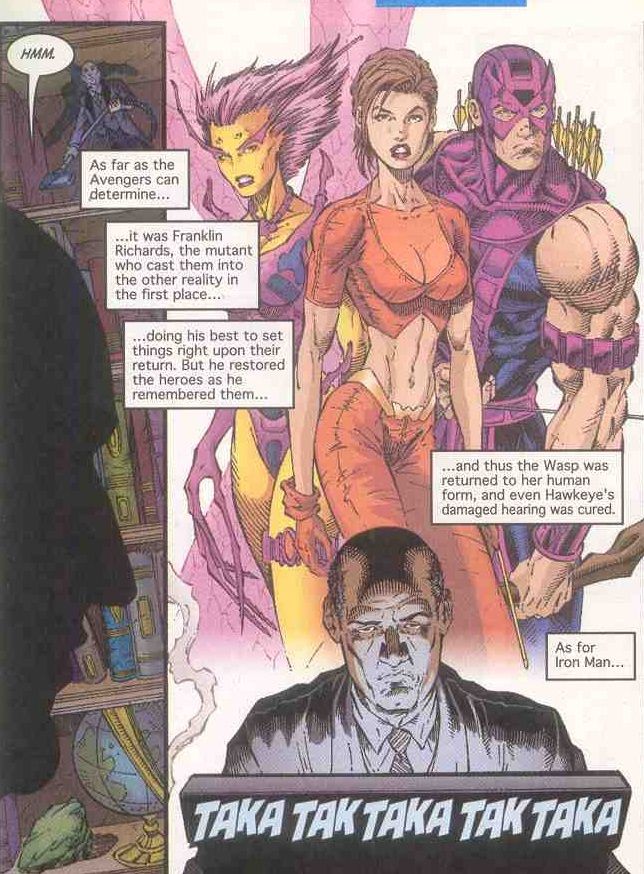 In the case of the Vision, this meant his original body. So the Vision was back to his original body going forward (of course, he has been wrecked so many times since, what does that even MEAN? I'll look at that in a future story).
If anyone has a suggestion for a future edition of Abandoned Love, drop me a line at brianc@cbr.com!
KEEP READING: One Marvel Hero Had the Key to Stopping Mephisto and Threw It Away
from Ultimate Comic Blog
https://ift.tt/3yAqwWA
via IFTTT