Batman's New Creative Team Takes Over in Next Week's DC Releases
https://ift.tt/3dcHBvW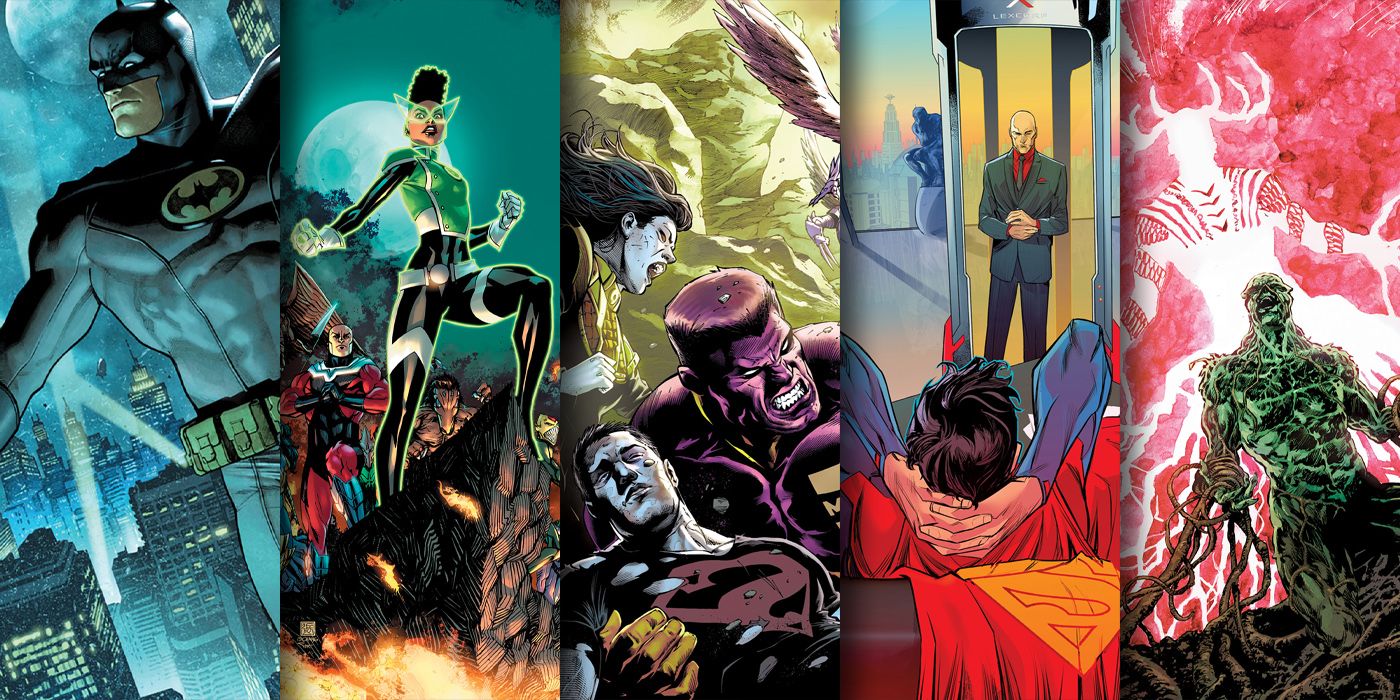 With the releases from DC Comics this upcoming week, Batman's new creative team takes the reins on the title while two other books launch and more.
Writer James Tynion IV and artist Jorge Jiménez began their tenure on Batman in 2020. Tynion took over as the series' writer with Batman #86, with Jiménez serving as its predominant artist from Issue #95 onward, which involved comic events by the duo like Batman: The Joker War and Batman: Fear State, the latter closing out the team's run. Starting with Batman #118, writer Joshua Williamson (Infinite Frontier, Robin, Deathstroke Inc.) and artist Jorge Molina will return the dark knight to Batman Inc.–which first appeared in Batman and Robin #16 (2010)–and introduce new characters, starting with the villain Abyss.
RELATED: Justice League Goes to War, Batman's Origin Grows and Peacemaker Gets Nasty in DC's January Solicits
Two titles will be launching this week as well, including One-Star Squadron and World of Krypton. Helmed by Eisner-nominated writer Mark Russell and Eisner-winning artist Steve Lieber, One-Star Squadron #1 promises a superhero comedy series where "heroism meets capitalism," with characters like Red Tornado and Power Girl teased for the series. World of Krypton, similar to the television series Krypton, will explore Superman's birth planet and the time before its destruction. Unlike Krypton though, the series will be focusing on Superman's father, Jor-El, as opposed to his grandfather.
Of course, there are many other titles releasing as well, from the fantastical Dark Knights of Steel to the intergalactic Green Lantern and beyond. The covers and solicitations for every issue set to release can be found in alphabetical order below.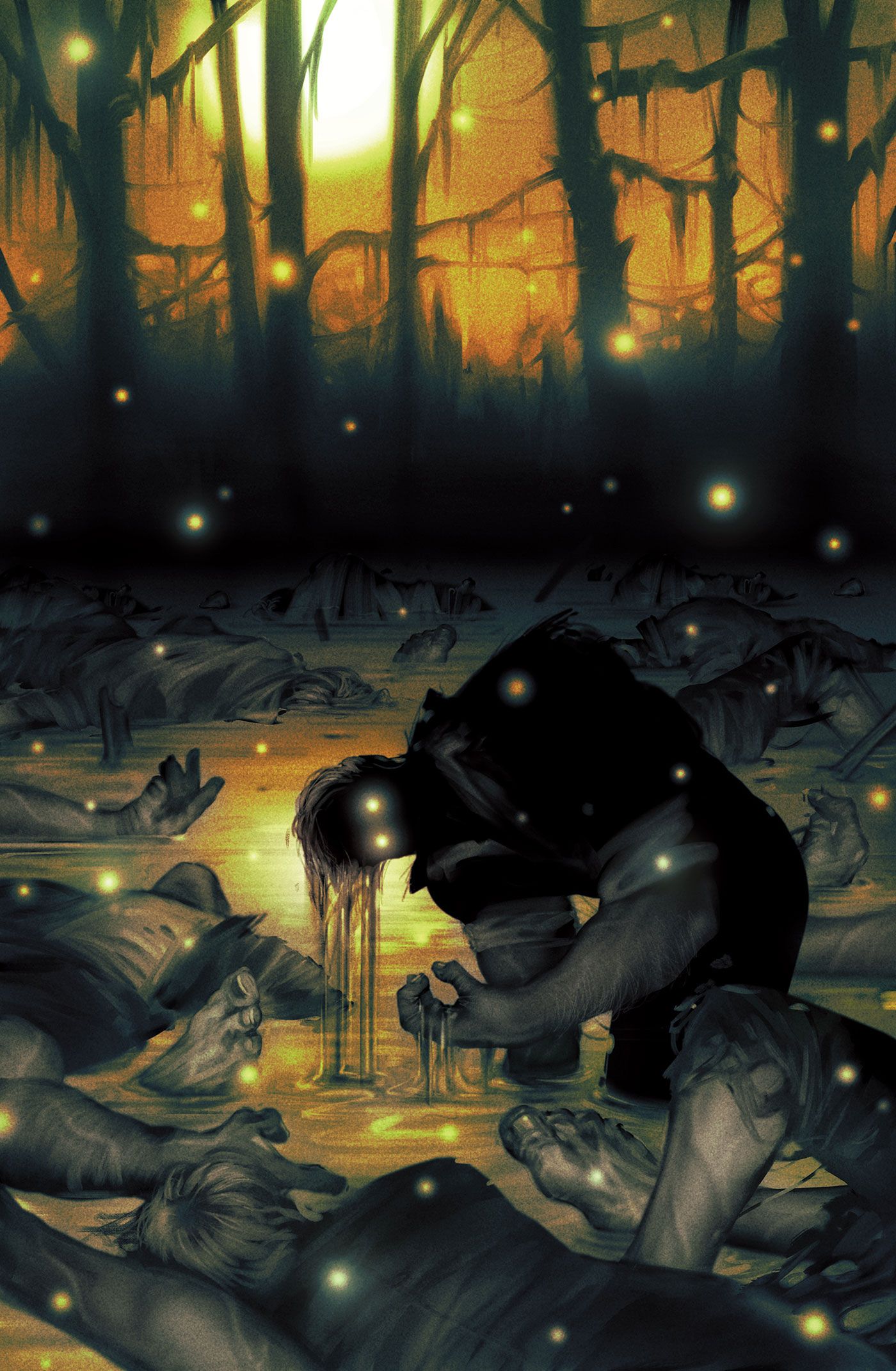 Written by DAN WATTERS
Art by DANI
Cover by SAM WOLFE CONNELLY
Variant cover by GARY FRANK
$3.99 US | 32 PGS | $4.99 US Variant (Card stock)
ON SALE 12/7/21
Solomon Grundy has lived many lives over a great many years. Now, located by Ten-Eyed Man's strange, but nonetheless effective, methods, he leads Dr. Joy and her many-eyed friend on a tour of the hidden history of Gotham City and the madness at its core.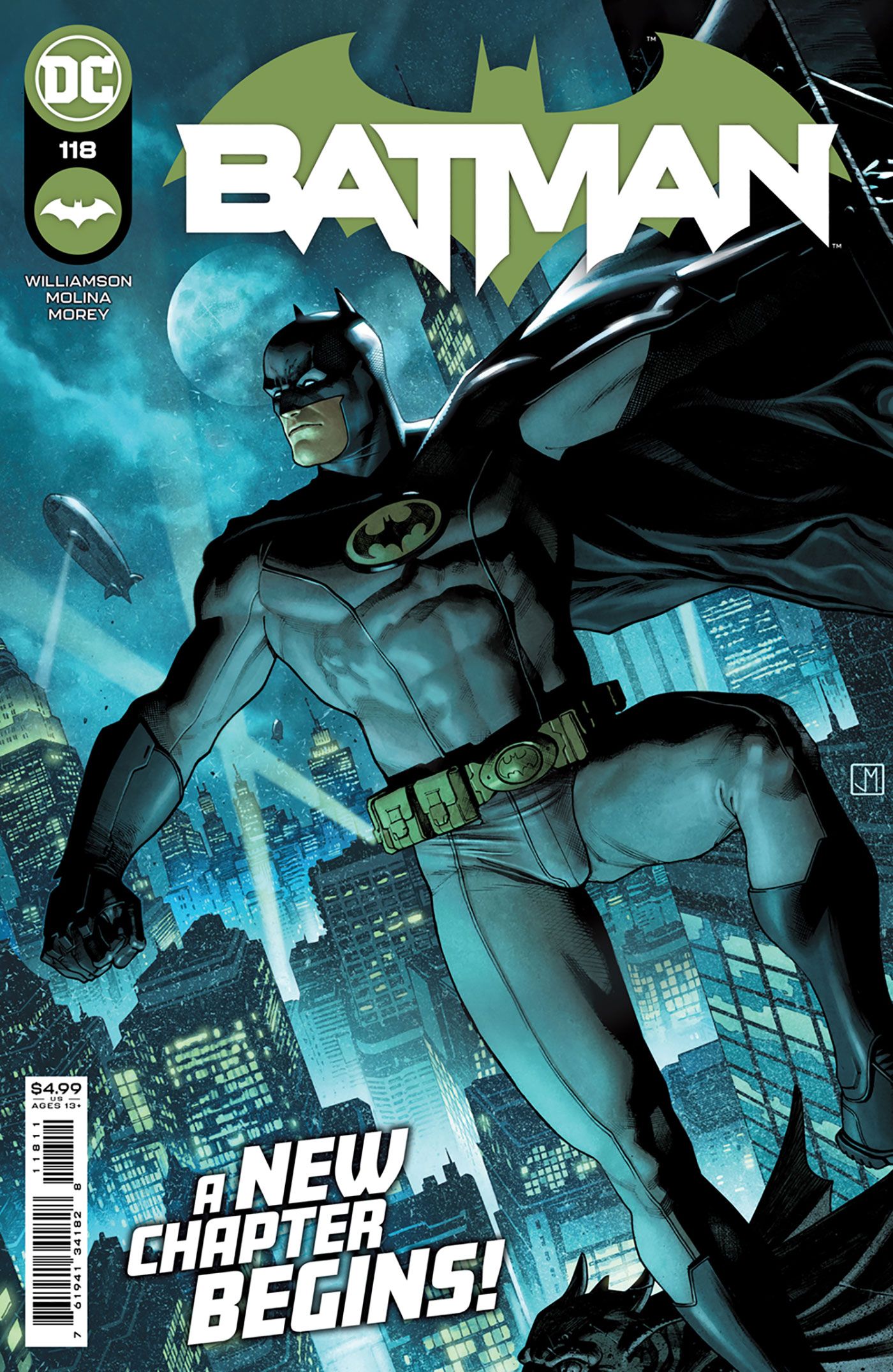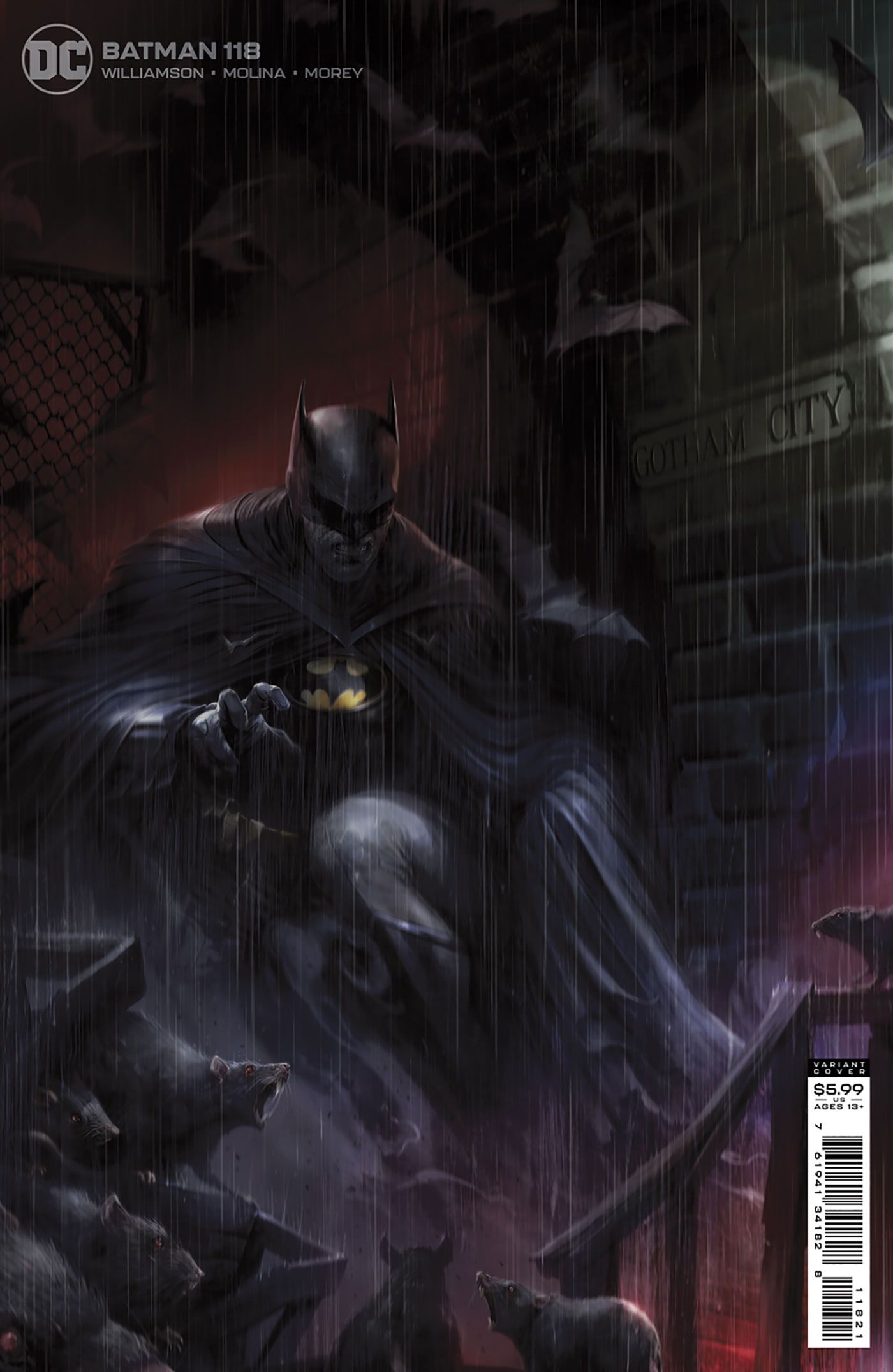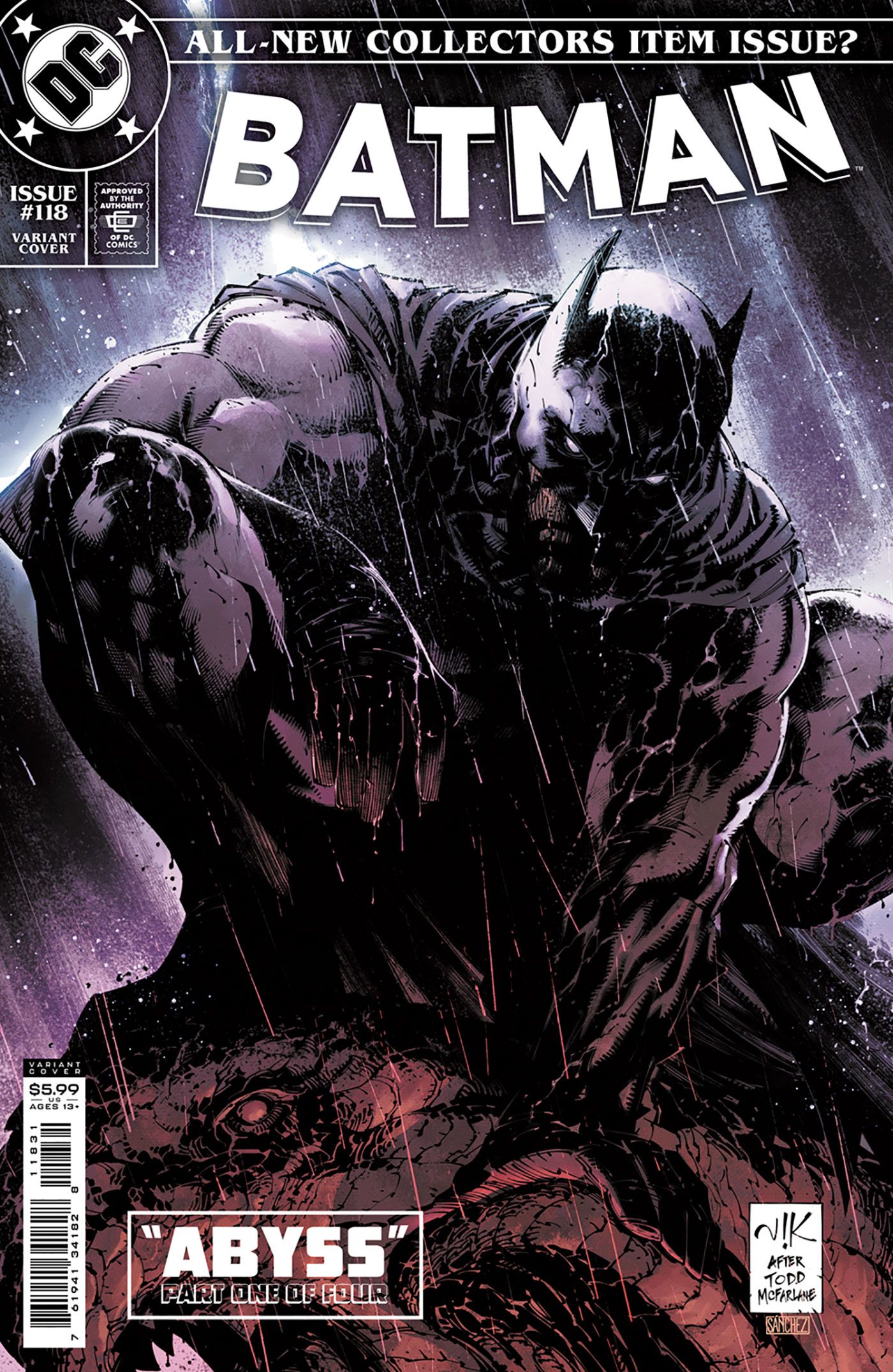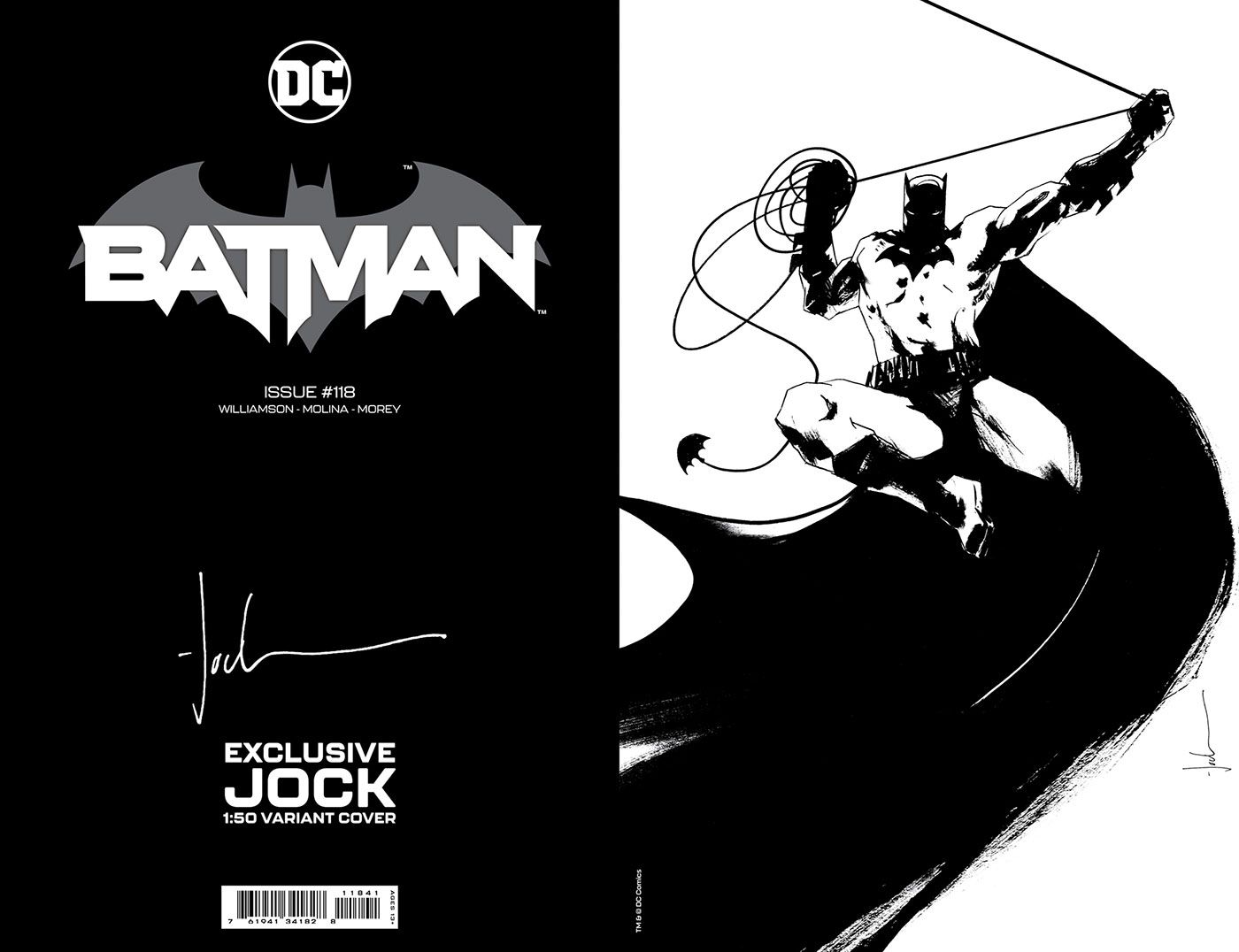 Written by JOSHUA WILLIAMSON
Art and cover by JORGE MOLINA
Variant cover by FRANCESCO MATTINA
1:25 variant by VIKTOR BOGDANOVIC
1:50 variant by JOCK
$4.99 US | 40 pages
Variant $5.99 US (All covers card stock)
ON SALE 12/7/21
New creative team! Start of a new story arc as Batman leaves Gotham!
"Abyss" part one! As Gotham celebrates surviving Fear State, Batman retreats alone into the darkness. But when he learns of a mystery involving Batman Inc., it forces the Caped Crusader to leave Gotham for a brand-new adventure! Thrills, chills, and international intrigue await!
The Dark Knight begins a new story with superstar artist Jorge Molina and new writer Joshua Williamson!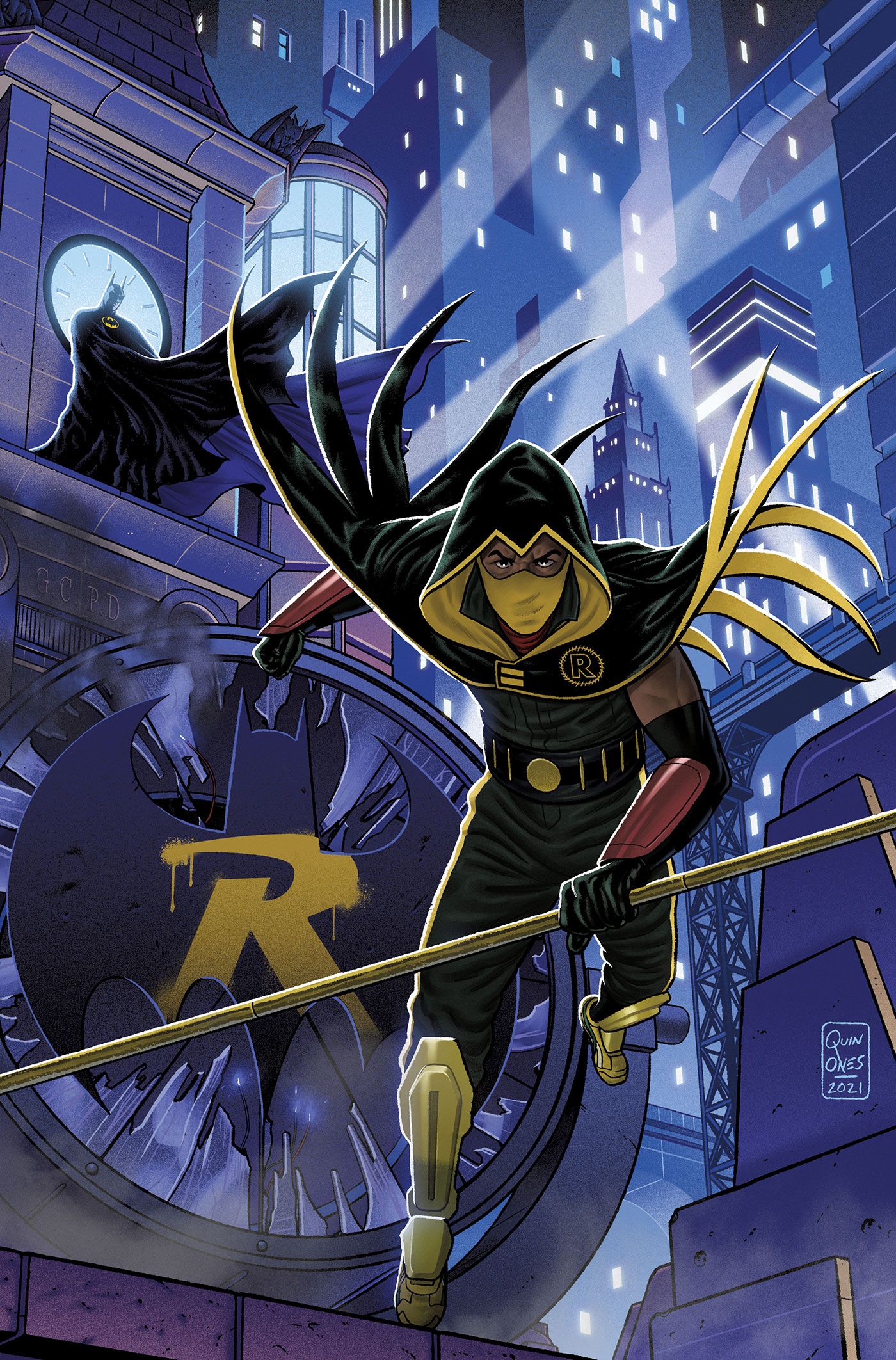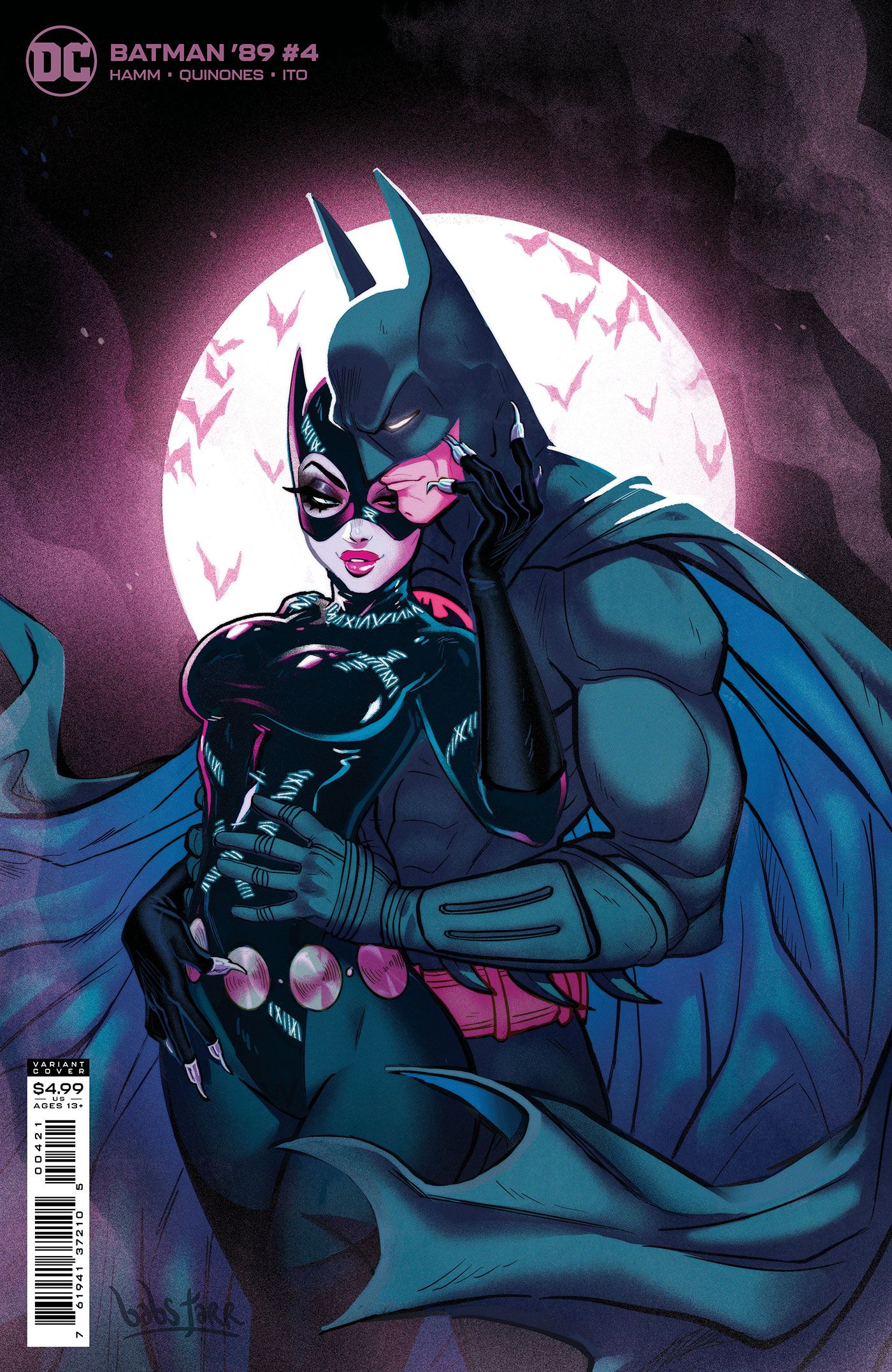 Written by SAM HAMM
Art by JOE QUINONES
Cover by JOE QUINONES
Variant cover by BABS TARR
$3.99 US | 32 PGS | 4 of 6 | $4.99 US Variant (Card stock)
ON SALE 12/7/21
Someone's hot on Bruce Wayne's heels, out to prove his connection to Batman once and for all! Meanwhile, Harvey Dent plans his next steps for Gotham with just the simple flip of a coin. What does he have in store for Gotham, and can Batman twist probability in his favor?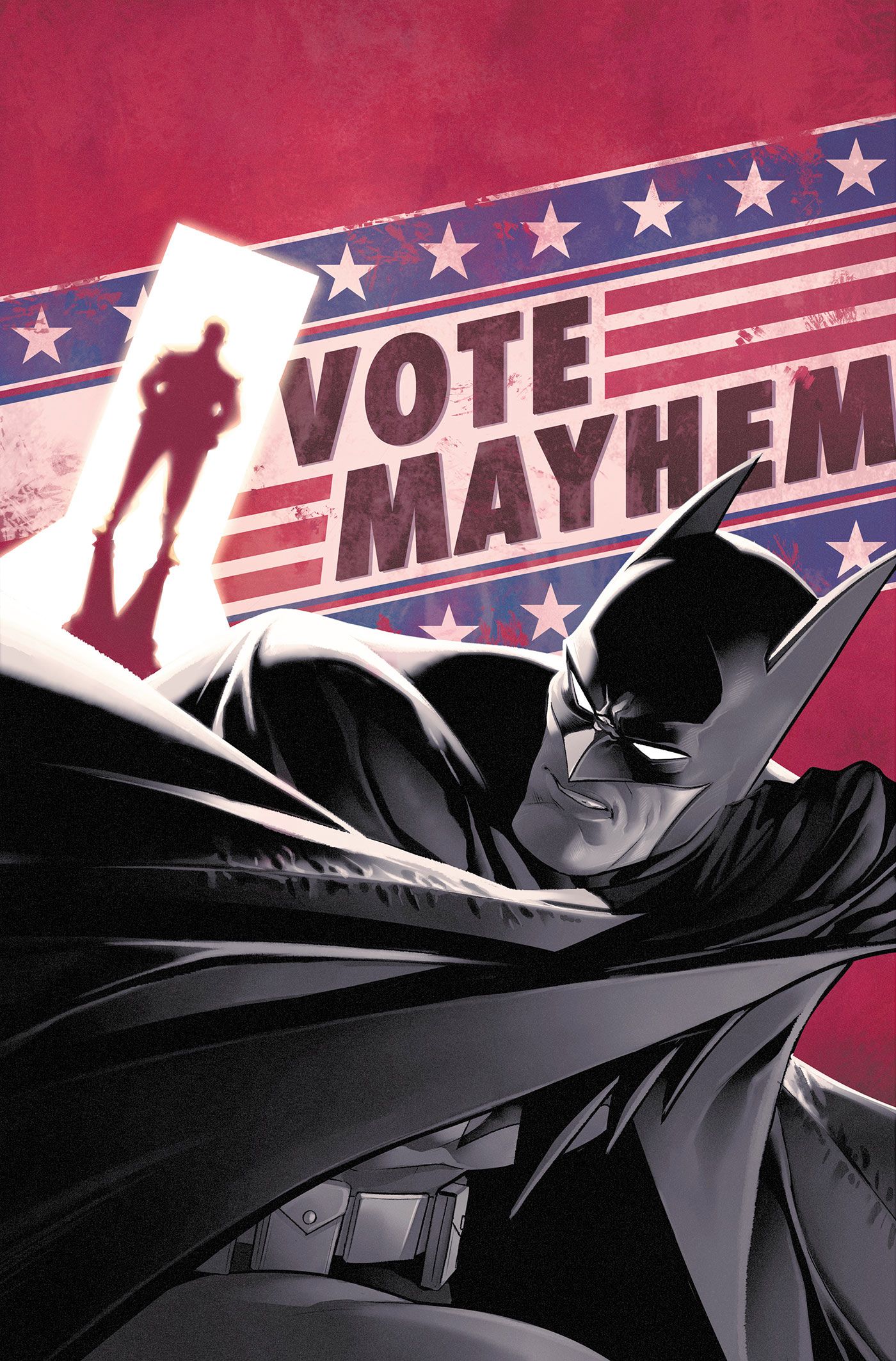 Written by ALAN BURNETT and PAUL DINI
Art by RICK BURCHETT
Cover by CHRISTIAN WARD
Variant cover by W. SCOTT FORBES
$3.99 US | 32 PGS | 7 of 7 | $4.99 US Variant (Card stock)
ON SALE 12/7/21
Mayor Mayhem's grip over Gotham tightens as he enacts a plan that puts Barbara Gordon at the center of a political scandal! Batman, Nightwing, and Robin leap into action to expose Mayfield's plans for Gotham and break his hypnotic hold over the city before the polls close. But when all roads lead to Arkham, can the Bat Family take down all of the city's costumed criminals?!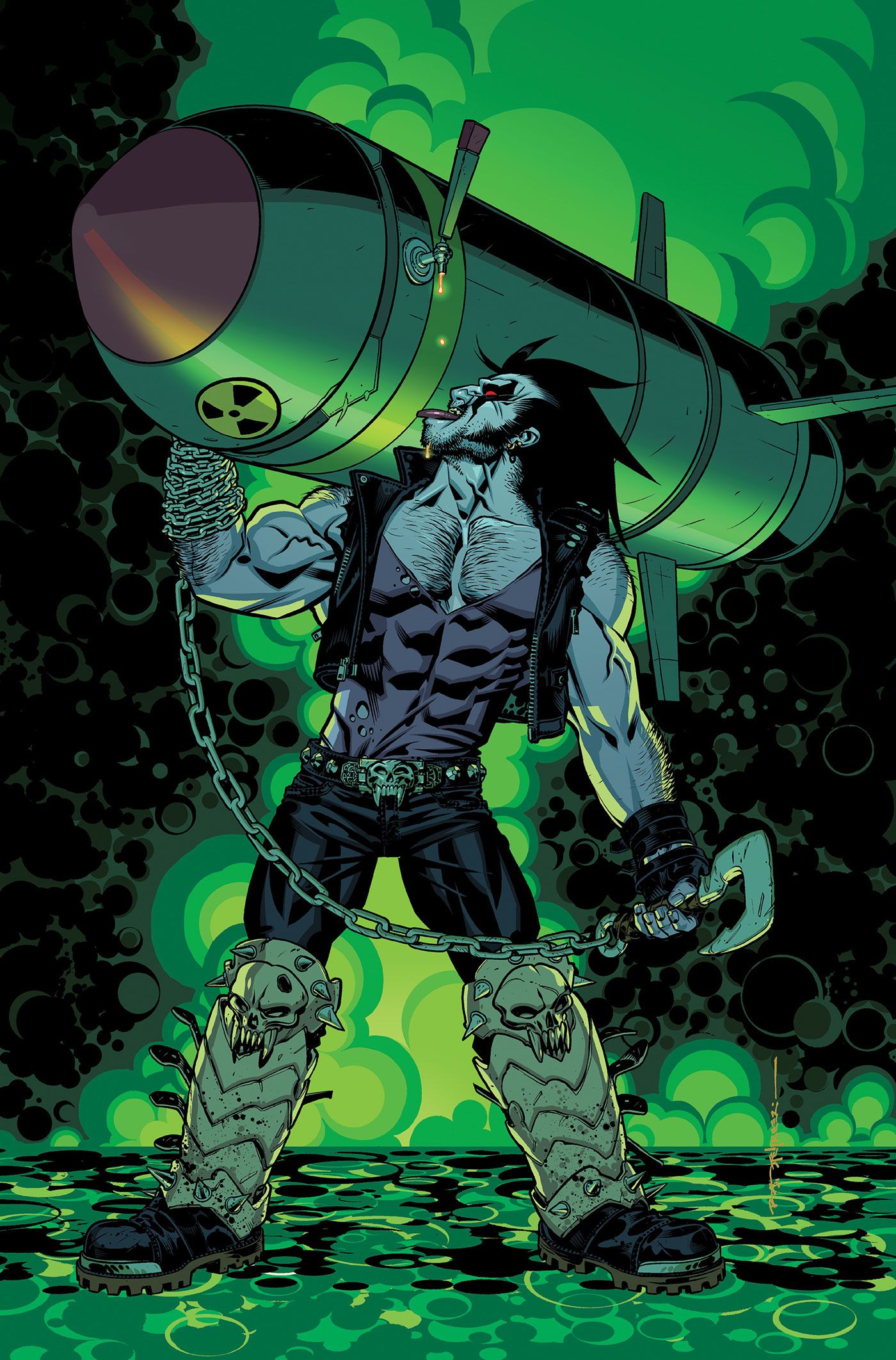 Written by MARIKO TAMAKI
Art by AMANCAY NAHUELPAN
Cover by JOËLLE JONES
Variant cover by SCOTT FORBES
$3.99 US | 32 PGS | 7 of 8 | $4.99 US Variant (Card stock)
ON SALE 12/7/21
It's Crush versus Lobo in a knock-down, drag-out father-daughter brawl that might very well destroy Space Vegas by the time these two are done with each other!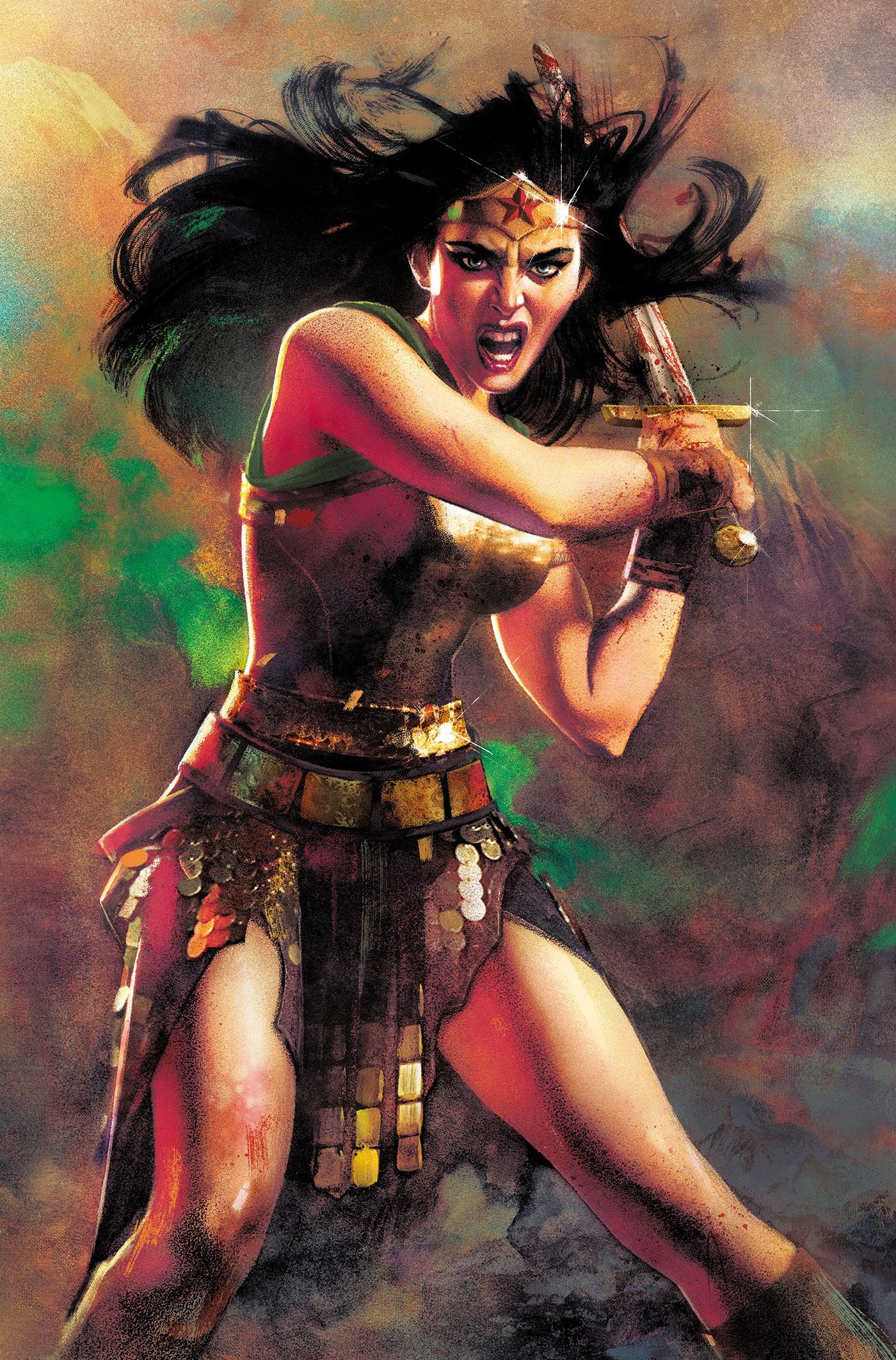 Written by Tom Taylor
Art by Yasmine Putri
Cover by Yasmine Putri
$3.99 US | 32 PAGES | 2 of 12
Variant by JOSHUA MIDDLETON
1:25 variant by YASMINE PUTRI
$4.99 US (Both covers card stock)
ON SALE 12/7/21
The epic high-fantasy DC Universe adventure continues as a shocking assassination has the kingdoms on the brink of world war! From worldwide bestselling writer Tom Taylor (DCeased, Superman: Son of Kal-El) and acclaimed artist Yasmine Putri comes a generational high-fantasy tale of good and evil within the DCU!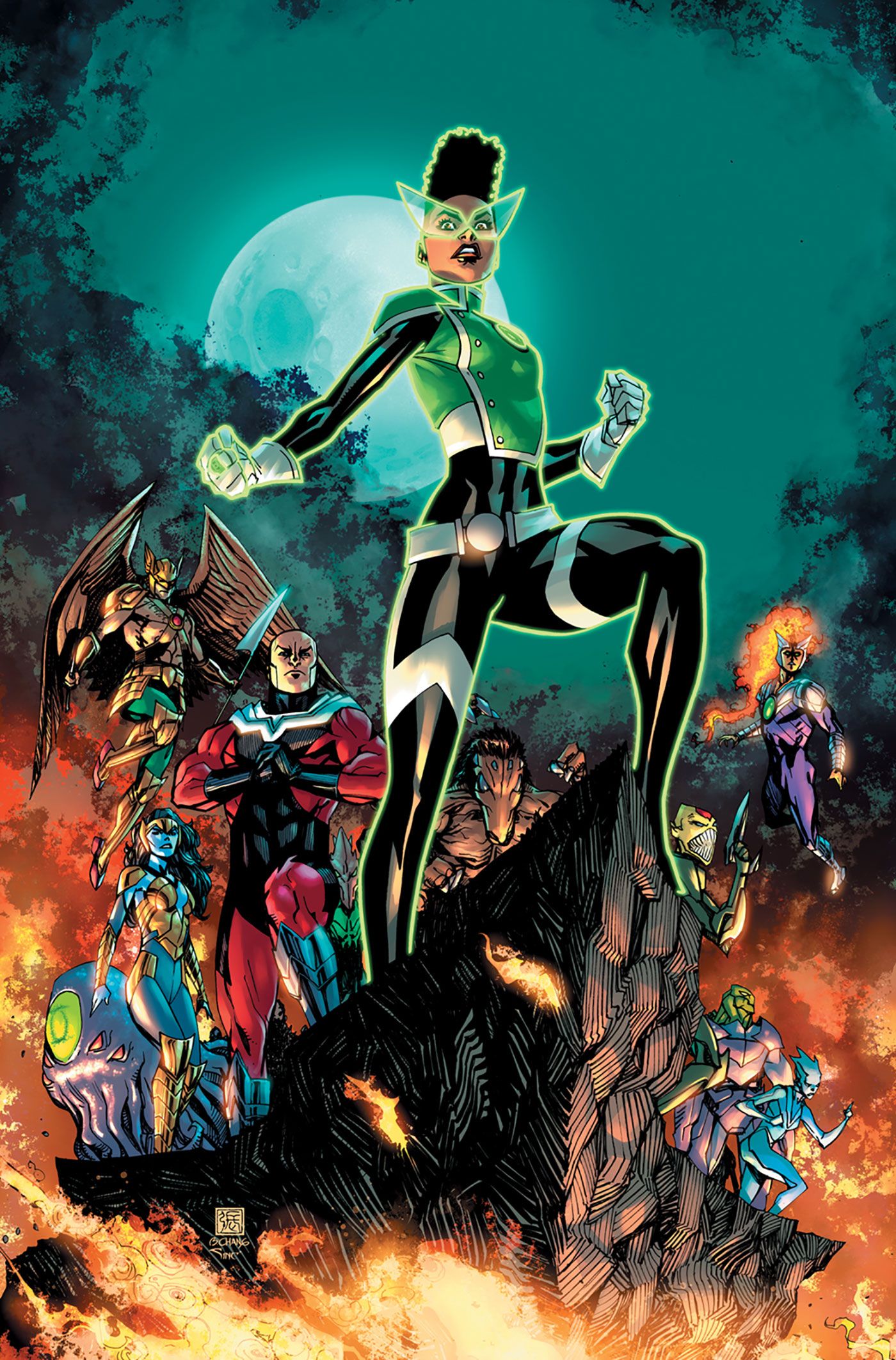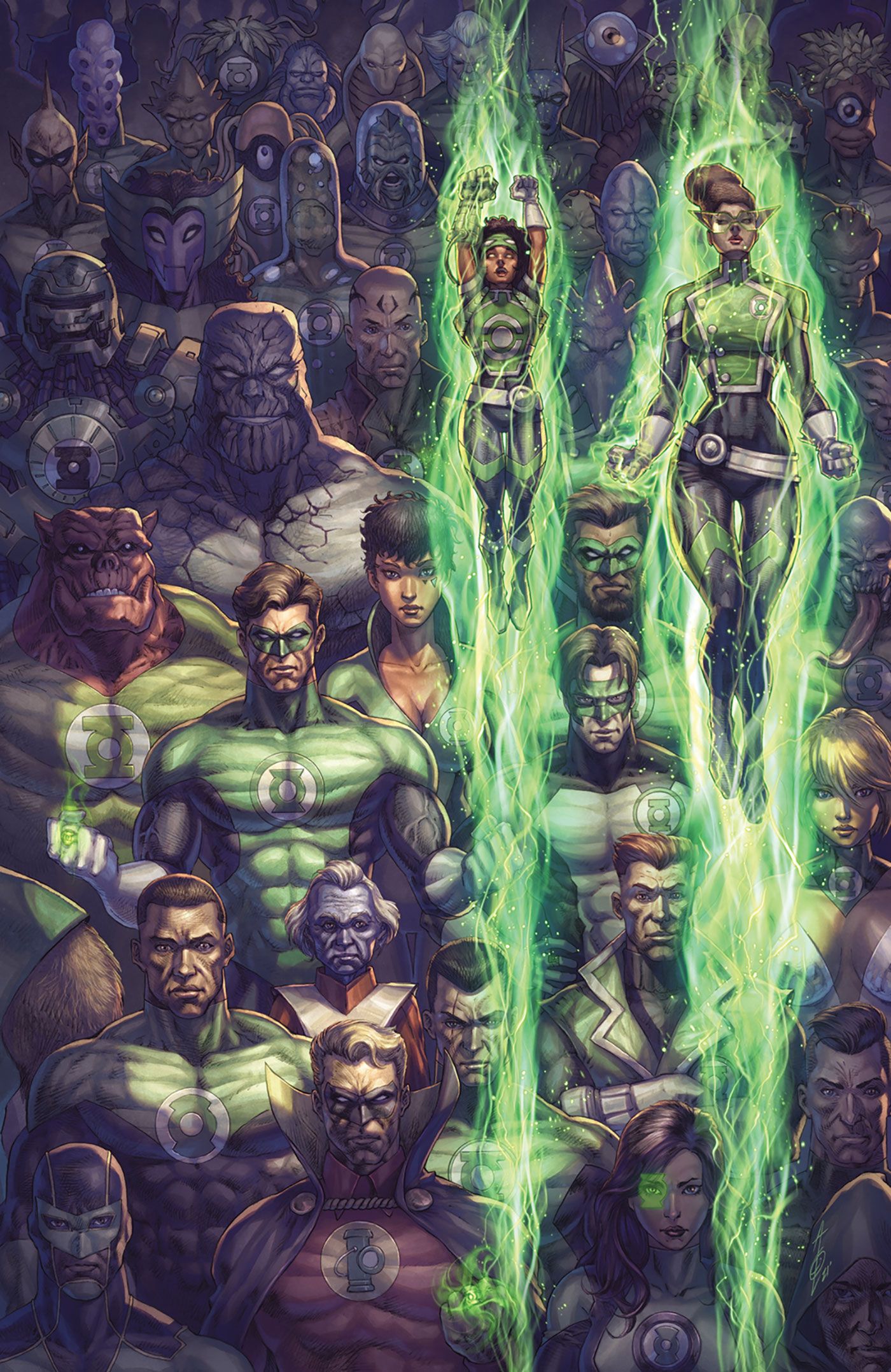 Written by GEOFFREY THORNE
Art by MARCO SANTUCCI and TOM RANEY
Cover by BERNARD CHANG and ALEX SINCLAIR
Variant cover by ALAN QUAH
$4.99 US | 40 pages | $5.99 US Variant (Card Stock)
ON SALE 12/7/21
With trillions of lives on the line, a ringless John Stewart battles the Mad God for the future state of the universe! Meanwhile, Jo Mullein solves the mystery of the Green Lantern Corps' battery's destruction as a new and ancient enemy rises. Is this the end of the Green Lantern Corps or will it lead to a new beginning and a resurrection for the cosmic heroes?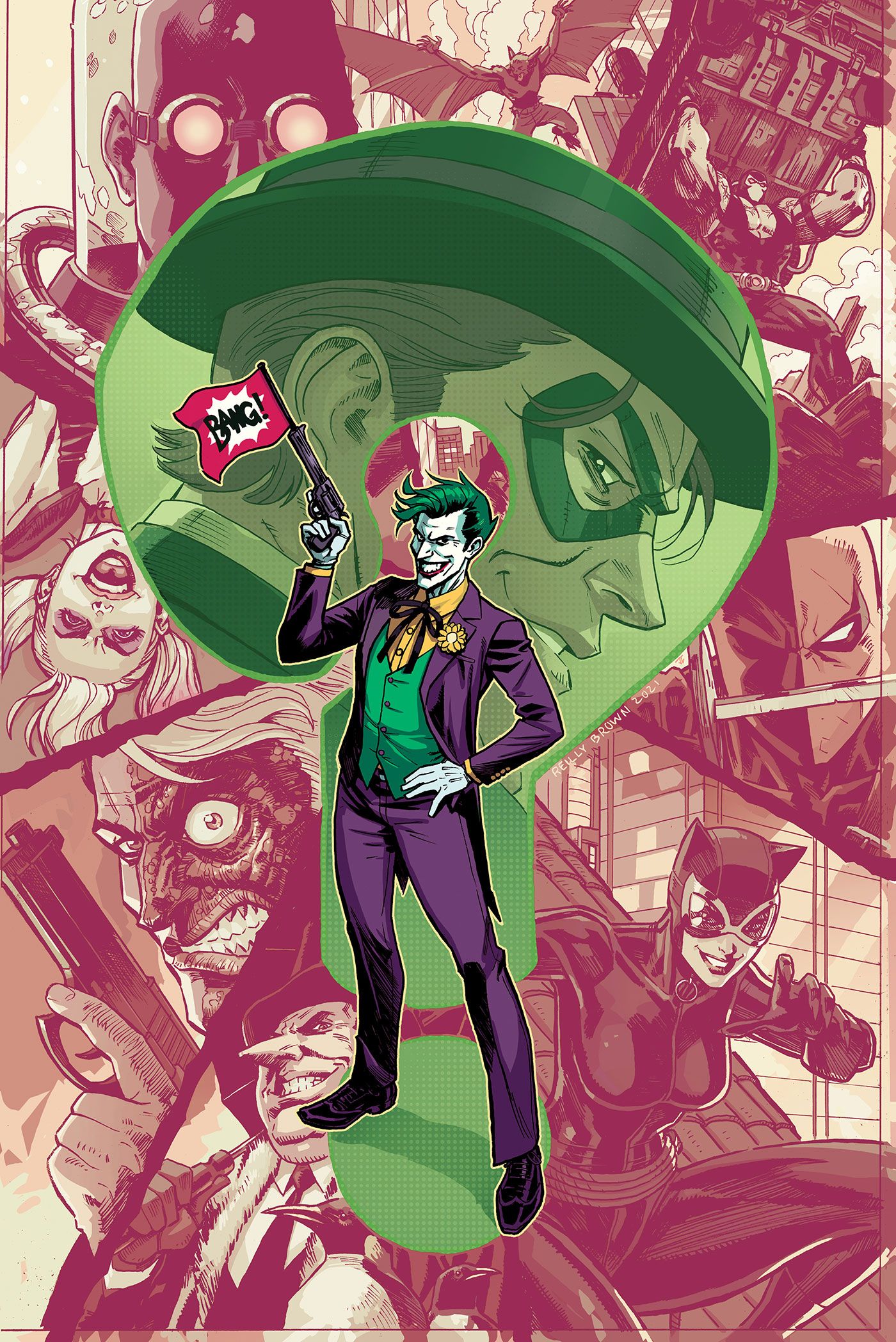 Written by MATTHEW ROSENBERG
Art by JESÚS MERINO, CHRIS MOONEYHAM, and FREDDIE WILLIAMS
Cover by CHIP ZDARSKY
Variant cover by DAVI GO
$4.99 US | 40 PGS | 5 of 7 | $5.99 US Variant (Card Stock)
ON SALE 12/7/21
It's all coming together! With the Riddler's treasure hunt complete, the villains must gather to assemble the mysterious box. But putting that many criminals in a room is a dangerous thing…Unless that was the plan all along. And finally, the Gotham Police will hear Two-Face, Harley Quinn, the Penguin, and the Mad Hatter's side of the story. But they all end with the same thing—Batman!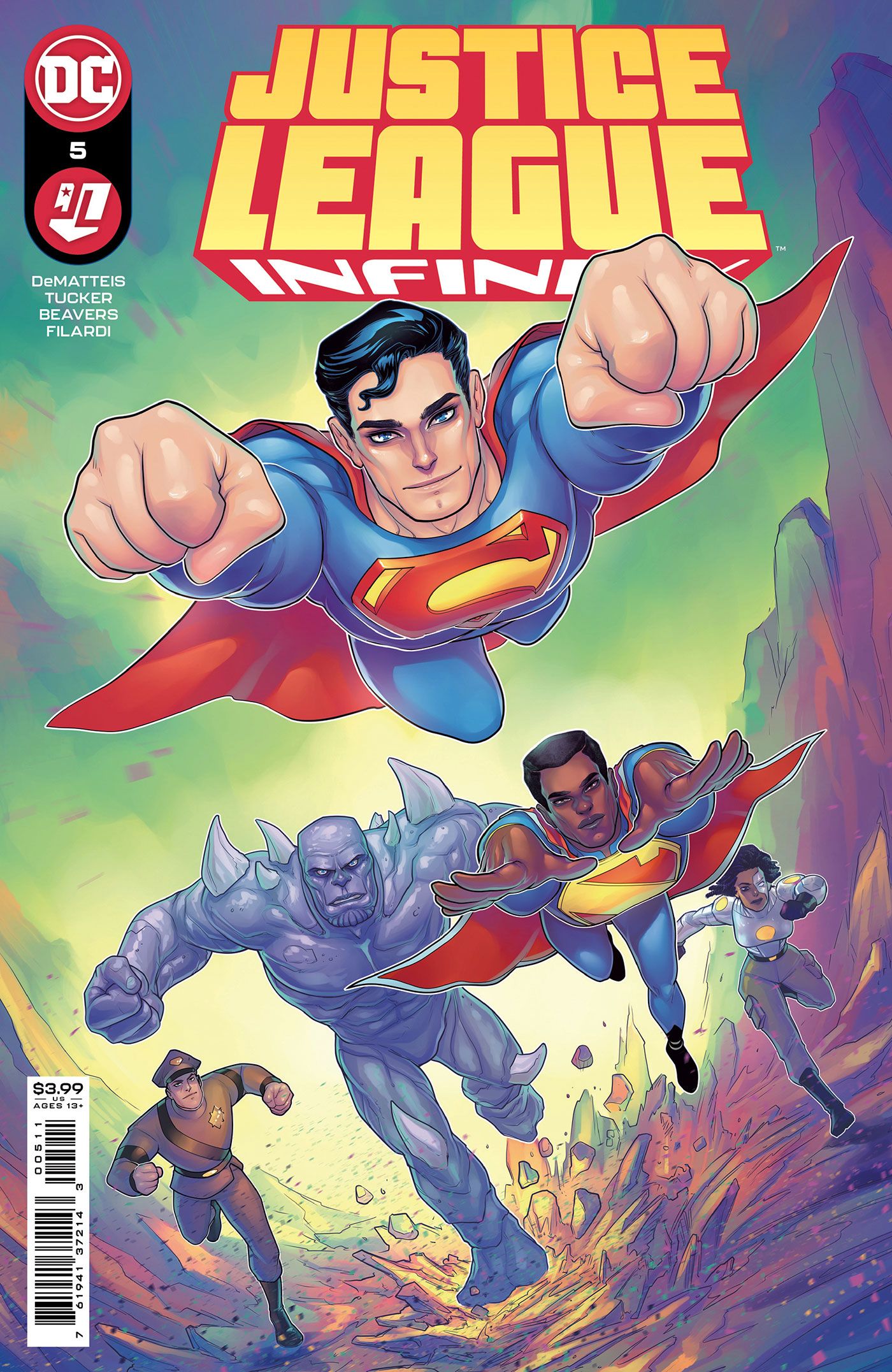 Written by J.M. DEMATTEIS and JAMES TUCKER
Art by ETHEN BEAVERS
Cover by MEGHAN HETRICK
$3.99 US | 32 PGS | 5 of 7
ON SALE 11/2/21
Superman, trapped on Earth-X, teams up with the Freedom Fighters to help them liberate the world from Vandal Savage's control. Thanks to the added power of the newly arrived Superman-D, the Freedom Fighters might just have what it takes to break into Savage's stronghold. But what secrets has the immortal tyrant hidden within its walls?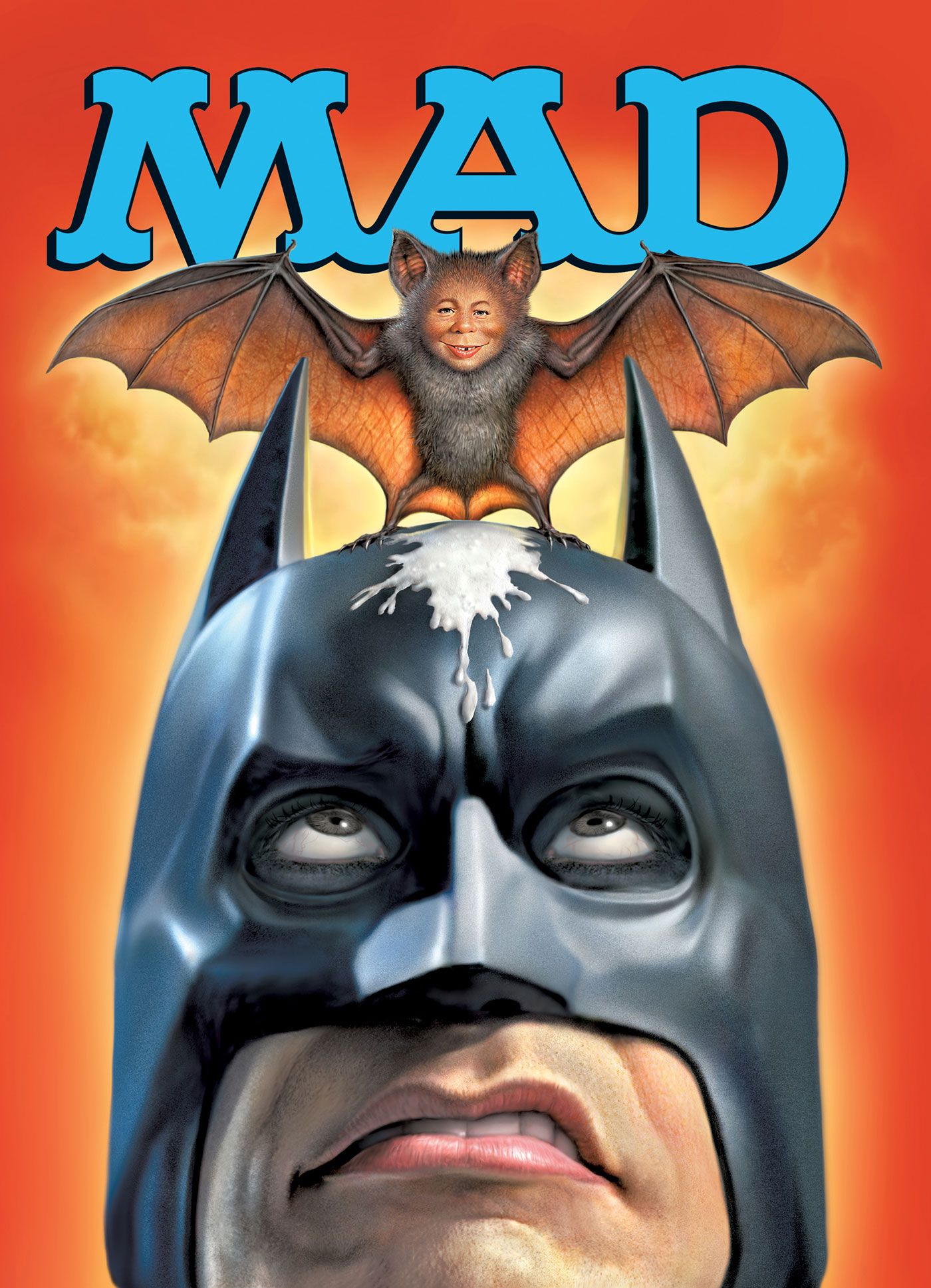 Written by THE USUAL GANG OF IDIOTS
Cover by A SOMEWHAT MORE ARTISTIC IDIOT
$5.99 US | 56 PGS
ON SALE 12/7/21
I'm MAD, MAN! America's longest-running humor magazine continues to skewer everything pop culture! The February Batman-themed issue features a wide variety of classic Batman parodies plus vintage MAD favorites like Spy vs. Spy, "MAD Look at…" by Sergio Aragonés, and more from the Usual Gang of Idiots. MAD will surely make the whole family laugh…while still managing to piss off some of the grandfolks.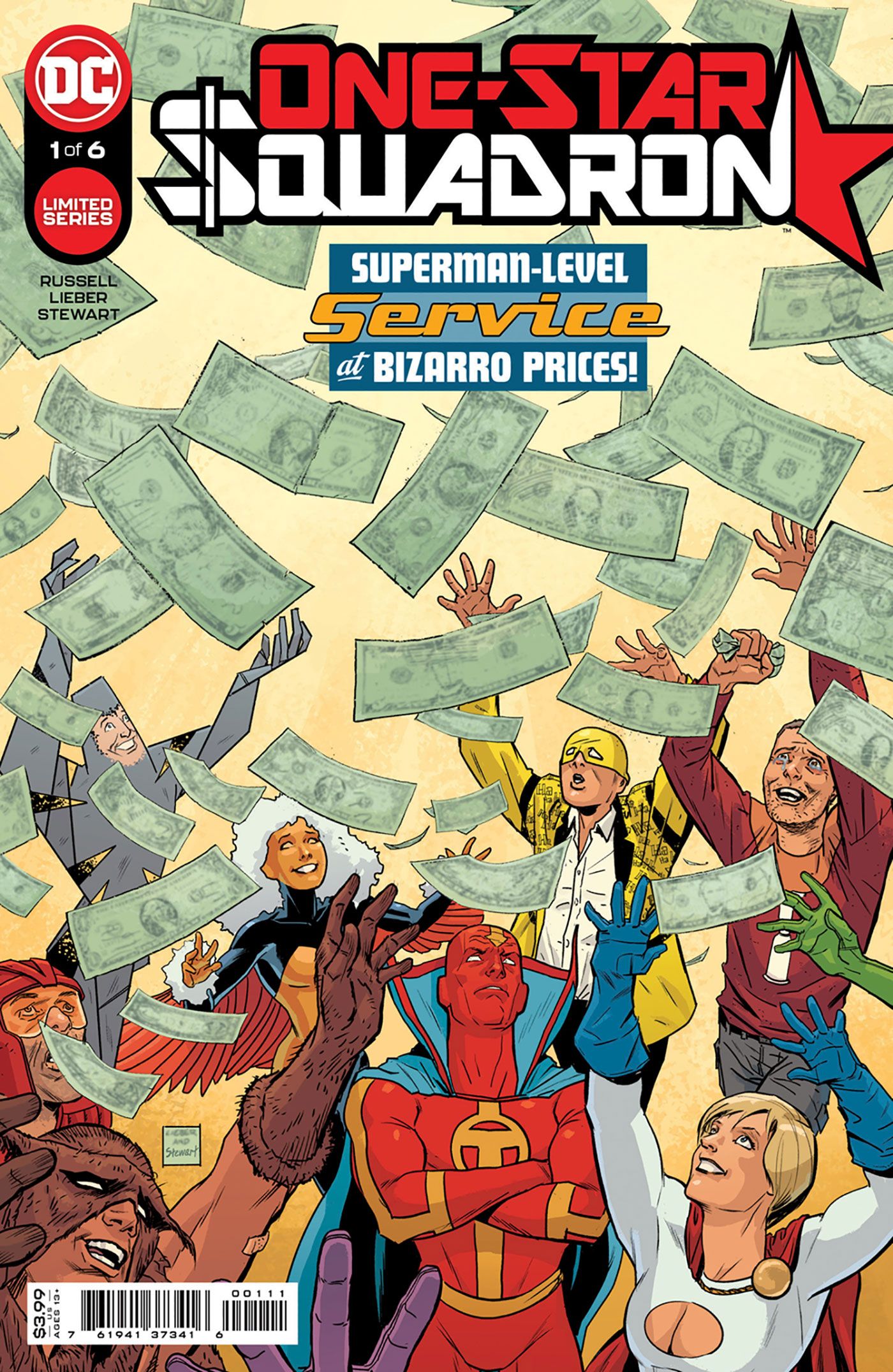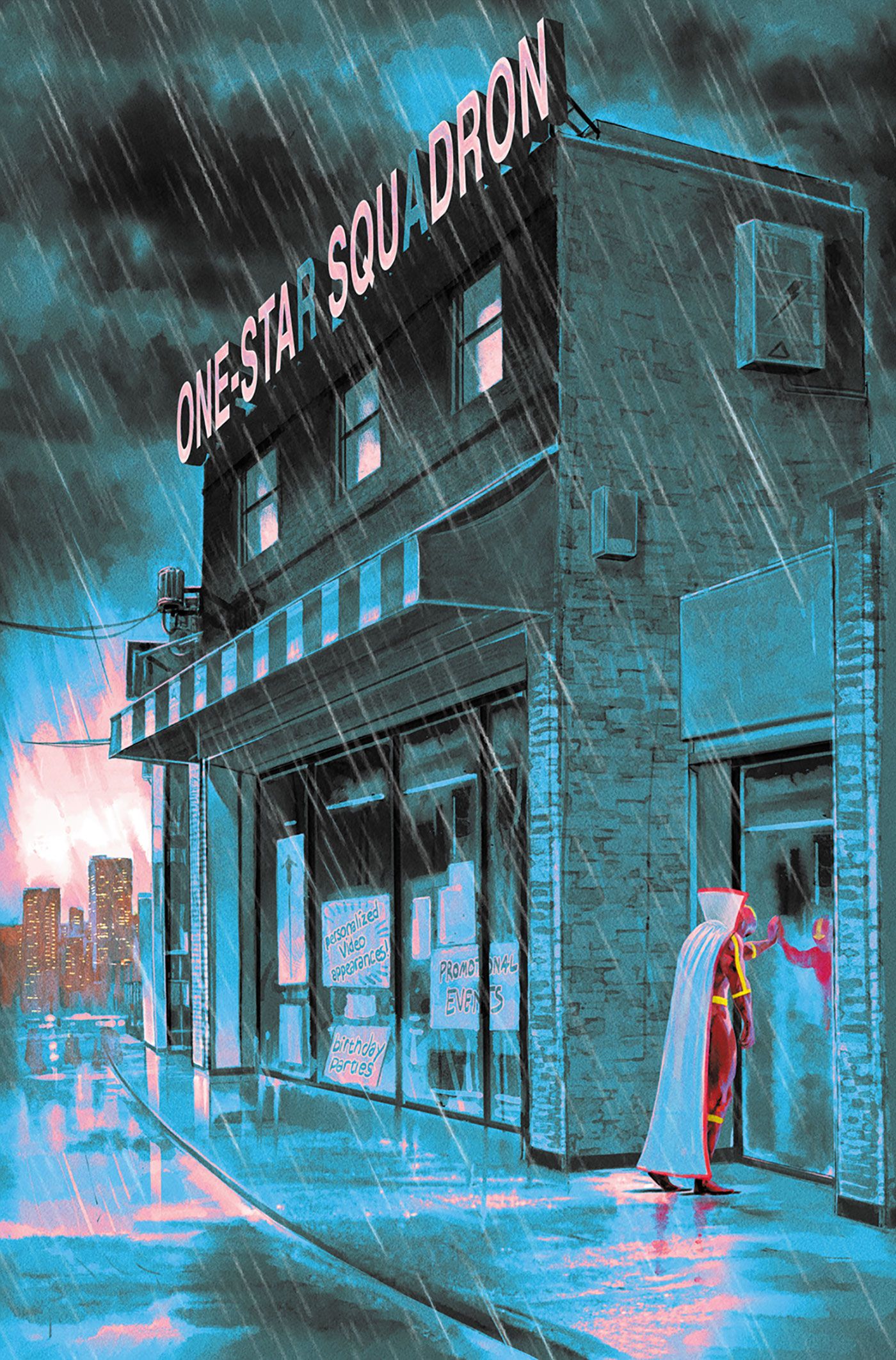 Written by MARK RUSSELL
Art and cover by STEVE LIEBER
Variant by STEVE PUGH
$3.99 US | 32 pages | 1 of 6
Variant $4.99 US (Card stock)
ON SALE 12/7/21
Who you gonna call? One-Star Squadron! Meet DC's superhero team where heroism meets capitalism. This ragtag group of heroes led by Red Tornado is here to provide service with a smile. All you must do is send a request via their on-demand hero app and they'll answer any call. Whether it's a children's birthday party or an alien invasion, no job is too small or too big!
Brought to you by Eisner nominee Mark Russell (The Flintstones, Wonder Twins, Exit Stage Left: The Snagglepuss Chronicles) and Eisner winner Steve Lieber (Superman's Pal Jimmy Olsen), you'll want to invest early in this one-of-a-kind miniseries that promises a story filled with heart, heroism, and humor.
Written by MARCUS PARKS, HENRY ZEBROWSKI, and BEN KISSEL
Art and cover by JOHN McCREA
Variant cover by KYLE HOTZ
$3.99 US | 32 PGS | 3 of 6 | $4.99 US Variant (Card stock)
ON SALE 12/7/211
17+
Blorp, a strange creature with an unsettling affinity for the human race, has been unleashed upon an unsuspecting world. Now, doing its best to fit in amongst mankind—by assembling a human body for itself—this invader from beyond the veil has one mission…but what is it? And how can Edgar and his noseless pal Elk put a stop to it?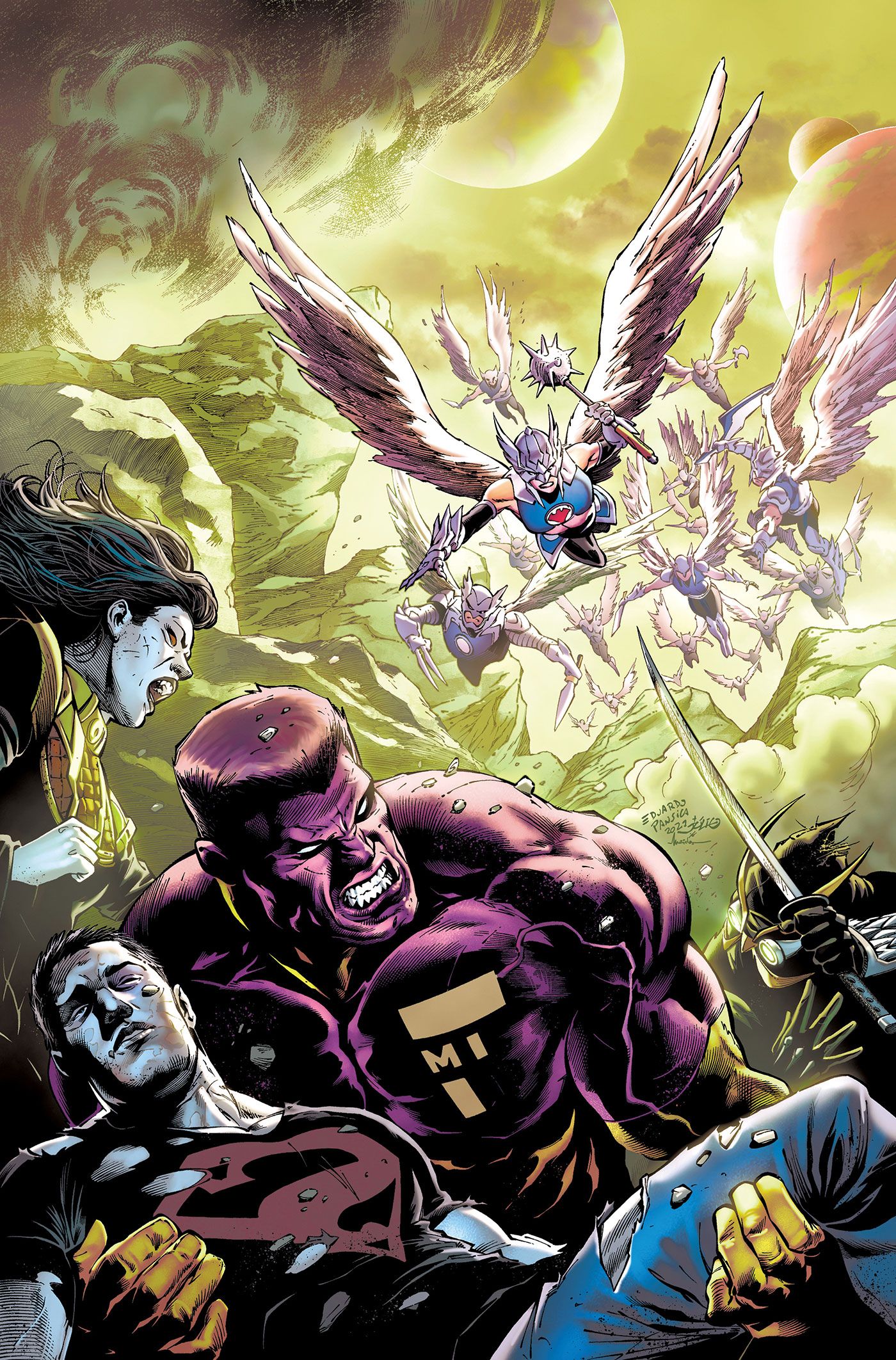 Written by ROBBIE THOMPSON
Art and cover by EDUARDO PANSICA, JULIO FERREIRA, and MARCELO MAIOLO
Variant cover by GERALD PAREL
$3.99 US | 32 PGS | $4.99 US Variant (Card stock)
ON SALE 12/7/21
The Suicide Squad barely manage to steal an alien technology from OA only to find themselves cut off from their transport back to Earth and on the run from Lanterns and Thanagarians. And no backup is coming from Earth because Amanda Waller is under fire from her onetime ally, current-time enemy: Rick Flag!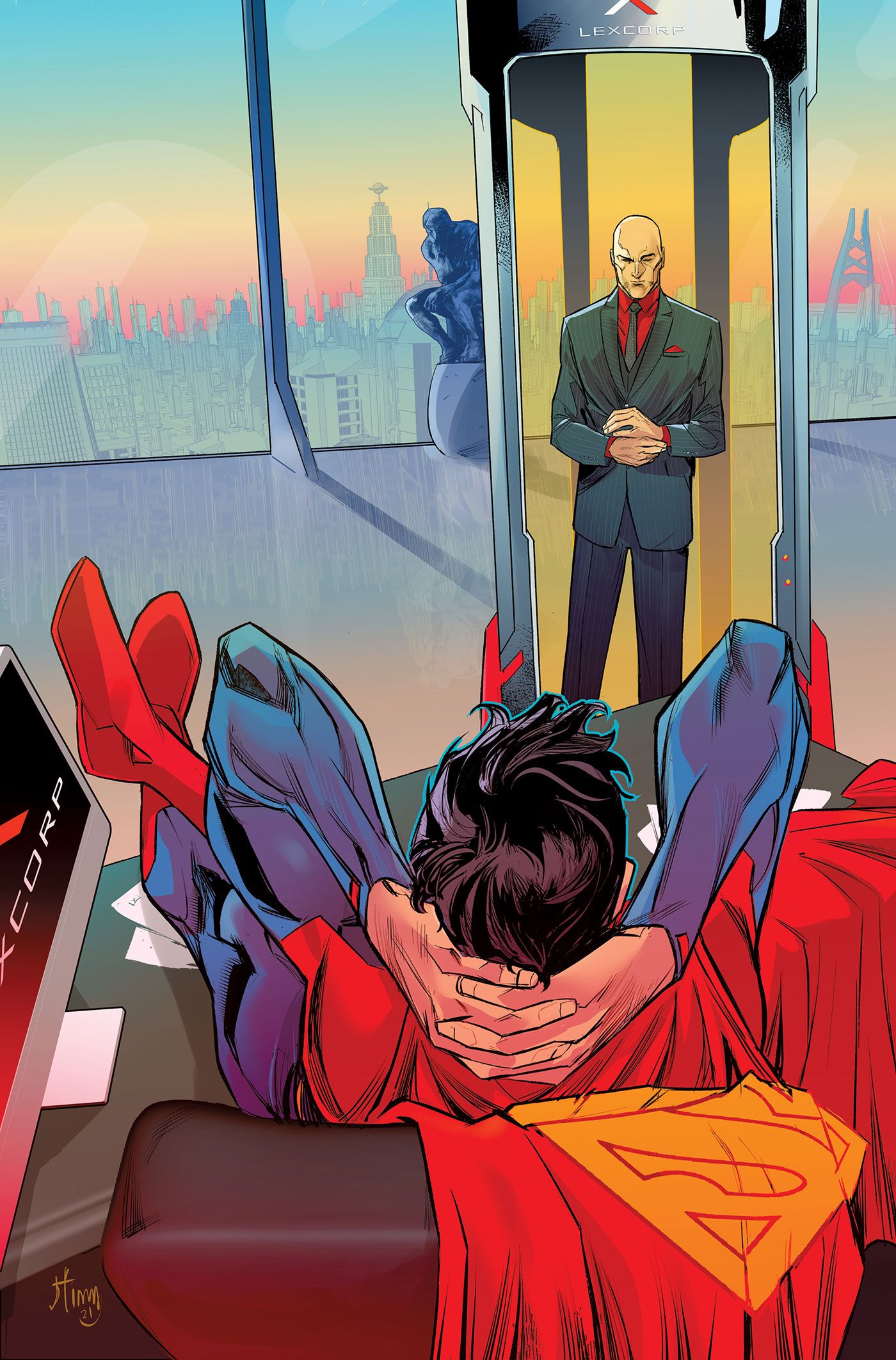 Written by TOM TAYLOR
Art by STEVE PUGH
Cover by JOHN TIMMS
$5.99 US | 48 PAGES
Variant by STEVE PUGH
$6.99 US (Card stock)
ON SALE 12/7/21
Jon Kent's first days as Earth's new Superman have been a trial by fire. His actions have already put those he loves in harm's way. He has stood strong in the path of constant attacks, but the immovable object is about to meet an unstoppable force. Lex Luthor—the man, the myth, the menace—returns to Metropolis.
Written by RAM V
Art and cover by MIKE PERKINS
Variant cover by BRIAN BOLLAND
$3.99 US | 32 pages | 10 of 10 | $4.99 US Variant (Card Stock)
ON SALE 12/7/21
As the battle between Levi and Jacob comes to a head, the future of the Green—and so of all living things—is embroiled in existential conflict. And there are those who have learned to look for windows of opportunity in conflict. The true nature of Prescot's machinations will become apparent even as their actions will put into question the very nature of the world we live in.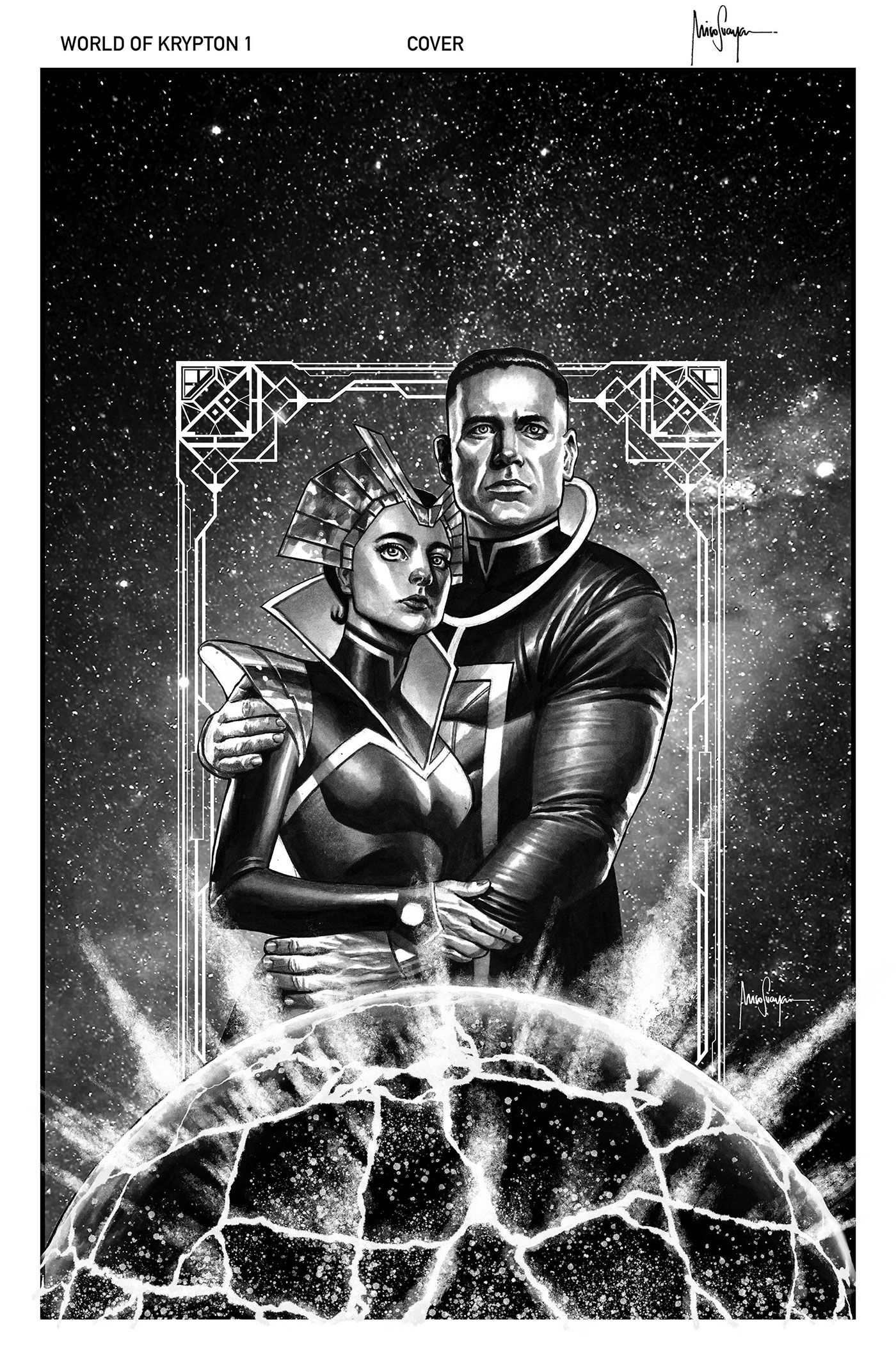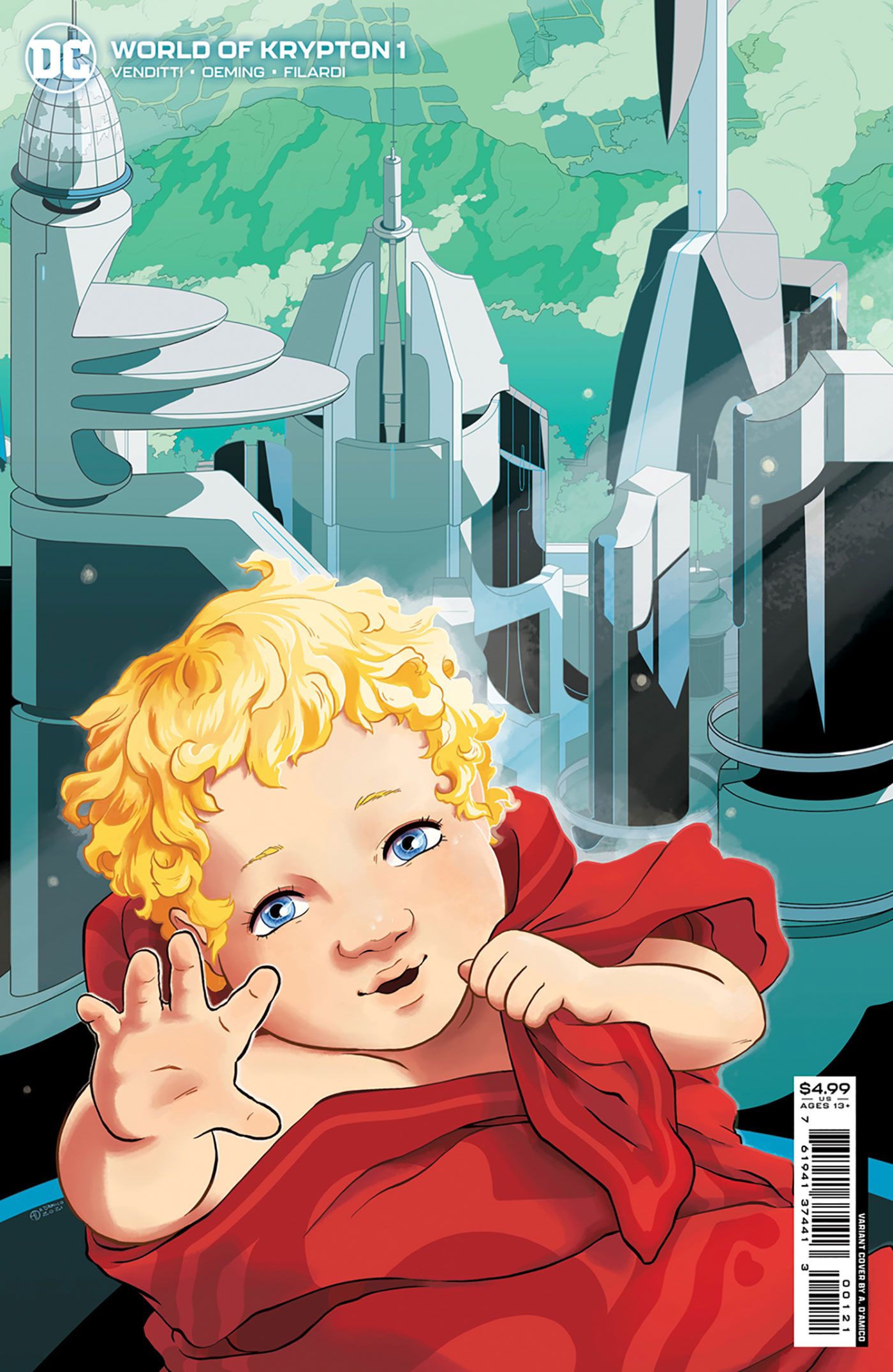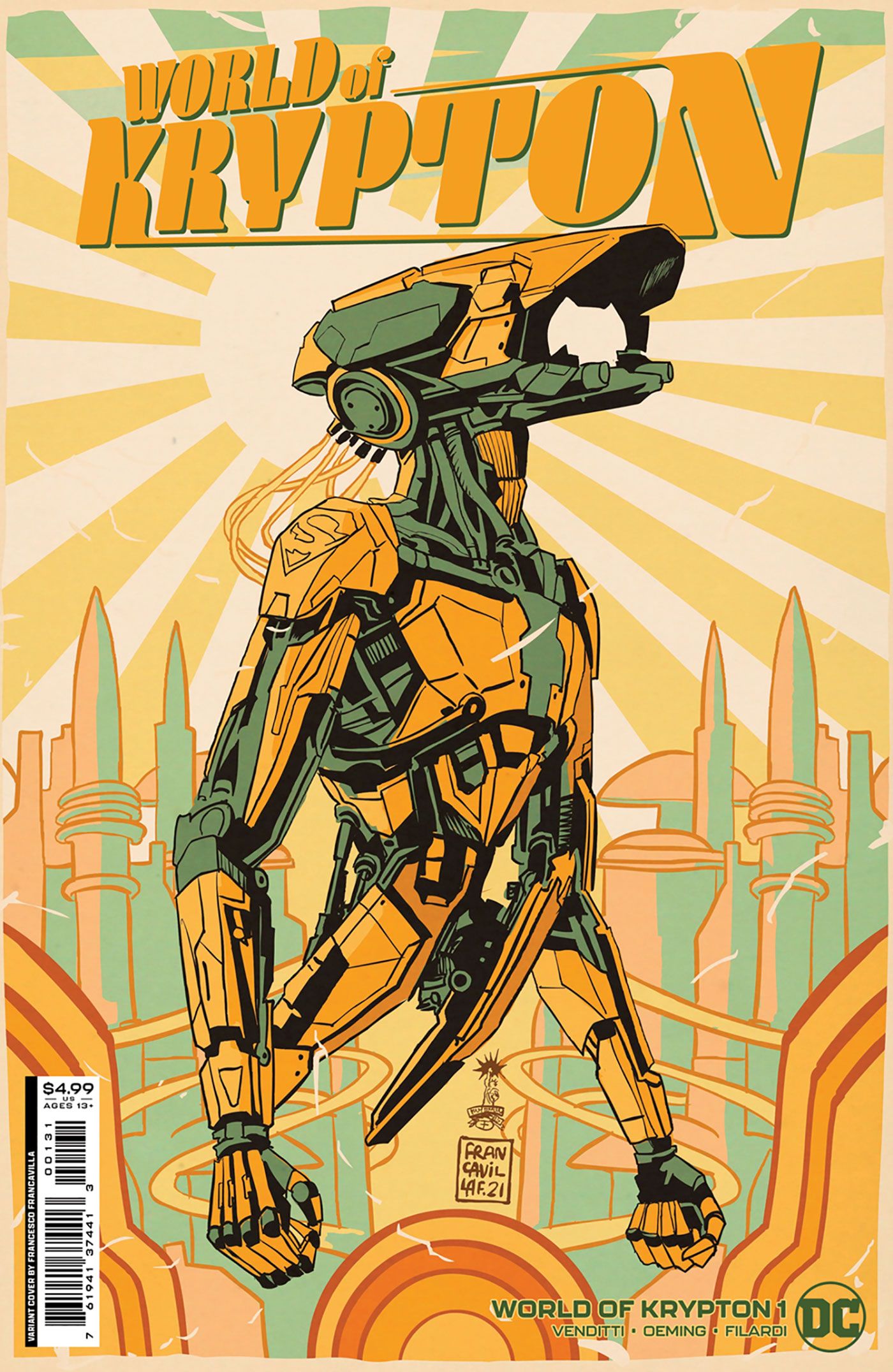 Written by ROBERT VENDITTI
Art by MICHAEL AVON OEMING
Cover by MICO SUAYAN
Variant by A. D'AMICO
1:25 variant cover by FRANCESCO FRANCAVILLA
$3.99 US | 32 pages | 1 of 6
Variant $4.99 US (Card stock)
ON SALE 12/7/21
A modern telling of one of the most storied periods in comics! Krypton is a utopia admired across the universe for its achievements in science and culture, but its shining towers and regal people conceal a planet rotting at its core. When a catastrophic event befalls Krypton's natural world, it points toward a mass extinction in the making. Jor-El, head of Krypton's revered Science Council, embarks on a mission to save a world that may already have passed the point of no return.
Shining new light on the famous characters of Krypton's past—including Jor-El, General Dru-Zod, and even a young Kara Zor-El—World of Krypton combines action, cosmic wonder, and political intrigue in a story as much about our world as the one on the page.
All of these issues go on sale Dec. 7 from DC Comics.
KEEP READING: A New Shazam Arrives, Gotham Gets a Non-Bat Hero and the Suicide Squad Goes Horror In DC's February Comics
Source: DC Comics
from Ultimate Comic Blog
https://ift.tt/32WbrD6
via IFTTT